This tender Slow cooked brisket dip sandwich has so much flavour.  Served on a baguette with onions, peppers and cheese, it makes the ultimate meaty dinner.  Be sure to serve it with a bowl of the delicious cooking liquor to dip into.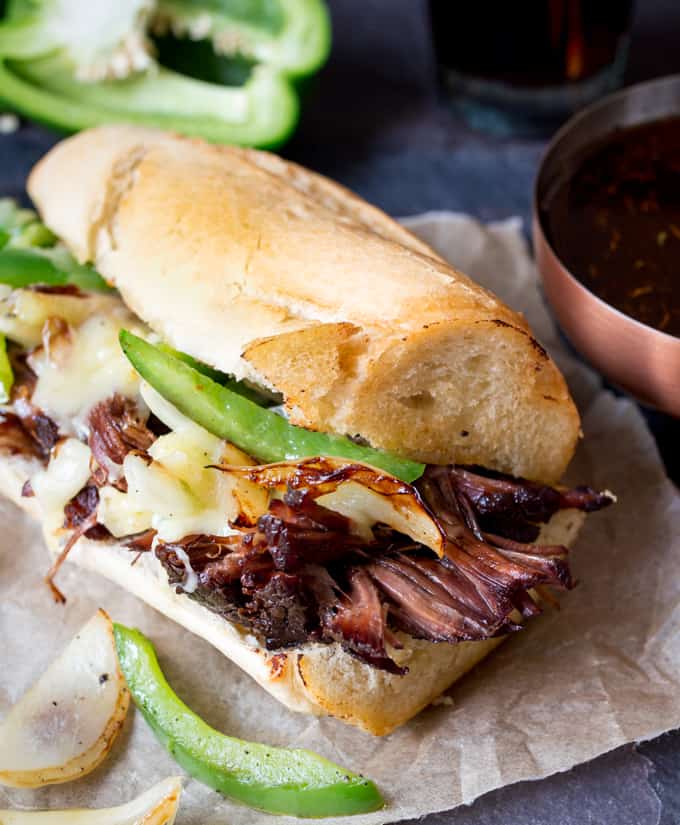 Serving sandwiches for dinner always seems a bit naughty.
Eating your sandwiches at the table over a large piece of baking paper, with cheese melting out the sides, onions and peppers dropping onto the paper, and rich, beefy sauce dribbling down your chin?  Well that's just downright ill-mannered.
It is fun though...
..and so delicious!
The fact that my kids are allowed to put their elbows on the table, lick their fingers and basically look like they've just dunked their heads in their dinner makes this a family favourite.
Chris and I don't have to dish out stern looks and comments like 'we'll never be able to take you out for dinner if you're going to behave like that'.
Brisket dip sandwiches = temporary manners-vacation
Cooked for 4 hours in the oven (you could also cook it in the crockpot for 6-8 hours on low if you preferred), the meat just falls apart.
The cooking liquor is meaty, salty and rich and absolutely has to be served with the sandwich.  It's a must.  No arguments please. You could also serve this with some leftover gravy from your roast beef dinner!
You'll probably (?) have some leftover meat, since this stuff is so rich and delicious.  So I though I'd put together a few suggestions for what to do with it:
Serve in burritos with rice, salsa, cheese, beans and chillies
On top of a pizza with sun-dried tomatoes and mozzarella
Piled on top of creamy mashed potato with lots of fresh veg (you could thicken any leftover sauce with a little cornflour + water for a rich gravy)
Added to marinara sauce and served with pasta
Stuffed inside some homemade ravioli and served with a simple tomato sauce
or simply make another  dip sandwich with it and take it to work for a lunch that will make your co-workers jealous (the manners-vacation is not advised in this case!!)
More Sandwich Ideas
Still hungry for more Sandwiches?  How about my;
OK if you are bored of Sandwiches then we have got you covered too with our Picnic Ideas that Arn't Sandwiches.
This Slow cooked brisket dip sandwich Recipe:
Slow-cooked brisket dip sandwich
This tender Slow cooked brisket dip sandwich has so much flavour. Served on a baguette with onions, peppers and cheese, it makes the ultimate meaty dinner. Be sure to serve it with a bowl of the delicious cooking liquor to dip into. Flavour packed and delicious!
Ingredients
Brisket:
1

kg

Rolled Beef Brisket

¼

tsp

each of salt and ground black pepper

1

tbsp

vegetable oil

3

tbsp

Dark Soy Sauce

480

ml

Beef stock

-

homemade or water + 3 stock cubes is fine

2

cloves

garlic

1

tsp

dried thyme

1

tbsp

tomato puree/paste

1

tbsp

brown sugar
Also:
1

tbsp

vegetable oil

1

green bell pepper

-

sliced into lengths

1

white onion

-

peeled and sliced

Pinch

of salt and pepper

1

large baguette/French stick

½

cup

grated cheese

-

I like sharp cheddar
INSTRUCTIONS
Preheat the oven to 150c/300f.

Start with the beef. Heat the oil in a large oven-proof casserole dish. Sprinkle the salt and pepper on the brisket, and place in the hot pan. Sear each side for two minutes, then add in the rest of the beef ingredients. Bring to the boil, then place a lid on the pan and place in the oven. Cook for 4 hours. Check the meat every hour to make sure the liquid isn't going dry. Add in a cup of hot water from the kettle if it is. I usually add in 1.5 - 2 cups of water altogether.

Towards the end of the cooking time for the beef, heat the oil in a frying pan and add in the green bell pepper, onion slices and a pinch of salt and pepper. Cook on medium-high until they start to brown at the edges, but still retain their crunch (about 3 minutes). Turn off the heat.

Cut the baguette into four pieces and then slice each piece in half (lengthways). Place all 8 pieces on a baking sheet.

Turn the oven up to high, and then take the brisket out of the oven. Take the lid off the pan. There should still be plenty of liquid in the pan, and there will probably be a layer of oil on top.

Take a pastry brush, and brush a little of the oil from the top of the brisket liquid onto the inside of the cut baguette.

Remove the beef and shred it slightly on a board, then divide the meat between the bottom pieces of the four baguettes. Top with the onions and peppers, then top with the cheese. Place the sandwiches (leave them open) in the oven and cook for 3-5 minutes - until the cheese has melted and the baguettes are warm.

Take out of the oven and put the sandwiches together, then serve each sandwich with a little pot of the cooking liquid (you may want to spoon off any fat from the top before serving).
✎ Notes
Any leftover meat and juices can be cooled, covered and refrigerated or frozen.
Defrost, and then reheat thoroughly in a pan before serving.
Any leftover meat also works great with burritos.
.
Nutritional Information is per serving.
Nutrition
Calories:
714
kcal
Carbohydrates:
40
g
Protein:
63
g
Fat:
32
g
Saturated Fat:
15
g
Cholesterol:
169
mg
Sodium:
1606
mg
Potassium:
1045
mg
Fiber:
2
g
Sugar:
5
g
Vitamin A:
270
IU
Vitamin C:
26.8
mg
Calcium:
183
mg
Iron:
7.6
mg
Some of the links in this post may be affiliate links – which means if you buy the product I get a small commission (at no extra cost to you). If you do buy, then thank you! That's what helps us to keep Kitchen Sanctuary running. The nutritional information provided is approximate and can vary depending on several factors. For more information please see our Terms & Conditions.