Golden brown, sugar dusted doughnuts, served slightly warm and filled with raspberry jam and sweetened cream. These Raspberry ripple donuts are Irresistible!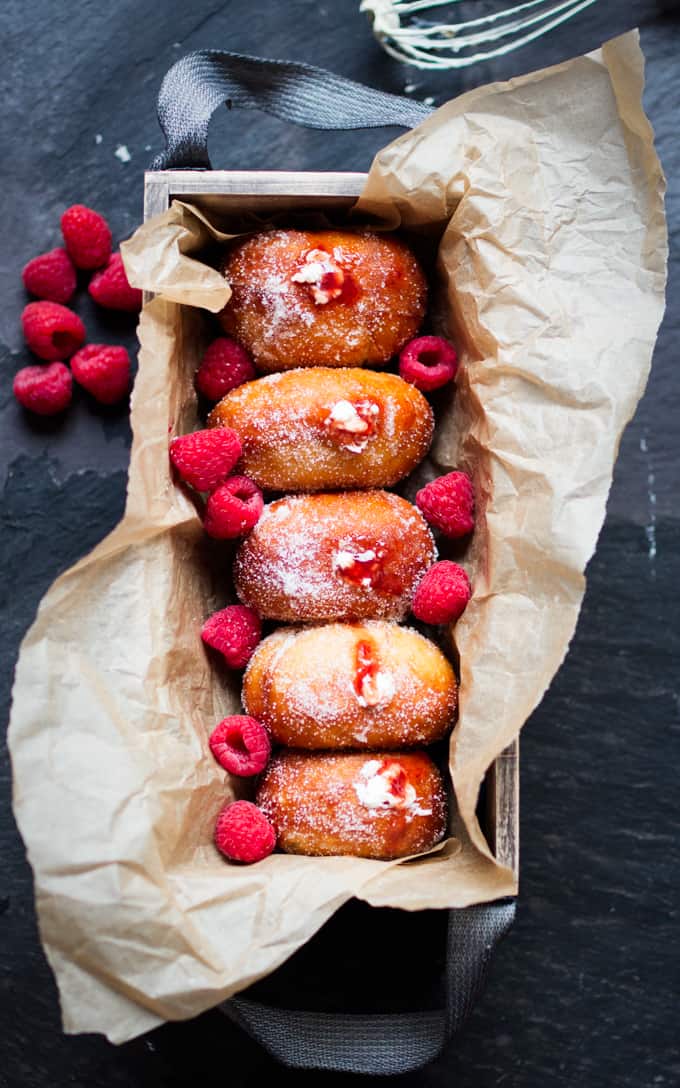 The sun is shining, the birds are singing, and I'm standing over a pan of hot oil.
I'd almost admit to being crazy, but just take a look at these things and try telling me I'm crazy.
Ten minutes in front of that oil pan is totally worth a large plateful of these to take on your next picnic, or to enjoy sat in the back garden with an iced coffee and a good book.
The kids were positively drooling, watching me dredge these things in sugar. The look on their faces when I told them we could take some to the park along with our picnic blanket! It seems my kids like doughnuts. A lot.
I'm loving this early season sunshine! I've finally got a bit of exercise done - after my two weeks of laziness (jogging round the park with Lewis on his bike), and my blender is back to making cold green smoothies instead of the hot ones I've been making over winter.
Lewis has been looking like a little cutie going into school with his new school shorts on. However, school shorts = scabby knees.
Yep, he promptly fell over whilst running at full speed on the way back from school today.
We had blood, tears and snot, as well as a proclamation that he'll never wear shorts again.
All this was curable only with an oversized plaster, a chocolate milk shake and sympathy from anyone who saw him hobbling in a completely exaggerated way.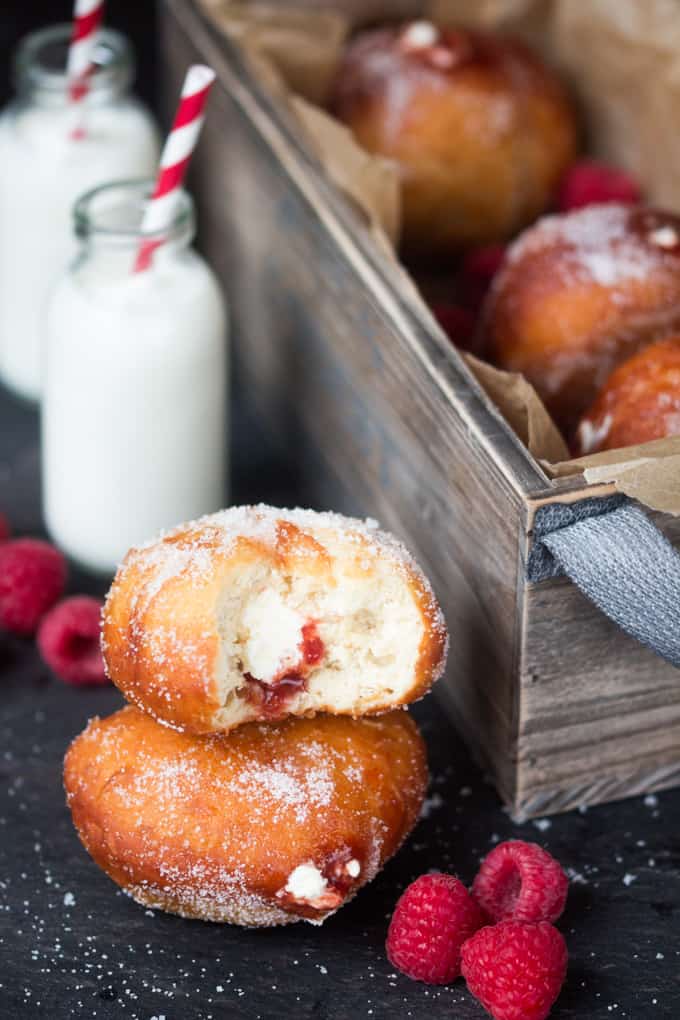 I'm pretty sure that these doughnuts would also have been a great cure, if only they hadn't mysteriously disappeared (ahem.  Definitely nothing to do with me).
If you're thinking about getting in the kitchen this weekend and don't fancy taking on these doughnuts then why not try one of these:
Stay updated with new recipes!
Subscribe to the newsletter to hear when I post a new recipe. I'm also on YouTube (new videos every week) and Instagram (behind-the-scenes stories & beautiful food photos).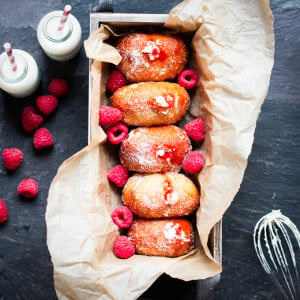 Raspberry Ripple Doughnuts
Golden brown, sugar dusted doughnuts, served slightly warm and filled with raspberry jam and sweetened cream. Irresistible!
Ingredients
200

ml

whole/full fat milk

1

tbsp

easy-bake/fast-acting dried yeast

60

ml

luke-warm water

85

g

caster sugar

1

large egg

1

large egg yolk

60

g

unsalted butter

-

softened

0.75

tsp

salt

450

g

plain flour

1

litre

vegetable oil for frying

6

heaped tbsp

caster sugar for dusting
Filling:
6

tbsp

seedless raspberry jam or raspberry puree

1

cup

double/heavy cream

2

tbsp

confectioner's sugar
INSTRUCTIONS
Heat the milk until just about to boil, then turn off the heat and leave to cool to a luke-warm temperature.

Place the yeast in a small bowl with the warm water. Mix and leave for 3-4 minutes until frothy.

Place your milk, yeast, sugar, egg, egg yolk, butter, salt and half the flour into the bowl of a stand-mixer. Mix together for a minute (using the dough hook) until combined. Add in the rest of the flour and mix on a medium speed for 4-5 minutes. The dough should smooth and a little sticky.

Place the dough into a lightly oiled bowl and cover with clingfilm. Leave to prove at room temperature until doubled in size (about 60-90 minutes).

Tip the dough out onto a lightly floured surface and knead a few times to punch out the air bubbles. Then split the dough into 12 equal sized portions. Roll each onto into a ball, then flatten each ball very slightly.

Place each ball on a little piece of baking parchment (having them on individual pieces makes it easier to pick up and lower each doughnut into the oil later) and cover with some lightly oiled clingfilm. Leave to prove for a further 30-40 minutes.

Place your caster sugar (for dusting) in a bowl and put to one side.

Meanwhile, pour your oil into a large pan and heat to 160c/320f. Use a thermometer and try to keep your oil temperate as constant as possible.

Cook doughnuts three at a time – gently lowering each one into the pan holding the edge of the baking parchment in one hand and using a spoon or palette knife in the other. Cook for approx. 3 minutes – until dark golden brown – then flip over using a pair of wooden chopsticks. Cook for a further 3 minutes.

Scoop out of the pan using tongs and place straight in the bowl of sugar. Toss in the sugar and place on a cooling rack. Repeat with the remaining doughnuts.

Leave the doughnuts to cool for half an hour.

Meanwhile, give the jam a quick whisk with a fork to loosen (you could add a few drops of water too) and spoon the jam/puree into an icing bag with a large nozzle.

Whisk the cream and confectioner's sugar together until you reach the soft peaks stage, then spoon it into another icing bag (or plastic sandwich bag with the corner cut out) with a large nozzle.

Take one of the doughnuts and use a metal skewer to make a hole in the side – all the way to the middle of the doughnut. Push the nozzle of the cream-filled icing bag in the hole and squirt in cream until you see the sides of the doughnut expand slightly.

Use your skewer to push the cream over a little, then squirt in the jam/puree.

Repeat with the remaining doughnuts and serve.
✎ Notes
These doughnuts are best eaten on the same day, and are fantastic served slightly warm.
.
Nutritional Information is per serving, accounting for approx .75 tbsp of oil being absorbed per doughnut.
Nutrition
Calories:
413
kcal
Carbohydrates:
46
g
Protein:
5
g
Fat:
23
g
Saturated Fat:
16
g
Cholesterol:
69
mg
Sodium:
171
mg
Potassium:
99
mg
Fiber:
1
g
Sugar:
14
g
Vitamin A:
485
IU
Vitamin C:
1
mg
Calcium:
45
mg
Iron:
1.9
mg
Some of the links in this post may be affiliate links – which means if you buy the product I get a small commission (at no extra cost to you). If you do buy, then thank you! That's what helps us to keep Kitchen Sanctuary running. The nutritional information provided is approximate and can vary depending on several factors. For more information please see our Terms & Conditions.