This PB&J mug cake is ready in 5 minutes - perfect when you need something sweet now!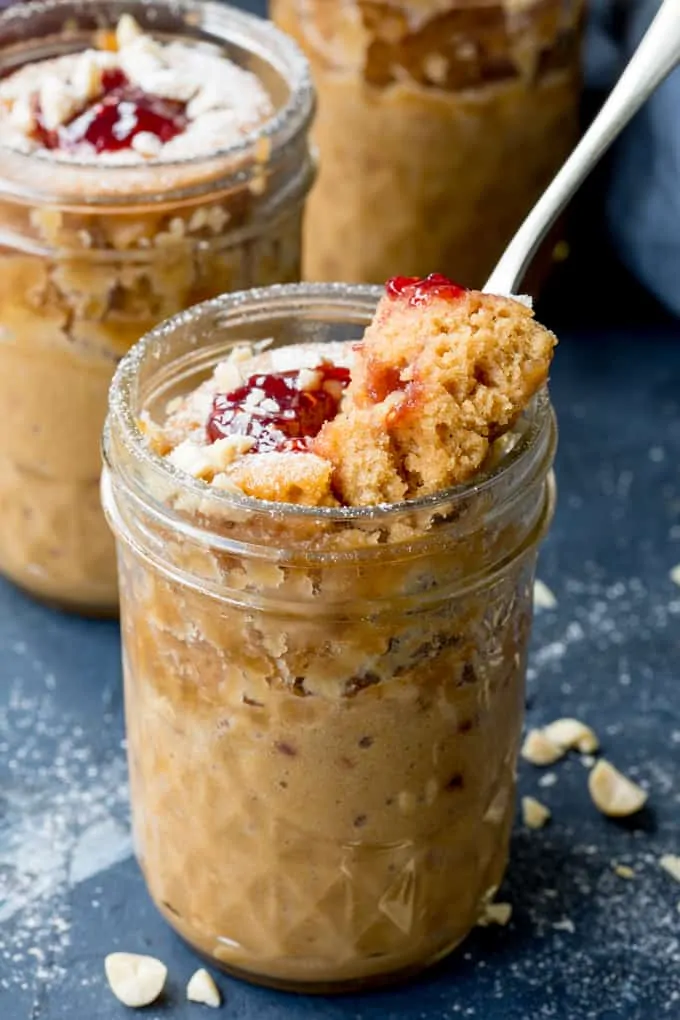 Lewis has finally gone off peanut butter! After a couple of years of eating it pretty much every day, he's finally decided he no longer wants it for breakfast.
And I have FOUR jars of peanut butter in the cupboard!
Fortunately, like me, he'll still eat it in cakes and curries (like this Snickers cheesecake and this Thai-style peanut pork). It's just the sandwich/toast topping that's now banned.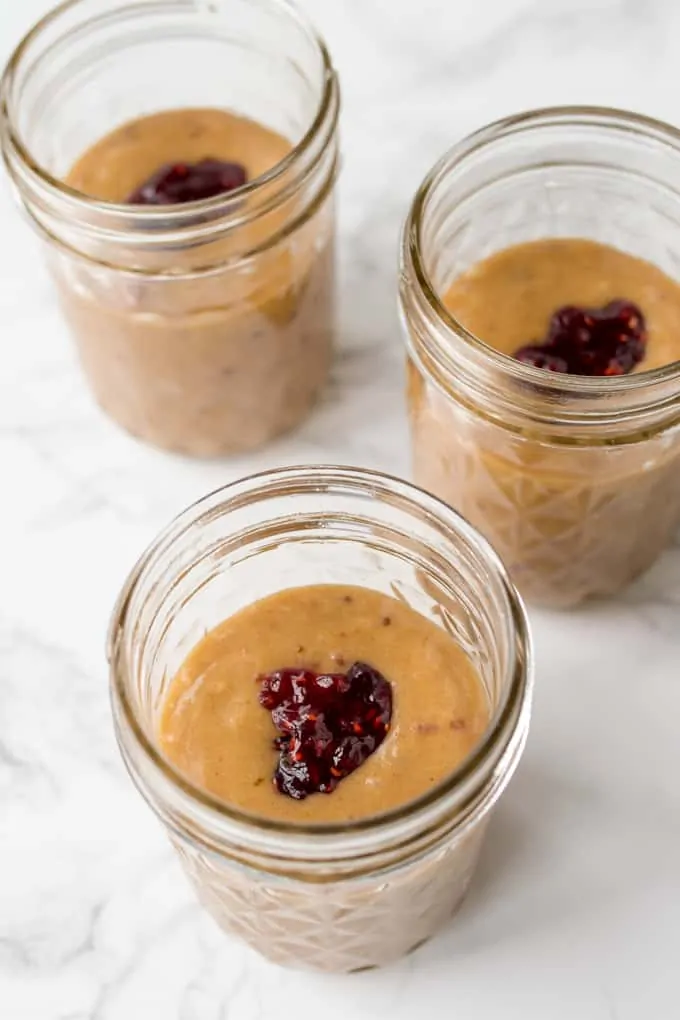 So I'm looking into new ways to use up our stash, and this Peanut Butter and Jelly (or peanut butter and jam in my case, since I'm English) is the clear winner so far.
Some of the jam is mixed into the cake mixture, and the rest is dolloped in the middle, so you have a nice puddle of it to spoon up with the cooked cake. Top it with a few chopped peanuts and you have a dessert that might just replace dinner (forget I said that, pretty much any dinner is going to be more nutritious than this sweet jar of naughtiness).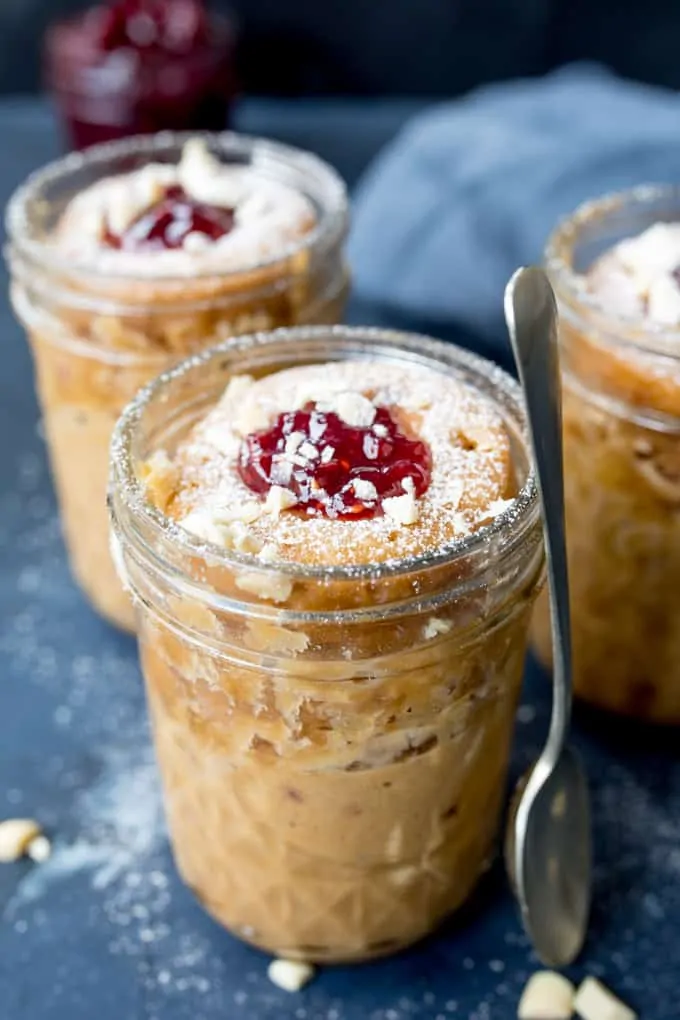 Now that Summer's pretty much over, I really need to get out of the habit of eating sweet things like this so much!!
Time to increase the exercise and reserve snacking and sweet treats for the weekends.
Yep. I'll definitely do that.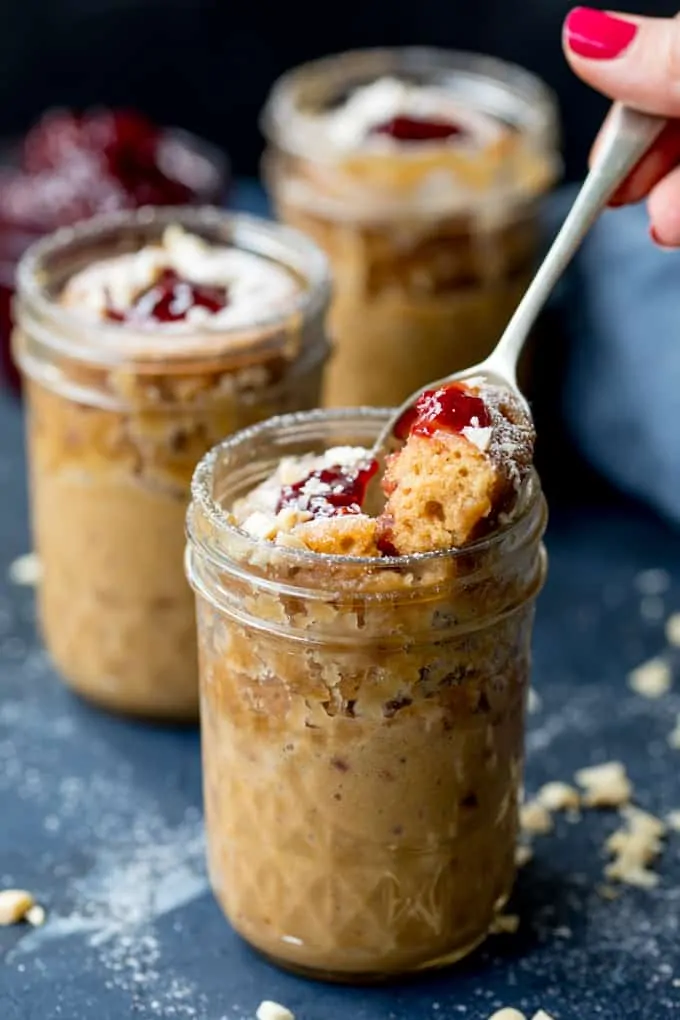 Once I've used up those jars of peanut butter......
If you like this mug cake, try my chocolate caramel mug cake too (includes a video):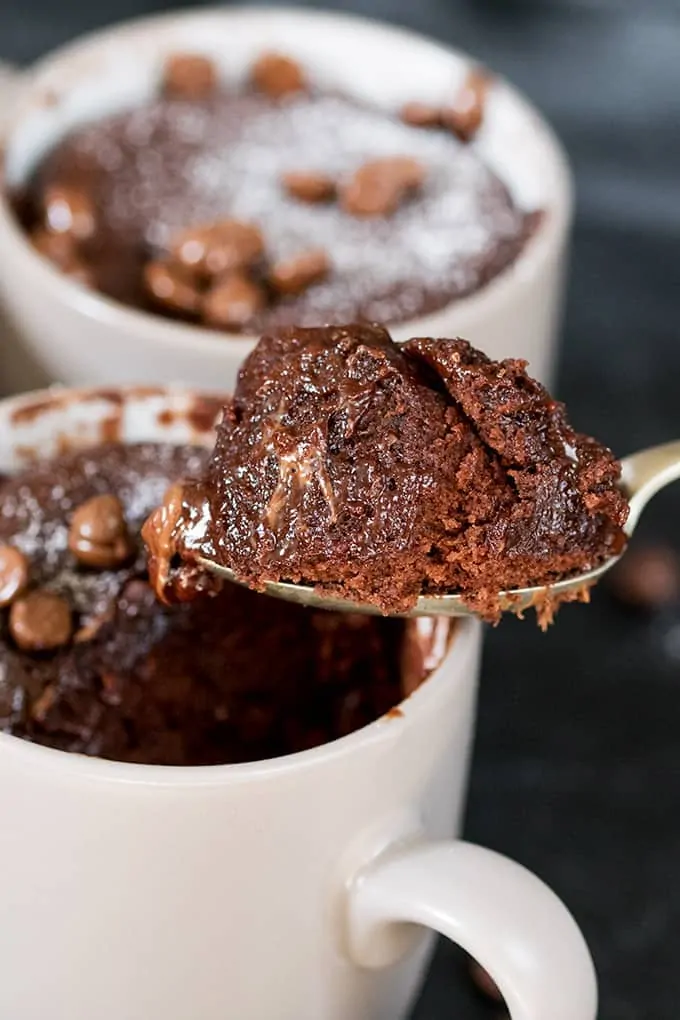 The PB&J Mug Cake Recipe:
P B And J Mug Cake Recipe
This PB&J mug cake is ready in 5 minutes - perfect when you need something sweet now!
Ingredients
The Mug Cake:
90

g

unsalted butter

60

g

peanut butter

130

g

plain (all purpose) flour

1

tsp

baking powder

110

g

light brown muscavado sugar

90

ml

milk

¾

tsp

vanilla extract

¼

tsp

salt

3

small eggs

6

tbsp

raspberry or strawberry jam/jelly
To serve:
1

tsp

icing sugar/confectioners' sugar

-

sifted

1

tbsp

chopped skinless peanuts

-

unsalted
INSTRUCTIONS
Place the butter in a jug and melt in the microwave* (takes about 30-60 seconds). Stir in the peanut butter until combined.

Add the flour, baking powder, sugar, milk, vanilla extract, salt, eggs and 4 ½ tbsp of the jam to the jug. Whisk to combine.

Pour the mixture into 3 microwave-proof mason jars or mugs. Add ½ tbsp of jam to the top of each jar.

Microwave for 90-110 seconds per jar– until the cake rises over the rim of the mug (keep a close eye on it). Then let it sink back down for a few seconds, before giving a quick (10-20 second) blast or two again. This should help to ensure the cake is cooked in the middle

Remove from the microwave. Test if it's cooked all the way through (microwave for a little longer if not).

Leave to cool for a few minutes (be careful, the microwaved jam will be very hot, so this needs to cool). Sprinkle with sifted icing sugar and chopped peanuts before serving.
✎ Notes
* My microwave is 900w - so your mug cake may take a little more or less time depending on the wattage.
.
Nutritional Information is per mug.
Nutrition
Calories:
848
kcal
Carbohydrates:
105
g
Protein:
16
g
Fat:
41
g
Saturated Fat:
19
g
Cholesterol:
203
mg
Sodium:
379
mg
Potassium:
546
mg
Fiber:
3
g
Sugar:
59
g
Vitamin A:
995
IU
Vitamin C:
3.5
mg
Calcium:
187
mg
Iron:
3.7
mg