These Mince Pie Truffles are packed with fruity mincemeat and cranberries - a delicious party snack or homemade Christmas gift!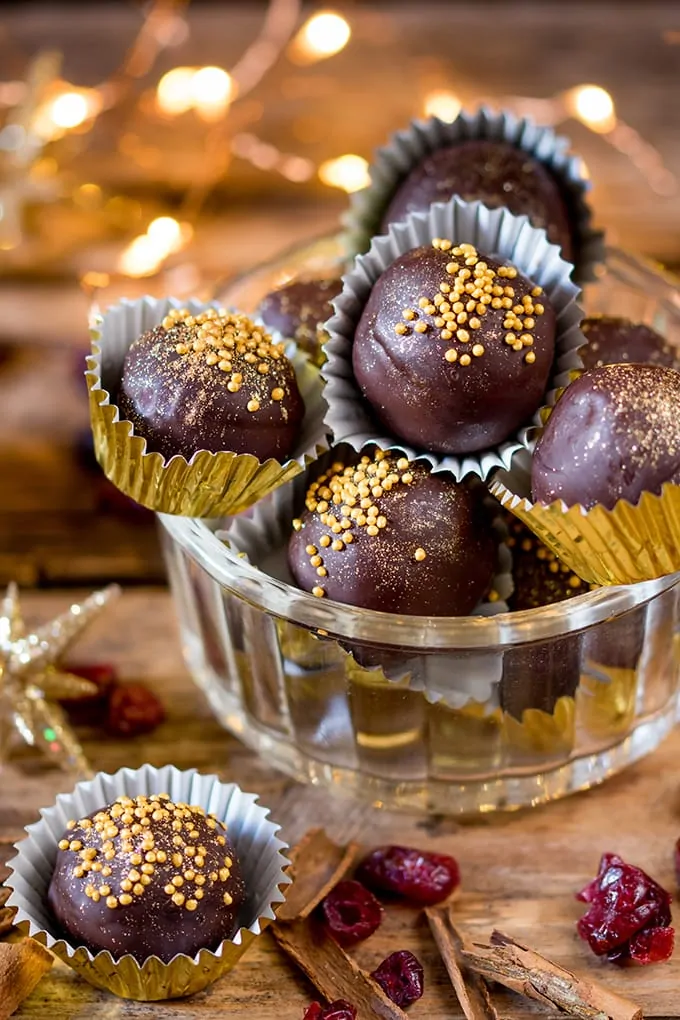 Created in collaboration with Neff Bake It Yourself.
I don't even think about mince pies between the months of January and November, yet come December I can't get enough of them! Juicy, sweet-yet-tart mincemeat stuffed into buttery pastry, then topped with even more pastry (or frangipane!) - totally addictive!
I love making mince pies at Christmas, but then I always find myself left with half a jar of mincemeat filling. I absolutely refuse to throw it away, so I'm usually on the lookout for something to do with it.
Last year I was making mincemeat pancakes with orange butter sauce, this year I've been making mince pie truffles! The idea occurred to me a couple of weeks ago when I was daydreaming about my apple pie truffles.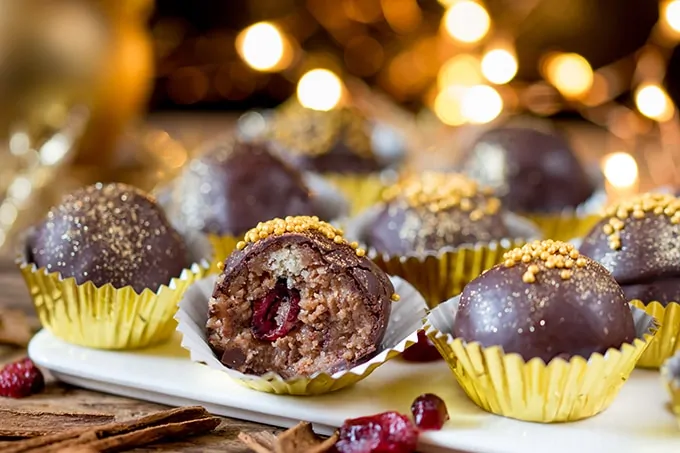 I went with the same approach as with the apple pie truffles - crushed up shortbread for the buttery-pastry taste, melted chocolate and cream cheese for a rich, sweet, creamy centre. And of course, plenty of mincemeat and also some added cranberries.
The truffles are coated in melted dark chocolate, then finished off with edible glitter and gold sprinkles for a really festive finish.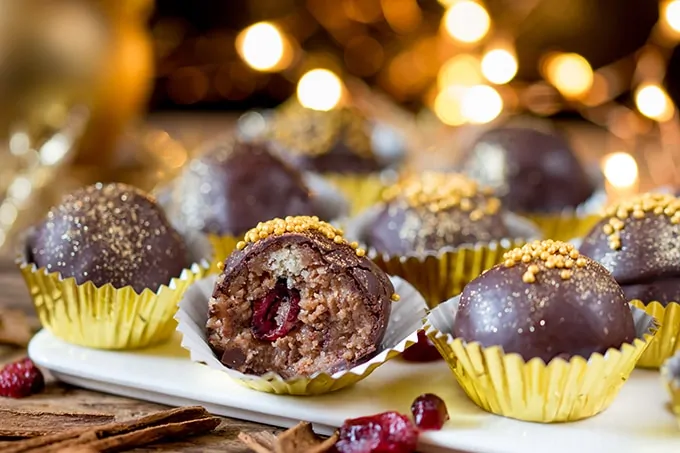 I've heard that when I get my new Neff induction hob fitted, I can melt chocolate directly in the pan - rather than using the bain marie or microwave method. Best make sure I get plenty of chocolate in so I can properly test that out......
Mince Pie Truffles Recipe: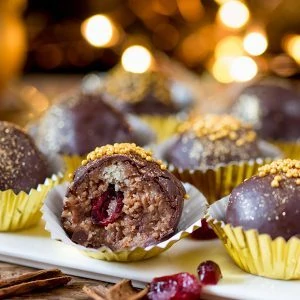 Mince Pie Truffles Recipe
These Mince Pie Truffles are packed with fruity mincemeat and cranberries - a delicious party snack or homemade Christmas gift!
Ingredients
140

g

mincemeat

50

g

dried cranberries

¼

tsp

cinnamon

55

g

full-fat cream cheese

2

tbsp

confectioners' sugar

175

g

all-butter shortbread biscuits (use gluten free shortbread if required - tastes just as good in these truffles)

100

g

milk chocolate, melted
Chocolate coating:
200

g

milk or dark chocolate, melted

Gold edible glitter

Gold sprinkles
INSTRUCTIONS
Place the mincemeat, cranberries, cinnamon, cream cheese and confectioners' sugar in a medium-sized bowl and mix together until combined.

Place the shortbread biscuits into a bag or bowl and crush into crumbs using the end of a rolling pin. Add the crumbs to the mincemeat mixture, along with the melted milk chocolate and stir to combine.

Cover the bowl with clingfilm and place in the fridge to firm up for at least an hour (up to a day).

Take the mixture out of the fridge. Line a plate or tray with baking parchment. Scoop out heaped teaspoons of the mix, place in your hand and roll into a ball. Place on the parchment (the mix will be a little sticky, but should hold its shape). Repeat until all of the mixture is used up. Place back into the fridge to chill for 30 minutes.

After 30 minutes, take the mincemeat balls out of the fridge. Line a new plate or tray with fresh parchment paper. Rest one of the balls on a fork and dip into the melted chocolate. Allow the excess chocolate to drip off, then transfer the ball onto the fresh parchment paper by gently sliding off the fork using a teaspoon. Repeat until all the balls are covered in chocolate.

Decorate the truffles with edible glitter and sprinkles. Allow to set at room temperature for at least 30 minutes before serving.
✎ Notes
Nutritional Information is per truffle, based on getting 20 truffles.
Nutrition
Calories:
170
kcal
Carbohydrates:
21
g
Protein:
1
g
Fat:
9
g
Saturated Fat:
4
g
Cholesterol:
5
mg
Sodium:
96
mg
Potassium:
98
mg
Fiber:
1
g
Sugar:
13
g
Vitamin A:
50
IU
Calcium:
14
mg
Iron:
1.6
mg