These easy No Bake Berry Bakewell Granola Bars come together in minutes and the almond-y bakewell flavour is so addictive!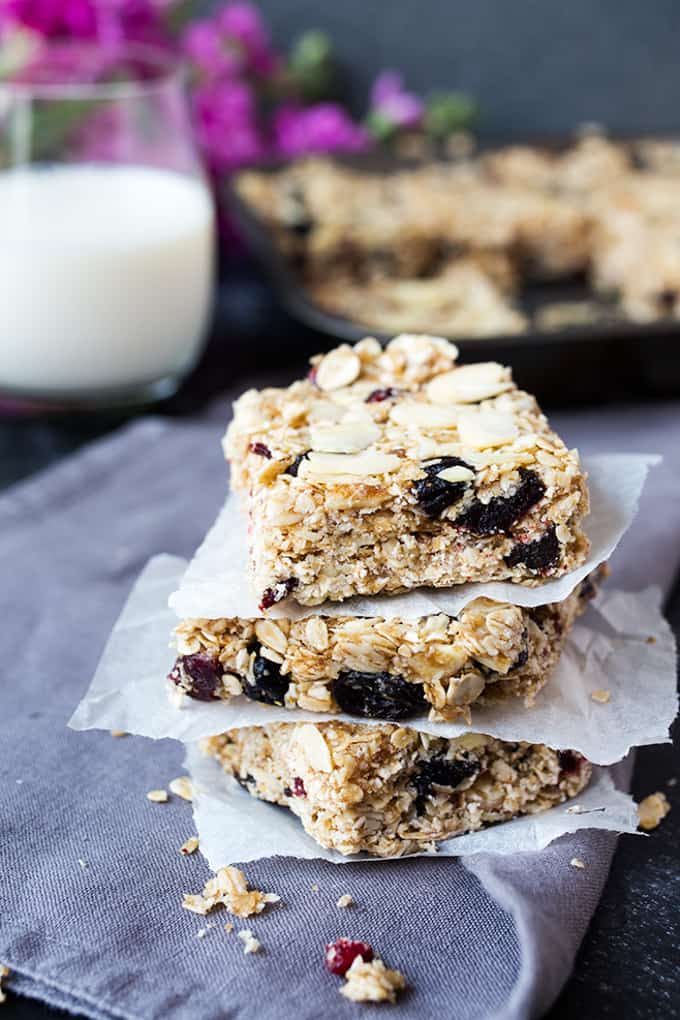 Aside from my wonderful husband, Mr Kipling might be my ideal man. Yes, I like to bake cakes at home, but I find it hard to walk past the cake aisle at the supermarket without drooling over the Viennese whirls, mini battenburgs and of course the bakewell tarts.
I saw those family-sized bakewell tarts on offer at the shop a couple of weeks ago and despite only being in there to pick up a bottle of water, I came out with TWO of those icing-covered, jammy pastries-from-heaven.  Eaten before the day was out, they were definitely a contributing factor to me joining Slimming World!
I'm not even sure if Mr Kipling exists.  Probably not.  He's probably just some high-tech computer sat in the corner of a cake-filled test kitchen, analysing probability statistics for flavours that are likely to induce catastrophic will-power failure in people like me.
Oh dear, my beautiful cake daydreams went downhill pretty quickly there.
Anyhoooo…
My son Lewis asked me to make some granola bars for him to take to school. I'd usually go for my blueberry-Greek-yogurt version, but I was dreaming of bakewell tarts at the time, and that led me to this creation.
I'm not going to lie here – this is no slimming-world-friendly recipe.  I made these No Bake Berry Bakewell Granola Bars for the kids (and only had a small nibble off a couple of corners).  They do contain honey and sugar for sweetness, but they also contain lots of goodness like oats, berries, almonds and coconut oil.  My kids loved them.
They don't need any baking – which means you can throw them together in a matter of minutes – followed by a short stint in the fridge. To guarantee that they won't fall apart though, you have to really squash the mixture down in the tin.  I like to place another tin on top of the one with the granola bars in and stand on it.
My little UK size 5's just about fit in the baking tin diagonally.  I also like to do a little bit of tip-toe pirouetting whilst I'm at it.
So yes, I look ridiculous whilst making granola bars, and I do put my feet in cake tins (but I wash them afterwards 😀 ).
If you like this oaty recipe, you should check out my friend Jane's best flapjacks. Jane is a fellow Neff cookaholic winner, she's totally awesome, and her flapjacks are made with a layer of dates - which I LOVE the idea of!
Gotta try this one (or maybe I'll just ask her to make me some.....).
The No Bake Berry Bakewell Granola Bars Recipe:
No Bake Berry Bakewell Granola Bars
These easy No Bake Berry Bakewell Granola Bars come together in minutes and the almond-y bakewell flavour is so addictive!
Ingredients
200

g

quick cook oats (use gluten-free if desired)

160

g

dried berries (my mix has sour cherries, raisins and cranberries)

50

g

flaked almonds

pinch

of salt

60

ml

coconut oil, melted

60

ml

honey

50

g

soft light-brown sugar

½

tsp

almond extract

You'll also need two 20x20cm baking tins
INSTRUCTIONS
Place the oats in large bowl. Add in the dried berries (slice any larger berries in half before placing in the bowl – you want everything to be about raisin-sized). Reserve a tbsp. of the flaked almonds, then add the rest to the bowl along with the remaining ingredients.

Mix everything together until well combined, then spoon the mixture into a 20×20-centimeter baking tin that has been lined with parchment paper. Flatten the mixture and push it to the edges using a spoon, the top with the remaining flaked almonds.

Place some baking parchment on top of the mixture and place the other baking tin on top. Use the top tin to really squish down the mixture (this will prevent it falling apart when you cut it). I actually place the tins on the floor and stand on it to really squash it down.

Place in the fridge for an hour to firm up, then remove from the tin, using the baking parchment and cut into 9 squares or 12 slices.

Serve straight away, or wrap and store in the fridge or at room temperature until serving (they'll be a little firmer if served straight from the fridge).
✎ Notes
Nutritional Information is per serving.
Nutrition
Calories:
201
kcal
Carbohydrates:
31
g
Protein:
3
g
Fat:
8
g
Saturated Fat:
4
g
Sodium:
2
mg
Potassium:
99
mg
Fiber:
2
g
Sugar:
17
g
Calcium:
24
mg
Iron:
1
mg