Blueberry and Greek Yoghurt Granola Bars are a healthy make-ahead breakfast made with fresh and dried blueberries.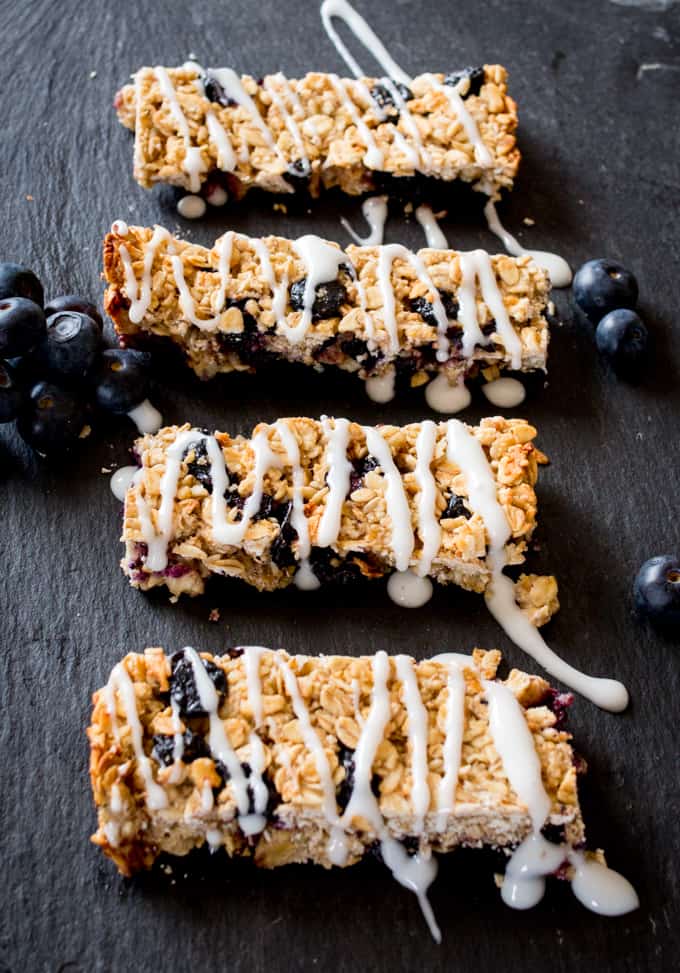 It's Christmas in 3 days and we're all running around like mad people!
If you're anything like me you're probably snacking on all sorts of Christmas goodies - which leaves little room for fruit and other healthy stuff.
If you have been following me for a while now you probably know i LOVE granola!
So I made these Blueberry and Greek Yoghurt Granola Bars as a way to get something good and healthy in me early on in the day before all the bad influences start kicking in.  Easy to grab from the side and eat on the run, they leave no excuse for having to resort to mini cheddars and an After Eight for breakfast.  Not that I, erm, ever do that.
Apart from the Greek yoghurt drizzle, I purposely made these bars not too sweet - relying on only a ⅓ of a tbsp. of honey in each bar for sweetness.  I use a mix of fresh and dried blueberries in the mix.  The fresh berries not only add a pop of tart juiciness to the bars, but, because I squish them before adding them in, they help to bind the mix whilst keeping the bars moist too.  I also use a few other binders:
Greek yoghurt - also adds moisture and creaminess to the bars
Coconut oil - so good for you, and it also helps to ensure an outer golden crunch
The previously mentioned honey - adds just a touch of sweetness
One egg white - I only include this to ensure the bars don't crumble as soon as you try to cut them.  I tried it without the egg white, and they don't cut nearly as well.
The drizzle on top is made from Greek yoghurt and a powdered sugar.  You only need a little, so I think using the powdered sugar is fine.  However you can leave it out if you want to be extra good.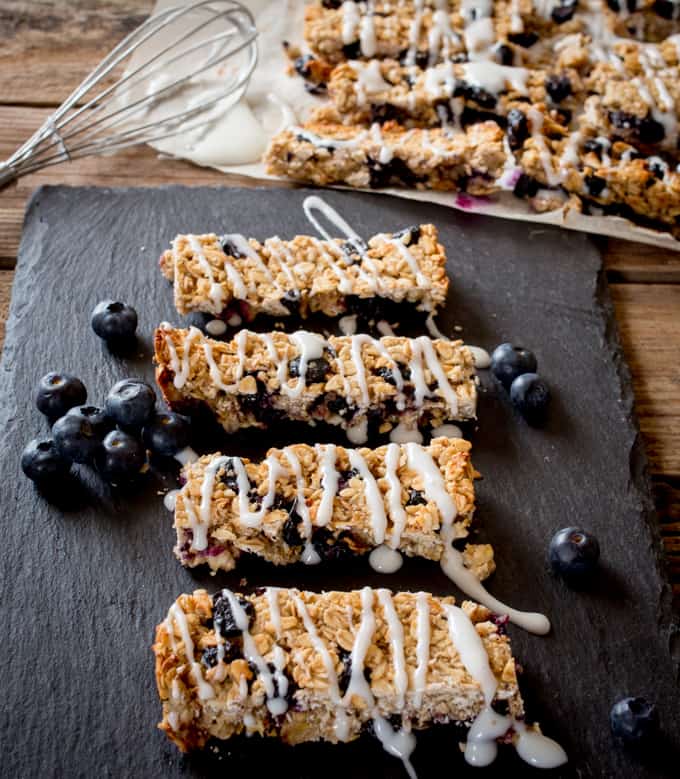 More Granola Ideas
The Blueberry and Greek Yoghurt Granola Bars Recipe:
Blueberry and Greek Yoghurt Breakfast Bars
Blueberry and Greek Yoghurt Granola Bars - a healthy make-ahead breakfast made with fresh and dried blueberries
Ingredients
Breakfast Bars:
50

ml

Greek Yoghurt

50

g

fresh blueberries

-

lightly crushed using a fork

200

g

rolled oats

-

a gluten free variety if required

4

tbsp

honey

1

tbsp

virgin coconut oil

-

melted

75

g

dried blueberries

1

egg white from a large egg

1

pinch

of salt
Greek Yoghurt Drizzle:
5

tbsp

icing/powdered sugar

1

tbsp

Greek yoghurt
INSTRUCTIONS
Preheat the oven to 170C/325F and line a 20x20cm baking tin with baking parchment.

Combine all of the breakfast bar ingredients in a large bowl. Mix to combine and spoon out into your baking tin. Flatten and squash the mixture down hard (you can use the back of a spoon, but if you want to reduce the chance of crumbling then place a piece of greaseproof paper on top of the flattened mixture, place a same-size baking tin on top and really squash down hard. Then you can peel the paper off) ensuring the mixture reaches all the edges of the tin. Place in the oven and bake for 20-25 minutes until lightly golden on top.

Take out of the oven and leave to cool in the tin for 10 minutes, then lift out of the tin by holding onto the baking parchment. Place on a chopping board on the baking parchment and leave to cool completely before cutting into 12 bars, using a sharp knife. You should be able to slice the bars no problem, but if you do find that the bars crumble when slicing, then place in the fridge for a couple of hours before slicing the rest.

Make the drizzle by whisking the powdered sugar with half of the Greek yoghurt. Add a little more Greek yoghurt until you get a thick sauce. Drizzle this over the breakfast bars and serve.

Leave the drizzle to dry for half an hour or so before wrapping and storing any remaining bars in an air-tight box. These bars are best eaten within 3-4 days.
✎ Notes
Nutritional Information is per bar.
Nutrition
Calories:
135
kcal
Carbohydrates:
26
g
Protein:
3
g
Fat:
2
g
Saturated Fat:
1
g
Sodium:
12
mg
Potassium:
124
mg
Fiber:
2
g
Sugar:
13
g
Vitamin C:
0.4
mg
Calcium:
18
mg
Iron:
0.8
mg