A Polish Classic - Hunter's Stew (Bigos) from Ren Behan's new book Wild Honey and Rye!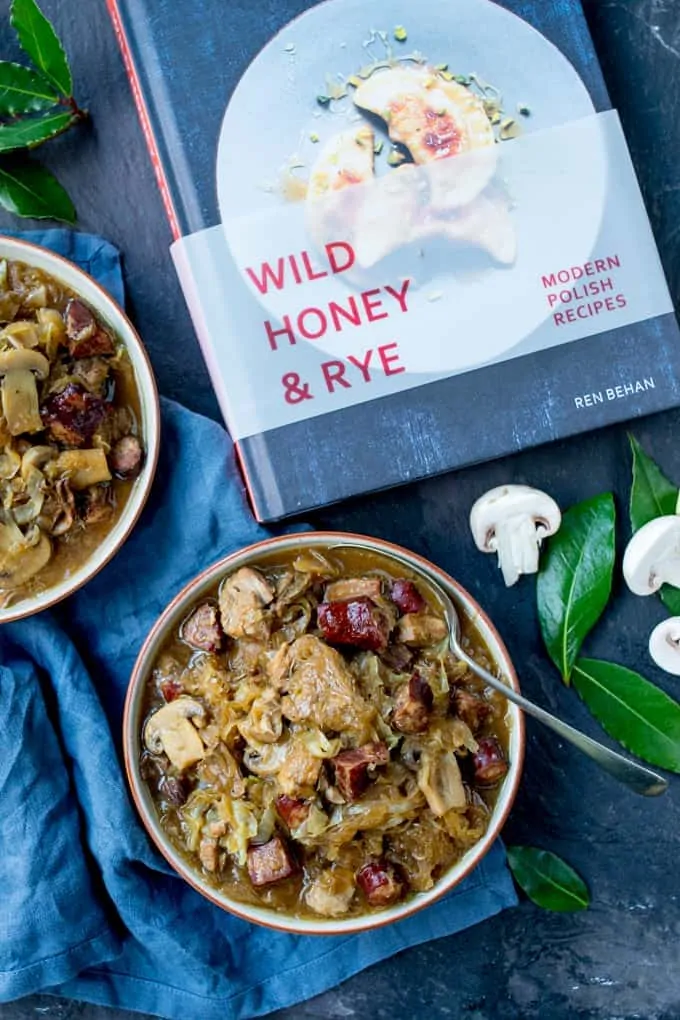 I'm feeling a little starstruck at the moment - one of my blogger buddies - Ren Behan - has her new cookbook out today!
I was sent an early copy to review (please note, this isn't a paid review, and all opinions are my own), and wow! So many scrummy recipes!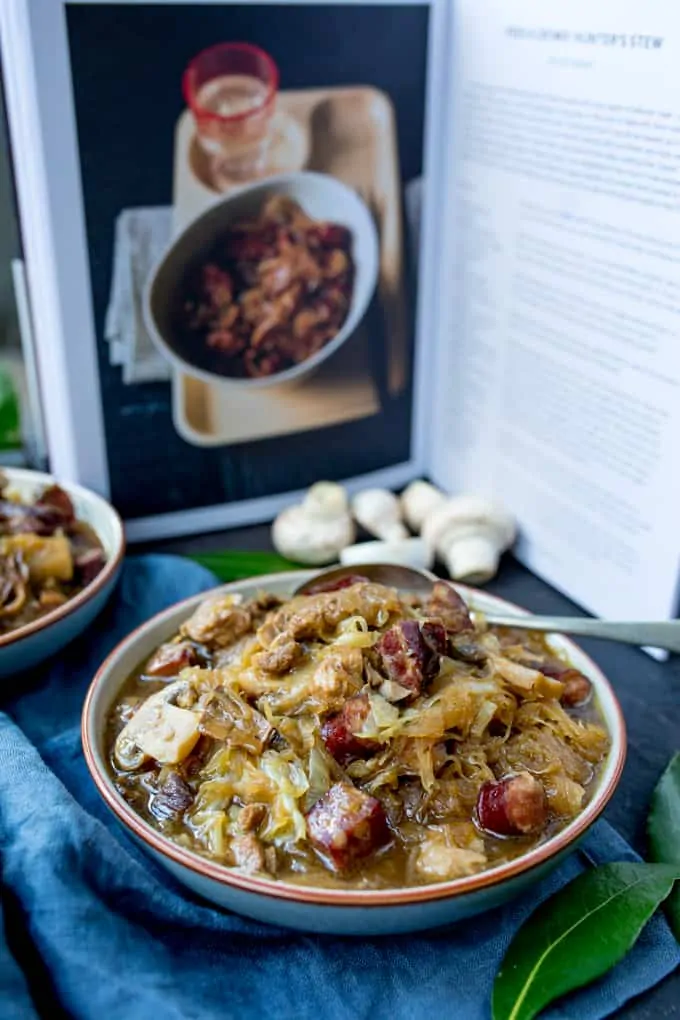 Amongst about a hundred other things, I was tempted to make her strawberry, honey and pistachio pierogis (which grace the front cover), but then I spotted the Hunter's stew - the Polish national dish often known as bigos.
Slow cooked pork with mushrooms and stock is exactly the kind of comfort food I love. But what really caught my eye was the inclusion of sauerkraut and two types of polish sausage. Polish cooking isn't something I've really experimented with, so I was intrigued to try some new flavour combinations (I'll be saving the pierogi recipe to make next!).
The stew starts off on the hob and is finished in the oven. A little under 3 hours from start to finish, it's the perfect meal to cook in the oven on a drizzly Saturday afternoon.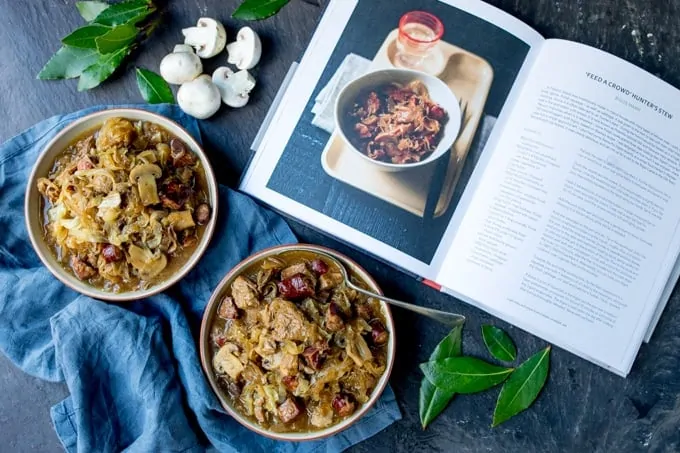 I went with the suggestion of rinsing the sauerkraut first - to reduce the sourness so it didn't overpower the dish - and I found this resulted in the most amazing subtle tang to the flavoursome sauce (honestly - that sauce! I couldn't stop hovering over the pan to take another slurp!).
I loved the tender, fall-apart pork, the tangy bite of the cabbage, and the sausages added lots of meaty flavour (the kids' loved the sausages the most).
A really warming dish, that - as Ren mentions in her book - tastes even better the next day.
(Sorry, even though the recipe doesn't use parsley to garnish, I couldn't help it. Think I've got a parsley problem!)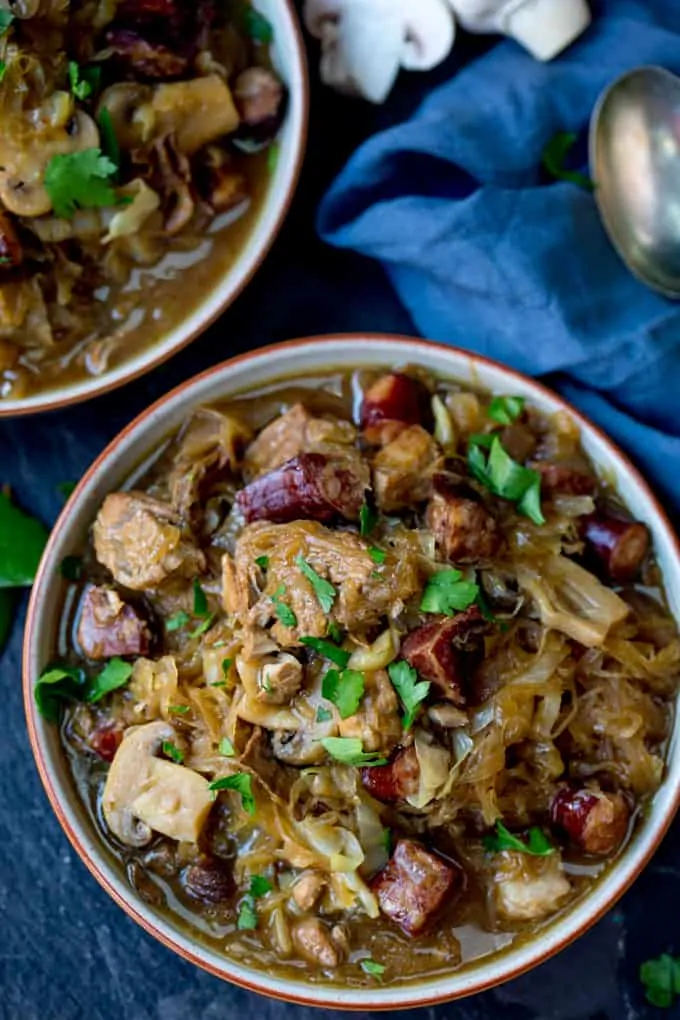 I did worry that my supermarket might not stock the kielbasa and kabanosy sausages, but much to my surprise, I found them both in Morrisons.
The only thing I couldn't find was powidla - or polish plum butter (although I later spotted there's a recipe for this in the book too!). So I went with Ren's suggestion of replacing with two prunes instead.
So good! Serve it with plenty of bread to soak up those lovely juices.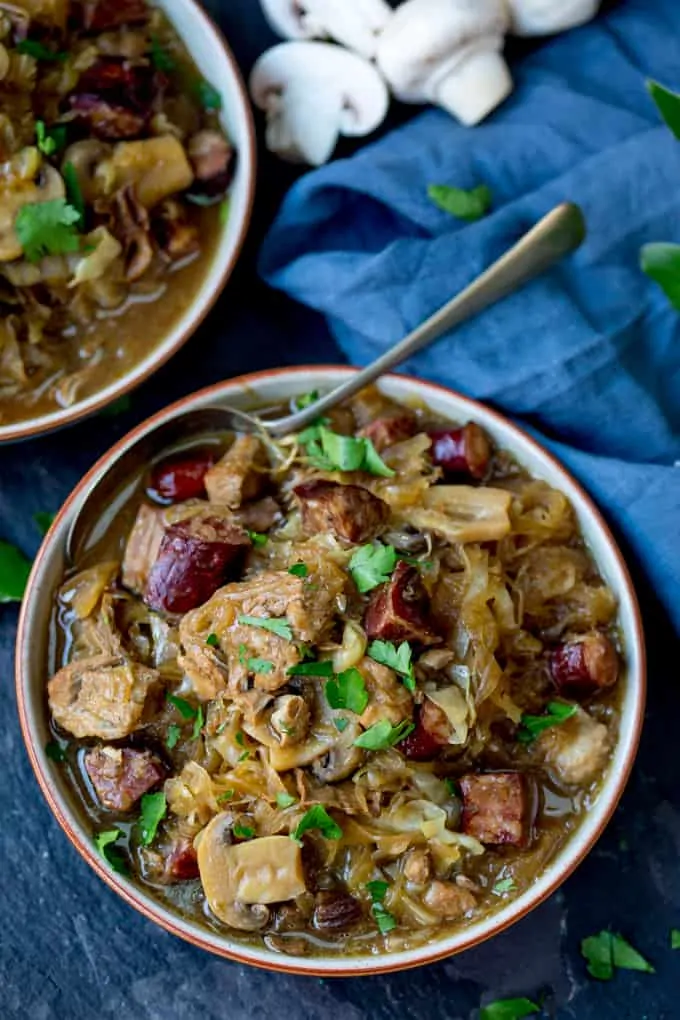 Some other favourites that I can't wait to cook include:
Forest mushroom soup - a creamy soup, made with a homemade chicken stock
Spiced honey vodka - oh yes! That's making my Christmas drinks list!
Pan roasted cod with leeks and cream - the serving suggestion of dill-buttered new potatoes sounds awesome too
Polish apple cake - which Ren says is a cross between a cake and a pie - topped with sweet, grated pie dough. What a cool idea!
Check out Ren's blog post on her journey to publishing her first cookbook here.
You can also pick up the book in major bookshops and Amazon here (affiliate link)
Also, check out some other recipes from Ren's book from some of my blogger buddies:
One-Pan Polish Breakfast by Farmersgirl Kitchen
Polish Forest Mushroom Soup by Foodie Quine
Potato Pancakes with Mushroom Sauce by Ceri's Natural Kitchen Adventures
Apple Pancakes from Family Friends Food
Easy Lemon Mini Babkas by Kate's Veggie Desserts
Polish Christmas Cookies by Recipes from a Pantry
Plum & Poppy Seed Cake by Heidi Robert's Kitchen Talk
Plum & Poppy Seed Traybake by Domestic Gothess
More Amazing Stews
Still hungry for more?  Why not try one of these stews inspired by different countries around the world:
The Hunter's Stew (Bigos) Recipe:
Hunter's Stew (Bigos) from Wild Honey and Rye
A Polish Classic - Hunter's Stew (Bigos) from Ren Behan's new book Wild Honey and Rye!
Ingredients
50

g

dried porcini mushrooms

900

g

sauerkraut

-

I used a 900g jar of Krakus sauerkraut from my local store

3

tbsp

vegetable oil

1

tsp

butter

2

large onions

-

peeled and chopped

500

g

pork belly or pork shoulder

-

chopped into small cubes

4

kabanosy

-

thin, smoked Polish sausages, chopped into 1 cm/ ½ inch pieces (I got mine from Morrisons)

200

g

½ ring kielbasa, Polish sausage

-

chopped into cubes (I got mine from Morrisons)

4

allspice berries

2

prunes

-

chopped, or 1 tbsp powidla, Polish plum butter

2

bay leaves

-

preferably fresh

1.5

litres

chicken stock

sea salt and freshly ground black pepper

100

g

fresh white mushrooms

-

chopped

½

head white cabbage

-

finely shredded

rye bread

-

to serve
INSTRUCTIONS
Preheat the oven to 200C/400F/Gas Mark 6.

Place the dried porcini into a small bowl, pour over freshly boiled water and leave to soak.

Drain the sauerkraut into a sieve. If you would prefer a slightly less sour

flavour, rinse the sauerkraut with cold water and then drain it (I did this and it worked really well - just a slight tang). If you like sour, then squeeze out the liquid using your hands. Put to one side.

Heat 2 tablespoons of oil and the butter in a large ovenproof pan or Dutch oven and add the onions. Cook over a very low heat for 10 - 15 minutes, until the onions are very soft and lightly golden.

Add the pork to the pan and cook over a gentle heat for about 10 minutes, allowing it to brown slowly while the fat is released.

Add the sausages to the pan and stir. Add the sauerkraut.

Drain the porcini mushrooms (reserving the liquid), roughly chop and add to the pan. Add the allspice berries, prunes or powidta and bay leaves, and pour in the reserved mushroom soaking liquid, being careful not to add any of the grit at the bottom of the cup.

Pour in the stock and season well with salt and pepper. Cover with a lid or foil and cook in

the oven for 11/2 hours. After the first 15 minutes turn the oven down to 180C/350F/Gas Mark 4. (Alternatively, you can cook your bigos, covered, over a gentle heat on the hob).

Towards the end of the cooking time, fry the fresh mushrooms in a separate pan with the remaining oil. Add to the stew, along with the fresh cabbage, stir well, cover and place back in the oven for a further hour.

If there is a lot of liquid left in the bigos, put the pan over a medium heat and simmer, uncovered, for around 10 minutes or until some of the liquid evaporates (although I preferred mine with lots of juice!). Serve with rye bread.

The bigos is delicious eaten right away, but even better the next day after being thoroughly reheated.
✎ Notes
Nutritional Information is per serving.
Nutrition
Calories:
295
kcal
Carbohydrates:
14
g
Protein:
24
g
Fat:
16
g
Saturated Fat:
7
g
Cholesterol:
75
mg
Sodium:
884
mg
Potassium:
771
mg
Fiber:
4
g
Sugar:
5
g
Vitamin A:
90
IU
Vitamin C:
32
mg
Calcium:
66
mg
Iron:
3.2
mg
Some of the links in this post may be affiliate links – which means if you buy the product I get a small commission (at no extra cost to you). If you do buy, then thank you! That's what helps us to keep Kitchen Sanctuary running. The nutritional information provided is approximate and can vary depending on several factors. For more information please see our Terms & Conditions.