Oven Cooked Dutch Pancake with Easy Blueberry sauce - An impressive looking (and tasting!) giant pancake that serves the whole family.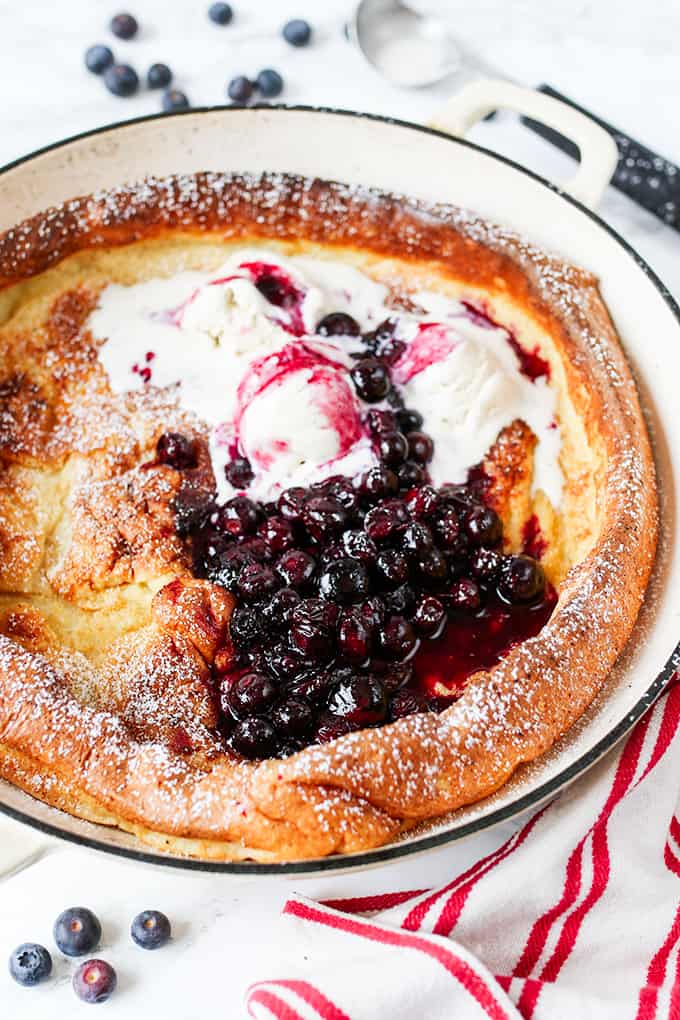 As much as I love pancakes, I never seem to end up making them on pancake day!
Pancakes are weekend food, when the children and I can take our time making and eating lovely big piles of fluffy pancakes. Even better if we have time to experiment.
Pancakes with:
I've even got one of those crepe-plates. Our kitchen is a right old mess after using that one, but the sense of achievement when we actually make a perfectly formed French crepe filled with Nutella and banana slices? It's almost too good to eat (yeah right, like I'd ever look at something rather than eat it!).
I thought I'd try something new today in preparation for pancake day. Oven-cooked dutch pancakes!
Rather like a giant Yorkshire pudding – except it's cooked in butter instead of dripping, and it has a touch of sweetness to it. They're the perfect pancake when you all want to eat together, rather than the huddle around the kitchen, waiting in line for the next pancake to come off the griddle.
They look impressive too – huge towering things, just waiting to be filled with whatever takes your fancy.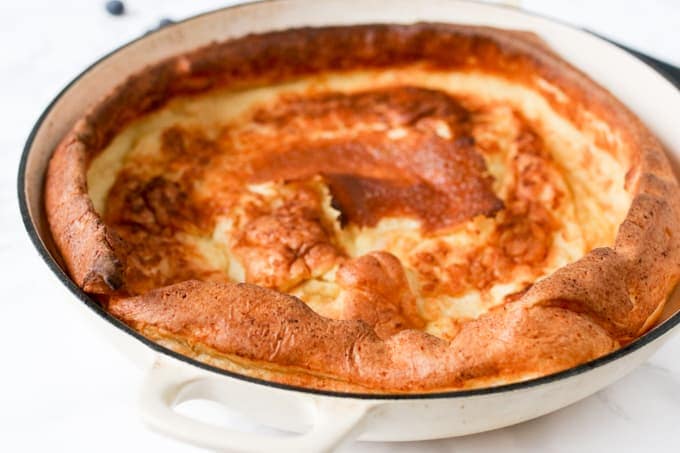 Let's just say I've eaten a fair amount of pancakes this week…..
The Oven Cooked Dutch Pancake with Easy Blueberry sauce Recipe:
Oven Cooked Dutch Pancake with Easy Blueberry sauce
An impressive looking (and tasting!) giant pancake that serves the whole family.
Ingredients
2

tbsp

butter

150

g

(1 cup + 3 tbsp) plain (all-purpose) flour

3

large eggs

240

ml

(1 cup) milk - full or half fat

2

tbsp

sugar

1

tsp

vanilla extract

1

pinch

salt
Blueberry Sauce:
2

cups

fresh blueberries

1

tbsp

water

3

tbsp

granulated/caster sugar
To Serve:
Vanilla ice cream

1

tbsp

icing sugar/confectioners' sugar
INSTRUCTIONS
Place a 12" cast iron pan in the oven and preheat to 210c. Add the butter and let it melt and heat for 5 minutes until light brown bits start to appear in the butter.

Whilst the butter is heating, whisk together the remaining pancake ingredients.

Open the oven and working quickly (so the pan doesn't cool too much) use a brush to brush the melted butter all over the inside (including the sides) of the pan. Quickly and carefully pour in the pancake mixture and close the oven.

Cook for 15-18 minutes until browned and risen.

Whilst the pancake is in the oven, make the blueberry sauce. Place the blueberries, water and granulated sugar in a pan and heat for about 5 minutes until the blueberries release their colour and the sugar dissolves. Turn off the heat and put to one side to cool slightly.

Take the pancake out of the oven (the centre may be very puffed up, but it will go back down after a minute or two) and spoon in the blueberry sauce. Add a couple of scoops of ice cream and sprinkle with icing sugar.

Slice and serve!
✎ Notes
Nutritional Information is per serving (based on 4 servings).
Nutrition
Calories:
382
kcal
Carbohydrates:
59
g
Protein:
10
g
Fat:
11
g
Saturated Fat:
5
g
Cholesterol:
144
mg
Sodium:
135
mg
Potassium:
221
mg
Fiber:
2
g
Sugar:
27
g
Vitamin A:
495
IU
Vitamin C:
7.2
mg
Calcium:
96
mg
Iron:
2.5
mg