Sweet and crunchy, these cinnamon Cinnamon French Toast Fingers with Greek Yogurt and Blueberry Sauce make a delicious Sunday breakfast.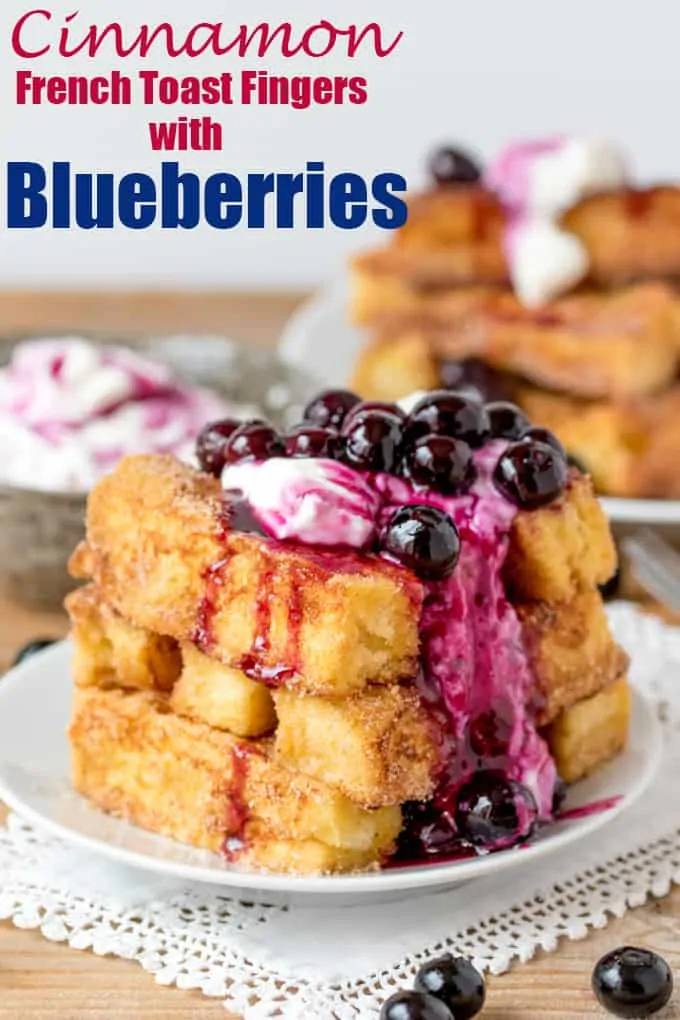 I've been making these a lot lately, much to my kid's delight!
Brioche bread is finally starting to become more widely available in the UK. I've waited for so long - only seeing those artificial-tasting chocolate-filled brioche rolls in all of the supermarkets and nothing else.
I'd even started making my own brioche rolls for burgers (and actually I'll continue to make these because I love how soft and fluffy they are).
However, Morrisons have started producing an amazing French butter brioche loaf as part of their signature range. I find it hard not to just stuff chunks of it in my mouth whilst I'm making this breakfast!
Making the French toast into fingers means cutting the crusts off to get a nice even shape, and strangely not a single crust makes it to the bin......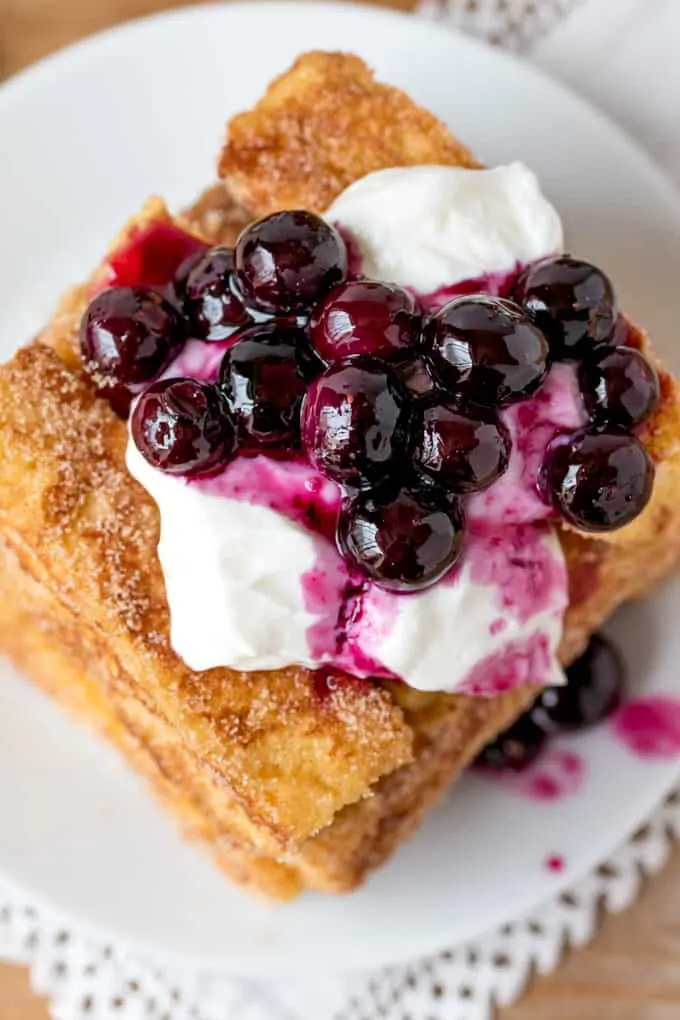 I like to serve these with some homemade blueberry sauce - which is so easy to make. A pile of blueberries in the pan with a tablespoon of sugar and water, then just heat for a couple of minutes. That's it.
The blueberries release a little of their liquid, and the whole mixture turns beautifully glossy and very slightly sticky.
It works great on pancakes, pastries, in porridge and even drizzled on muffins.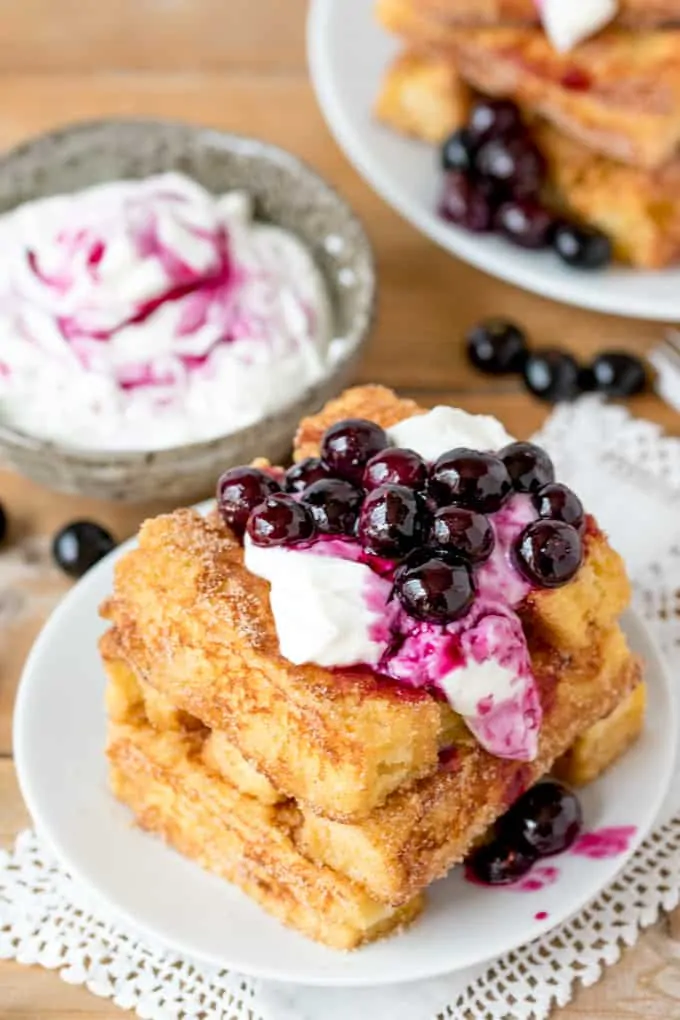 I also like to serve this with Greek yogurt.
The tartness of it works really well with the sweetness of the cinnamon toast.
However, you can use mascarpone or cream cheese (sweetened or unsweetened) if you prefer.
The last time I made this, the kids hovered around just waiting to dive in the moment I'd taken a few pictures. Lewis didn't even bother to find a chair - just started scoffing whilst stood up at the breakfast bar....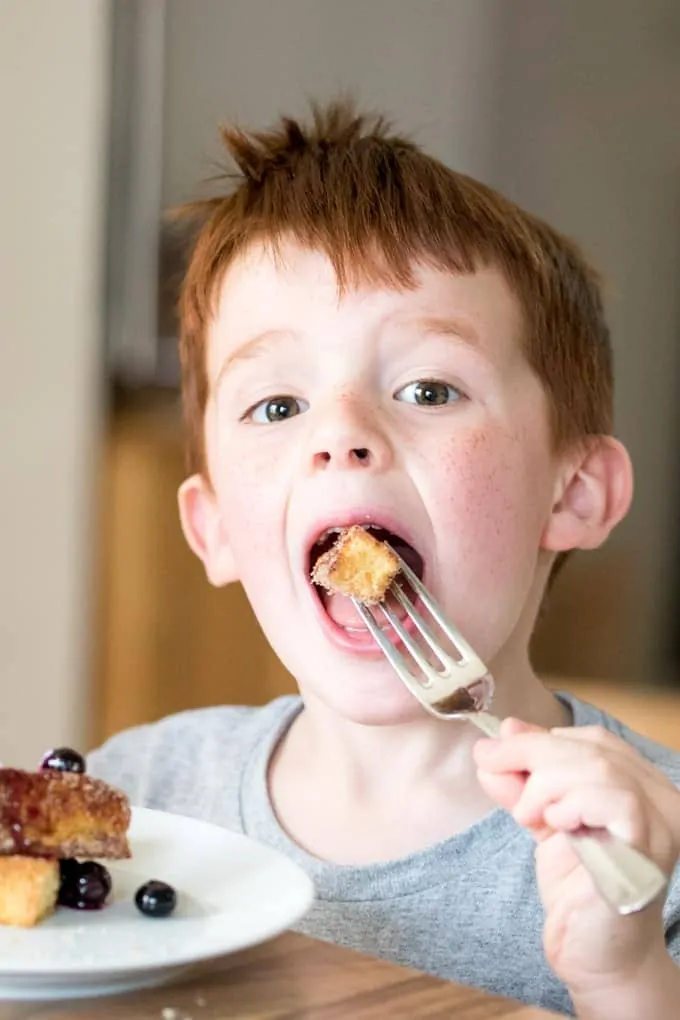 So simple to make, and even quicker than pancakes, weekend breakfast can be on the table in 15 minutes.
Cinnamon French Toast Fingers with Greek Yogurt and Blueberry Sauce Recipe: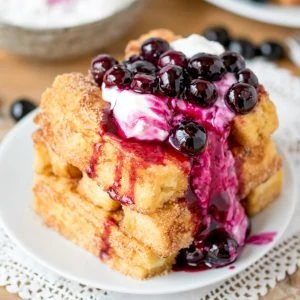 Cinnamon French Toast Fingers with Greek Yogurt and Blueberry Sauce
Sweet and crunchy, these cinnamon French toast fingers make a delicious Sunday breakfast.
Ingredients
6

thick slices of brioche bread

2

large eggs

4

tbsps

milk

½

tsp

vanilla extract

100

g

½ cup granulated sugar

2

tsps

ground cinnamon

2

tbsp

unsalted butter
Blueberry Sauce:
1

cup

blueberries

1

tbsp

granulated sugar

1

tbsp

water
INSTRUCTIONS
Place the blueberry sauce ingredients in a small pan and put to one side.

Cut the crusts off each slice of bread, and cut each piece of bread into three fingers.

Whisk together the egg, milk and vanilla extract in a wide, shallow bowl.

Place the sugar and cinnamon on a plate and mix together.

Place the pan for the blueberries on a medium heat and bring to a bubble, then stir and turn down the heat to low. Cook for 2-4 minutes until the blueberries release some of their colour and the sugar is completely dissolved. Don't overcook or the blueberries will lose their shape. Turn off the heat and put to one side.

Heat the butter in a large frying pan (skillet) on a medium heat until just bubbling. Briefly dip the bread fingers in the egg mixture so that all sides are covered.

Place the fingers straight in the hot pan. Fry for 1-2 minutes on each side until golden brown. Remove the fingers from the pan and place them straight in the cinnamon sugar. Turn them over to fully coat.

Stack the cinnamon fingers on two or three plates, then top each plate with 2 tablespoons of Greek yogurt and the blueberry sauce.

Serve immediately.
✎ Notes
Nutritional Information is per serving, without serving of yogurt.
Nutrition
Calories:
643
kcal
Carbohydrates:
83
g
Protein:
13
g
Fat:
29
g
Saturated Fat:
16
g
Cholesterol:
268
mg
Sodium:
418
mg
Potassium:
104
mg
Fiber:
1
g
Sugar:
43
g
Vitamin A:
1140
IU
Vitamin C:
4.8
mg
Calcium:
98
mg
Iron:
1.6
mg