What could be better than soft fluffy naan bread with a hint of sweetness to mop up a lovely sauce curry!
Some recipes like to include sultanas in their peshwari naan, but I'm not keen in fruit in my naan bread, so I like to use a deliciously moreish sticky mixture of ground almonds and desiccated coconut. This bread is the perfect blend of sweet and savoury!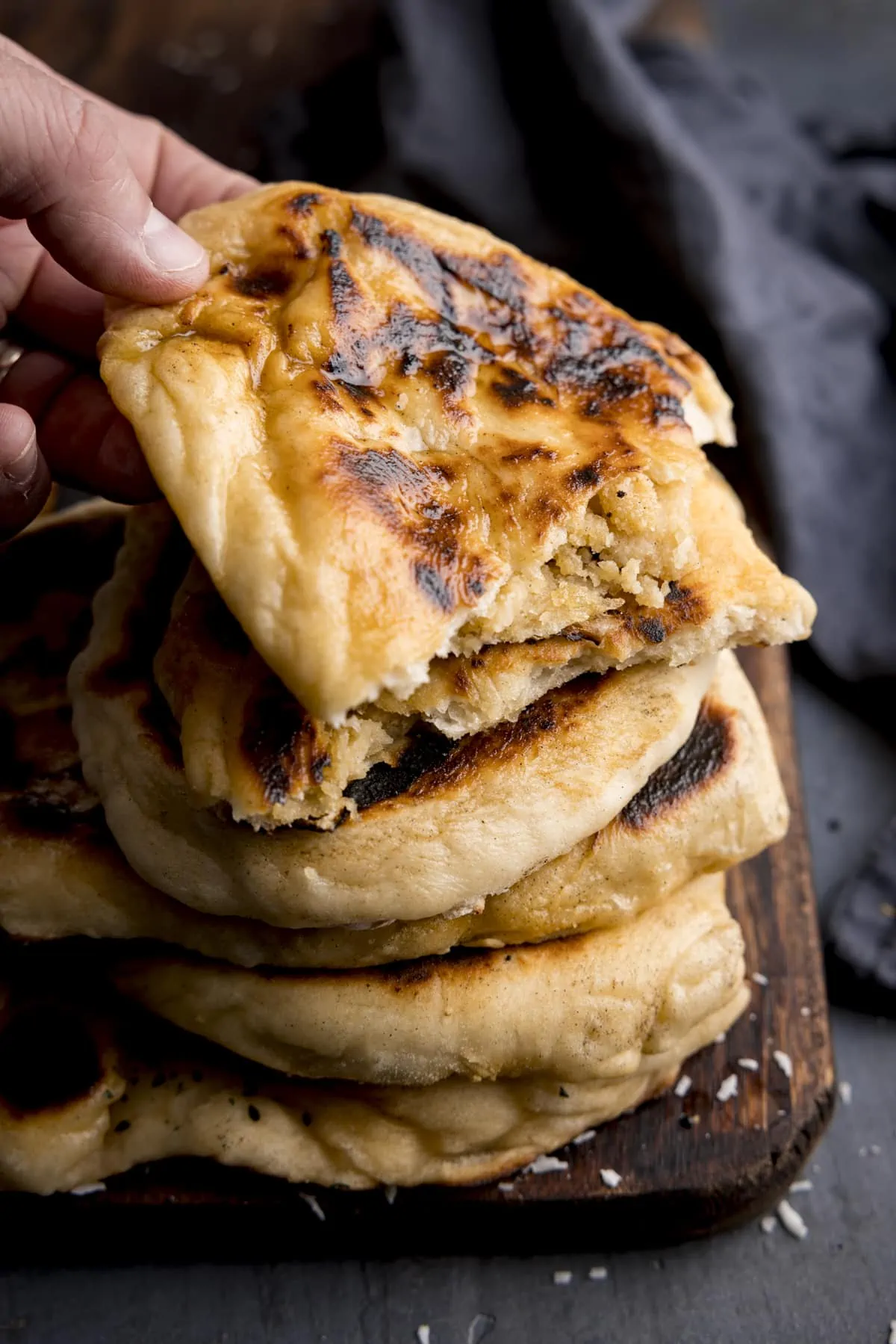 Jump to:
Peshwari is nearly always my naan of choice when we get a takeaway. I love the soft chewiness of the bread with that hint of almond sweetness.
Then of course comes the best bit - swooshing a large, torn-off piece through a lovely puddle of hot madras sauce and tasting the spicy sauce with the sweet bread.
Pure bliss!
✅ How to make it
Full recipe with detailed steps in the recipe card at the end of this post.
We start by making the dough, which has the usual ingredients of yeast, water, bread flour, sugar and salt. We also add in baking powder (as an extra raising agent and to help the dough puff up), yogurt (to make the naan bread chewy and tender) and butter (to enrich the flavour, and help with the slight denseness of naan bread).
Once we've made the dough, it's left to rise for 60-90 minutes.
Then we make the filling - a mixture of ground almonds, desiccated coconut, brown sugar and butter.
Next we split the dough into 6 pieces and roll each out into a long rectangle. The filling is spread/spooned onto one half of each piece of dough, and the dough is folded over and rolled/shaped further.
We fry the naan breads in a hot dry pan, brushing with melted butter when they're done.
👩‍🍳PRO TIP The naan breads can be kept warm by placing in a pile, covering in foil and placing in a warm oven, whilst you're cooking the rest. Placing them in a pile helps to keep the naan breads nice and soft.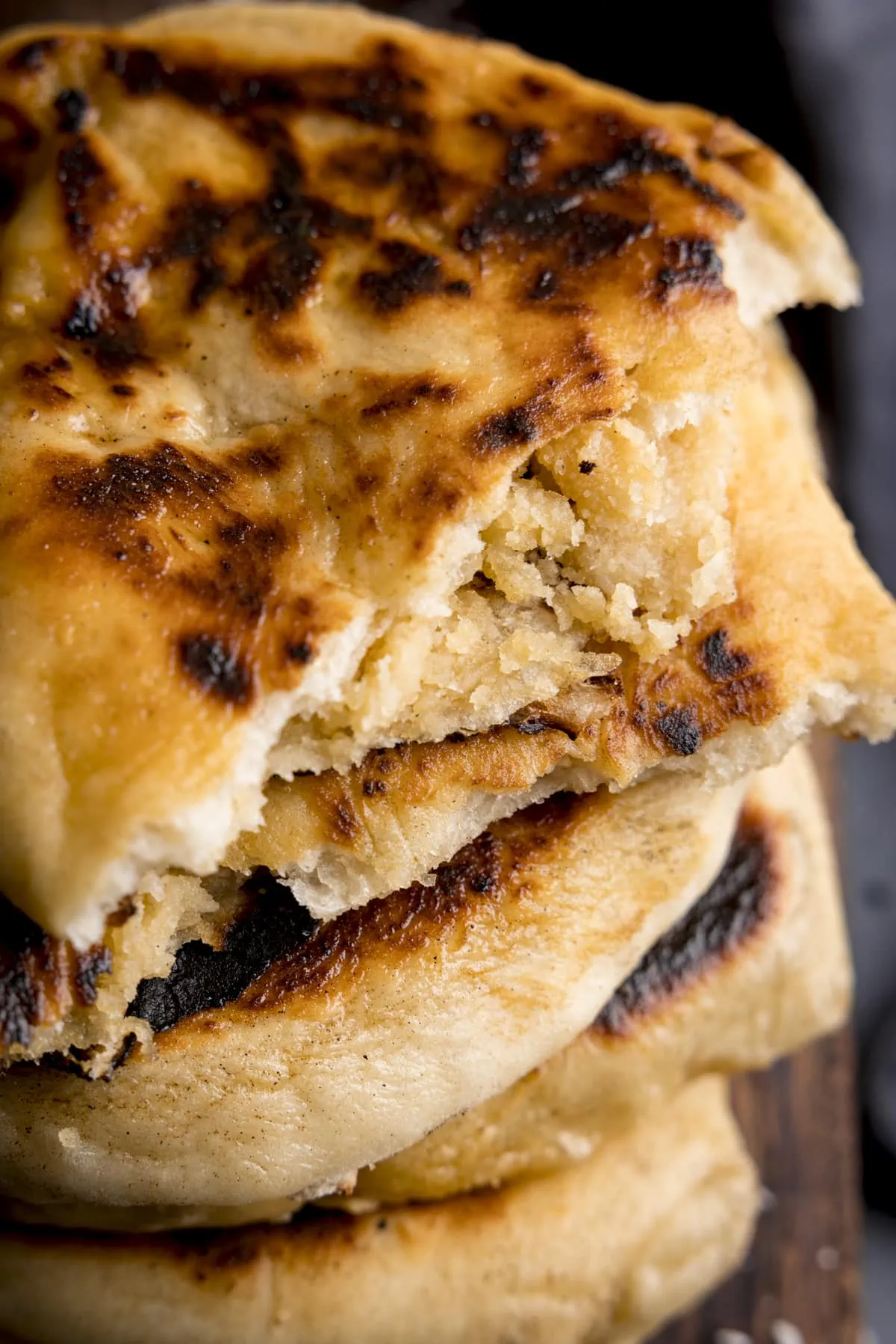 🍽️ Saucy curries to dip your naan in
---
They're so soft and tender - just look at the lovely sweet filling.
---
I have't made a video for this recipe yet - we've been so busy filming recipe for the new book. I really want to do a video for it as soon as we can though. Is this something you guys would want to see?
🍲 More fantastic Indian-inspired Side Dishes
Stay updated with new recipes!
Subscribe to the newsletter to hear when I post a new recipe. I'm also on YouTube (new videos every week) and Instagram (behind-the-scenes stories & beautiful food photos).
Homemade Peshwari Naan Recipe
What could be better than soft fluffy naan bread with a hint of sweetness to mop up a lovely sauce curry!
Ingredients
For the dough:
2

tsp

(7g) instant yeast

120

ml

(½ cup) warm water

300

g

(2 ½ cups) strong white bread flour

1

tsp

(5g) sugar

-

(caster or superfine)

½

tsp

baking powder

1

tsp

(5g) salt

150

ml

(½ cup + 2 tbsp) natural yogurt

30

g

(2 tbsp) melted unsalted butter
For rolling/shaping:
3-4

tbsp

plain (all-purpose) flour
Coconut and almond filling:
100

g

(1 cup) ground almonds

3

tbsp

desiccated coconut

4

tbsp

light brown sugar

3

tbsp

unsalted butter

-

softened
To finish
75

g

(5 tbsp) melted unsalted butter
INSTRUCTIONS
Place the yeast in a bowl and add the warm water. Stir together and leave for 5 minutes, until foam appears on top of the water.

2 tsp (7g) instant yeast,

120 ml (½ cup) warm water

Add the flour, sugar, baking powder, salt, yogurt and melted butter to the bowl of a stand mixer, along with the yeast and water mixture.

300 g (2 ½ cups) strong white bread flour,

1 tsp (5g) sugar,

½ tsp baking powder,

1 tsp (5g) salt,

150 ml (½ cup + 2 tbsp) natural yogurt,

30 g (2 tbsp) melted unsalted butter

Mix the dough together using the dough hook until combined. The mixture will look dry at first, but will come together.

Once combined, continue to knead the dough with the dough hook for 10 minutes. By this point the dough will be quite sticky.

Place the dough in an oiled bowl, cover with a damp cloth or clingfilm and allow to prove for 60-90 minutes, until doubled in size.

Meanwhile, make the coconut and almond filling by mixing the ground almonds, desiccated coconut, sugar and butter together in a small bowl, until combined. Put to one side.

100 g (1 cup) ground almonds,

3 tbsp desiccated coconut,

4 tbsp light brown sugar,

30 g (2 tbsp) melted unsalted butter

Dust the work surface with a good sprinkling of flour. Divide the dough into 6 balls.

3-4 tbsp plain (all-purpose) flour

Dust each dough ball with flour and roll each one out into rectangles, approx. 10cm (4 inches) x 5cm (2 inches).

Divide the coconut/almond mixture between the dough rectangles, spreading it out, so it covers half of the dough. The filling may be a little crumbly, but that's fine.

Fold the dough over, so you now have a square of dough, measuring approx. 5cmx5cm (2 inches), and seal the edges with your fingertips. Repeat with the remaining dough.

Carefully shape each dough square into a teardrop or oval shape, approx 15cm (6 inches) long and about 10cm (4 inches) wide at the widest point. I prefer to use my hands for this part, but you can use a rolling pin if you prefer.

Don't worry if the naan breads are a little smaller. You basically want to get the dough fairly thin, but without the filling leaking out.

Preheat the oven to its lowest setting (to keep the naan breads warm).

Heat a large frying pan (either a non-stick or a seasoned cast iron pan) over a high heat. When very hot, place a naan bread in the dry pan and fry for approx. 3 minutes, until it puffs up.

Turn the naan bread over a cook for another 3 minutes until golden patches appear on the bread. You can cook it for longer if you prefer darker patches (the pan may smoke a little if cooking for longer, so you may need to carefully wipe it out after cooking each naan).

When the naan bread is cooked, place on a baking tray and brush the top generously with the melted butter (approx ¾ butter tbsp for each naan).

75 g (5 tbsp) melted unsalted butter

Cover the tray with foil and place in the oven.

Repeat, cooking each naan bread, brushing the top with melted butter and placing on top of the previously cooked naan bread (keeping them in a stack will keep them nice and soft). Each time you add a naan bread to the pile, re-cover the pile with the piece of foil and place back in the oven to keep warm until all the naan breads are cooked.

Serve with your favourite curry.
✎ Notes
Can I make ahead?
Fresh naan bread, always tastes the best, but they do still taste fantastic when made ahead. 
Make all the naans, (don't bother keeping them warm in the oven or brushing with melted butter). Cover with foil after making each one (to keep them soft), but you don't need to put them in a pile if you're making them ahead (they'll take longer to cool in a pile).
Cool the naan breads then store at room temperature, in a sealed container for 1-2 days.
Freezing:
Alternatively, freeze them in a freezer bag or in a sealed container. Place some greaseproof paper between each naan, so they don't stick together when freezing. 
Defrost at room temperature (still in the bag, or at least covered with foil, so they don't dry out) for a couple of hours until completely defrosted and no longer cold to the touch.
To reheat:
Pre-heat the oven to 180C/35oF.
Place the naan breads on a baking tray. It's fine if they overlap a little. 
Sprinkle a little water on each naan (about ½ tsp per naan)
Cover with foil, and place in the oven for 8-12 minutes, until piping hot throughout.
Brush with melted butter and serve.
Nutritional information is approximate - per individual naan bread.
Nutrition
Calories:
543
kcal
Carbohydrates:
55
g
Protein:
13
g
Fat:
32
g
Saturated Fat:
15
g
Polyunsaturated Fat:
1
g
Monounsaturated Fat:
6
g
Trans Fat:
1
g
Cholesterol:
56
mg
Sodium:
454
mg
Potassium:
196
mg
Fiber:
5
g
Sugar:
11
g
Vitamin A:
639
IU
Vitamin C:
0.2
mg
Calcium:
104
mg
Iron:
2
mg
Some of the links in this post may be affiliate links – which means if you buy the product I get a small commission (at no extra cost to you). If you do buy, then thank you! That's what helps us to keep Kitchen Sanctuary running. The nutritional information provided is approximate and can vary depending on several factors. For more information please see our Terms & Conditions.