Eggs and kale sounds boring I know! But this is my luxury (non-diet!) version, with creamy cheesy kale and soft golden egg yolks.
An easy one pot breakfast or lunch - ready in under 10 minutes.
My absolute favourite grown-up version of dippy eggs and soldiers.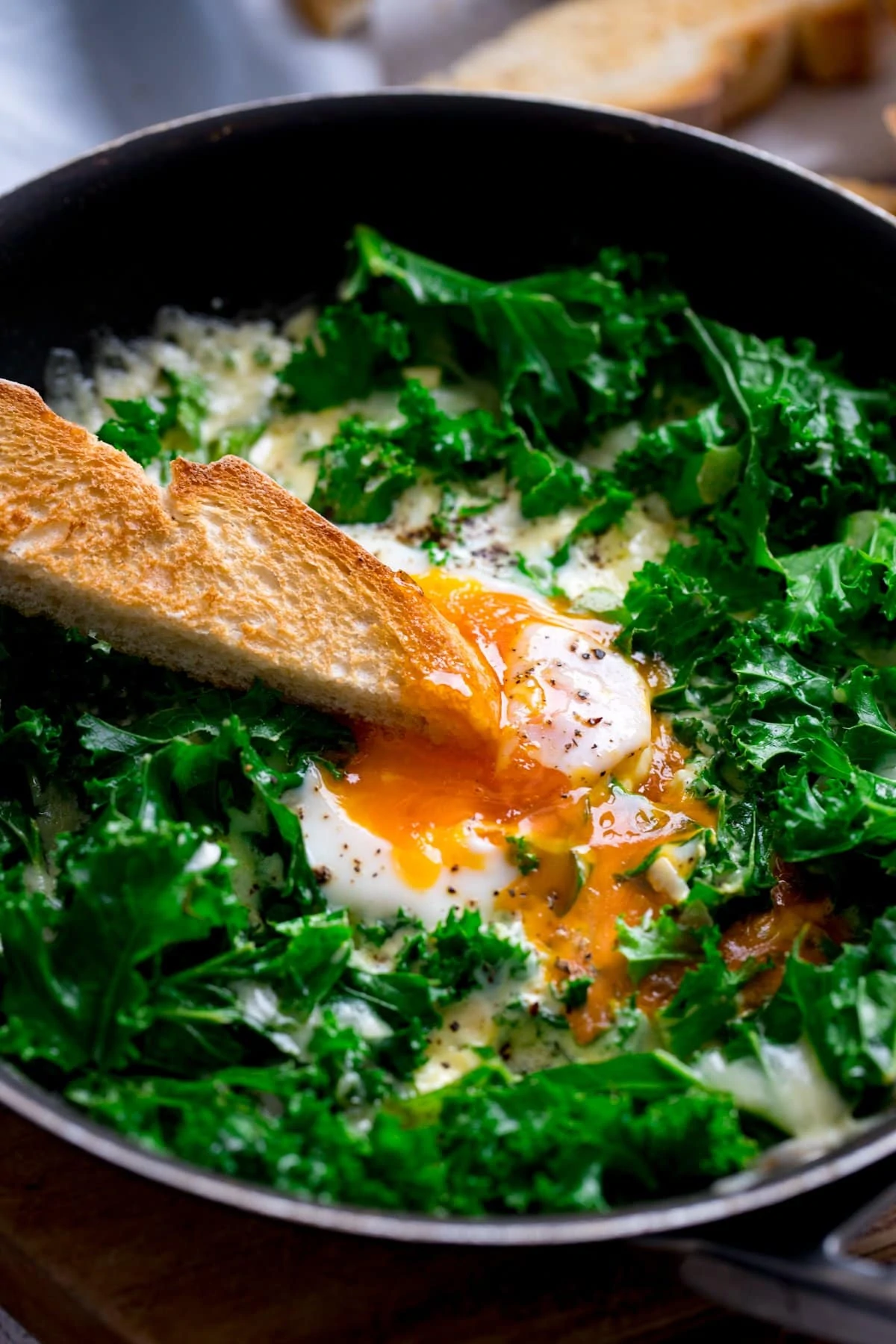 Jump to:
Cheesy, creamy kale, topped with a perfectly runny egg and pinch of seasoning. Sound good? That sentence pretty much covered the whole ingredient list. It's so easy that I often make this for lunch, and most of the time I don't even bother with the toast - instead I rely on the kale stalks for a bit of crunch.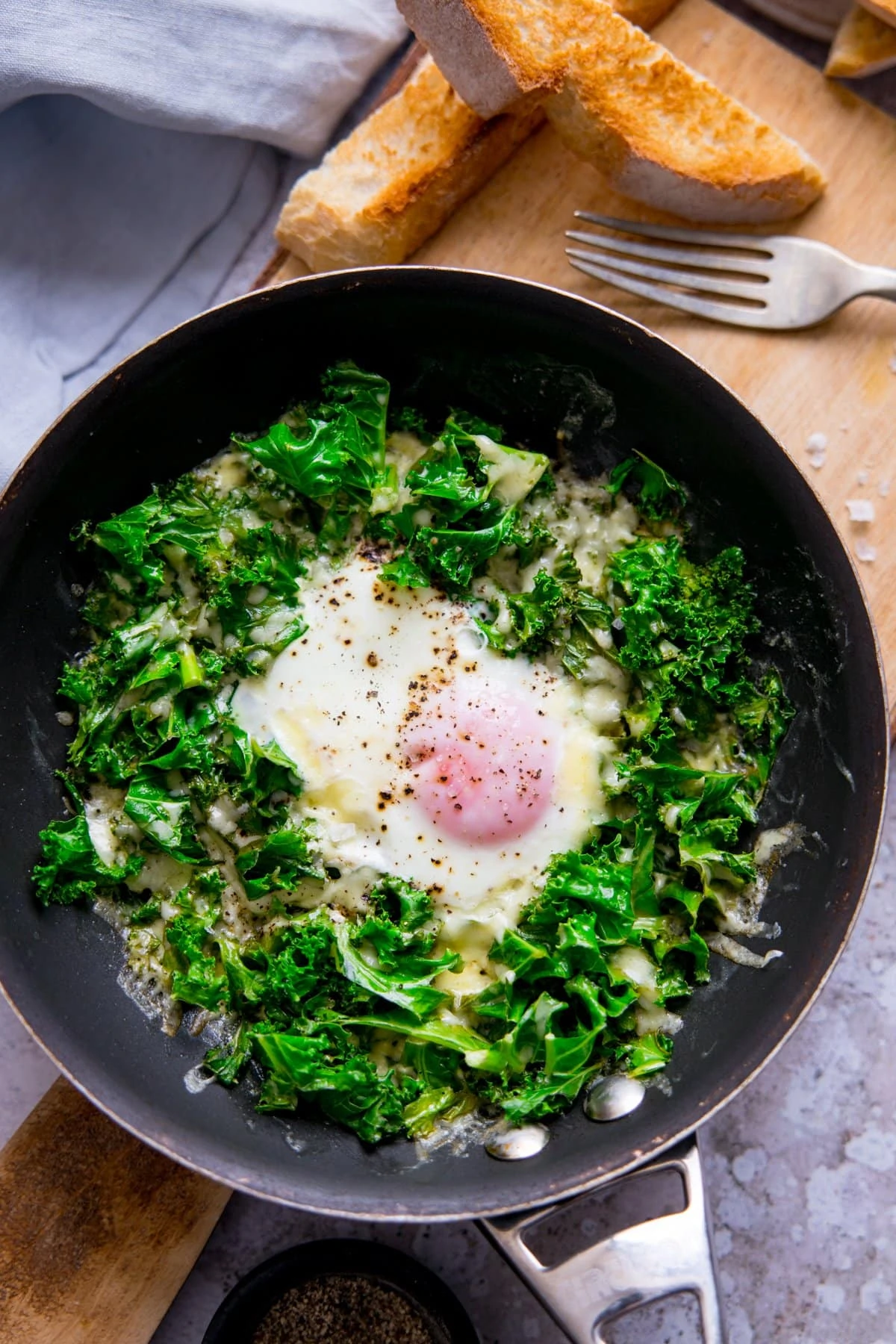 I love munching on the stalks. You'd think I was some stick-thin health freak if you looked at my kale consumption alone. I do enjoy some healthier recipes but, assure you I'm not. I'm a chocoholic, cakeaholic, pastry-a-holic too, I just really really like kale. In fact I wonder what chocolate covered kale would taste like........
📋 What do we need?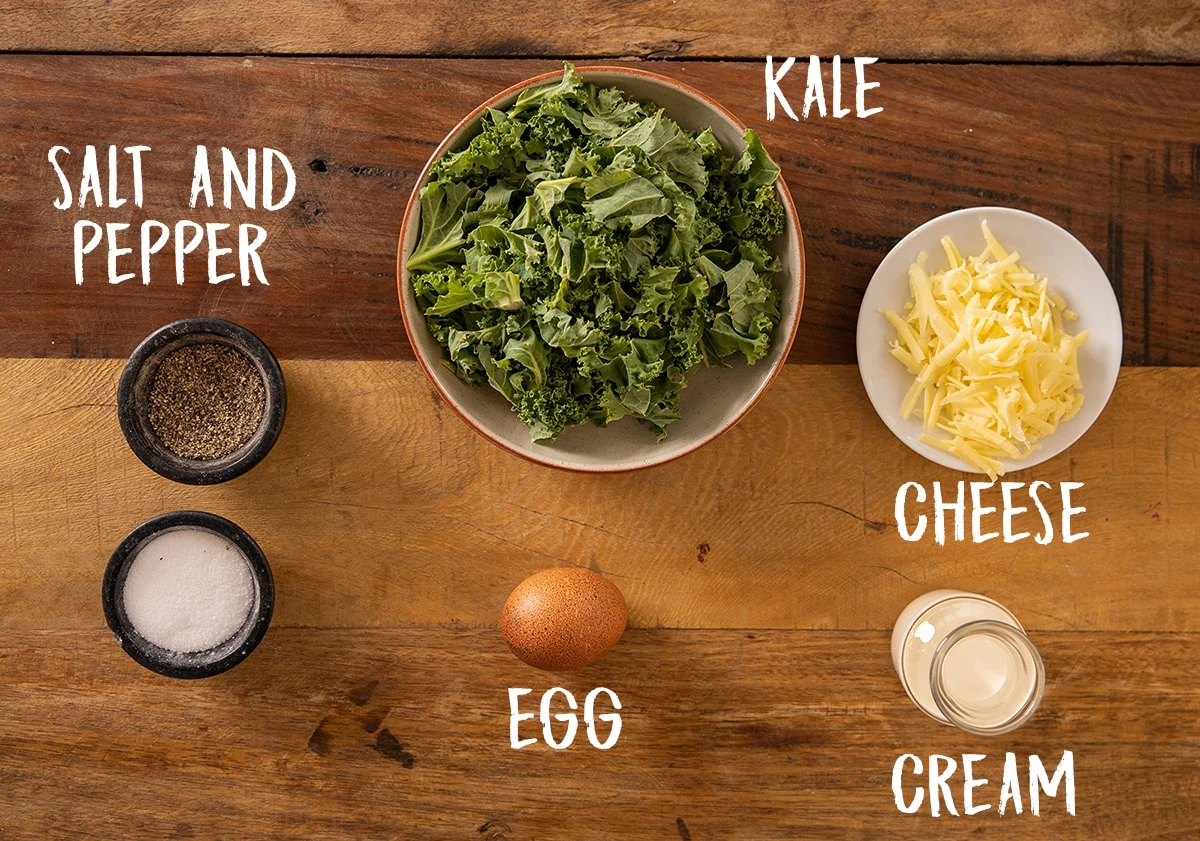 🔪 How to make this creamy breakfast eggs recipe for one
**Full recipe with detailed steps in the recipe card at the end of this post**.
Heat cream in a small frying pan, then add in fresh kale and a little grated cheddar. Cover with a lid and allow the kale to wilt slightly.
Make a well in the center of the kale and crack an egg into the well.
Sprinkle with a little more cheddar and a pinch of salt and pepper, then place the lid back on and cook over a low heat for 5-7 minutes, until the yolk is cooked to your liking.
Serve as it is, or with toast soldiers for dipping.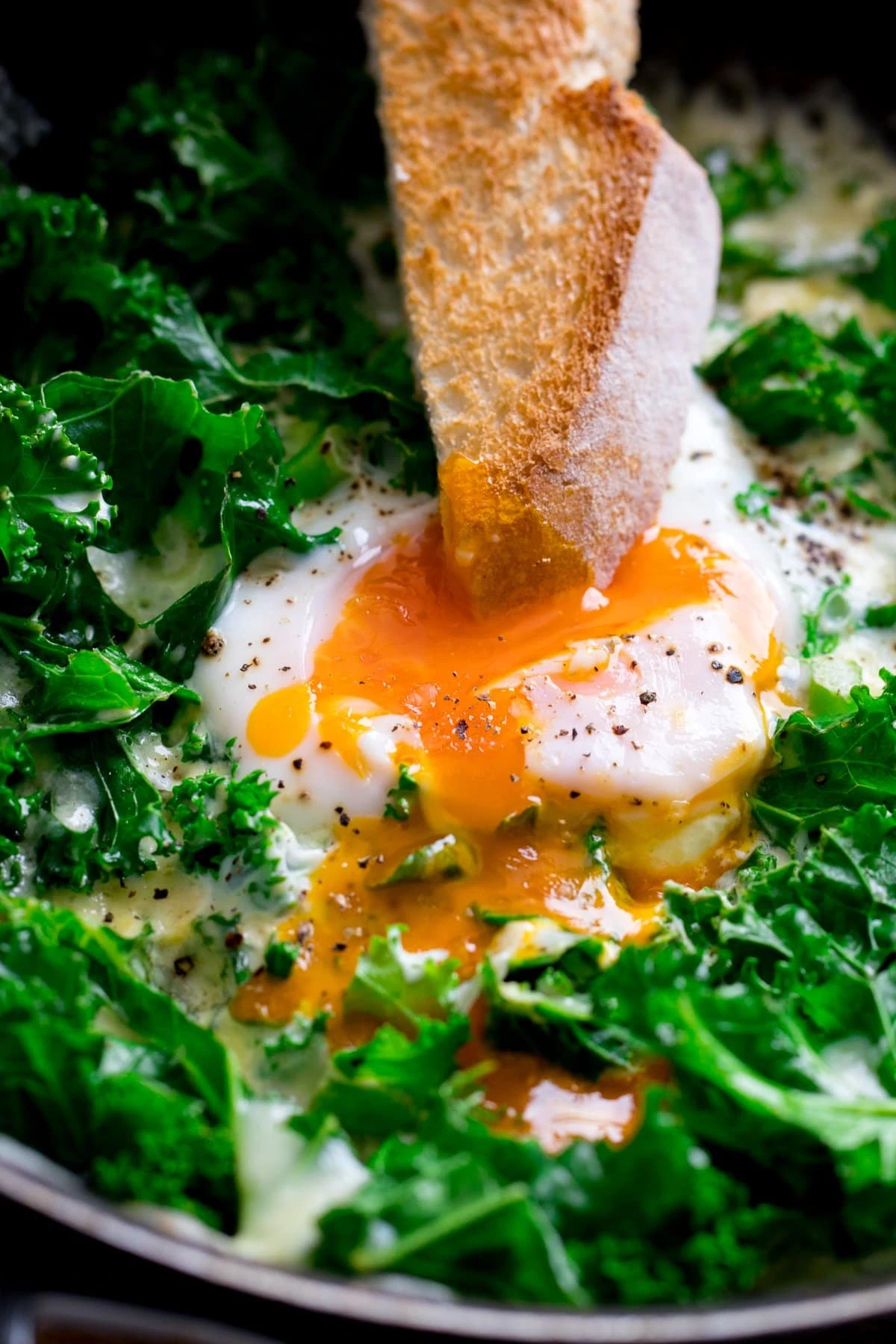 Although very simple, this is actually my eggs and kale version 5. My first time making this (several years ago), I tried to go down the 'en cocotte' route; baking the eggs in the oven. I found the kale went crispy whether I sat the dish in a water bath (v1) or not (v2).
Version 3 simply involved adding more cream to help cover the kale. Didn't really work though, it was a bit too much cream for breakfast, and the kale still went crispy.
Version 4 involved covering the pot in the oven. This stopped the kale from going crispy, but also meant the egg took ages to cook - which left me with mushy, overcooked kale.
Then, after calling myself a few names for not being able to cook a stupid egg, I realised that using a pan would be a much easier way to control the heat. Voila - version 5 of creamy eggs and kale was created, and I haven't looked back since.
---
🍲 More fantastic Breakfast recipes
Stay updated with new recipes!
Subscribe to the newsletter to hear when I post a new recipe. I'm also on YouTube (new videos every week) and Instagram (behind-the-scenes stories & beautiful food photos).
Creamy Eggs and Kale Breakfast Recipe
Creamy Eggs and Kale Breakfast - An easy one-pot breakfast or lunch - ready in under 10 minutes.
Ingredients
4

tbsp

heavy/double cream

35

g

(⅓ cup) kale

-

chopped

25

g

(¼ cup) grated cheddar cheese

1

large egg

pinch

salt and pepper
To serve:
toast 'soldiers' for dipping

-

optional
INSTRUCTIONS
Heat the cream in a small frying pan over a medium heat until hot, but not boiling.

4 tbsp heavy/double cream

Stir in the kale and sprinkle on all but a pinch of the grated cheese.

35 g (⅓ cup) kale,

25 g (¼ cup) grated cheddar cheese

Place a lid or some foil on the pan and allow the kale to wilt on a low heat for 1 minute.

Take off the lid, and make a well in the centre of the kale (make sure the well is big enough for the egg white to spread out, so it cooks quicker than the yolk).

Crack the egg into the well and sprinkle with the reserved cheese and a pinch of salt & pepper.

Cover the pan again and cook on a low heat for 5-7 minutes until the white of the egg is cooked, and the yolk is cooked to your liking.

Serve from the pan either on its own, or with toast for dipping.

toast 'soldiers' for dipping
Video
✎ Notes
Getting the perfect runny yolk
Be sure to make the well in the kale big enough so that the egg white can spread out. If it's all compact in a little tiny well, the white will take longer to cook - which means a hard yolk.
Also, keep checking. Take the lid off and give the pan a little wobble to check the white isn't slimy and the yolk is still soft.
Once the yolk is perfect, serve right away.
Can I make it ahead?
Sorry no. This recipe is best made and served right away.
Can I use single (half-fat) cream or creme fraiche instead?
Don't use single (half-fat) cream - it will split when cooking in this way.
You can swap for full-fat creme fraiche if you like - but the dish will be a little tangier.
Can I add an extra egg?
Yes - go ahead. Make two separate wells in the kale and cook for the same amount of cooking time as for one egg.
Making it for two people
Make the recipe for two by doubling the ingredients and using a larger frying pan. Of course this means you can't eat out of the pan - unless you're close 😉
Nutritional Information is per serving, without the toast.
Nutrition
Serving:
164
g
Calories:
388
kcal
Carbohydrates:
6
g
Protein:
14
g
Fat:
34.9
g
Saturated Fat:
20.4
g
Cholesterol:
272
mg
Sodium:
255
mg
Potassium:
300
mg
Fiber:
0.5
g
Sugar:
0.5
g
Vitamin A:
6750
IU
Vitamin C:
58.6
mg
Calcium:
290
mg
Iron:
1.6
mg
This recipe was first published in November 2014, updated in Feb 2021 with new information, updated photos and a video.
Some of the links in this post may be affiliate links – which means if you buy the product I get a small commission (at no extra cost to you). If you do buy, then thank you! That's what helps us to keep Kitchen Sanctuary running. The nutritional information provided is approximate and can vary depending on several factors. For more information please see our Terms & Conditions.