Looking for pancakes with a twist for Shrove Tuesday? How about my Pancake Tacos with Caramelized Peaches and Pancetta! Guaranteed to go down a storm!!
Can anyone ever say no to a pile of pancakes?
Sweet fluffy carb-iness, topped with anything your heart desires (we're talking food desires here - not your husband tidying the house and presenting you with your kindle and a large box of chocolates just because).
Nutella and a huge pile of berries are usually our go-to toppings on a Sunday morning (I don't let the kids have Nutella during the week, so they really enjoy it on a Sunday).
I wanted to do something a little different for pancake day (my savoury pancakes with bacon and chilli butter are still serious contenders), so I thought I'd go taco style!!
3 reasons:
Two tacos are plenty! You don't need to serve up a stack of 6 pancakes per person for that plate to look impressive. It's not exactly sticking to my diet, but that does help a little with the portion control 🙂
You get to fill *every* pancake - instead of just decorating the top pancake in a stack with toppings. And who doesn't love more room for toppings! (Doh! that probably negates the portion control element of point 1)
No cutlery! Or more to the point, no mummy shouting 'USE YOUR KNIFE AND FORK' - because my kids have a tendency to eat like feral animals when pancakes are involved. They're meant to be picked up and eaten woo hoo!
My taco pancakes are filled with caramelized peaches. Given extra flavour with a splash of vanilla extract, then sprinkled with soft-brown sugar and cooked on the griddle until sticky and sweet.
I whipped up some sweetened cream (see my tip in the recipe on stabilizing your cream so you can make it ahead without it seizing or going too firm) and piped it on, then finished with the ultimate savoury peach-pairing: crispy pancetta ???????? - oh, and a little sprinkle of thyme, because it looks pretty, and lends itself well to sweet and savoury flavours.
I had kids and husband stood in line, waiting for the photos to be finished so they could demolish them the moment I turned off the camera.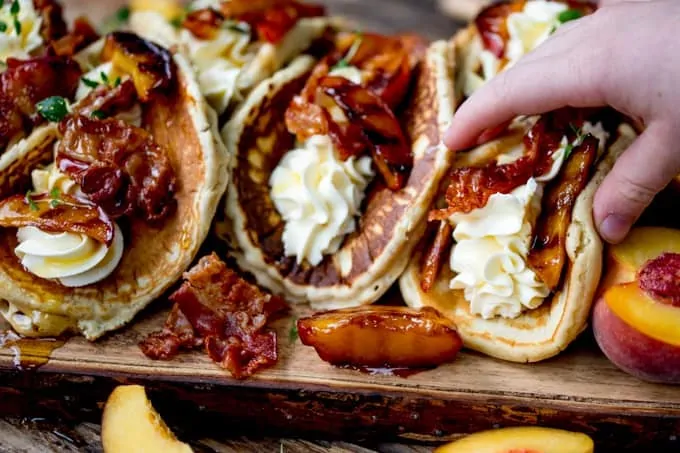 The Pancake Tacos with Caramelized Peaches and Pancetta Recipe:
Pancake Tacos with Caramelized Peaches and Pancetta
Looking for pancakes with a twist for Shrove Tuesday? How about my Pancake Tacos with Caramelized Peaches and Pancetta! Plus lashings of whipped cream...
Ingredients
210

g

plain (all-purpose) flour

1

tbsp

baking powder

3

tbsp

light brown muscovado sugar

1

egg

1

tsp

vanilla extract

Pinch

of salt

300

ml

milk

-

half fat or full fat

1

tbsp

unsalted butter
Toppings:
4

ripe peaches

½

tsp

vanilla extract mixed with 2 tsp water

4

tbsp

soft brown sugar

1

tbsp

olive oil

12

slices

approx 100g of pancetta

sprigs of fresh thyme

3

tbsp

syrup or honey

300

ml

double/heavy cream

80

g

confectioners' sugar

-

icing sugar, sifted
INSTRUCTIONS
Place the flour, baking powder, sugar, egg, vanilla extract, salt, and milk in a large bowl. Use a balloon whisk to mix until combined.

Pour ¼ tbsp. oil in a large skillet, then wipe around with a kitchen towel to cover the pan. Heat the pan on a medium heat until hot. Pour in enough mixture to make three pancakes (approx. ¼ cup of mix per pancake). Turn the pancakes over when bubbles form on top and then burst, and the edges start to look firm (about 1-2 minutes). Cook on the other side for another 1-2 minutes. Repeat with the rest of the mixture - oiling the pan each time - until all the pancakes are cooked (you can keep the pancakes warm in a very low oven whilst you're making each batch).

Whilst the pancakes are cooking, whip the cream. Place the cream in a large bowl and whisk until slightly thickened. Add in the confectioners' sugar and whisk again until soft peaks form*. Spoon into a piping bag with a large fluted nozzle and place in the fridge until ready to use.

Next, heat up another frying pan (skillet) or a griddle on a high heat.

Slice the peaches so you have 12 wedges from each peach. brush with the vanilla-water mixture and sprinkle all over with the brown sugar.

Place the peach wedges on the griddle and cook for a minute on each side until the sugar caramelises. Remove from the heat.

Add the pancetta into the frying pan and cook for around 30-60 seconds each side until crisp. Remove from the heat.

Now it's time to assemble. Fold one of the pancakes into a taco shape and place on a large serving board/plate/tray. Prop up with a glass or cup on each side to keep it in the taco shape, then place another pancake next to the first in the same way (moving the supporting glass/cup so there're now two tacos in between). Continue this way until all the pancake tacos are in place.

Take the cream from the fridge and pipe into each pancake. Top with the peach and pancetta sliced, then top with a few fresh thyme leaves.

Serve with syrup or honey.
✎ Notes
* It you want to stabilise the cream (so it stays soft and doesn't seize), stir together 1tsp powdered gelatin with 4tsp cold water. Allow to sit to 2-3 minutes, then heat in the microwave for a few seconds to completely melt the gelatin. Stir again, and allow to cool for a few minutes.
Whisk this mixture into your whipped cream.
.
Nutritional information is per pancake taco
Nutrition
Calories:
314
kcal
Carbohydrates:
38
g
Protein:
5
g
Fat:
16
g
Saturated Fat:
8
g
Cholesterol:
58
mg
Sodium:
84
mg
Potassium:
297
mg
Fiber:
1
g
Sugar:
23
g
Vitamin A:
620
IU
Vitamin C:
3.5
mg
Calcium:
101
mg
Iron:
1.2
mg