These halloween black cupcakes with cherry filling make a scrumptiously spooktacular dessert!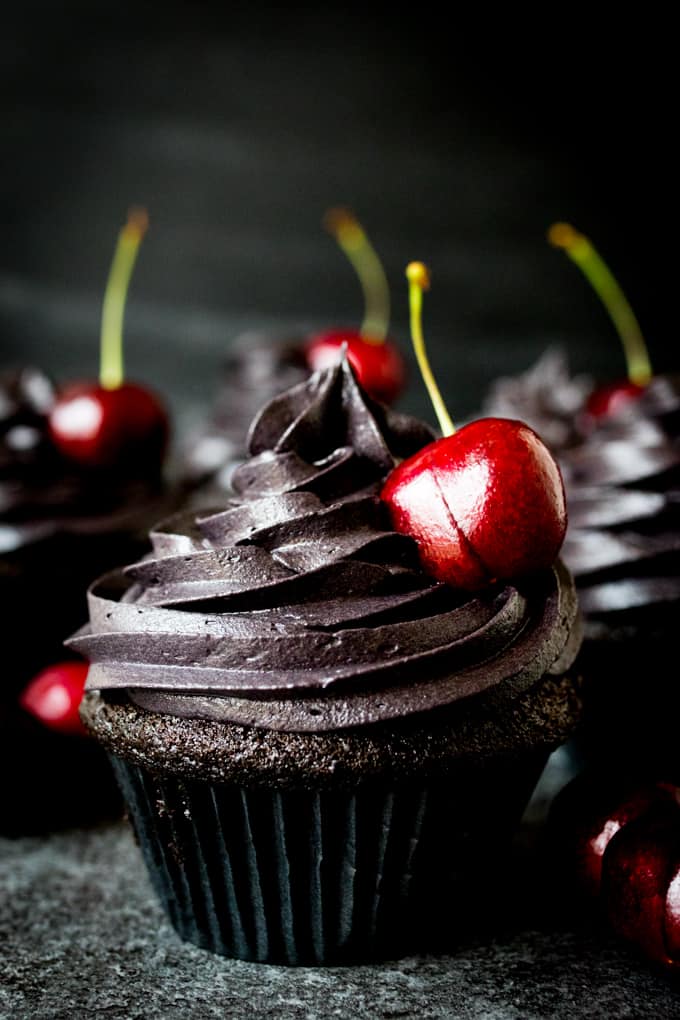 Up until recently, I really hated photographing halloween food.
Trying to get that spooky atmosphere, with moody lighting and creepy props should sound like fun, but I ALWAYS seem to end up with photos that look dull, dark and tacky (stupid plastic spiders!).
I even made Halloween fungus carbonara last week - using black spaghetti and some weird and wonderful mushrooms. I thought it'd look awesome, but honestly? It looked and tasted vile!
Black bean spaghetti? eugh. Never buying that stuff again.
Anyway, I was sitting at my desk, drinking coffee and pretending to work, when it hit me. Why am I trying to take photos in the dark? Literally, in the dark.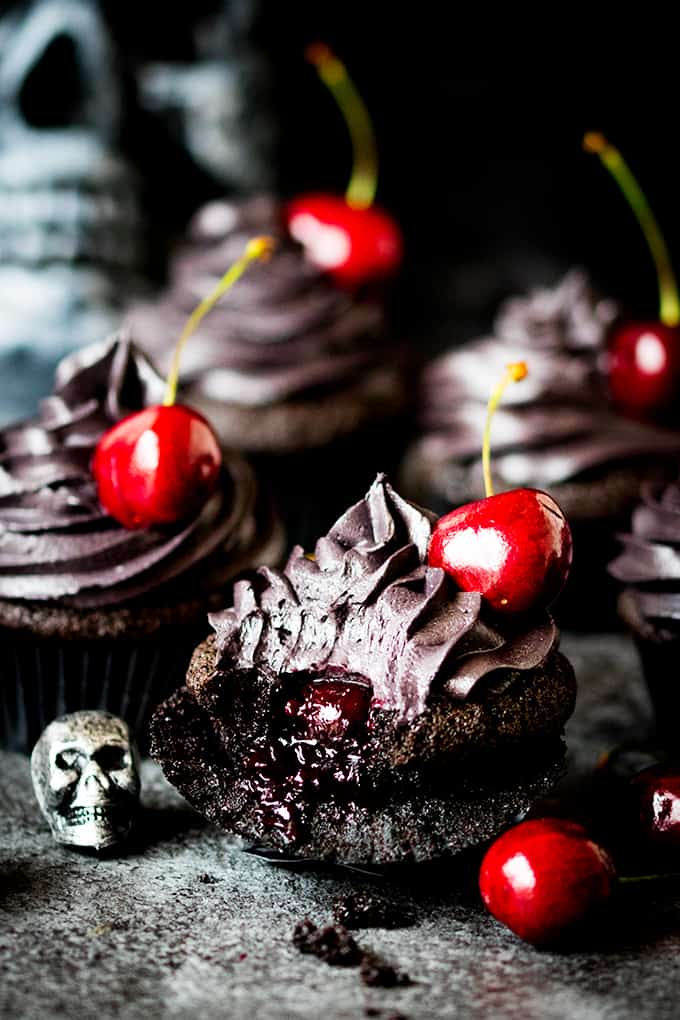 I've never actually been formally taught how to use a camera (ok, I went to a one-day course ages ago, but it was terrible - the tutor was taking food photos under fluorescent strip lights for goodness sake). So I don't actually know the technical side of this type of photography. My method is often trial and error, along with bits of advice from Chris.
I decided to have a play to see what works, and it seems that moody photos aren't taken in dark rooms.
It was actually pretty obvious when I took the time to think about it.
In fact, I've found to get the best photos, using concentrated light - coming from one source - seems to be the key to get nice moody shadows. The shadows can be further enhanced using black card, propped up opposite to the light source. For more light in a certain area of the picture, white card or a reflector works great to bounce light back onto the food.
Darker props and backdrops are also a must!
So in the end, I really enjoyed photographing these cupcakes. Much more fun than the black spaghetti disaster!
If you like these then why not try some of our other Halloween recipes;
The Halloween Black Cupcakes With Cherry Filling Recipe: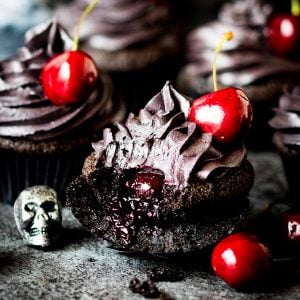 Halloween Black Cupcakes With Cherry Filling
These halloween black cupcakes with cherry filling make a scrumptiously spooktacular dessert!
Ingredients
80

ml

vegetable oil

200

g

golden caster sugar

2

large eggs

1

tsp

vanilla extract

120

ml

buttermilk

42

g

cocoa powder

95

g

plain( all-purpose) flour

1 ½

tsp

bicarbonate of soda

Pinch

of salt

1

tsp

extra black food colouring gel

-

this extra black gel will give the deepest colour
Filling:
300

g

cherries in Kirsch (I use the Opies brand)*

1

tsp

cornflour

-

cornstarch mixed with 3 tsp cold water

14

fresh cherries
Buttercream:
150

g

dark chocolate, broken into chunks

200

g

unsalted butter, softened, cut into chunks

1

tsp

vanilla extract

Pinch

of salt

225

g

confectioners' sugar

1

tbsp

milk

Extra Black food colouring gel

-

I used 1 tsp - use more or less depending on how deep you want the colour to be

½

tsp

Violet food colouring gel

-

optional - I wanted a slightly purple tint to the my buttercream
INSTRUCTIONS
Preheat the oven to 175c (350f) and line a 12-hole muffin tin with black cupcake liners.

Whisk the vegetable oil and caster sugar together in a large bowl until creamy (about 2 minutes with an electric whisk). Add the eggs, vanilla extract and buttermilk and stir to combine.

Sieve in the cocoa powder, flour and bicarbonate of soda. Fold in using a spatula. Add a pinch of salt and the black food colouring gel. Fold again until combined. You may need to add more colouring, but it's worth noting that the mix will darken as it cooks in the oven. The mixture will be very runny. Spoon the mixture into the cupcake liners - approx ⅔rds full.

Place in the oven and bake for 18-20 minutes, until an inserted skewer comes out clean. Leave to cool for 10 minutes in the tray, then transfer to a baking rack to cool completely.

Whilst the cakes are cooling, make the filling. Pour the cherries in kirsch into a saucepan and heat until just simmering. Stir in a little of the cornflour mixture to thicken. Add more if needed to get a mixture that is the thickness of cherry pie filling. Turn off the heat and leave to cool.

Next make the buttercream. Melt the chocolate in the microwave in 30 second bursts, stirring in between each burst (or melt over a bain marie if you prefer). Leave to cool to room temperature.

Place the butter, confectioners' sugar, vanilla extract and salt in a large bowl and whisk, using an electric whisk until thick and smooth. Add the cooled, melted chocolate and whisk again. If the mixture is too thick for piping onto a cake, add the milk, a tiny drizzle at a time and whisk, until you get the right consistency.

Whisk in the food colouring gel until you get the colour you want. Spoon the buttercream into an icing bag that has a wide fluted icing nozzle.

Once the cupcakes have cooled, use a teaspoon to scoop out one heaped teaspoon of cake from the centre (no more than this or the cakes will collapse). Fill the hole with the cherry mixture - I used 2-3 cherries per cake.

Pipe the buttercream on, starting from the middle, working your way out, then back into the centre again, to get a dome-shaped buttercream topping. Repeat with the remaining cupcakes.

Place a cherry on top of each cupcake and serve!
✎ Notes
*You can replace the cherries in kirsch and cornflour mixture with tinned cherry pie filling if you prefer.
The cupcakes can be stored in an airtight container at room temperature for up to 2 days.
.
Nutritional Information is per cupcake ( based on 12 cupcakes).
Nutrition
Calories:
351
kcal
Carbohydrates:
56
g
Protein:
4
g
Fat:
13
g
Saturated Fat:
9
g
Cholesterol:
28
mg
Sodium:
184
mg
Potassium:
219
mg
Fiber:
3
g
Sugar:
39
g
Vitamin A:
250
IU
Vitamin C:
1.2
mg
Calcium:
36
mg
Iron:
2.8
mg