These delicious and simple Ale Bread Rolls are made with English Ale and a mix of wholemeal and white flour. Seriously tasty!
Jump to:
When I left my old job and started working on this website, I pictured myself making fresh bread every day in my spotless house, and then following this up with some recipe development, laid-back food photography and writing - all whilst maturely sipping on espressos and congratulating myself on my gastronomic inventions.
Sooooo here's a picture of a cheese sandwich.
Ok, it may not knock Heston's socks off, but it is actually a really really good cheese sandwich. It's all the tastier for being served up on these homemade ale bread rolls that I got from Paul Hollwood's 'How to bake' book.
How to make Ale Rolls
Full recipe with detailed steps in the recipe card at the end of this post.
First we mix flour (bread flour and wholemeal), salt and yeast in a bowl, along with softened butter and the ale. We mix it all together until we have a soft dough.
Knead the dough for about 10 minutes, then place in a bowl, cover and leave to rise for 1-2 hours.
Knock the air out of the dough and divide into 14 pieces. Shape into balls and place on a baking tray and bake in the oven for about 30 minutes.
👩‍🍳PRO TIP The combination of the malty ale and the wholemeal heartiness of these rolls means these rolls go perfectly with a Ploughman's lunch, or even with a thick stew or soup.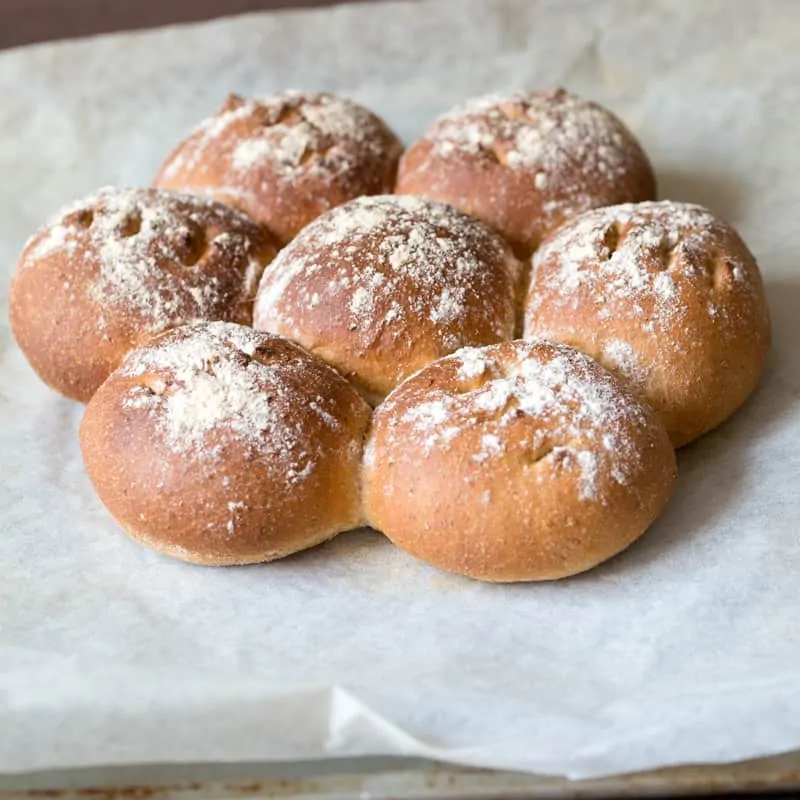 I've been a little bit lax on the bread making front for a while. There's certainly been no daily bread making (and definitely no spotless house - with the kids off for their summer holidays). There still aren't enough hours in the day to even keep on top of the hoovering. I'm sure I'll get there eventually.....
I have managed to make these tasty ale bread rolls a few times though, and they never fail to impress - with their wholesome, malty flavour, their crusty exterior and fluffy interior.
---
I used some old fashioned English ale that we picked up from a local brewery, but any good-quality, traditional ale will do the job. The flour is a mix of your normal strong white bread flour, and also some strong wholemeal flour.
I've gone for the simple ploughman's sandwich here: Layerings of baby spinach, mature cheddar cheese, apple & plum chutney, and tangy apple chunks (I use Jazz apple - my absolute favourite). This combination is a complete winner!
---
Stay updated with new recipes!
Subscribe to the newsletter to hear when I post a new recipe. I'm also on YouTube (new videos every week) and Instagram (behind-the-scenes stories & beautiful food photos).
Ale Bread Rolls
Ale Bread Rolls - made with English Ale and a mix of wholemeal and white flour. Seriously tasty!
Ingredients
400

g

(3 ⅓ cups) strong white bread flour

-

plus a handful more for dusting the rolls before they go into the oven

100

g

(¾ cup + 1 tsp) strong wholemeal flour

10

g

(2 tsp) salt

10

g

(2 ½ tsp) instant yeast

30

g

(2 tbsp) unsalted butter

-

softened

300

ml

(1 ¼ cups) flavoursome good-quality ale

olive oil for kneading
For the sandwich filling:
baby spinach leaves

mature cheddar cheese

chutney of your choice

-

I used plum and apple

apple chunks

-

from a tangy, crunchy apple variety
INSTRUCTIONS
Place the flour in a large bowl. Add the salt to one side of the bowl, and the instant yeast to the other side (yeast and salt don't like to be in direct contact).

400 g (3 ⅓ cups) strong white bread flour,

100 g (¾ cup + 1 tsp) strong wholemeal flour,

10 g (2 tsp) salt,

10 g (2 ½ tsp) instant yeast

Add in the butter and about three quarters of the ale. Mix the dough together with one hand. Add in more ale, a bit at a time until you've picked up all the flour from the sides of the bowl and you have a soft (but not really sticky) dough. You may not need all the ale.

30 g (2 tbsp) unsalted butter,

300 ml (1 ¼ cups) flavoursome good-quality ale

Lightly oil your work surface with a little olive oil, then turn your dough out onto the surface and knead for 5-10 minutes. It will be a bit sticky at first, but will eventually get smoother.

Clean and dry your bowl, wipe it with a little olive oil and place your dough in the bowl. Cover with clingfilm and then place in a warm room for 1-2 hours to prove - until the dough has doubled in size.

Line 2 baking trays with baking parchment.

Once the dough has proved, turn it out onto a lightly floured surface and knock the air back out of it by folding it in on itself repeatedly. Divide the dough into 14 pieces. You can do this by eye, or if you want perfectly even bread, weigh it out. Each piece should be 60g.

Roll each piece into a ball - making sure the top is smooth for each. I usually roll each ball and then tuck any messy bits underneath. Place one ball into the centre of each prepared baking tray and then space the other 6 rolls around the centre roll. They need to be close together, but not quite touching (they'll expand during the next rise and during baking). So you should have 7 rolls on each tray, basically in the shape of a flower - as in the picture above. Place each tray inside a large carrier bag and leave to prove for another hour.

Preheat your oven to 200C/400F (fan) just before your dough has finished proving.

Next, take the trays out of the bags and dust the rolls lightly with some white flour.

Give each of the outside rolls 3 little snips with a pair of scissors (look at the picture to see the positioning). Place the rolls in the oven and bake for 30 minutes until the rolls are golden, and they sound hollow if you tap them from underneath.

Take out of the oven, and leave to cool before filling.

baby spinach leaves,

mature cheddar cheese,

chutney of your choice,

apple chunks
✎ Notes
*Well wrapped in baking parchment and placed in a bread bin, these rolls will keep for 1-2 days.
*If you're going to make this sandwich in advance, I'd recommend squirting a little bit of lemon juice onto your apple chunks to stop them from going brown. Nutritional Information is per roll, not including sandwich filling.
Nutrition
Calories:
156
kcal
Carbohydrates:
28
g
Protein:
4
g
Fat:
2
g
Saturated Fat:
1
g
Cholesterol:
4
mg
Sodium:
279
mg
Potassium:
50
mg
Fiber:
1
g
Vitamin A:
55
IU
Calcium:
6
mg
Iron:
1.4
mg
This post was first published in August 2014. Updated June 2023 with a bit of housekeeping.
Some of the links in this post may be affiliate links – which means if you buy the product I get a small commission (at no extra cost to you). If you do buy, then thank you! That's what helps us to keep Kitchen Sanctuary running. The nutritional information provided is approximate and can vary depending on several factors. For more information please see our Terms & Conditions.