A strange-sounding but delicious vegetarian dinner! This is my delicious garlic bread spaghetti!  Ready in 20 mins!
Crispy garlic breadcrumbs tossed with spaghetti, lemon, chilli and parmesan.  This easy dinner is on the table in 20 minutes!
Before you say it, I know what you're thinking.
Bread mixed with pasta? that's a bit of a carb overload isn't it?
When the recipe idea popped into my head, I was immediately reminded of a cartoon my kids love - Ben & Holly's Little Kingdom.
In one episode, Nanny Plum has been tasked with making a posh meal for a visiting king and queen, and she proudly announces she's going to make 'Baked potato, stuffed with potato, chips and mash with a fried egg on top'.
Ha ha, I love it.
...and I'd totally choose that at a restaurant.
However, this garlic bread spaghetti isn't heavy and overly filling like that genius potato dish.  In fact, if you usually serve garlic bread with your pasta, than really you're probably eating less.  No meat sauce or creamy sauce needed! I wouldn't advise serving it with garlic bread though...
To make the garlic breadcrumbs, use one of those part-baked garlic baguettes.  Roughly chop it, then pulse it in your food processor (Don't be scraping out the garlic butter now. That goes in the food processor too).
Pour a little olive oil in a hot pan and then fry the breadcrumbs until browned and crispy (at this point, you can put them on a plate until you're ready to mix them with the spaghetti or you can cool, cover and store them at room temperature for up to a day - tastes great on a salad!).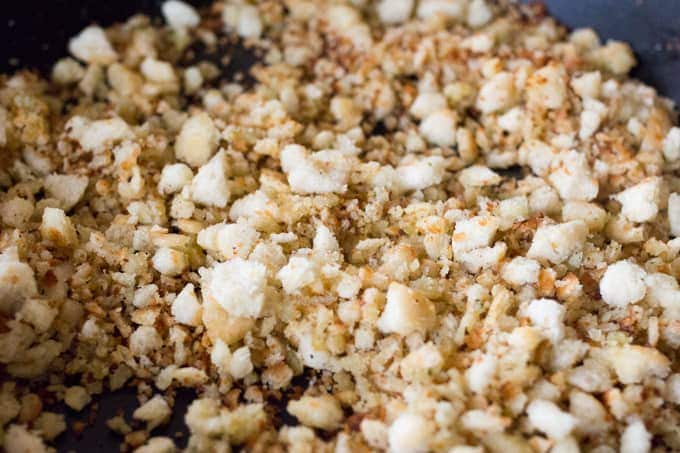 The chopped chilli is lightly fried, then the cooked spaghetti is added with a few spoonfuls of the cooking water (helps to give the dish a bit of creamy moisture).  Everything else is then thrown in, tossed to combine, and you're ready to serve!
If you are a garlic lover who loves a recipe shortcut then how about this garlic bread salmon!
More Quick Store Cupboard Recipes
This is a great Store Cupboard Recipe, if you are after some more inspiration then why not try one of these:
 The 20-Minute Garlic Bread Spaghetti Recipe:
20 Minute Garlic Bread Spaghetti
Garlic Bread Spaghetti - yes I really did make garlic bread crumbs from a shop-bought garlic bread, but it was delicious!
Ingredients
1

part baked garlic baguette

-

chilled, not frozen

2

tbsp

olive oil

1

red chilli

-

chopped finely

Zest and juice of 1 lemon

50

g

parmesan, grated

2

tbsp

chopped fresh parsley

A pinch of salt and pepper
To Serve:
Grated parmesan

Lemon zest

Freshly ground black pepper
INSTRUCTIONS
Fill large pan with some freshly boiled water from the kettle. Add the spaghetti and cook as per the cooking instructions - usually about 12 minutes.

Whilst the spaghetti is cooking, rip the garlic baguette into large chunks and pulse in a food processor until you have rough breadcrumbs.

Heat 1-and-a-half tbsp of the olive oil in a large frying pan/skillet and fry the garlic breadcrumbs for 3-4 minutes until golden brown. Make sure you stir regularly to stop the breadcrumbs from burning. Remove from the pan and place on a plate.

Just before the spaghetti is ready, heat the remaining oil in the large frying pan and add in the chopped chilli. Fry for 1-2 minutes on a low-medium heat. Drain the spaghetti (reserving a cup full of the cooking water).

Place the spaghetti in the frying pan with the chillies, add in 3-4 tbsp of the cooking water, plus the lemon zest, lemon juice, parmesan, parsley, salt and pepper. Toss to combine. Add a little more cooking water if you want the dish to be a little more moist.

Stir through three-quarters of the breadcrumbs, then divide between 4 bowls.

Top with parmesan, lemon zest, black pepper and more garlic breadcrumbs.
✎ Notes
Nutritional Information is per serving.
Nutrition
Calories:
583
kcal
Carbohydrates:
82
g
Protein:
19
g
Fat:
19
g
Saturated Fat:
7
g
Cholesterol:
9
mg
Sodium:
401
mg
Potassium:
262
mg
Fiber:
4
g
Sugar:
4
g
Vitamin A:
365
IU
Vitamin C:
34.9
mg
Calcium:
187
mg
Iron:
1.5
mg