This Warm Kale & Pork Belly Salad with Pomegranate Dressing is a comforting warm kale salad with crisp, slow-cooked pork belly and a garlicky sweet & sour pomegranate dressing.  This is the only winter salad you'll ever want again.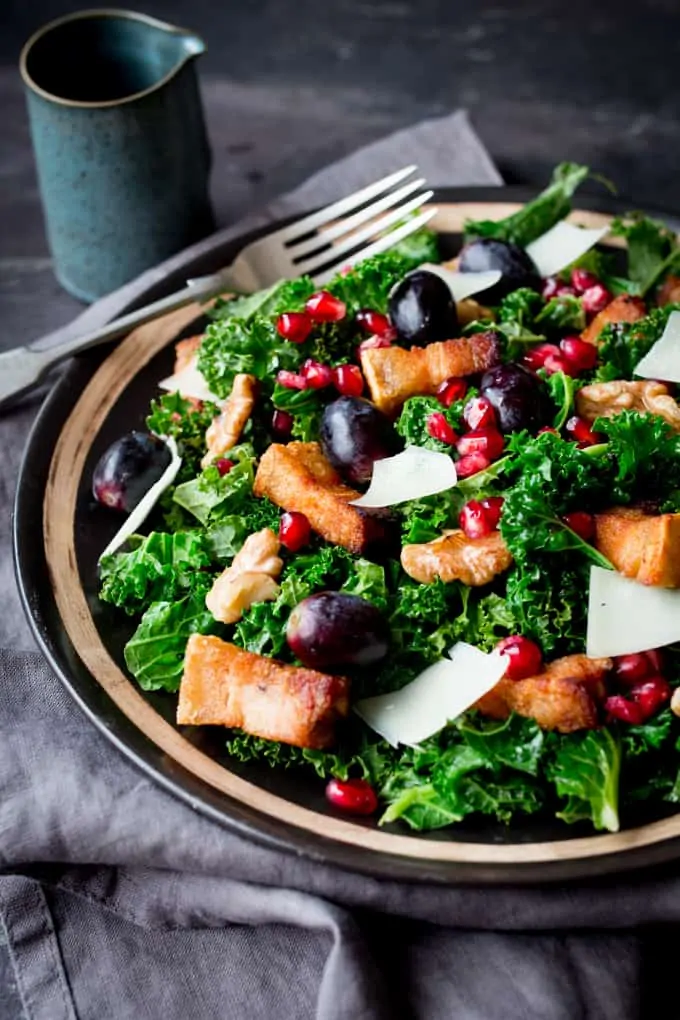 Now this is what I call a non-wimpy salad.
A bowl full of kale, pomegranate, grape and walnut goodness turned rogue with slivers of creamy manchego and large chunks of slow-cooked pork belly, browned and crisped to perfection.
All finished off with a garlicky sweet and sour pomegranate dressing.
I've been meaning to make this for about a month and I had a piece of slow-cooked pork belly waiting in the freezer all over Christmas - yet I only got round to making this now.  I'm shaking my head in disbelief as I sit at my desk writing this whilst cramming large forkfuls of the stuff into my mouth.
IT'S SO GOOD!
So I, like many other bloggers, am completely obsessed with kale. In smoothies, pasta, breakfast, soup and even as a sweet snack (wow I didn't realised just how much of it I eat). I think it's the mild, slightly buttery taste of it that lends itself well to so many types of food. Plus the bushy leaves are great for soaking up sauces and gravy.
Did I tell you I tried replacing the kale in my green smoothie with some spring green cabbage once?
Eugh.
Don't try it. Never have I tasted a more digusting drink in my life.
Except maybe that large shot of absinthe I had once on a weekend in Blackpool. They outlawed that stuff for a hundred years for good reason.
Let's move away from that experience and come back to this amazing salad.
It does take a bit of time to prepare the pork belly, so I would definitely recommend making double. Maybe have some served with apple sauce and potatoes – a great Sunday dinner meal. Then save the rest for this salad.
You can freeze the cooked pork belly, as I did. Just defrost thoroughly before chopping into small chunks, sprinkling with a little salt (to get that lovely, salty crackling topping) and then fry for 8 or 10 minutes.
The kale takes about 30 seconds, just throw it into the hot pan you cooked the pork in and give it a quick stir to let it wilt slightly. Then plate up and scatter over the pork and all of the other goodies.
A tip for getting your pomegranate seeds out:
Take a bowl.  Slice your pomegranate in half and loosely hold the cut side in the palm of your hand (over the bowl).  Whack the back of the pomegranate with a wooden spoon.  The seeds will drop out with your hand and you can then tip them into the bowl.   You should still expect a few splashes, but it's the quickest way to get all the seeds out intact.
Use half of the seeds for the salad, and then put the other half in a sieve and squeeze the juice out for the base of your salad dressing.
The Warm Kale & Pork Belly Salad with Pomegranate Dressing Recipe: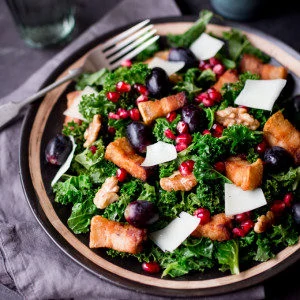 Warm Kale & Pork Belly Salad with Pomegranate Dressing
Comforting warm kale salad with crisp slow-cooked pork belly & pomegranate dressing
Ingredients
Pork Belly:
1

portion of pork belly

-

not rolled and with the rind on weighing between 500g and 800g

1

tsp

salt

300

ml

white wine

3

cloves

of garlic

-

peeled

2

bay leaves

½

tsp

dried thyme

-

or 2 sprigs of fresh thyme

10

black peppercorns

Water to top up
For frying the pork:
1

tsp

salt

1

tbsp

vegetable oil
Salad:
1

tbsp

vegetable oil

250

g

kale

-

washed and roughly sliced (it may already be pre-cut)

80

g

walnuts chopped in half

50

g

Manchego cheese

-

sliced thinly using a potato peeler

Seeds from half of a large pomegranate

32

black seedless grapes
Pomegranate Dressing:
4

tbsp

pomegranate juice

-

you can use bought pomegranate juice, or squeeze the juice out of half a large pomegranate

4

tbsp

olive oil

1

small clove garlic

-

peeled and minced

1

tsp

caster sugar

1

tbsp

balsamic vinegar

good pinch of salt and pepper
INSTRUCTIONS
Preheat your oven to 160c. Score the skin of the pork belly and rub 1tsp salt into the skin. Place (skin side up) into an oven proof pan that fits the pork with just a bit of room to spare.

Pour the wine into the pan around the sides of the pork, being careful not to pour directly onto the pork as this will wash the salt off. Add the garlic, bay leaves, thyme and peppercorns into the liquid, then top up with water until it comes almost to the top of the pork. Gently bring to the boil, then place a lid on the pan and put the pan in the preheated oven. Leave to cook for 3 hours, checking halfway through the cooking time to top up with water if required (I generally add in about 500ml of boiling water at this point)

Once cooked, take out of the oven, take off the lid and place a small flat tray or upside down flat plate on top of the pork. Put a heavyish weight on top (a few of tins of beans will do). This will help to flatten the meat back down to a consistent thickness throughout, which will ensure you get a uniform shape when cutting it up later. Make sure the tray/plate is flat, as any raised bits will imprint into the pork. Leave to cool, then put in the fridge for a couple of hours (the tins too).

At this point you can wrap and freeze the pork if you're planning on using it at a later date.

Take the pork belly out of the fridge and cut into small thumb-sized pieces. Ensure each piece still has the skin intact. Heat the oil in a large frying pan and swirl the oil all around the pan. Sprinkle the salt onto the skin of each piece of pork and then carefully (expect some spitting) put into the pan skin side down straightaway (don't leave the pork belly to sit with the salt on, as it will draw out moisture and make the skin soggy instead of crispy). Fry on a medium-to-high heat on the skin side for about 3 minutes until golden brown, then turn over and cook for 2 mins on the bottom and then each of the sides until nicely browned. This should take about 10 minutes altogether.

Whilst the pork is cooking, make the pomegranate dressing by mixing all the dressing ingredients together with a fork or small whisk. Put to one side.

When the pork Is ready, turn off the heat and place pork on a plate. Put the kale into the still-hot pan and cook for about 30-40 seconds - until the kale starts to wilt very slightly.

Divide the kale between four bowls, top with the pork, walnuts, manchego, pomegranate seeds and grapes. Serve with the pomegranate dressing.
✎ Notes
It's a great idea to cook double portions of the pork.
You can cool, cover and freeze for up to a month, then defrost and fry as per the instructions above until piping hot inside.