Sweet Roasted Kabocha and Goat's Cheese Salad with Pomegranate Dressing - You don't need any meat to make it feel like a complete meal.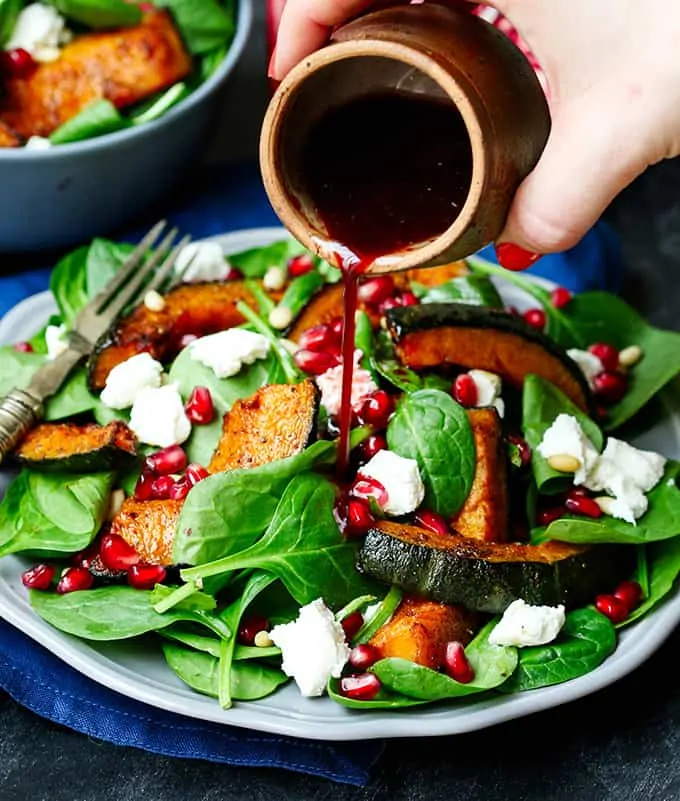 Kabocha Squash is a fairly new discovery for me. I'd seen it on the supermarket shelves, looking all squat and wrinkly like a mean-green goblin, and ignored it for that very reason.
It just goes to show how looks can be deceiving!
I bought my first one last year after the shop sold out of butternut squash, and Whoa!!
Kabocha is better than butternut squash!!
Like waaaayyy better!
A dense and sweet flavour, with a hint of nuttiness to it - which tastes amazing roasted in the oven with a few spices and a good glug of olive oil.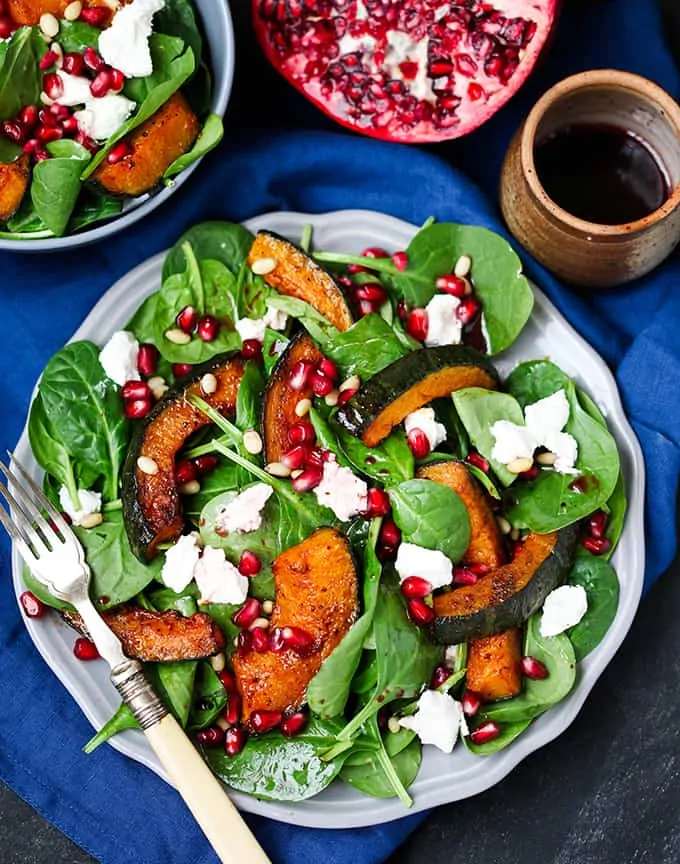 Even better, you can eat the skin too!
I find peeling butternut squash such a chore - awkward-shaped slippy things!
Then once I've peeled it, I live in complete fear of chopping all my fingers off in one go when I try to cut into it with my big knife.
Bluergh!
(I once ended up in A&E after chopping a nice slice from the top of my finger - and that was just chopping iceburg lettuce!)
The kabocha itself doesn't contain a huge amount of flesh. Once you cut it open, you'll see that the vast majority of it is made up of seeds. At first I was a little disappointed - but then I realised that this just made the squash easier to prepare.
Scoop out the seeds, and slice into strips - and you're done.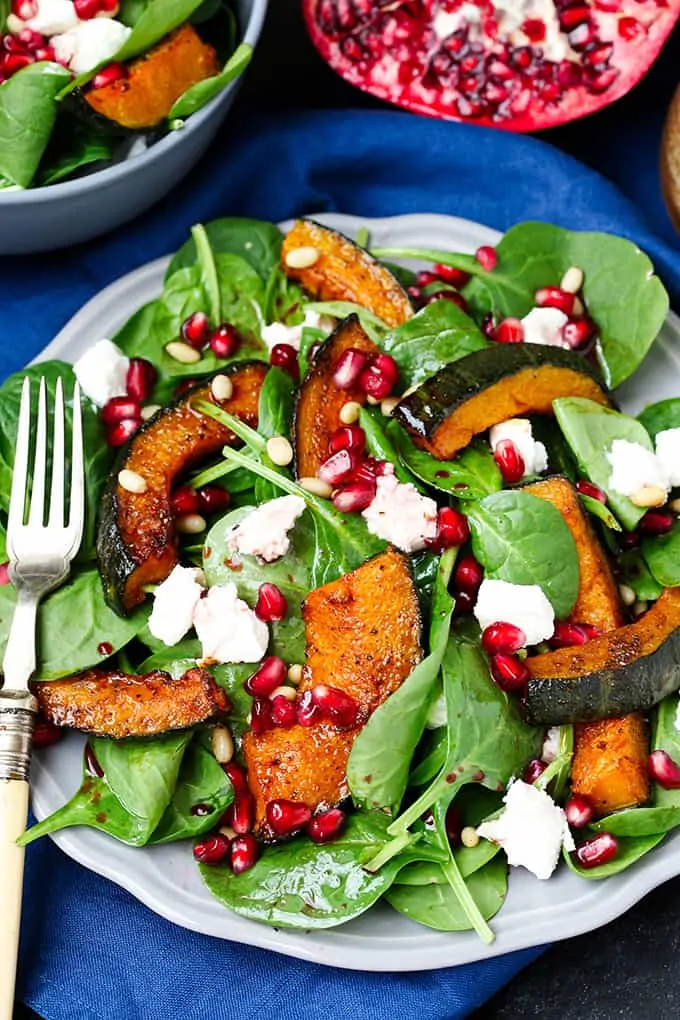 The roasted squash is served with fresh spinach and creamy goats cheese, then sprinkled with pomegranate seeds and pine nuts before being tossed together with a tangy pomegranate dressing.
Love love love this salad for dinner (it's filling enough to serve as a main meal), and no longer will I be ignoring those little green goblins 🙂
My recipe for Roasted Kabocha Squash Salad first appeared in Superfood Magazine.
The Roasted Kabocha and Goat's Cheese Salad with Pomegranate Dressing Recipe: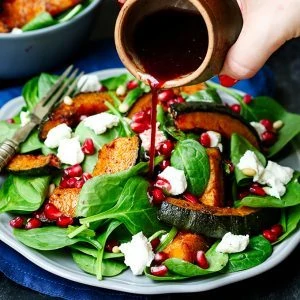 Roasted Kabocha and Goat's Cheese Salad with Pomegranate Dressing
Sweet Roasted Kabocha Squash Salad - with creamy goat's cheese and a tangy pomegranate dressing. A deliciously filling dinner - perfect for Meatless Monday!
Ingredients
1

small kabocha squash

2

tbsp

olive oil

¼

tsp

paprika

½

tsp

cumin

¼

tsp

salt

¼

tsp

ground black pepper

100

g

baby spinach

100

g

soft goat cheese, roughly chopped (Capricorn Goats cheese is a good vegetarian option)

Seeds from half a pomegranate

3

tbsp

pine nuts
Pomegranate Dressing:
4

tbsp

pomegranate juice

-

you can use bought pomegranate juice or squeeze the juice out of half a large pomegranate

4

tbsp

olive oil

1

tsp

honey

1

tbsp

balsamic vinegar

pinch

of salt and pepper
INSTRUCTIONS
Preheat the oven to 190C/375f.

Cut the squash into 1" slices, remove and discard the seeds, then cut each slice into half-moons. Toss in the olive oil, then sprinkle on the paprika, cumin, salt and pepper. Place in a single layer on a baking sheet and cook in the oven for 20-25 minutes, turning once halfway through cooking.

Whilst the squash is cooking, make the dressing by mixing together all of the dressing ingredients using a fork. Pour into a small serving bowl.

Take the squash out of the oven and put to one side. Divide the spinach between three plates. Top with slices of squash, then sprinkle with goats cheese, pomegranate seeds and pine nuts. Serve with the pomegranate dressing.
✎ Notes
Nutritional Information is per serving.
Nutrition
Calories:
537
kcal
Carbohydrates:
34
g
Protein:
11
g
Fat:
42
g
Saturated Fat:
9
g
Cholesterol:
15
mg
Sodium:
359
mg
Potassium:
1337
mg
Fiber:
5
g
Sugar:
12
g
Vitamin A:
7665
IU
Vitamin C:
46.3
mg
Calcium:
164
mg
Iron:
4.2
mg