This Grilled Romaine Hearts with Figs, Pear and Manchego salad makes a great starter or lunch. Perfect for entertaining too!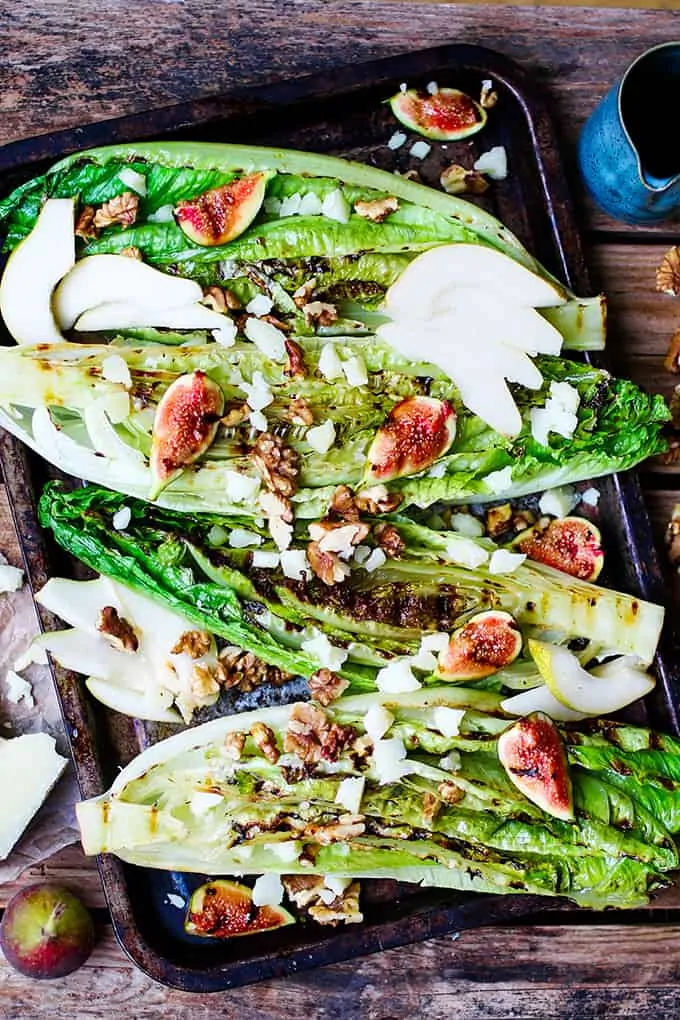 Spring is here, time to whip out those salads!
I was expecting to post this salad on a warm, sunny day – kind of like the weather last week. But for some reason, it seems to have gone back to Winter! We had big fat hailstones yesterday, and it's looking pretty miserable again today.
But I don't care. I'd eat this salad any time!
In fact the first time I made this one was for Superfood magazine back in December. It did feel a little strange eating salad whilst the Christmas tree was up, but come on…..
Manchego?
Figs?
Pear?
Walnuts?
Plus an amazing honey-balsamic vinaigrette? I was definitely eating it!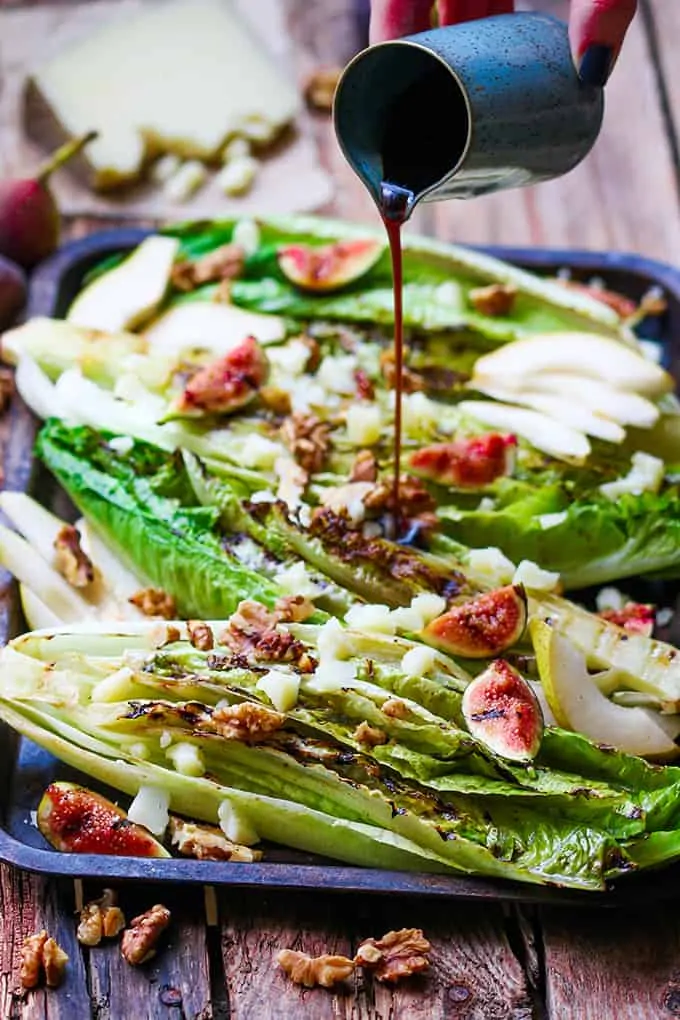 I made 6 filling salads altogether for Superfood, and I'm going to be sharing all of them with you over the next few weeks.
And it's probably a good thing I've already got this yummy salad photographed because I can't eat green stuff this week. Or red stuff.  Or anything that isn't white or light in colour.
Yep, I've gone down the vain approach of getting my teeth whitened. I had them done about 10 years ago at the dentist, and decided they needed a bit of a top up (not glow-in-the-dark, just nice, bright pearlies please!). This time I'm doing it at home over the course of a week.
I've got to wear these strange-looking plastic teeth-guard-type-things filled with whitening solution overnight for 7 to 10 days.
Three days in, and I know I definitely won't last the full 10 days.
White food is so boring!!
At least it is when you're trying not to stuff yourself with bread, cream, mayo, ice cream and cheese!
I'm missing kale, and coffee, and raspberries and chocolate and green smoothies soooo much!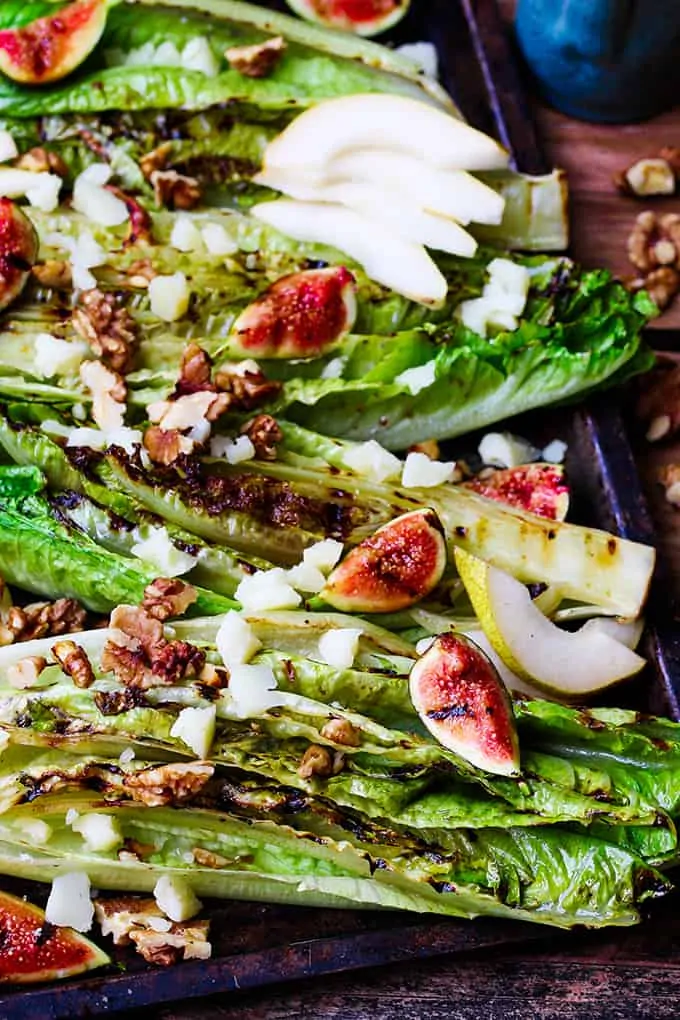 I've even considered melting chocolate and just drinking it through a straw. Bad Nicky.
Just a few more days to go, then I'm having a large latte and a chocolate cake.
Have a guess what Friday's recipe is going to be…….
Risotto! Yay! I actually love risotto, so I'm good with that white food. It's a spring veg risotto, so I may have to miss out the green stuff (boo hoo) but I'm sure you guys can eat all that lovely asparagus and broccoli for me.
The Grilled Romaine Hearts with Figs, Pear and Manchego Recipe: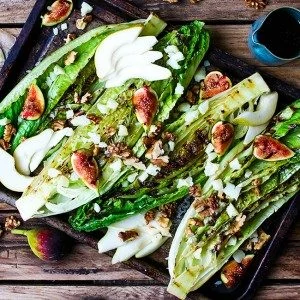 Grilled Romaine Hearts with Figs, Pear and Manchego
Grilled Romaine Hearts with Figs, Pear and Manchego
Ingredients
2

romaine hearts

3

figs cut into halves

1

pear

-

cored and sliced thinly

50

g

shelled walnuts

-

lightly chopped

50

g

Manchego

-

crumbled

Dressing:

6

tbsp

olive oil

4

tbsp

balsamic vinegar

1

tbsp

honey

salt & pepper
INSTRUCTIONS
Slice the romaine hearts in half lengthwise. Whisk together the dressing ingredients using a fork.

Heat a griddle plate or pan and brush lightly with oil. Brush the cut side of the romaine hearts with the balsamic dressing and place on the griddle cut-side-down. Cook for 3-5 minutes until charred griddle lines appear (no need to turn over). Brush the figs with the dressing and place on the griddle for the last minute of cooking.

Place the romaine on a large serving plate, cut side up. Slice the halved figs into quarters and scatter on top of the romaine along with the sliced pear, walnuts and crumbled manchego. Serve with the remaining dressing.
✎ Notes
Nutritional Information is per serving.
Nutrition
Calories:
413
kcal
Carbohydrates:
24
g
Protein:
6
g
Fat:
33
g
Saturated Fat:
6
g
Cholesterol:
13
mg
Sodium:
85
mg
Potassium:
351
mg
Fiber:
4
g
Sugar:
18
g
Vitamin A:
5045
IU
Vitamin C:
5
mg
Calcium:
186
mg
Iron:
1.4
mg