Cheese and Tomato Tarts with a rich tomato ragu and creamy béchamel sauce encased in shortcrust pastry. The best vegetarian lunch!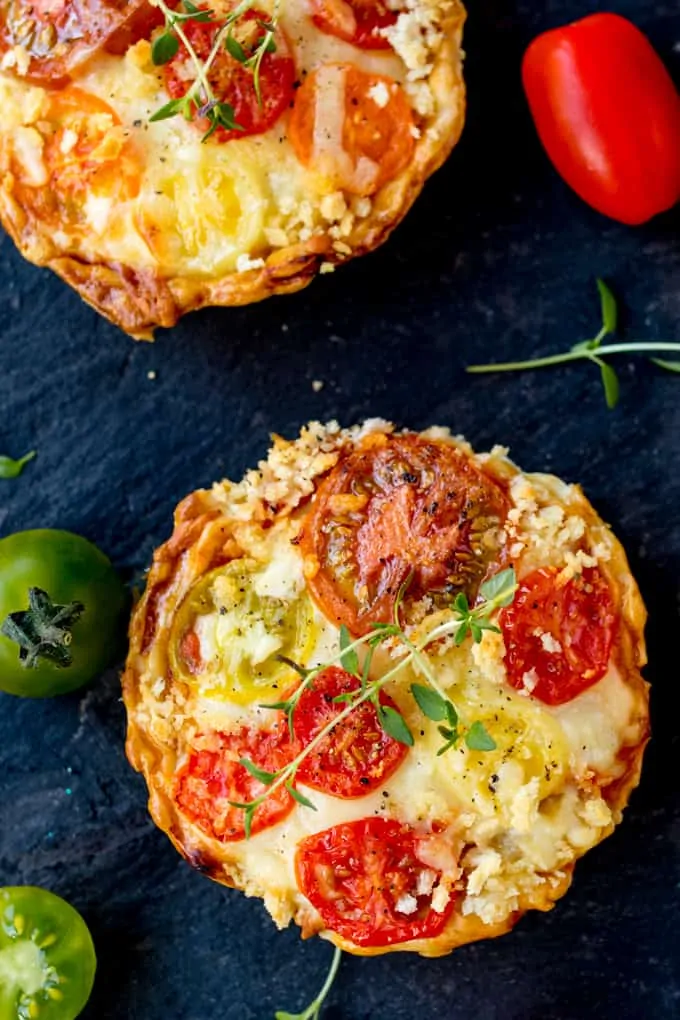 I must state very clearly right now. This is not quiche.
It's the first thing Chris asked when I put it on the table, and I'm pretty sure the kids would have turned their noses up if they though it was quiche too.
I'm quite partial to that retro party dish that always appears on the buffet table! But I know not to bother making it at home.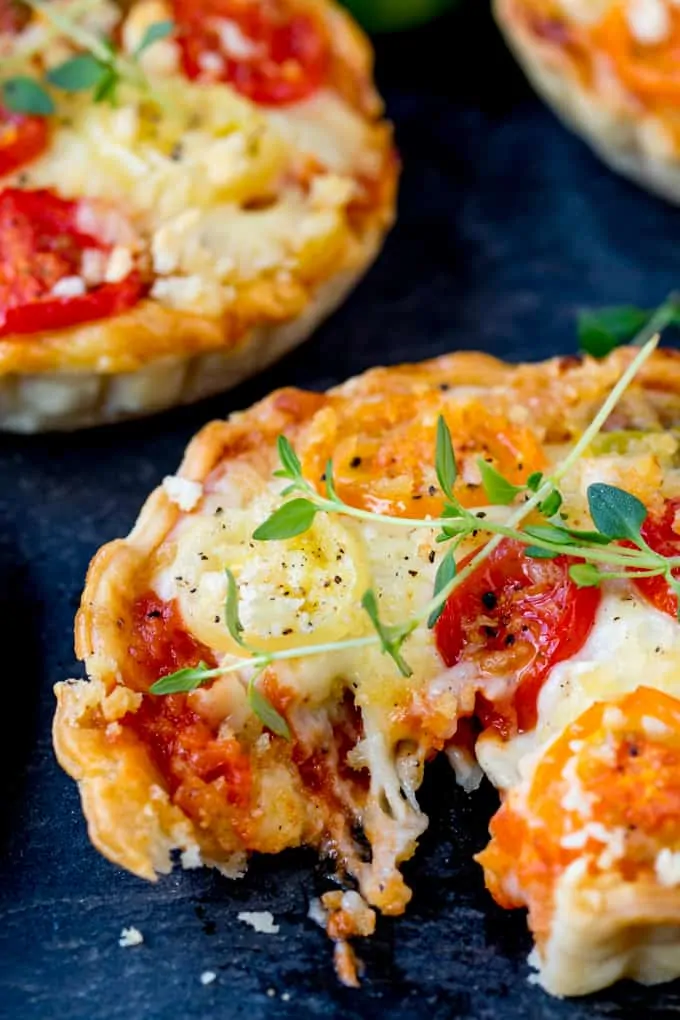 That means these tarts are not filled with eggs. Yes, I brushed a bit of egg on the pastry, but that's it. No wobbly egg texture, just creamy, tomatoey deliciousness.
(I love that my job let's me use words like tomatoey deliciousness in everyday life. In my old job it was all 'Risk Management', 'Business Case', 'Approved Spend' blah blah blah yawn!!)
I was having a veggie day when I made these tarts. I'd spotted some colourful tomatoes that called out to me (and made me buy three boxes!), so I spent the day making tarts, and veggie pizza recipes with homemade flatbread dough (on the blog next week!). I've still got a box of tomatoes left, so I think I'll use them to video my panzanella with saganaki later on.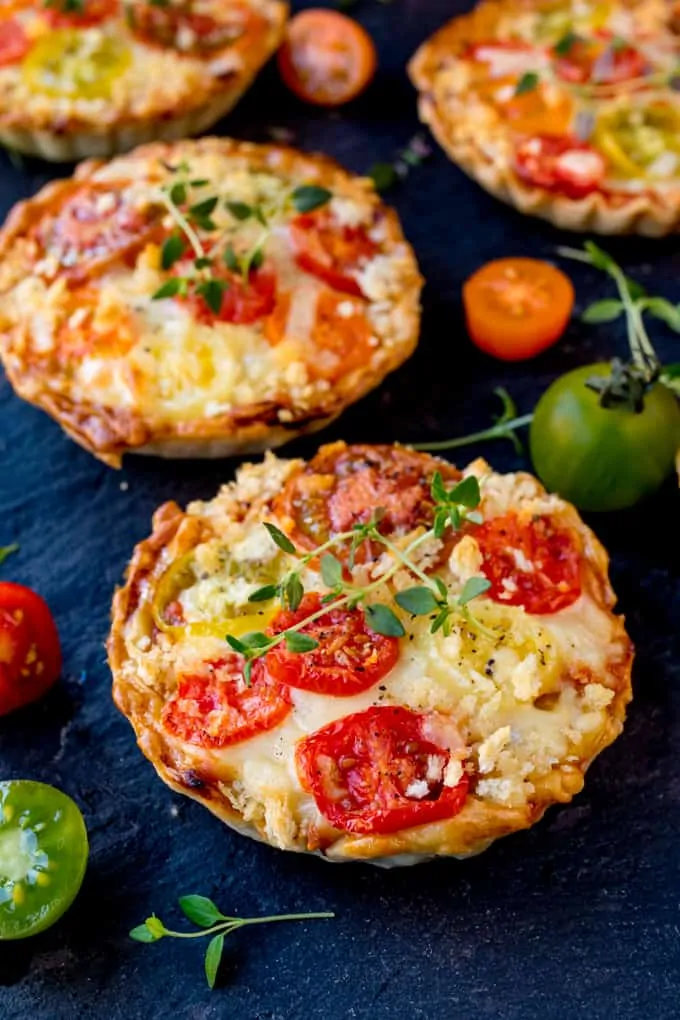 I used ready-made shortcrust to make the tarts, because well, sometimes (80% of the time) I just can't be bothered to make pastry. I'm too eager to start experimenting with fillings and toppings.
The result was a big thumbs-up all round. They were amazing served up with a big salad.
Due to the fact that we're a a greedy family, I ended up serving the pizza alongside these tarts for dinner too.
Hmmm tart/pie and pizza. Sometimes I need to see it written down in front of me so that I understand why the scales aren't going down - despite my no-snacking-in-the-evening policy.
Only a few months until our holiday in Florida, and I really need to lose half a stone so I can eat everything!!
The Cheese and Tomato Tarts Recipe: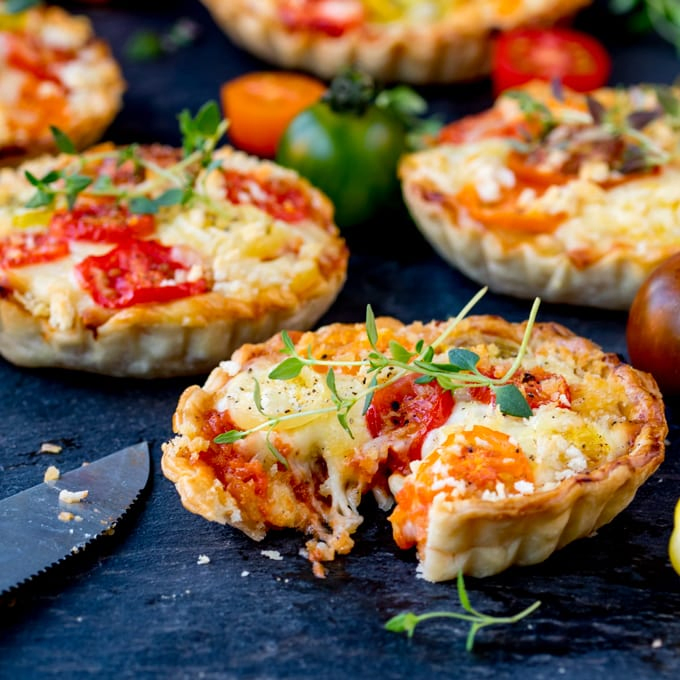 Cheese and Tomato Tarts Recipe
Cheese and Tomato Tarts with a rich tomato ragu and creamy béchamel sauce encased in shortcrust pastry. The best vegetarian lunch!
Ingredients
Tomato ragu:
1

tbsp

olive oil

1

onion

-

peeled and diced

2

cloves

garlic

-

peeled and minced

1

tbsp

tomato puree

1

tsp

oregano

1

tsp

sugar

400

g

tinned chopped tomatoes

Pinch

of salt and pepper
Tart cases:
320

g

pack ready-rolled shortcrust pastry
Bechamel sauce:
45

g

unsalted butter

4

tbsp

plain/all purpose flour

240

ml

milk

75

g

mature cheddar cheese, grated

85

g

mozzarella cheese, grated

½

tsp

black pepper
Also:
1

small egg

-

slightly whisked

10-12

small tomatoes

-

thinly sliced (I used mixed colour tomatoes)

3

tbsp

panko breadcrumbs

3

tbsp

grated cheddar cheese

Small bunch fresh thyme
INSTRUCTIONS
Preheat the oven to 210c/450F

First make the ragu. Heat the oil in a medium sized frying pan or sauce pan and add the onion. Cook on a medium-low heat for 5 minutes, stirring occasionally, until the onion starts to soften. Add the garlic and cook for a further 1 minute.

Add in the tomato puree, oregano, sugar, tinned tomatoes, salt and pepper. Stir, bring to the boil, then simmer gently, stirring occasionally for 15 minutes. Turn the heat off.

Whilst the ragu is cooking, make the tart cases and bechamel.

Unroll the pastry and put 6 x 10cm loose-bottomed tart tins to one side.

Cut the pastry into six squares - they should be bigger than the tart cases. Use the pastry to line the cases and push the pastry right into the grooves of the cases. Cut off excess pasty, but leave a bit of an overhang, as they will shrink back slightly during baking. Line each pastry case with a square of baking parchment, then add tbsp of uncooked beans/lentils/rice to each. Place on a tray in the oven for 10-12 minutes to 'blind-bake' until very lightly browned. This blind baking will ensure the pastry is fully cooked and not soggy later on.

Remove from the oven and carefully remove the beans/rice and baking parchment.

Now make the bechamel. Melt butter in a medium-sized saucepan. Add the flour and stir with a whisk to combine. It should form into a thick paste. Heat for 1 minute on a medium-high heat whilst stirring. Slowly add the milk, a bit at a time and whisk slowly after each addition to combine and remove any lumps. Continue to stir until the sauce is very thick, then stir in the cheddar, mozzarella and black pepper. Taste and add a little salt if you think it needs it.

Take your pastry cases, and brush beaten egg all around the rims.

Spoon the tomato ragu into the pastry cases - two heaped tablespoons for each. Top each with two heaped tablespoons of the bechamel.

Arrange the sliced tomatoes on top, then sprinkle any gaps first with panko breadcrumbs, then with cheddar. Place in the oven and bake for 15-20 minutes until golden brown.

Remove from the oven and leave to cool for 5 minutes, then carefully remove from the tins. Top with fresh thyme sprigs and serve with a big green salad.
✎ Notes
Nutritional Information is per tart. **Note** 275g (9.7oz) of pastry was used in the calculation, as not all of the pastry amount is used.
Nutrition
Calories:
436
kcal
Carbohydrates:
41
g
Protein:
15
g
Fat:
23
g
Saturated Fat:
11
g
Cholesterol:
79
mg
Sodium:
650
mg
Potassium:
367
mg
Fiber:
2
g
Sugar:
6
g
Vitamin A:
915
IU
Vitamin C:
12.3
mg
Calcium:
312
mg
Iron:
3.1
mg