Vegetable Bibimbap with gochujang - lots of healthy goodies in this Korean style recipe!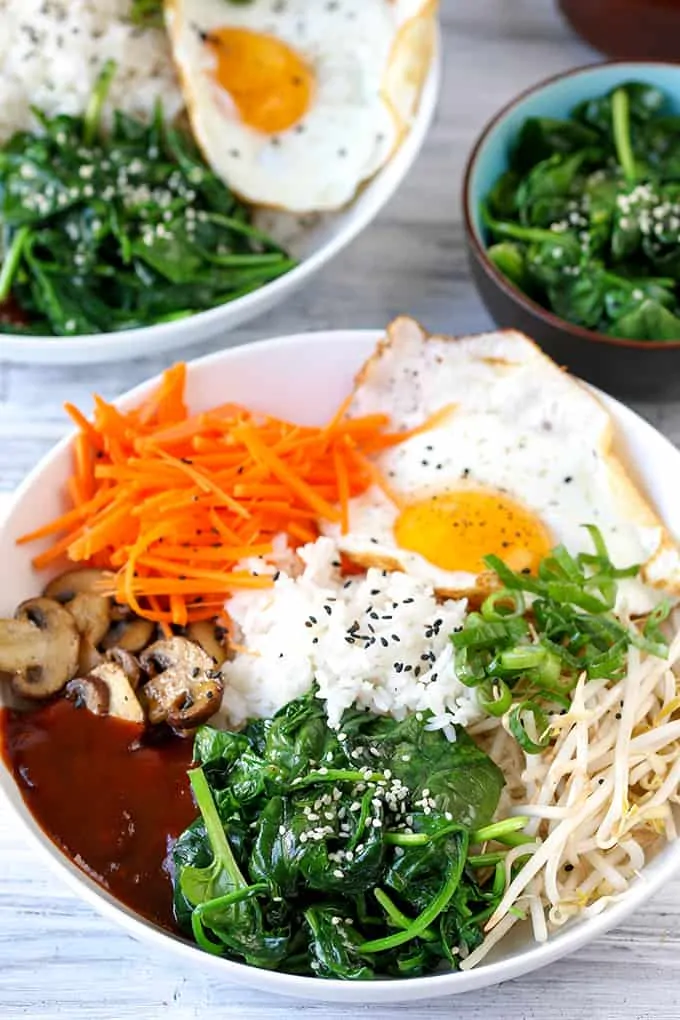 One heck of a meat-free meal, this veggie-based bibimbap is packed with flavour!
I like this one as a bit of a treat lunch, but it makes a great dinner too.  If you already have some cooked rice to hand, you can have this meal ready in 10 minutes.
Wilted spinach and golden brown, well-seasoned mushrooms are some of my favourite veggies, and they're taken to a new level with a good slug of Korean gochujang.
I only came across this stuff a few months ago and I'm totally hooked. Added to soups and sauces, drizzled on veggies or served as a dipping sauce, you need a bottle of this stuff in your fridge!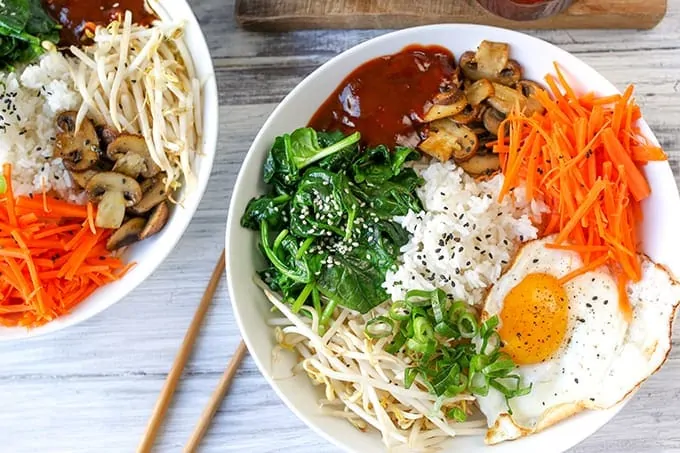 So what's the latest in your lives?
August has been really busy for me. Not just because I've been working hard, but also keeping the kids entertained during the school holidays, and trying to prepare for, and then work around the new extension we're building.
The plan is to add a garage, small utility room and study on the side of the house, and then knock the back wall of the house out and extend the kitchen.
I'm so excited! but I know it's going to take at least a few months, so in the meantime I have all of my kitchen stuff stored in Gracey's room, and the rest of the house seems to be filled with piles of things that keep getting shifted from one place to another.
In an effort to actually get some blog work done (and to give the kids a treat) I've brought the kids to my mum and dad's house for a week.
Poor Chris has been left at home (he's got to work at the office in the day, then will probably be helping with some of the building work in the evenings) whilst I'm enjoying being fed and pampered by mum.
She even left fresh towels on my bed and filled the cupboard with chocolate biscuits. I love my folks.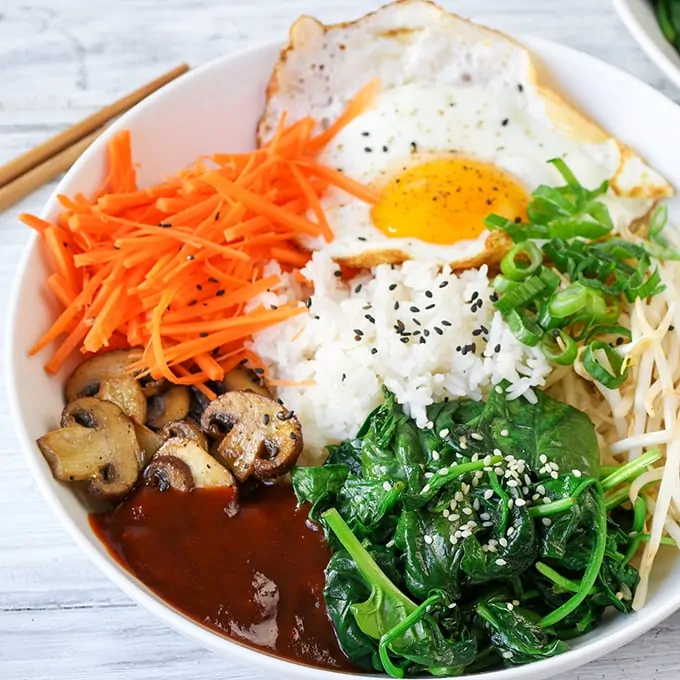 So I'm sitting on the bed, catching up on some writing, whilst the kids are making 'potions' in the garden (some kind of herb/mud/petal combination I think).
I made this recipe for Superfood magazine a few months ago, and it's been remade in various different guises since then.
With chicken, without the egg, with quinoa, without beansprouts, with thinly sliced raw cabbage etc etc.
It's one of those dishes you can make differently every week for a year - depending on what you've got in the fridge at the time.
Go get some gochujang and try it for dinner, hopefully you'll love it as much as I do.
The Vegetable Bibimbap Recipe:
Vegetable Bibimbap
Vegetable Bibimbap with gochujang - lots of healthy goodies in this Korean style recipe!
Ingredients
2

tbsp

olive oil

6

chestnut mushrooms

-

sliced

Pinch

of salt and pepper

2

eggs

100

g

fresh baby spinach

1

clove

garlic

-

peeled and minced

300

g

warm boiled rice

1

large carrot

-

peeled and cut into matchsticks

100

g

fresh beansprouts

3

tbsp

Korean gochujang dipping sauce

-

this can be found in the speciality aisle of most large supermarkets

1

tsp

sesame seeds

1

tsp

black sesame seeds
INSTRUCTIONS
Heat half of the oil in a small frying pan, add the sliced mushrooms and season with a pinch of salt and pepper. Fry for 3-4 minutes, turning once or twice until golden brown. Remove from the pan.

Add the remaining oil to the pan, heat on a medium heat, then carefully crack the eggs into the pan. Fry for 3-4 minutes until the white is cooked but the yolk is still runny. Remove from the pan.

Add the spinach, garlic and a pinch of salt and pepper to the pan. Heat through for 1 minute until the spinach is wilted. Turn off the heat.

Divide the boiled rice between two large bowls. Arrange the carrot matchsticks, beansprouts, mushrooms and spinach on top. Place an egg on top of each bowl and pour on the gochujang sauce.

Sprinkle with the sesame seeds and serve.
✎ Notes
Nutritional Information is per Serving.
Nutrition
Calories:
460
kcal
Carbohydrates:
56
g
Protein:
15
g
Fat:
21
g
Saturated Fat:
3
g
Cholesterol:
163
mg
Sodium:
137
mg
Potassium:
1008
mg
Fiber:
5
g
Sugar:
7
g
Vitamin A:
10070
IU
Vitamin C:
27
mg
Calcium:
143
mg
Iron:
4.3
mg