Need a recipe for leftover ham? This is the one you for you. Kind of like potato dauphinoise, but made even better with pieces of ham and caramelised onions. These Scalloped Potatoes are comfort food heaven!
A luxury side dish for Christmas or Thanksgiving!
Or if you don't want to serve up these scalloped potatoes as a side dish, make it the main event with a few little additions.
I'm using chunks of leftover baked ham, buttery fried onions and 3 different cheeses.
It's carblicious, ultra cream and cheesy, and probably a million calories (I'll work it out and include in the recipe card), but who cares when it tastes this good?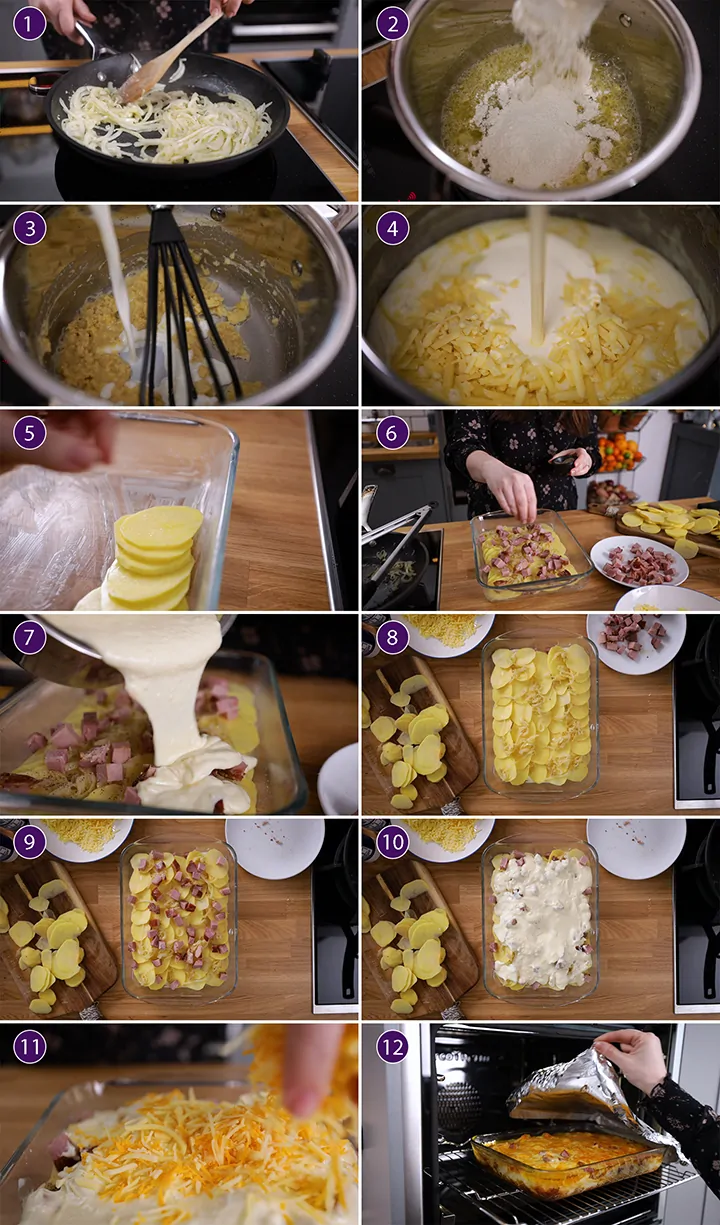 We start by frying up slices of onion in a pan (1) with butter, garlic, salt, pepper and a little garlic salt. Five or six minutes is enough to get sweetly softened light brown onion, but you can cook for 8-10 minutes more than that if you love really caramelized onions. Turn off the heat.
Make the sauce by melting butter in a saucepan, then stirring in flour to form a roux (2). Heat for a minute to cook out the flour, then while stirring with a whisk, slowly add the milk, a good splash at a time (3). When all of the milk has been added, stir in the cream and cheddar cheese (4).
Arrange a layer of potatoes (no need to pre-cook them) in a greased baking dish (5), and top with half the onions, half the ham and a good pinch of salt and pepper (6). Spoon over half the sauce (7).
Repeat the layers once more (7, 8, 9, 10), then top with cheddar, Gruyere and red Leicester (11). Cover with foil and bake in the oven for 75-90 minutes, until the potatoes are tender throughout (12).
Remove the foil and cook for a further 15-20 minutes until the cheese is browned and bubbly. Top with fresh thyme before serving.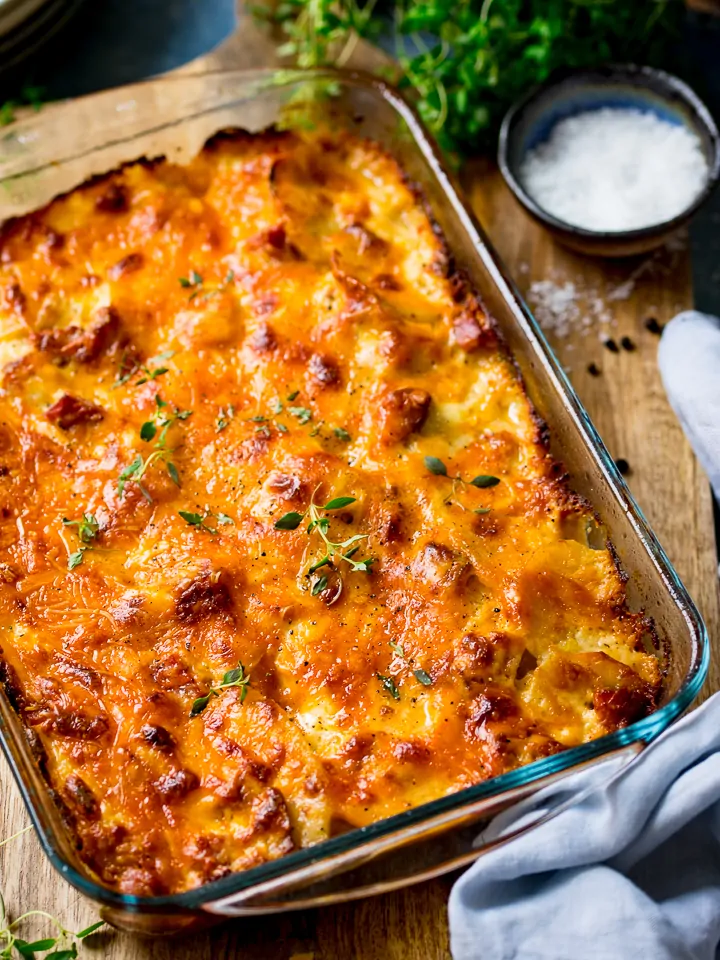 What's the difference between potato dauphinoise and scalloped potatoes?
Potato dauphinoise is a French dish of thinly sliced potatoes (not usually pre-cooked), baked with cream and/or milk, a hint of garlic (more for the aroma than the flavour) and sometimes a little nutmeg. Cheese may or may not be added.
Scalloped potatoes - Scalloped potatoes are often argued to be cooked with cream, garlic and onion, but without cheese. Many recipes do call for the addition of cheese though (including mine!). The potatoes are usually sliced a little thicker than with potato dauphinoise.
Can I cook the potatoes first?
You can cook the sliced potatoes in milk or stock for 10-12 minutes first if you wish. This will speed up the overall cooking process, meaning the dish will only need around 30 minutes in the oven (uncovered).
I prefer not to pre-cook the potatoes as I find draining the potatoes too messy, and I'm too impatient to wait for the potatoes too be cool enough, so I can handle them when I layer them up in the pan.
Pro Tip - How to ensure your cream won't curdle
A curdled sauce can be a common problem with regular dauphinoise potatoes. Here are some tips to ensure it doesn't happen to you:
Most often a curdled sauce is due to the temperature of the oven being too high. So it's a good idea to ensure your oven isn't running too hot,
Stick to potato amount in the recipe. Potatoes have a certain amount of acidity in them, and going overboard on the potatoes can cause the acidity to curdle the milk or cream.
Full fat milk and cream are best. Reduced fat milk and cream have a higher tendency to split (curdle) than full fat.
This recipe uses flour in the sauce, and this will also help to ensure your sauce won't split.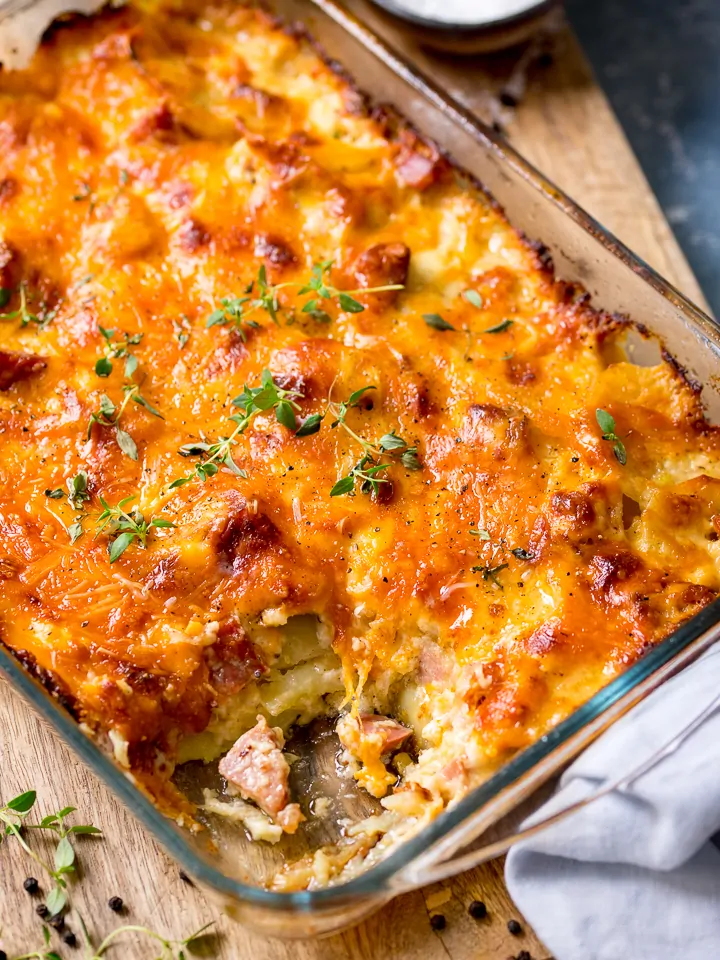 Suggestions for swaps:
If you want to change up this recipe, you could swap out the ham for bacon or even pepperoni or chorizo (salty meats work best).
You can also replace some or all of the potato with sweet potato or slices of butternut squash (like this squash and potato gratin)
More Potato-Based Dinner Ideas:

More Creamy Comfort Food Ideas:
The Ham and Potato Bake Video:
Ham and Potato Bake Recipe
The best recipe for leftover ham! Kind of like potato dauphinoise, but made even better with pieces of ham and caramelised onions.
Ingredients
2

tbsp

unsalted butter

1

large onion

-

sliced thinly

2

cloves

minced garlic

½

tsp

salt

½

tsp

black pepper

¼

tsp

garlic salt

7

oz

(200g) cooked ham

-

cubed

4

red-skinned potatoes*

-

peeled and thinly sliced
Cheese Sauce:
4

tbsp

unsalted butter

6

tbsp

plain (all-purpose) flour

2 ⅓

cups

(560ml) full fat milk

¾

cup

(180ml) double (heavy) heavy cream

1 ½

packed cups

(150g) grated mature cheddar cheese

½

packed cup

(50g) grated Gruyere cheese

½

packed cup

(50g) grated Red Leicester cheese

1

tbsp

chopped fresh thyme
INSTRUCTIONS
Preheat oven to 180C/350F. Grease a large casserole dish.

Heat the butter in a frying pan (skillet) on a medium-high heat. Add the onion, garlic, ¼ tsp salt, ¼ tsp black pepper and ¼ tsp garlic salt. Fry for 5-6 minutes, stirring often until the onions soften. Turn off the heat.

Now make the cheese sauce. Melt the butter in a saucepan over a medium-high heat. Add the flour and stir with a whisk. Cook for 1 minute, stirring constantly.

Add the milk, a splash at a time, whilst stirring with the whisk until incorporated, and no lumps remain.

Add the cream and three quarters of the cheddar cheese. Stir until the cheese melts.

Arrange half of the potatoes in the bottom of the casserole dish. Top with half the onion mixture and half of the cubed ham. Sprinkle over ¼ tsp salt and ¼ tsp black pepper.

Pour over half the sauce.

Repeat the layers with the potato, onion, ham, salt, pepper and the remaining sauce.

Sprinkle the remaining cheddar cheese, the Gruyere and red Leicester over the top.

Cover the dish with foil and place in the oven for 75-90 minutes - until the potatoes are tender (you can check by pushing a knife through them, They should cut through potatoes easily).

Remove the foil and cook for a further 15-20 minutes until the cheese is golden and bubbly.

Remove from the oven and allow to rest for 5 minutes, then serve topped with a sprinkling of fresh thyme.
Video
✎ Notes
*Which potatoes to use?
I find the best types of potato are floury potatoes - as the starch in them helps to create a thicker sauce. Maris Piper, King Edwards, Rooster, Russets, Yukon golds and Desirée are all good options.
Can I make it ahead and reheat later?
Yes, you can cook the dish as per the instructions, then cool, cover and refrigerate for up to two days. Reheat, covered in foil for 30-35 minutes at 180C/350F until piping hot throughout.
Can I freeze it?
I find the potatoes, although still tasting great, can have a slightly grainy texture when frozen and reheated, so I don't recommend it.
If you do have leftovers and want to freeze them, then cook the dish, cool, cover and freeze. Defrost in the refrigerator overnight, then reheat, covered in foil for 30-35 minutes at 180C/350F until piping hot throughout.
Nutritional Information is per serving.
Nutrition
Calories:
499
kcal
Carbohydrates:
28
g
Protein:
21
g
Fat:
35
g
Saturated Fat:
21
g
Cholesterol:
120
mg
Sodium:
906
mg
Potassium:
668
mg
Fiber:
2
g
Sugar:
6
g
Vitamin A:
1082
IU
Vitamin C:
12
mg
Calcium:
442
mg
Iron:
2
mg
Note – I previously worked with Elmlea to create a video of this recipe for an Instagram post. That video has been re-edited especially for this post. This post has not been sponsored.
Some of the links in this post may be affiliate links – which means if you buy the product I get a small commission (at no extra cost to you). If you do buy, then thank you! That's what helps us to keep Kitchen Sanctuary running. The nutritional information provided is approximate and can vary depending on several factors. For more information please see our Terms & Conditions.