Savoury Dinner Pancakes with Chilli Butter. These Savoury Pancakes would make great street food!  Simple and quick to make – great for a speedy dinner!
Updated for 2018 (see the terrible old pictures at the end of this post!).
I love an omelette for a quick dinner, but unfortunately Chris and the kids won't eat them, so this is my way of making everyone happy with just an extra few minutes of prep needed to whip up some pancake batter.
I wasn't sure how well chorizo would go with syrup, but OMG yes!!
Add in the bacon, a little cheese and that salty chilli butter too? This is a seriously good recipe for pancakes with a twist.
I originally posted this recipe in November 2014 – just in time for Thanksgiving. Let's take a glance back at what I was talking about then (I like to keep these things in, since I like to look back on old blog posts as a bit of a dairy)
 I just wanted to wish all the US folks a HAPPY THANKSGIVING!! for yesterday. Especially to my Auntie Lynette (who is actually my first cousin once-removed, but that's a bit of a mouthful) and rest of the family who live in California xxx
I'm quite jealous of all the lovely food and celebrations you're having over there, but we're having a little celebration meal tonight for my mum and dad who have been married 40 years! So I'll feel less jealous once I'm full of Italian food later on.
Chris and I have just celebrated our Anniversary too, and true to my word, we wandered around the Christmas markets in Manchester eating something from most of the stalls.  Smoky bratwurst, Mexican chicken, spicy potatoes, cherry streudel mmmmmm and of course some mulled wine and hot cider to wash it all down.
Awww, not much has changed in the last 3 and a half years. My Auntie Lynette and family are coming over from the US for a visit next month (HUGE family reunion – I wonder if I can get her to bring me some PAM spray and Hershey's kisses ???? – can't get them in the UK).
Mum and dad are off next week for another celebration (this time it's my mum's birthday. I won't tell you how old she is though, she'd kill me).
And Chris and I recently celebrated our 10th anniversary in the Lake District (as usual it was VERY food focused!).
Back to the savoury pancakes. My original recipe was a tiny bit flawed, in that I incorporated so many fillings (chicken, chorizo, peppers and spring onions), that it impacted the structural integrity of the pancakes – making them tricky to flip without them falling apart.
Yes, I know. Pancake structural integrity is a very pressing subject, that needs careful consideration.
Said no-one ever.
So for my updated recipe, I just added chorizo and spring onions, then sprinkled some cheese on the pancakes in the pan before flipping.
Everything else goes on top. Structural integrity problem solved.
The chilli butter is a must, along with a good drizzle of golden syrup.
Maple syrup works too, but I think golden syrup works the best.
Anyway, have a flippin good pancake day (sorry), and let me know if you try the recipe! x
oh, and here's the old picture from 2104 (cringe):

Savoury Dinner Pancakes with Chilli Butter Recipe: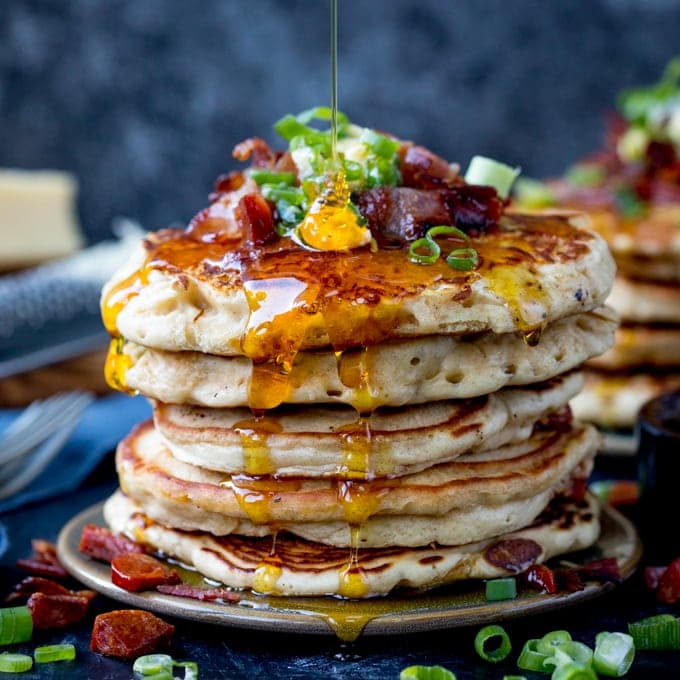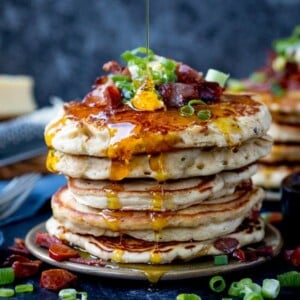 Savoury Dinner Pancakes
Savoury Pancakes make a real treat dinner - with chorizo, bacon and chilli butter, plus a good drizzle of golden syrup.
Print
Rate
Pin The Recipe For Later
Servings:
4
servings of 3 pancakes each
Ingredients
Pancake Batter:
1

x 15cm (6") length of chorizo

chopped into small chunks

1 3/4

cups

(210g) plain (all purpose) flour

1

tbsp (yes, tbsp, not tsp)

baking powder

pinch

of salt

1

large egg

1 1/4

cups

(300ml) milk

full or half fat

8

spring onions (scallions)

finely chopped

1

tsp

unsalted butter

1/2

cup

(50g) grated cheddar cheese
Chilli Butter:
4

tbsp

(60g) salted butter

slightly softened

1

green chilli

finely chopped (I like jalapenos)
Fillings/toppings:
8

rashers/strips

streaky bacon

fried and chopping into small pieces

4

tbsp

golden syrup
Instructions
Preheat the oven to a very low setting (to keep the cooked pancakes warm whilst you're cooking the rest).


First fry the chorizo by placing in a frying pan and cooking on a high heat for 1-2 minutes until it starts to release it's oils. Transfer the cooked chorizo to a plate.

Next make your pancake batter. In a large bowl place the flour, baking powder, salt and egg.

Start to mix slowly with a balloon whisk or fork whilst slowly adding in the milk. You should end up with quite a thick pancake batter. Don't overmix, it's fine if it's still a little bit lumpy. Stir in 3/4 of the spring onions (scallions).

Now make your chilli butter by mixing the salted butter and chopped chilli together in a small bowl. Once mixed, place in the fridge to firm up (or you can leave it room temperature if you prefer).

Heat the butter on a medium-high heat in a large non-stick frying pan* (Note 1) or on a non-stick large griddle, then brush it around to cover the pan. Add blobs of pancake batter - approx 1/4 cup (4 tbsp) per pancake. 

Fry for 1 1/2-2 minutes, until bubbles appear on top of the pancake. Then sprinkle the cooked chorizo and cheese on top. Turn the pancakes over and allow to cook for a further minute or two, until cooked through. You will probably have to work in batches - as this recipe makes 12 pancakes. Keep the cooked pancakes warm by placing in the pre-warmed oven.

Once all the pancakes are cooked, stack them up and top with crispy bacon, the reserved spring onions, a spoonful of chilli butter and a good drizzle of golden syrup.
Recipe Notes
Note 1:
Use a non-stick pan to ensure the cheese doesn't stick to the pan when you flip the pancakes. If you don't like using non-stick, then I'd suggest flipping the pancakes, then sprinkling a little cheese on top, so the cheese can melt when the pancakes finish off cooking. You can still add the chorizo as per the recipe though.
More topping/filling ideas:
Oh, I've got loads! ham, mushrooms, mozzarella, cooked diced potato, peppers, chives, kale, spinach, sausage, onions, sweetcorn, pepperoni.... basically anything you'd put into an omelette! BUT be sure to just go for a couple of fillings! Too many will impact the structural integrity of your pancakes, making them harder to flip without them falling apart. If you want lots of extras, add a couple to you pancake mixture and top with the rest.
Nutritional information is per serving (of 3 pancakes), including toppings.
Nutritional Information
Nutrition Facts
Savoury Dinner Pancakes
Amount Per Serving
Calories 767
Calories from Fat 405
% Daily Value*
Fat 45g69%
Cholesterol 140mg47%
Sodium 785mg33%
Potassium 778mg22%
Carbohydrates 66g22%
Protein 22g44%
Vitamin A 970IU19%
Vitamin C 5.9mg7%
Calcium 370mg37%
Iron 3.8mg21%
* Percent Daily Values are based on a 2000 calorie diet.