These succulent pork chops are pan-fried and finished in the oven, all served in a warming, creamy-mustard sauce. Super-quick to cook - they're ready in about 15 minutes.
This simple recipe makes a great weekday Autumn dinner.
Jump to:
I love pork chops, there's just something so old-school and comforting about them. Every Nanna everywhere has a pork chop recipe, I'm sure of it!
I think think they're making a bit of a comeback - retro cool - like black forest gateaux and prawn cocktail, and I'm here for it.
This is my favourite way to cook them.
Melt in the mouth crispy edges and full on creamy, mustardy and indulgent sauce, what's not to love?
I finish them off in the oven while I cook the potatoes and green beans and WHAM, dinner on the table in less than 20 minutes. My lot are usually sat waiting at the table, knives and forks in hands, and tongues practically hanging out when I cook this, see how I make it below.
📋 What do we need?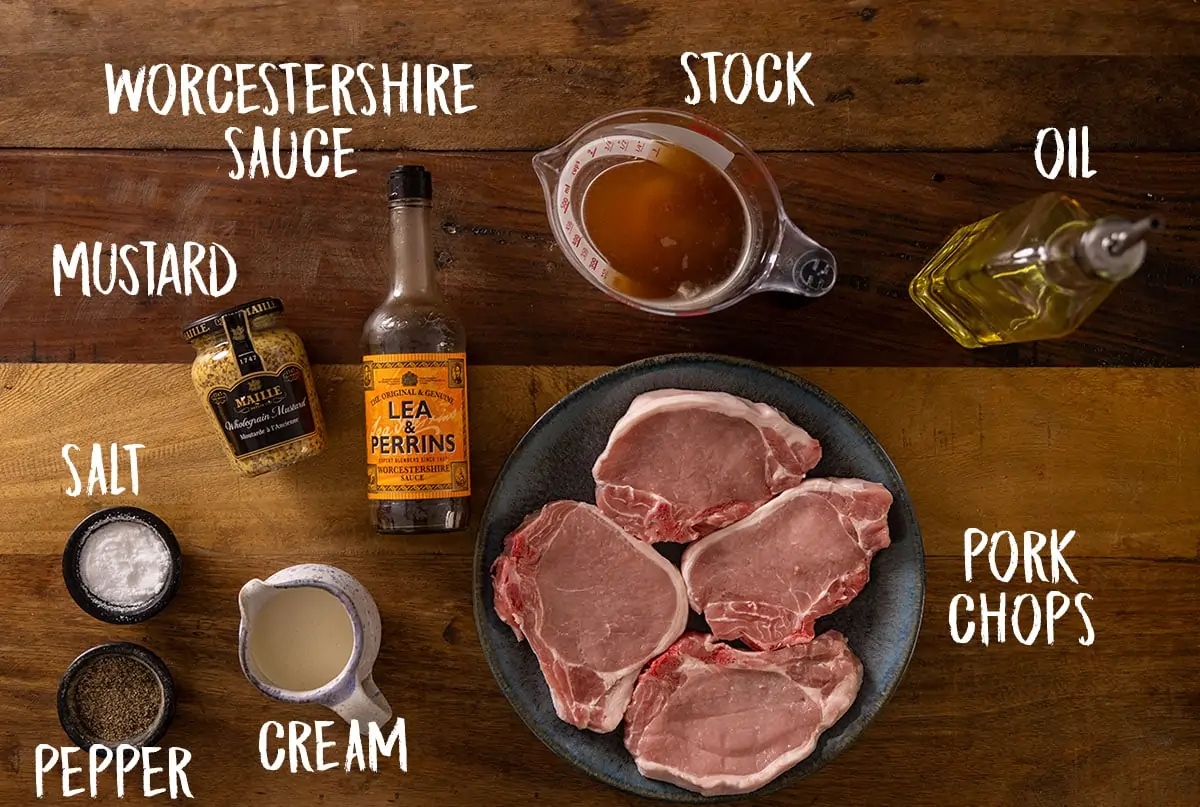 Pork chops - I'm using thick-cut pork chops, but you can use thick pork loin steaks, shoulder steaks or pork cutlets too. If you're using thinner pork steaks, cook for 2-3 minutes less (just make sure they're not pink in the middle when cooked).
Mustard - I'm using wholegrain mustard. You can replace with Dijon in you prefer, but reduce the amount down to about 1 level tablespoon if you do, as Dijon is stronger.
Double (heavy) cream - you can replace with crème fraîche if you like, but if you do, I would suggest leaving out the Worcestershire sauce, as crème fraîchee is a little bit more tart than cream.
📺 Watch how to make it
Full recipe with detailed steps and ingredient amounts, in the recipe card, at the end of this post.
Fry the seasoned pork chops in oil for 3 minutes on each side, then transfer to a baking tray, and place in the oven.
Deglaze the pan with stock then add mustard, cream and a little dash of Worcestershire sauce. Bubble until reduced.
Remove the pork from the oven and let it rest for a few minutes, then pour over the sauce.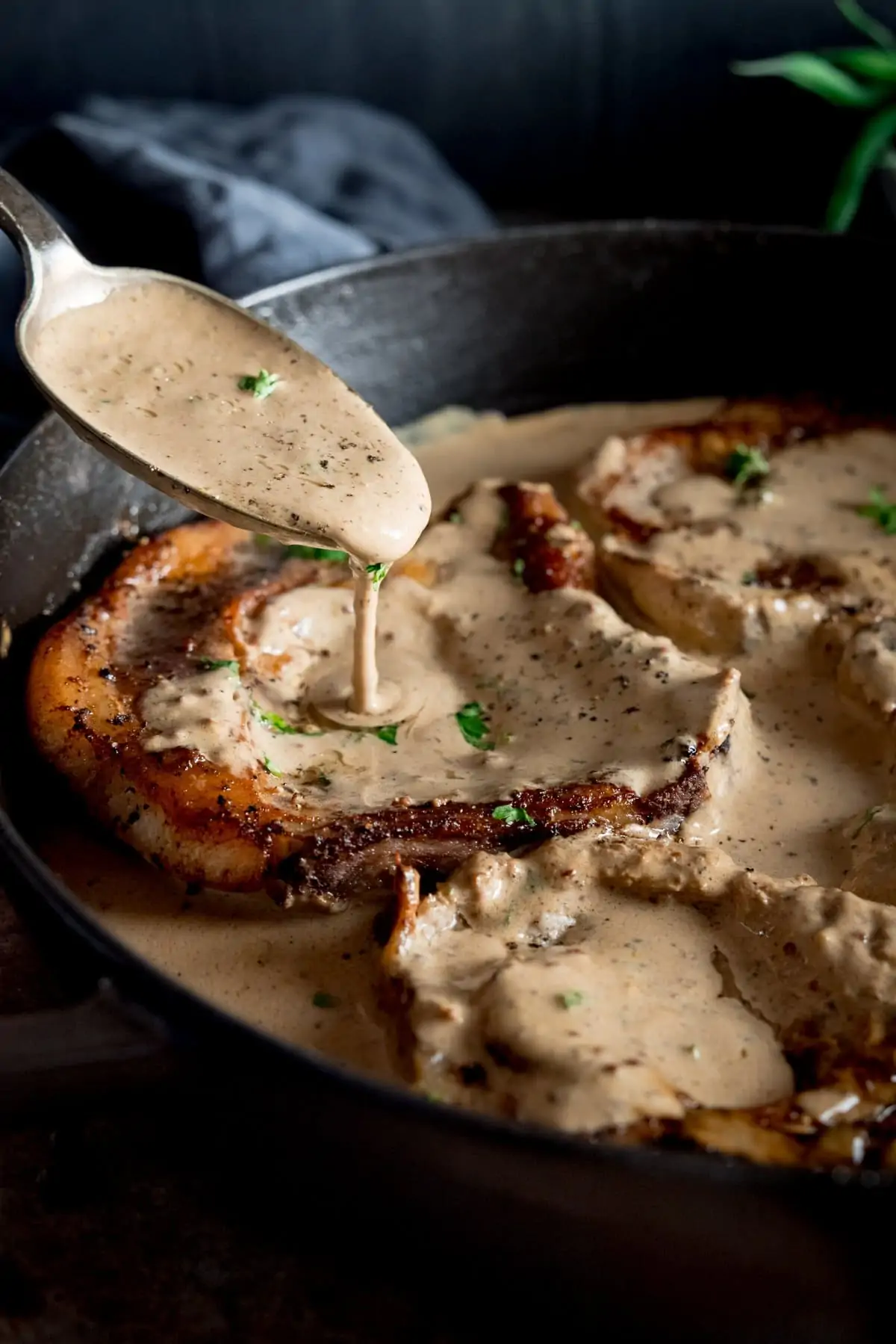 👩‍🍳PRO TIP Pork chops do have a tendency to curl up a little bit when frying - due to the band of fat on the outside of the chop becoming taut when heat is applied. I don't mind this (it's going in the oven anyway, so even the bits that lift from the pan will be fully cooked), but if you prefer your pork chops to stay flat, you simply need to score a the fat a few times, along the edge of the chop. Food and Wine have a little video on how to do it here.
A final flourish of chopped parsley and we are done, how good do these look?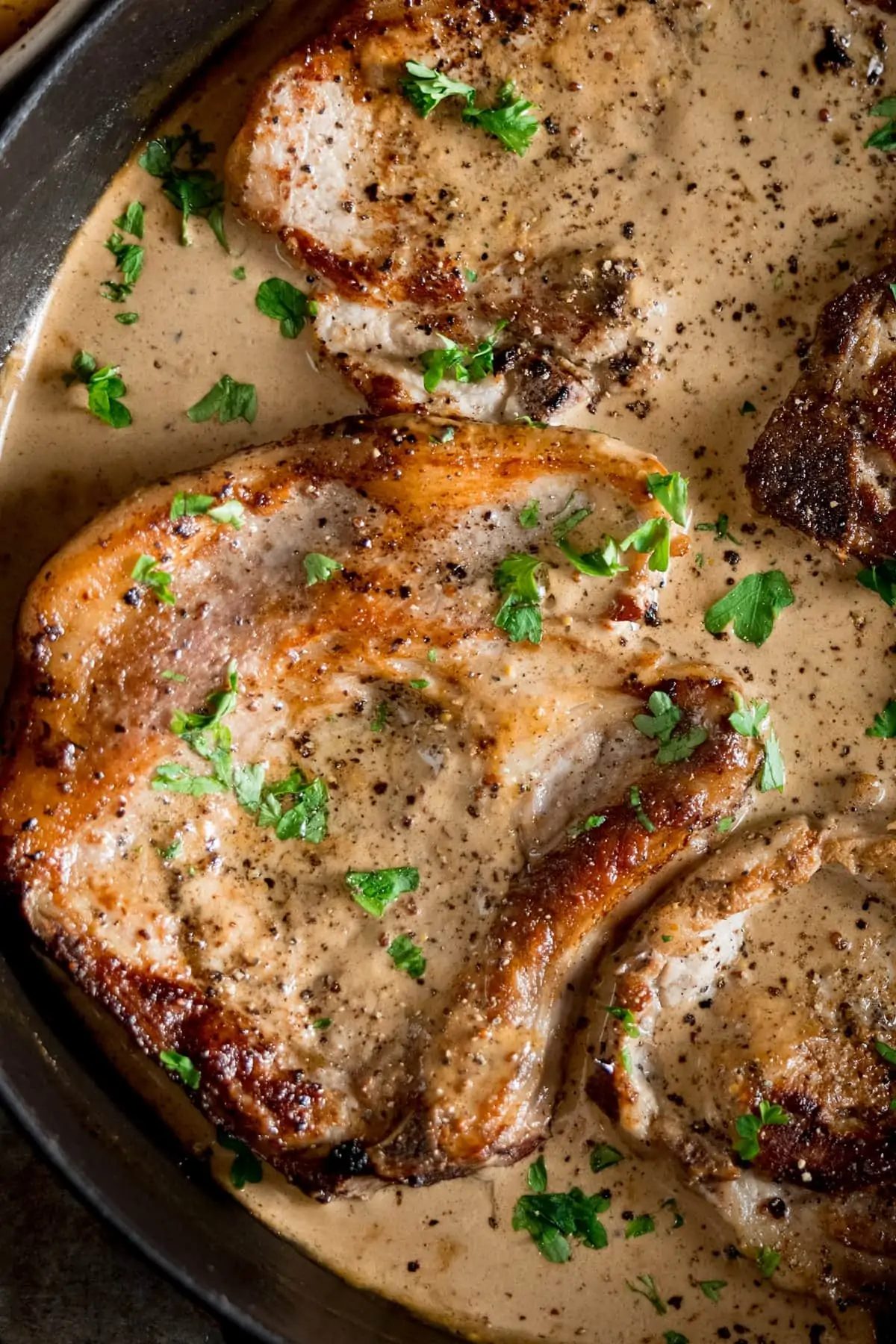 ---
So that's Friday night dinner sorted. I love this with baby new potatoes and green beans (and lots of sauce) a nice glass of chilled white wine wouldn't be out of place too 😋
What will you have with yours?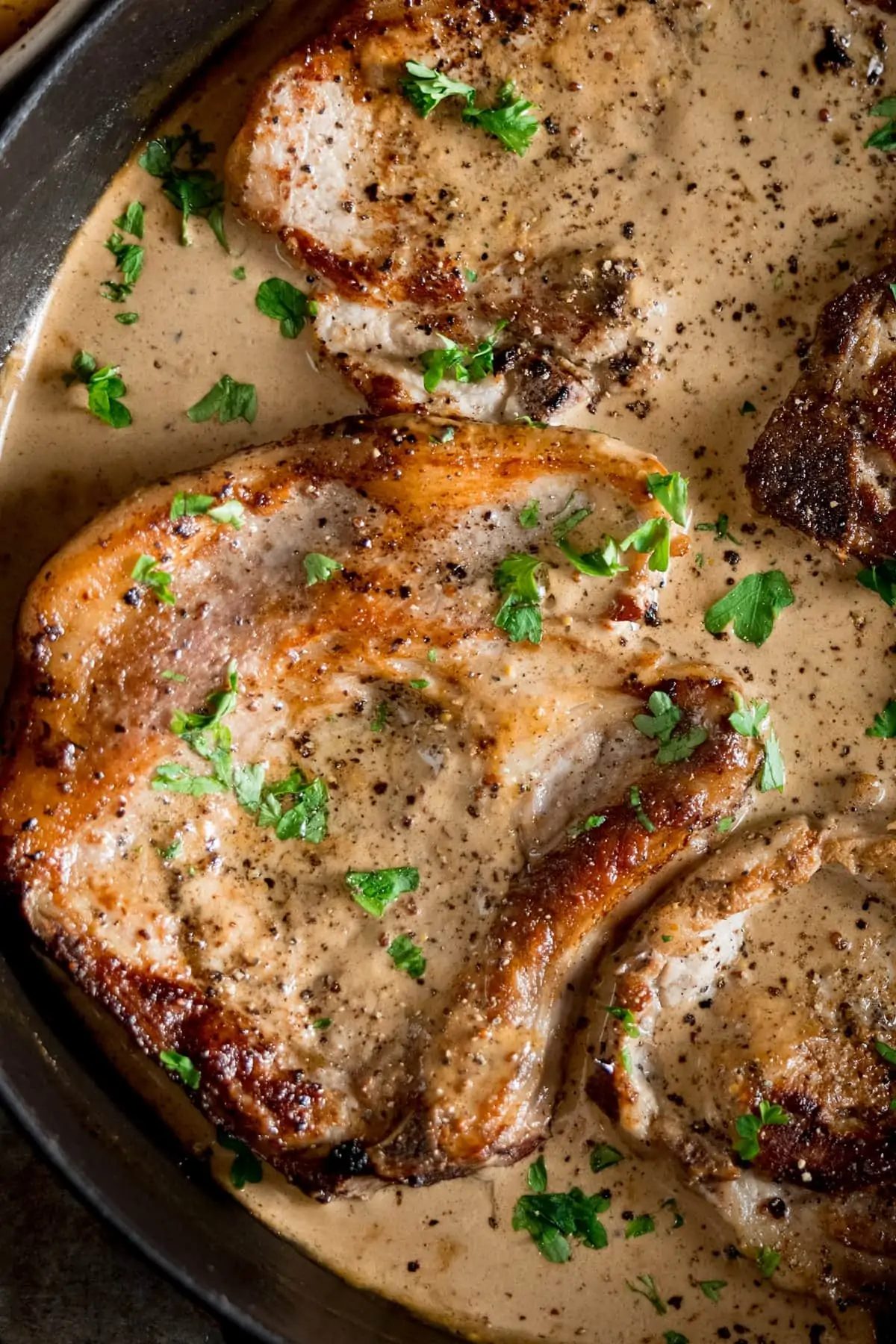 ---
🍲 More fantastic recipes with Pork
Stay updated with new recipes!
Subscribe to the newsletter to hear when I post a new recipe. I'm also on YouTube (new videos every week) and Instagram (behind-the-scenes stories & beautiful food photos).
Pork Chops with Creamy Mustard Sauce
Succulent pork chops in a warming, creamy-mustard sauce. Ready in about 15 minutes, this simple recipe makes a great weekday Autumn dinner.
Ingredients
4

thick cut, bone-in, Pork chops

½

tsp

salt

½

tsp

black pepper

1 ½

tbsp

sunflower oil

240

ml

(1 cup) chicken stock

1

heaped tbsp

wholegrain mustard

120

ml

(½ cup) double (heavy) cream

1

dash

(about ⅛ tsp) Worcestershire sauce
To serve:
2

tbsp

freshly chopped parsley

Freshly ground black pepper
INSTRUCTIONS
Preheat the oven to 175C/350C.

Place the pork chops on a plate and sprinkle on the salt and pepper.

Heat the oil in a large pan over a high heat.

Place the pork chops in the pan and cook for about 3 minutes on each side, until golden.

Transfer the pork to a baking tray, and place in the oven for 5-6 minutes, until the pork is no longer pink in the middle.

Meanwhile, turn the heat for the pan down to medium and add the chicken stock to the pan. Heat for 3-4 minutes, giving the stock a stir, to deglaze the pan.

Stir in the mustard, then stir in the cream and Worcestershire sauce.

Bring to the boil, then simmer gently for 5 minutes, until the sauce thickens slightly.

When the pork is ready, remove from the oven and place on a warm plate to rest for 3-4 minutes.

Divide the rested pork between plates and pour over the sauce.

Sprinkle with parsley and black pepper and serve.
✎ Notes
Storing and reheating leftovers:
This meal is best eaten straight away but you can quickly cool and any leftovers. Reheat in a covered baking dish, in the oven at 200C/400F for about 15-20 minutes, until piping hot throughout. You will probably need to add a splash of stock and/or a little more cream to loosen the sauce.
Ingredient swaps:
Try Dijon mustard instead of wholegrain for a smooth sauce.
This recipe would also work well with pan-fried chicken breast finished in the oven. You would need to fry the chicken for a few minutes longer, as chicken breast is thicker than pork chops (ensure the chicken is piping hot and no longer pink in the middle).
Try using crème fraiche instead of double (heavy) cream for a lighter sauce.
Add veg to the pan (as soon as the chops are in the oven), before adding the stock. Mushrooms or spinach are a nice addition.
Add chopped shallots (as soon as the chops are in the oven, before adding the stock) and a splash of brandy for a take on my Diane Sauce.
How to scale up and scale down this recipe:
This can be doubled to feed a crowd. You'll need to fry the pork chops off in two batches, and bubble the sauce for a few minutes longer to thicken.
You can also halve the recipe to serve 2 (or one hungry person). Cook in the same way, for the same cooking time (the sauce may take a minute or two less to thicken), just halving all the ingredients.
Nutritional information is approximate, per serving, not including serving suggestions of potatoes and green beans (this recipe serves 4).
Nutrition
Calories:
369
kcal
Carbohydrates:
2
g
Protein:
30
g
Fat:
26
g
Saturated Fat:
11
g
Polyunsaturated Fat:
2
g
Monounsaturated Fat:
12
g
Trans Fat:
1
g
Cholesterol:
131
mg
Sodium:
736
mg
Potassium:
557
mg
Fiber:
1
g
Sugar:
1
g
Vitamin A:
624
IU
Vitamin C:
3
mg
Calcium:
42
mg
Iron:
1
mg
Some of the links in this post may be affiliate links – which means if you buy the product I get a small commission (at no extra cost to you). If you do buy, then thank you! That's what helps us to keep Kitchen Sanctuary running. The nutritional information provided is approximate and can vary depending on several factors. For more information please see our Terms & Conditions.