Sunday morning is complete with a big batch of Sourdough Scones, smothered in clotted cream and a tangy rhubarb and strawberry compote. Light and fluffy scones with a bit of a twist - using sourdough discard to add flavour.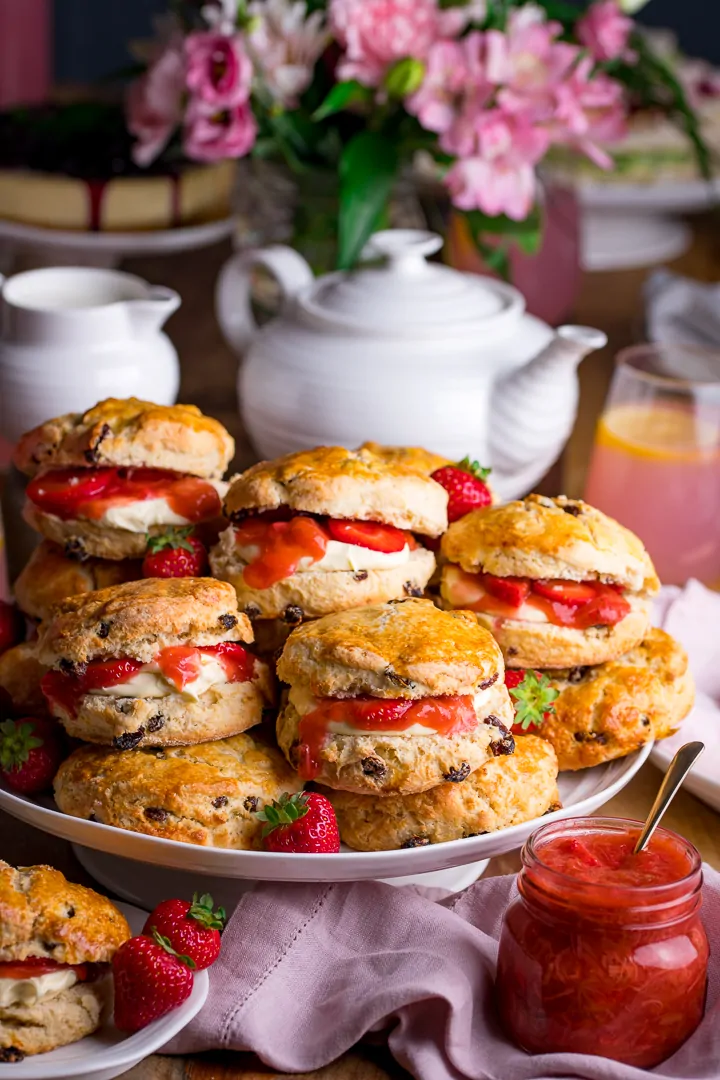 Who can say no to freshly baked scones with a nice cup of tea? Not me, not Chris and certainly not our kids!
We delighted the kids when they came back from a trip to Wales with their grandparents with a gorgeous tea party, overflowing with finger sandwiches (yep, we went there with cucumber sandwiches, egg & cress and cheese & beetroot), cheesecake, macarons, and these homemade scones.
The feast was all served on tableware from Portmeirion - who sponsored this post, and I LOVE how it all turned out.
Portmeirion are currently running a #GetTogether campaign - all about getting families to eat together.
I think it's so important to get the family around the table to eat together and catch-up on the day (in fact, I've had that message in my 'about me' page for the last 5 years!).
It's such a great way to reconnect without all of the distractions that can so often get in the way, and to bond over some really delicious food.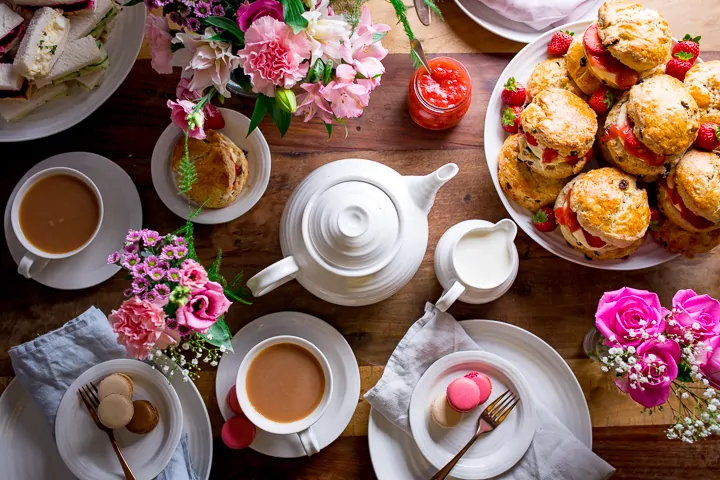 I got to peruse the new collections on the Portmeirion website and choose my favourite pieces, which let's be honest, was enough to make me a little giddy.
I basically wanted everything.
I went with the beautiful Sophie Conran white collection because I love the simple elegance of it. There are so many pieces to choose from, so it's one of those collections you can continue to build upon over time.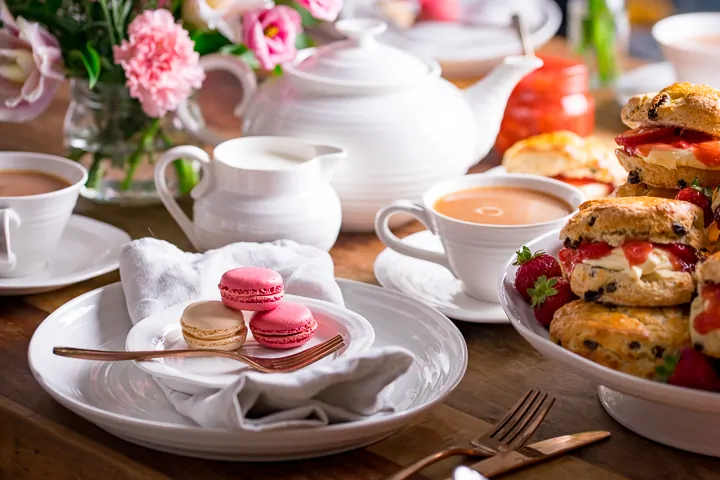 Knowing that it would be Afternoon tea week (12th-18th August) when I posted this, I felt the perfect addition to the large cake plate would be a big batch of fruit scones.
I've been experimenting with sourdough recipes recently, so I thought I'd share my sourdough scones recipe - which is a great way to use up the sourdough discard when it comes to feeding your sourdough starter.
I'll also share some info on:
How to make a sourdough starter
A quick and easy rhubarb and strawberry compote - if you fancy something a little bit special
How to make a non-sourdough version of these scones
Starting with the scones - first we add chunks of cold unsalted butter to self raising flour and a pinch of salt. Rub the butter an flour together until combined (or use a nifty little pastry blender like I did), then stir in raisins and sugar.
Mix 250g of sourdough starter with warm milk and vanilla extract, then cut this wet mixture into the dry mixture using a knife, until just combined.
Tip the dough out onto a floured surface and flatten, using your hands to about 3cm thick. Then cut out circles from the dough. You will have to reshape the dough a couple of times, but you should get 8 larger scones, or 10 slightly smaller scones.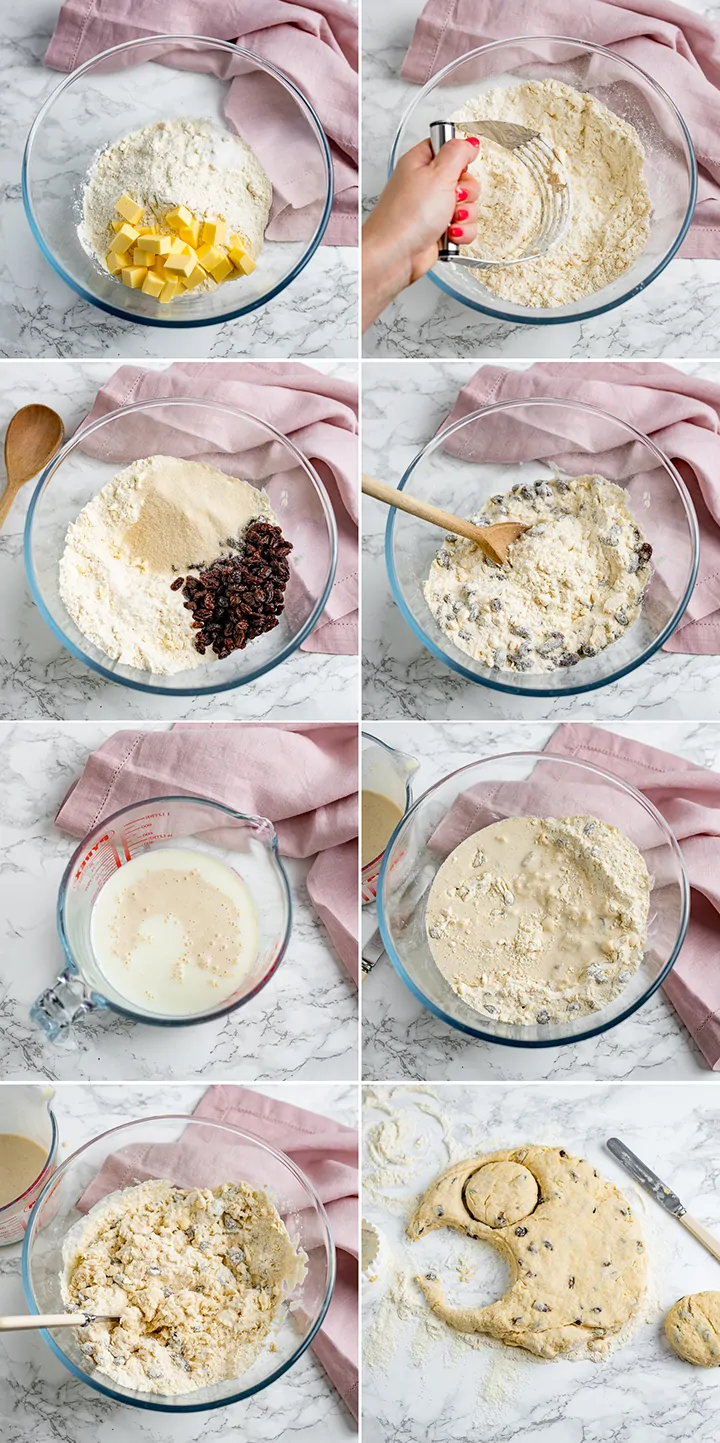 Place the scones on a lined baking tray and brush the tops with a little milk or egg wash (I used egg-wash for a more golden finish). Then bake in the oven for about 13-15 minutes until risen and golden. Take out of the oven and allow to cool.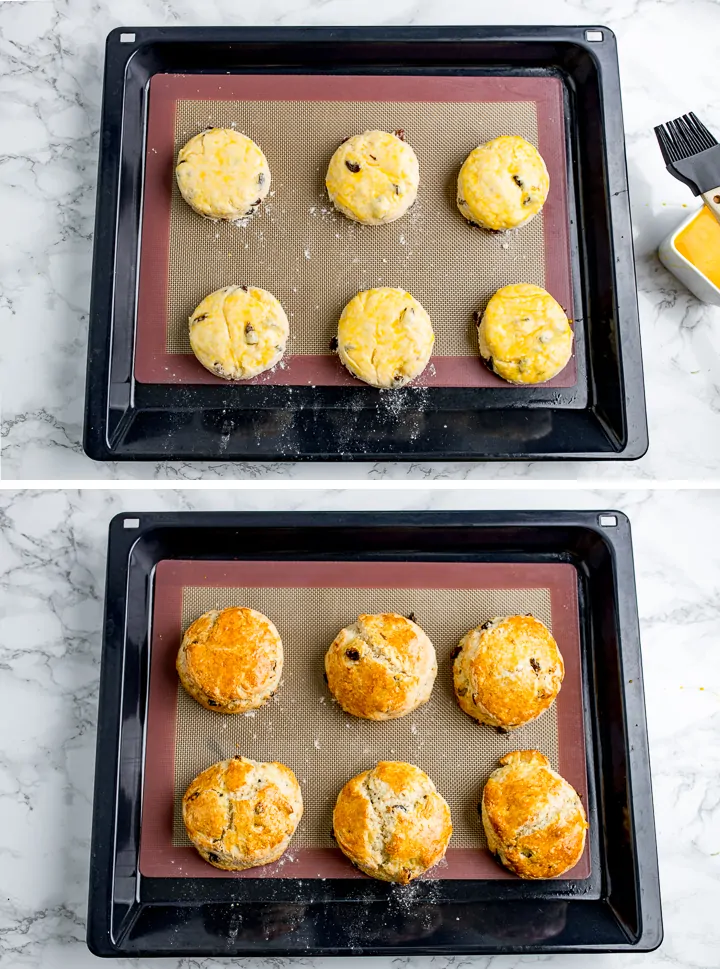 Meanwhile, place chopped up rhubarb, strawberries and sugar in a pan with a splash of water. Place a lid on the pan and cook gently over a medium heat for about 30 minutes, until the rhubarb breaks down. Add more more strawberries for the last five minutes of cooking. Turn off the heat and allow to cool.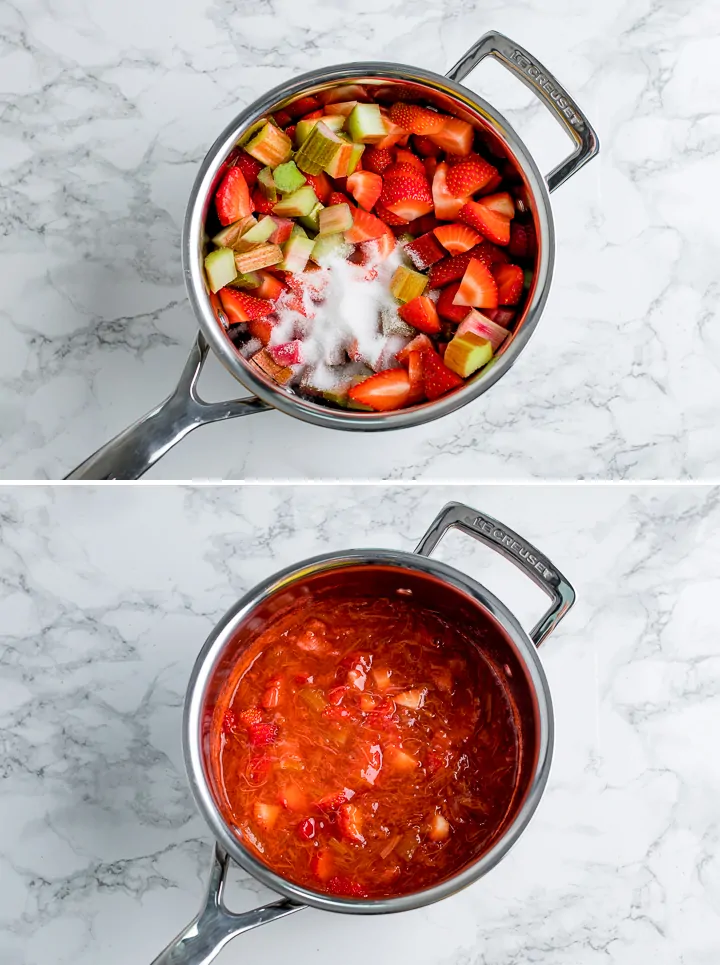 Slice open the cooled scones and fill with clotted cream, the rhubarb and strawberry compote and a few slices of fresh strawberry.
Want to style your table in a similar way?
Use light pastel coloured linen napkins - they don't have to match! I used pale pink, pale blue and light turquoise napkins.
Fill little glass bottles with fresh flowers. This is a great way to make a couple of bunches of flowers stretch really far.
Layering of plates - placing smaller side plates on top of larger plates gives the table a more elegant feel.
Different heights - As well as the little bottles of fresh flowers, I added a slightly larger, taller jar of flowers. I also used a selection of small and large plates, low cake stands and a taller cake stand. Using different heights makes the table look more eye catching.
Use beautiful, simple and elegant crockery like the Sophie Conran white collection from Portmeirion.  On my table I have used the White Teacup and Saucer Set, White Small Footed Cake Plate, White Large Cake Plate , White Teapot, White Milk Jug, Large Plates and Small Plates.
Abundance! Nobody wants a stingy tea party table. The scones were filled to the brim with clotted cream and compote (only the top ones - the rest were kept un-sliced so they wouldn't be wasted if we couldn't eat them all), the sandwiches were piled high and the cheesecake was topped with extra blueberry sauce, so it oozed down the sides invitingly.
Finishing touches - I added pastel coloured macarons to each of the small plates, and also filled glasses with pink lemonade and slices of lemon. I included some vibrant beetroot in the finger sandwiches for a deep contrasting colour and the cheesecake was topped with fresh mint for a colourful garnish.
Here's that cheesecake on the small footed cake plate - which is smaller in diameter, but a little taller than the larger cake plate I used for the scones. Sooo pretty!
To celebrate Afternoon Tea Week in style, Portmeirion are giving you the opportunity to win a fantastic selection of tableware of your choice!  Click here to go to the Portmeririon site to enter the competition and for full terms and conditions.
How to make Sourdough Scones with Rhubarb and Strawberry Compote: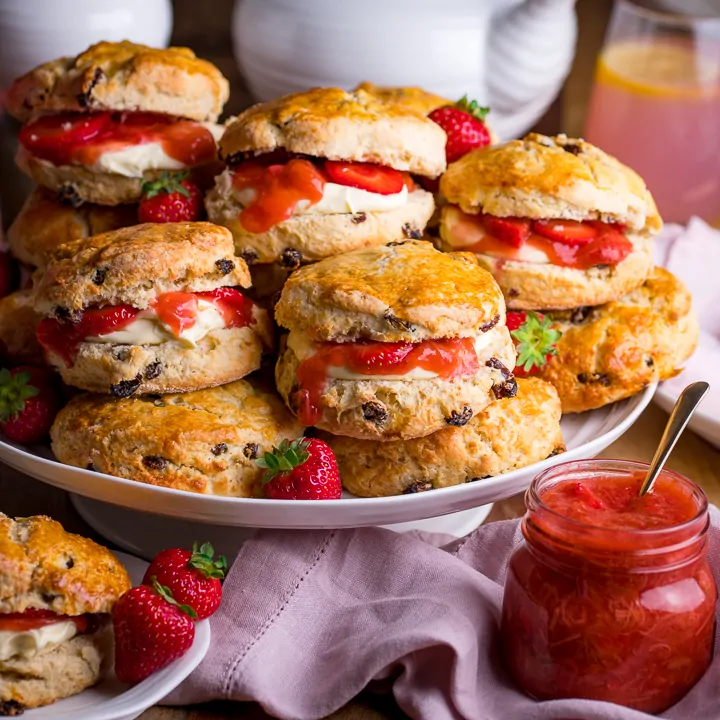 Sourdough Scones with Rhubarb and Strawberry Compote
Sourdough scones with rhubarb and strawberry compote. Light and fluffy scones with a twist - using sourdough discard to add flavour.
Ingredients
Sourdough Scones:
3 ⅓

cups

(400g) self raising flour

-

(or replace with plain (all-purpose) flour + 2 ½ tsp baking powder

½

cup

(115g) cold butter cut into small cubes

¼

tsp

salt

½

cup

(100g) golden caster or granulated sugar

1

cup

(150g) raisins

1 ¼

cup

(250g) sourdough starter

½

cup

(120ml) whole milk

-

warm

2

tsp

vanilla extract

1

small egg

-

lightly whisked
Strawberry and Rhubarb Compote:
2

cups

(300g) diced strawberries

2

cups

(250g) diced rhubarb

½

cup

sugar

1

tbsp

water
To Serve:
10

tbsp

clotted cream

5

strawberries

-

sliced
INSTRUCTIONS
Preheat the oven to 200C/400F and line two baking trays with baking parchment or a silicone mat. Place the flour, salt and butter in a large bowl and rub together with your fingertips until most of the butter lumps have gone. Add the sugar and raisins and give it a quick mix.

In a separate bowl, mix the sourdough starter, milk and vanilla extract. Pour ¾ of the starter mixture into the flour mixture and use a round ended knife to work the mixture together. Add more of the starter mixture and work in gently until you have a soft, slightly sticky dough. Don't overwork, or you'll get tough scones.

Tip out the dough onto a floured surface and flatten it out with your hands so that it's about 3cm (1 ⅛ inches) thick.

Use a round cutter dipped in flour (to prevent it sticking) and cut out your scones. Using a 7cm (2 ¾ inch) diameter cutter should give you 10 scones or an 8cm (3 ⅛ inch) diameter cutter for 8 scones. Make sure you just press the cutter down rather than twist it - otherwise you'll get scones that rise a bit wonky. Gather the leftover dough, gently rework and cut out the rest of the scones until all the dough is used.

Place on the prepared baking tray, brush with the egg wash place in the oven for 13-15 minutes until golden brown.

Remove from the oven, leave to cool.

For the compote, place half the strawberries 1 cup (150g), all the rhubarb, sugar and water into a medium-sized sauce pan.

Place the lid on and heat over a medium heat 25-30 minutes, stirring occasionally, until the rhubarb breaks down.

Add in the remaining strawberries and cook for a further 5 minutes until just softened.

Turn off the heat and leave to cool.

To assemble the scones, slice in half and spread each scone with a tablespoon of clotted cream. Drizzle on a tablespoon of the rhubarb and strawberry compote and add a couple of slices of strawberry. Place the top of the scone on top and repeat with the remaining scones.

Serve with any remaining rhubarb and strawberry compote.
✎ Notes
How to make a sourdough starter:
**note** this is a minimum 7-day process: I used a slightly modified version of the sourdough starter from King Arthur flour.
To start you'll need:
1 cup (120g) wholewheat flour
½ cup (120ml) lukewarm water
Each time you feed your starter you'll need:
1 cup (120g) plain (all purpose) flour
½ cup (120ml) cool water
Instructions:
Day 1: Mix the flour and water in a large non-reactive (I used a large glass mason jar) container. It needs to be at least  1-quart (approx 1 litre) in capacity to allow for growth.
Stir everything together until thoroughly combined. Loosely cover the jar and let it sit in a warm room for 24 hours.
Day 2: Discard half of the starter from the jar, and feed with 1 cup (120g) plain (all purpose) flour and ½ cup (120ml) cool water. Stir thoroughly, loosely cover and let it sit in a warm room for 24 hours.
Day 3: It should be a little bubbly by now. Repeat the steps from day 2 - discarding half the starter, feeding, mixing and covering, but for the third day, you need to disacrd and feed twice (approx 12 ish hours apart).
Day 4: Repeat the twice daily discarding, feeding mixing, and covering.
Day 5 - 7: Repeat the twice daily discarding, feeding mixing, and covering 

until

you have a vigorous (risen, bubbly) starter. You may get this as early as day 5, or it may take a couple of days longer.
***Once you reach this stage, you can use the sourdough discard to make the scones and store the remaining sourdough starter in the fridge, discarding and feeding once a week (use to make amazing sourdough bread).
How to make a non-sourdough version:
To make a non-sourdough version, add an extra 4 tbsp flour to the dry mix. Then replace the wet mixture (the starter, milk and vanilla) with 1 large egg, 1 cup plus 3 tbsp (285ml) buttermilk and 1 tsp vanilla extract. Follow the rest of the sourdough scone instructions in the same way.
Nutritional Information is per scone, filled with cream and compote.
Nutrition
Calories:
502
kcal
Carbohydrates:
74
g
Protein:
7
g
Fat:
20
g
Saturated Fat:
12
g
Cholesterol:
66
mg
Sodium:
158
mg
Potassium:
323
mg
Fiber:
3
g
Sugar:
23
g
Vitamin A:
412
IU
Vitamin C:
23
mg
Calcium:
63
mg
Iron:
3
mg
Some of the links in this post may be affiliate links – which means if you buy the product I get a small commission (at no extra cost to you). If you do buy, then thank you! That's what helps us to keep Kitchen Sanctuary running. The nutritional information provided is approximate and can vary depending on several factors. For more information please see our Terms & Conditions.