This Dark 'N' Stormy cocktail is simply the best cocktail ever! Looks impressive, tastes amazing!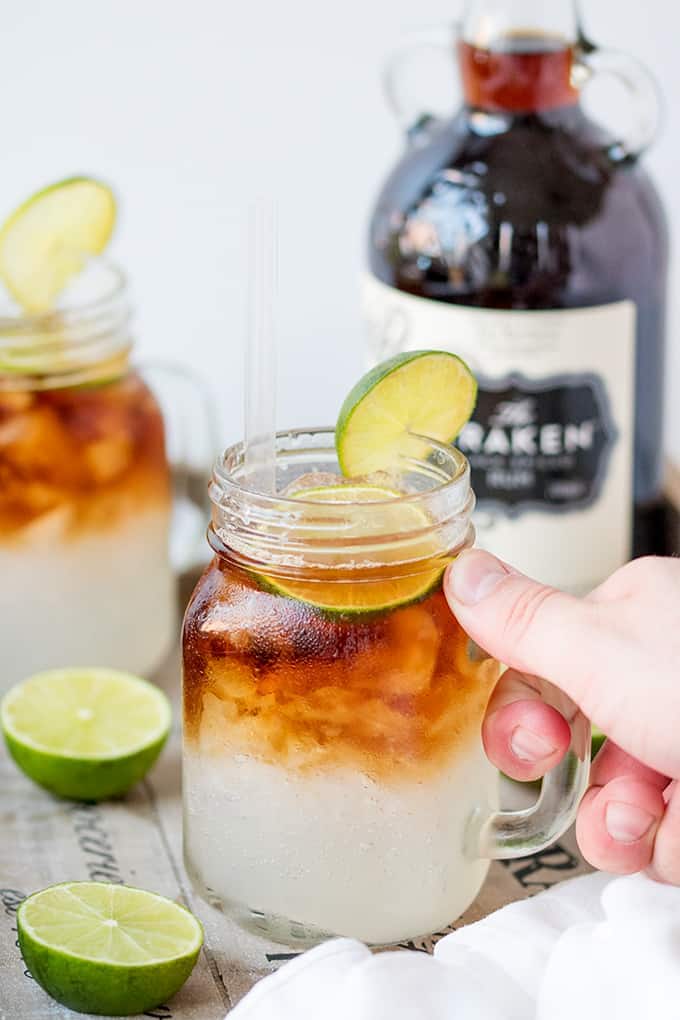 Did I ever tell you how much I love this Dark 'N' Stormy cocktail?
I think I've mentioned it once or twice.
I even have photographic evidence – here's me and the hubby enjoying them (and maybe a second cocktail too…) at our last anniversary:
Looking through my phone photos, I've just spotted at least four other occasions where we're drinking it too!
My old school buddy Helen introduced me to this spicy refreshing cocktail last year, and now I have to order it every time we go out for a couple of drinks.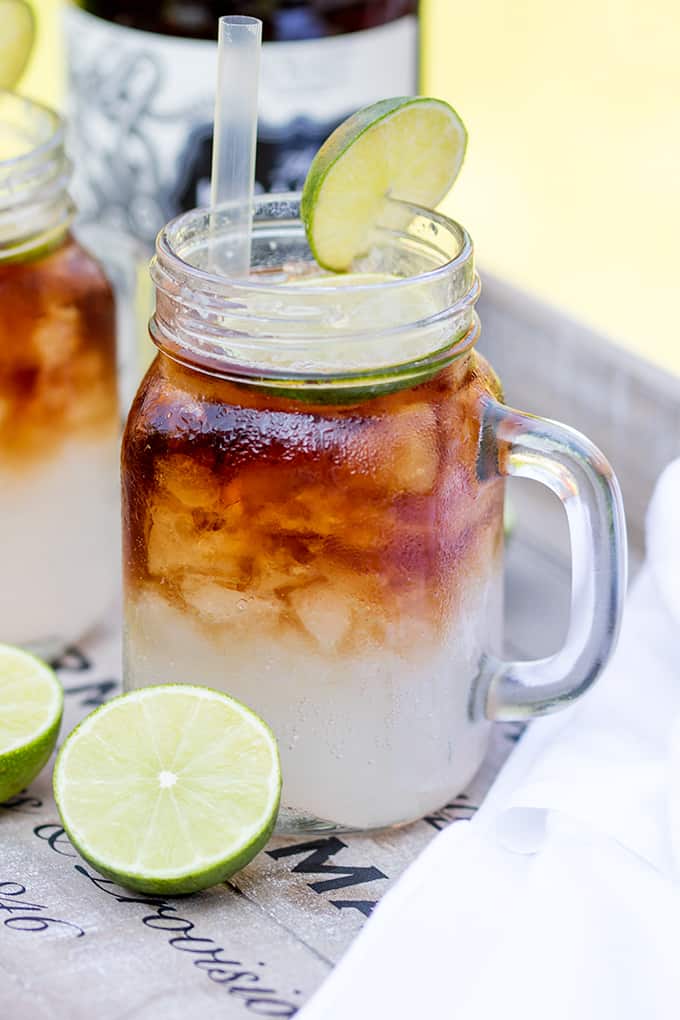 I think Kraken spiced rum is the absolute best rum to use (no I'm not getting paid to say that :-)). It's an aromatic, rich and spicy spirit and coming from someone who usually can't stand the taste the smell of rum, this stuff is amazing!
I like a cloudy, spicy ginger beer to go with it. Old Jamaica (non alcoholic) is great, although I have been known to pour in some crabbies (double booze – very naughty). I just realised that I'm starting to sound like a bit of a booze-head, but actually I'm generally not much of a drinker.
My vice is definitely chocolate. The cocktails are saved for nights out with Chris (we try to get a date night every few weeks or so), and also sunny sundays with the BBQ sizzling away. This cocktail is pretty strong, so I can only manage a couple before I start getting giddy (I am a bit of a lightweight though).
Cheers! Here's to more sunny BBQ Sundays and date nights!
The Dark 'N' Stormy Recipe:
Dark 'N' Stormy Cocktail
Dark 'N' Stormy - a delicious blend of spiced rum, ginger beer and lime - easy and delicious!
Cuisine:
Bermuda, British
Ingredients
Ice

240

ml

(8oz) spicy ginger beer - I like 'Old Jamaica'

Juice of one lime

Lime slices

120

ml

(4oz) spiced rum - I like 'The Kraken' Spiced rum
Instructions
Fill two 12oz mason jars with ice.

Add the ginger beer, lime juice and a slice of lime to each glass.

Very carefully and slowly pour the spiced rum on top - so it stays in a separate layer. You can do this over the back of a spoon for a more defined separate layer.

Add a straw and a slice of lime to the top of the glass then serve!
Recipe Notes
Nutritional information is per glass.
Nutrition Facts
Dark 'N' Stormy Cocktail
Amount Per Serving
Calories 183
% Daily Value*
Sodium 9mg 0%
Total Carbohydrates 11g 4%
* Percent Daily Values are based on a 2000 calorie diet.
Tools used (fyi this is an Amazon affiliate link – which means if you buy the product I get a small commission (at no extra cost to you). If you do buy, then thank you! That's what helps me to keep Kitchen Sanctuary running x)