Apple Elderflower and Pomegranate Hot Smoothie, a refreshing, warm smoothie with apple, a little elderflower cordial and fresh pomegranate all mixed up with some hot Jasmine tea.  A perfect start to my day of fluffy pyjamas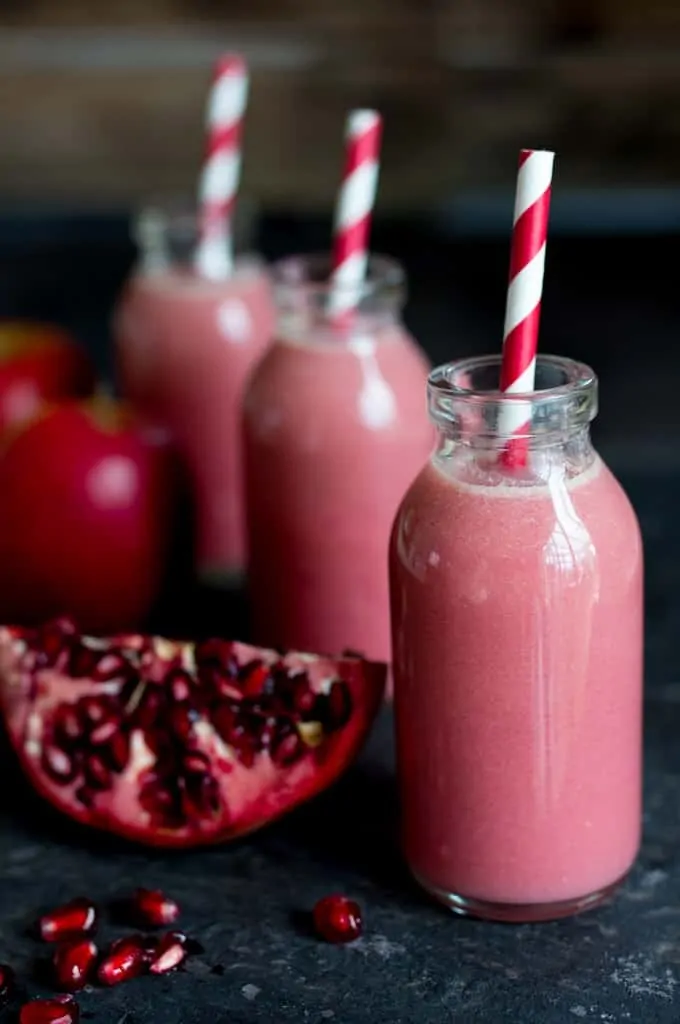 *This image is available to buy from Stockfood
Happy Christmas everyone!
I'm back after a couple of days off with something to give us a break from food, food and yet more food.  One of my Hot Smoothies of course!
After a Christmas and Boxing day of complete indulgence, I was ready for a nice, light smoothie for breakfast this morning.  However the first sprinklings of snow in Congleton overnight meant there was no way I was going to pour something icy cold down my throat. Brrrr!
So instead, I made this Apple Elderflower and Pomegranate Hot Smoothie, a refreshing, warm smoothie with apple, a little elderflower cordial and fresh pomegranate all mixed up with some hot Jasmine tea.  A perfect start to my day of fluffy pyjamas, Christmassy films with the children and making a large dent in my chocolate selection box [contented sigh].
We spent a lovely day at my sister's house on Christmas day, where she cooked a fabulous Christmas dinner for all the family.  That was following a noisy Christmas morning at home (our manic kids were up at 6:15...) opening piles of presents, and eating strawberry and Nutella stuffed French toast for breakfast.
Yesterday was spent either cooking or eating all day, as we had family over for breakfast and then for a hot buffet for in the evening.  We stuffed ourselves silly on roast rib of beef with chimichurri, mini burritos, cheese and potato cakes, Thai fishcakes, stuffed potatoes, chocolate orange mousse, cheesecake made by made daughter Gracey, and coconut macaroons made by my son Lewis (who naturally - being four years old - decided to make them in the shape of people instead of little round bites).
This is one of the reasons I love Christmas.
It's also one of the reasons I need to stick to my planned New Years resolution of losing half a stone.
And one of the reasons that this hot smoothie is a good way to start!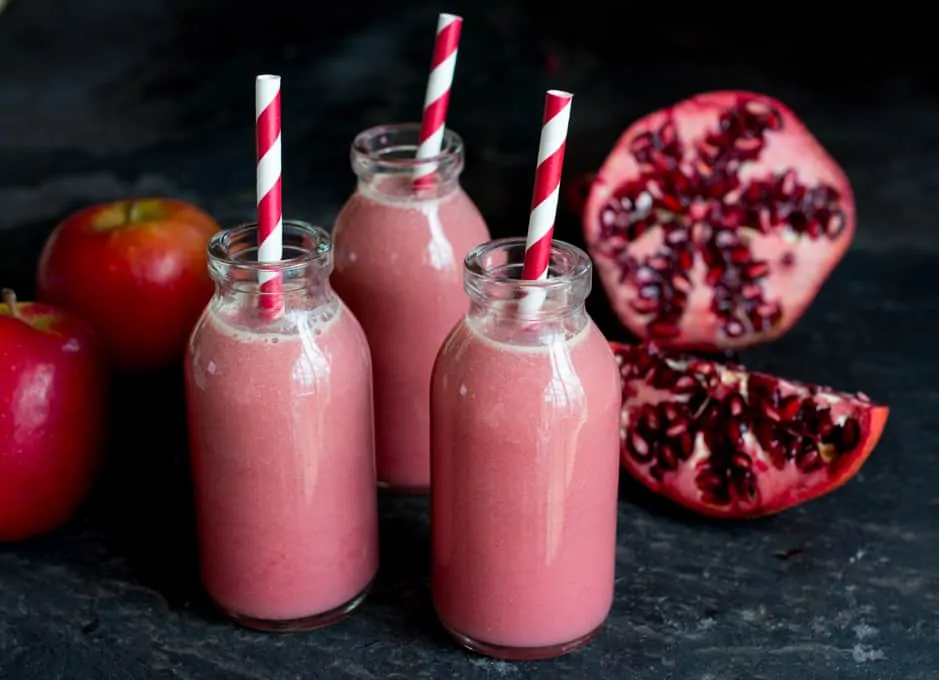 Before we come to the recipe, I'm including a reminder of the words of warning from my previous hot smoothie posts.
Don't fill your smoothie maker up with boiling liquid.  It's either going to shatter the glass (if you have a glass jug) or it's going to come wushing out with a tonne of pressure when you open the lid after whizzing things up.  Check your smoothie maker or blender can take warm or hot liquids.  Then add the apple, elderflower cordial and pomegranate to your jug.  Add in a splash of cold water and a splash of the jasmine tea.  This should give you some luke warm liquid to blend your ingredients together with.  Blend it all until smooth, and then pour your smoothie into a cup and pour in your hot Jasmine tea.  Give it a mix and drink. This should result in a fairly hot smoothie.  If it's not hot enough, then you can heat in the microwave (or a pan) for 30 seconds.
oh, also, a tip for getting the seeds out of your pomegranate:
Take a bowl.  Slice your pomegranate in half and loosely hold the cut side in the palm of your hand (over the bowl).  Whack the back of the pomegranate with a wooden spoon.  The seeds will drop out with your hand and you can then tip them into the bowl.  It's a quick method that results in minimal splashing.  However, I still wouldn't recommend wearing your best white t-shirt.
Apple Elderflower and Pomegranate Hot Smoothie Recipe: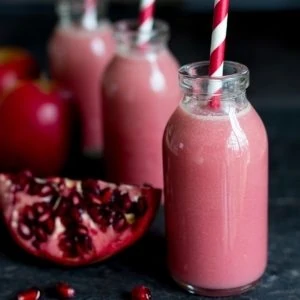 Apple Elderflower and Pomegranate Hot Smoothie
Apple, Elderflower & Pomegranate Hot Smoothie - A refreshing, healthy breakfast for a cold day.
Ingredients
Seeds from half a pomegranate

½

tbsp

elderflower cordial

1

sweet apple

-

I like Jazz apples, roughly chopped

300

ml

(1 ¼ cups) hot Jasmine tea

-

you could replace this with green tea or another of your favourite herbal tea
INSTRUCTIONS
Place your pomegranate seeds, elderflower cordial and apple in your smoothie maker. Add in a splash of cold water and a splash of the Jasmine tea (see warning above about hot liquids and smoothie makers).

Seeds from half a pomegranate,

½ tbsp elderflower cordial,

1 sweet apple

Blend on high for a minute or two until everything is completely incorporated.

Pour your your smoothie into a cup and mix in the remaining Jasmine tea.

300 ml (1 ¼ cups) hot Jasmine tea
✎ Notes
Nutritional Information is per serving.
Nutrition
Calories:
241
kcal
Carbohydrates:
55
g
Protein:
2
g
Fat:
1
g
Sodium:
15
mg
Potassium:
638
mg
Fiber:
10
g
Sugar:
41
g
Vitamin A:
100
IU
Vitamin C:
22.8
mg
Calcium:
25
mg
Iron:
0.6
mg