Chocolate Peanut Butter Ice Cream Cake with Salted Caramel - no other words needed! Neat, delicately sculpted cakes just aren't my thing - so today I'm presenting the messy ice cream cake!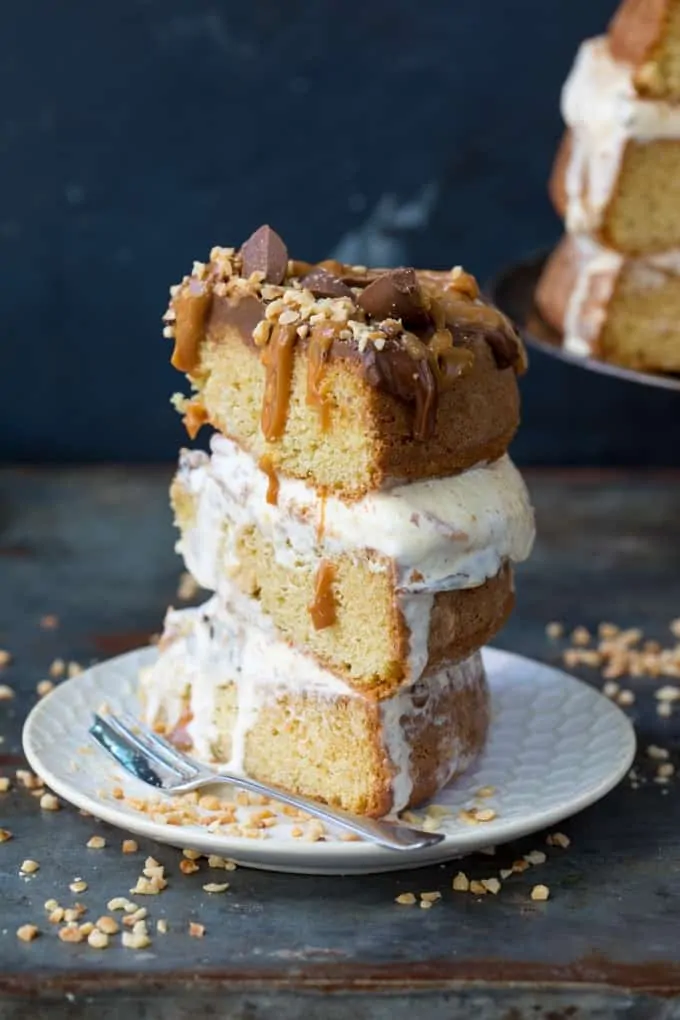 Yeah, this cake.
It's a bit over the top isn't it.
Even though I've been at this blogging thing for over 3 years now, I've never actually made a proper layer cake for the blog. Chris made one (his infamous rainbow cake with vimto buttercream and fizzy rainbow belt), but not me!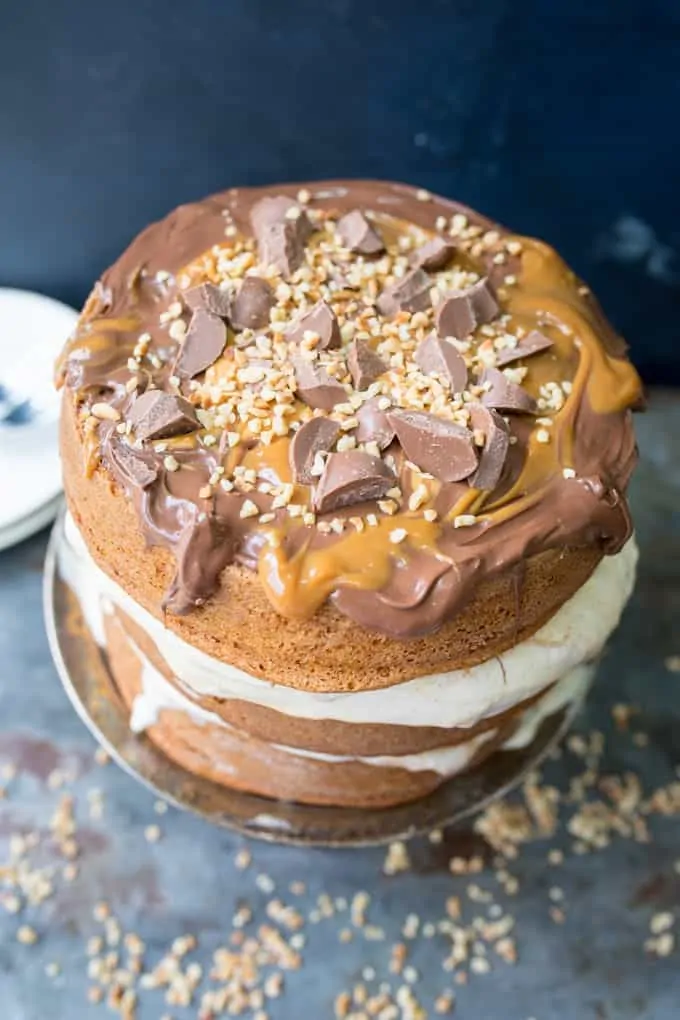 This one came about because I'd been testing a recipe for Neff, and I ended up with three sponges leftover. I considered slathering them in jam and serving them up for dinner (yeah, sometimes we have cake for dinner - that's why I'll probably never be able to go for a jog without jiggling at least a bit), but then I decided to go the other way and go a little over the top.
So I ransacked the freezer for ice cream, and the cupboards for peanut butter, Nutella and Carnation Caramel (with a pinch of salt stirred in), and then pretty much squished it all together into a big, slightly melty, pile of calorific loveliness.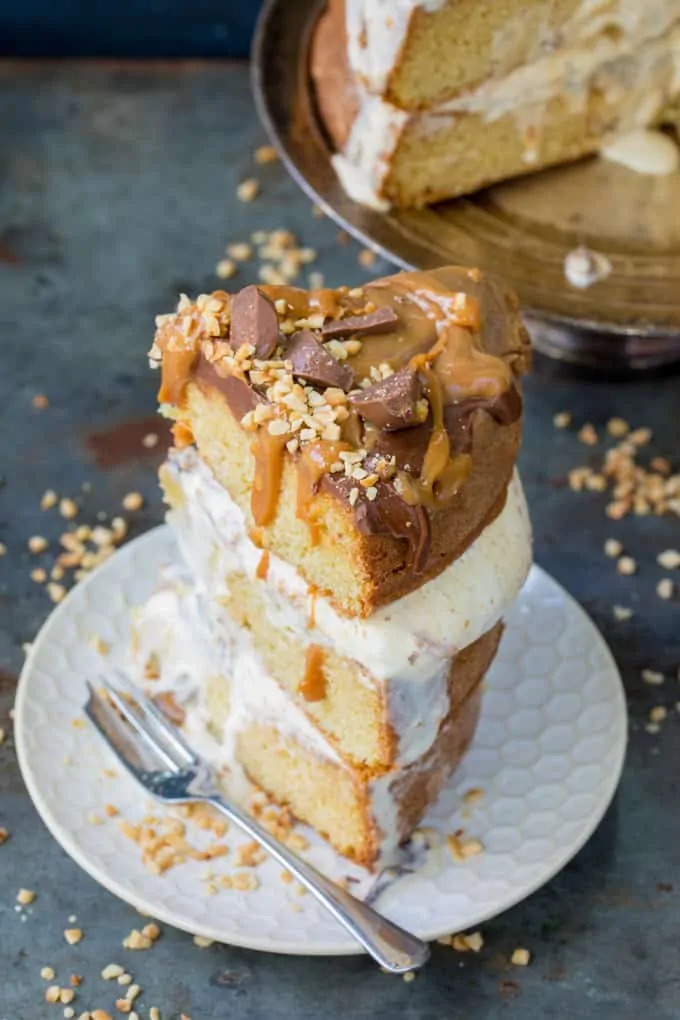 In the end, I decided it would be a good idea to serve up a salad for dinner, then finish off with this epic pud.
Large slices were enjoyed whilst watching a Percy Jackson film (Gracey always seems to have her head stuck in a Percy Jackson book at the moment) with the kids.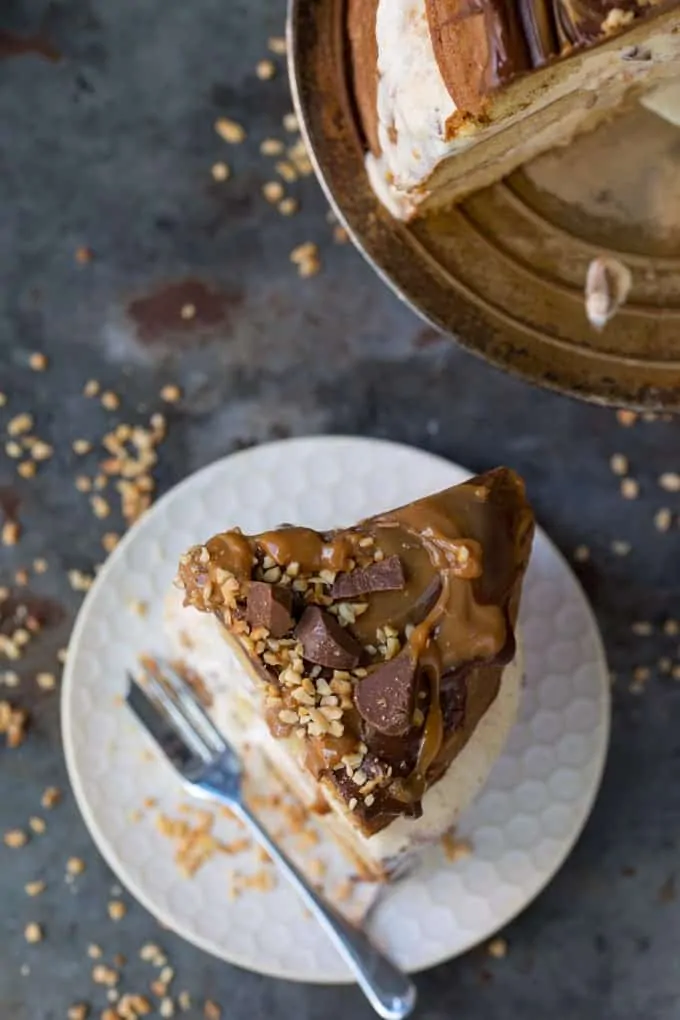 I'll never be a master cake maker like my sister - she makes the most beautiful wedding and birthday cakes - but it did taste flipping delicious. So I'm good with that 🙂
Chocolate Peanut Butter Ice Cream Cake with Salted Caramel Recipe:
Chocolate Peanut Butter Ice Cream Cake with Salted Caramel
Chocolate Peanut Butter Ice Cream Cake with Salted Caramel - this three layer cake is an easy crowd-pleaser. A great Summer dessert!
Ingredients
250

g

unsalted butter, room temperature

350

g

caster sugar

3

medium eggs

-

room temperature

100

ml

Greek yoghurt

2

tsp

vanilla extract

350

g

plain (all purpose) flour

¾

tsp

baking powder

¾

tsp

baking soda

50

g

ground almonds - the grainy kind, not the flour
Filling and Topping:
1

litre

quality vanilla ice cream

4

heaped tbsp

peanut butter

4

heaped tbsp

carnation caramel -

or other store-bought caramel sauce mixed with a pinch of sea salt

6

heaped tbsp

Nutella

2

tbsp

chopped roasted hazelnuts

45

g

milk (semi-sweet) chocolate bar

-

chopped into chunks
INSTRUCTIONS
Preheat oven to 190C/380F. Grease and lightly flour 3 x 20cm-diameter cake tins.

Place the butter and sugar in a mixing bowl and beat together for 3-5 minutes until pale and creamy. With the mixer still running, add the eggs one at a time, then add the Greek yoghurt and vanilla extract. This is your wet mix.

In a separate bowl, mix together the flour, baking powder, baking soda and ground almonds. This is your dry mix. Add one third of the dry mix into the wet mix and fold in gently. Repeat twice more until the mixture is fully incorporated.

Divide the mixture between the three baking tins and place in the oven for 22-25 minutes until an inserted skewer comes out clean.

Leave the cakes to cool completely in the cake tins on a wire rack.

Take the ice cream out of the freezer and let it soften for 10-15 minutes. Then spoon it out into a large bowl.

Add in three-quarters of the peanut butter. half of the salted caramel and one third of the Nutella. Use a spoon to swirl it all together. Don't overmix though, you want nice swirls in there.

Remove the cakes from the cake tins and place one of the cakes on a serving plate. Spoon on half of the ice cream mixture. Top with the second cake and spoon on the rest of the ice cream mixture.

Top with the third cake. Spread on the remaining Nutella, then spoon on little blobs of the remaining peanut butter and salted caramel. Use a cocktail stick to swirl everything together. Sprinkle on the roasted hazelnuts and chocolate pieces, and either serve immediately (it will be quite soft, so you'll need to serve it quickly), or freeze for 30 minutes. The colder you can get your freezer, the better, as the salt and sugar in the salted caramel will lower the freezing point of the ice cream. slightly.

If it's in the freezer for more than a couple of hours, take it out of the freezer 30 minutes before serving to allow the sponge start to soften again.
✎ Notes
Nutritional information is per serving.
Nutrition
Calories:
706
kcal
Carbohydrates:
86
g
Protein:
11
g
Fat:
36
g
Saturated Fat:
20
g
Cholesterol:
123
mg
Sodium:
223
mg
Potassium:
348
mg
Fiber:
2
g
Sugar:
54
g
Vitamin A:
935
IU
Vitamin C:
0.6
mg
Calcium:
175
mg
Iron:
2.4
mg