This Red Nose Day Rainbow Cake has colourful Layers, Vimto Buttercream And Fizzy Rainbow Belt Coating - Finished Off With Little Malteser Faces! All the right ingredients for a wacky Red Nose Day Rainbow Cake!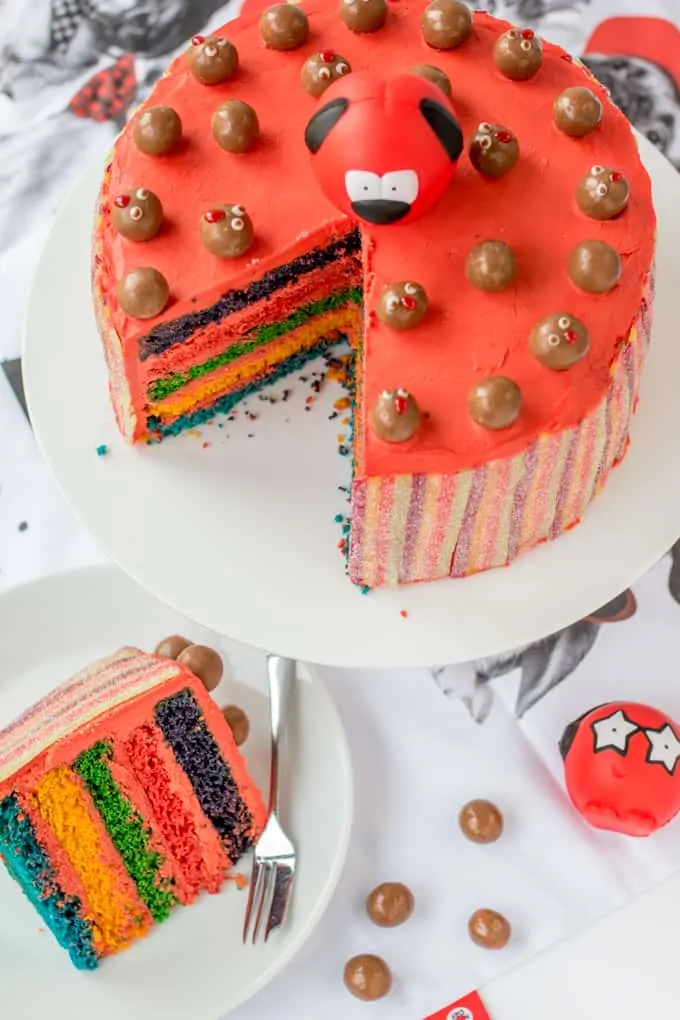 Made in aid of Comic Relief for bake sale inspiration! - Get your free red nose day baking set for your bake sale - see link at the bottom of this post.
I'd love to say I was responsible for this mind-blowing explosion of colours and flavours, but this one is Chris's creation!
He made a rainbow cake a few months ago (which won an award at his office, in a competition they were running), so I had to get him to make it again in aid of Comic Relief!
The first time he made it, I had to take photos of him during the cooking process just to prove he made it and not me!
People seem to think I'm an expert on anything food because of my little blog, but let me tell you - cake making does not come to me naturally!
I can make a decent sponge, but the decorating part drives me crazy!
My sister got all the cake decorating genes in our family (because there's such a thing as cake decorating genes right?) - she makes birthday and wedding cakes for a living.
Me on the other hand? Yeah, they mostly look like they got decorated by a five-year-old.
Anyway, let me tell you about this crazy cake.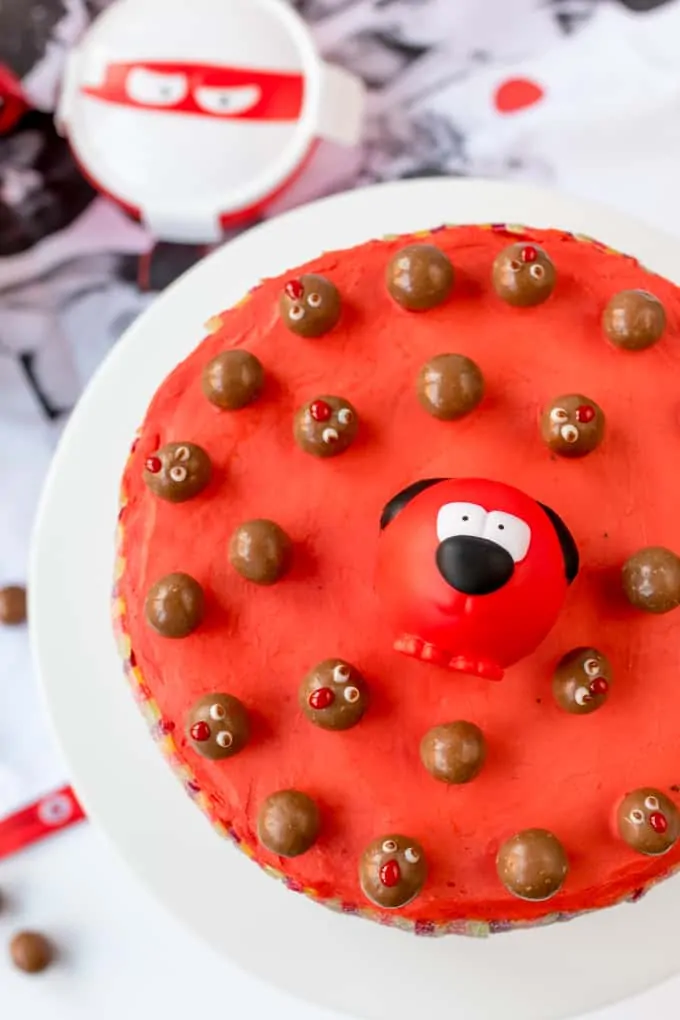 The sponges are coloured using GEL colours. It's really important to use gel colours as regular food colouring won't give you the same bright, vibrant result. We use [easyazon_link identifier="B0000CFN0Y" locale="US" tag="kitchsanct-20" localize="y"]Wilton Gel colours[/easyazon_link] (affiliate link) - the EU approved ones (regarding E-numbers) - the kids go crazy enough with rainbow belts and chocolate without the need for added extras in food colouring!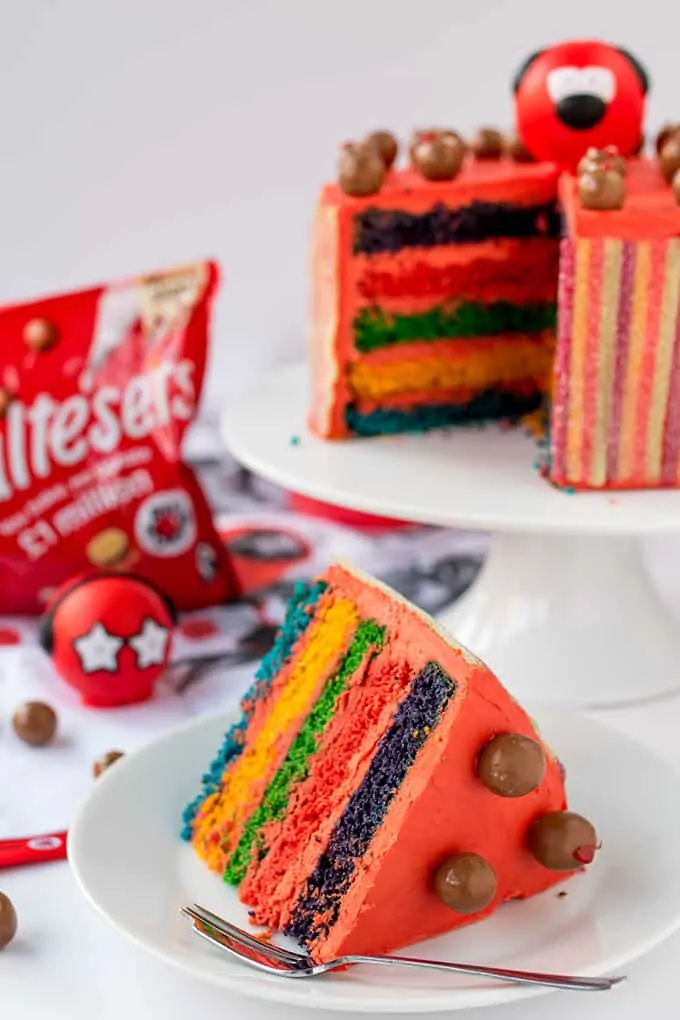 The buttercream is your regular butter/icing sugar combination, with the addition of red colouring (for red nose day of course) plus a splash of concentrated Vimto squash. Yeah, I know sounds a bit bizarre, but my husband is a big kid and sweetie fiend at heart, and the Vimto taste works brilliantly with the cake.
Fizzy rainbow belts and Maltesers that have been decorated with coloured icing to make little red nose faces finishes the whole thing off.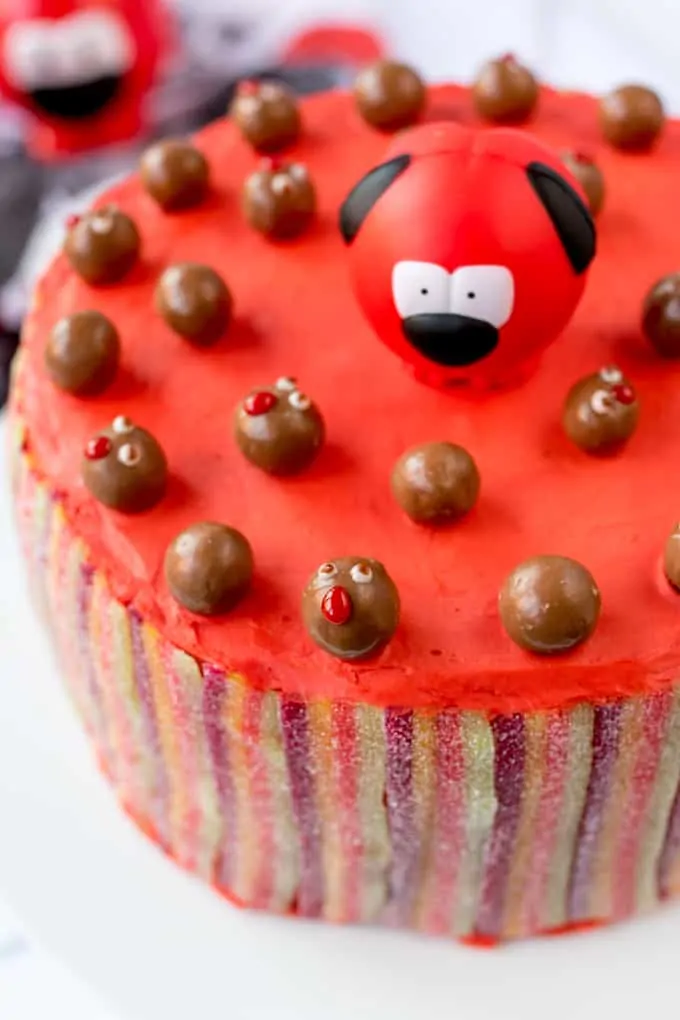 I kid you not, make this for your school or office bake sale and all of those regular cupcakes and brownies will be left behind, because the sheer craziness of this cake means that people can't resist!
Are you planning on holding a bake sale? If you want to bake a massive difference this Red Nose Day then order a free baking kit from the Red Nose Day website here
The Red Nose Day Rainbow Cake Recipe:
Red Nose Day Rainbow Cake!
Colourful Layers, Vimto Buttercream And Fizzy Rainbow Belt Coating - Finished Off With Little Malteser Faces! All the right ingredients for a wacky Red Nose Day Rainbow Cake!
Ingredients
350

g

unsalted butter, softened

350

g

golden caster sugar (or superfine sugar)

6

large eggs

2

tsp

vanilla extract

350

g

plain (all-purpose) flour

6

tsp

baking powder

5

different shades of

gel food colouring -

we used red, blue, purple, yellow and green
Buttercream:
475

g

unsalted butter, softened

900

g

confectioners' sugar

1

tsp

vanilla extract

1

tbsp

Vimto concentrated cordial

-

the cordial that comes in the little tiny palm-sized bottles – optional

2-3

tbsp

milk
To decorate:
3

x 75g

altogether packs fizzy rainbow belts

2

x 37g

altogether packs Maltesers

2

tbsp

each of red

-

white and black/brown ready made icing (I use ready made writing icing tubes)

1

comic relief red nose - for the centre of the cake!
INSTRUCTIONS
Preheat the oven to 170c/325f. Grease and line five 18cm diameter round baking tins with baking parchment (if you don't have five, you can do two or three cakes at a time instead, just make sure you allow the first batch of cakes to cool for 15-20 mins before removing from the tin).

Beat the butter and sugar together in a large bowl until light and fluffy. Beat in the eggs and vanilla extract.

Sift in the flour and baking powder, then mix until combined.

Divide the mixture between five bowls (I find it's best to use scales for accuracy).

Mix a half a tsp of each of the gel colourings into each bowl. Use more or less depending on how vibrant you want the cake colours to be.

Spoon each of the bowls of cake batter into separate cake tins and bake in the oven for 20 minutes.

Take out of the oven and leave to cool for 15 mins, then remove from the tins and place on a cake rack until completely cool.

Now make the buttercream. Beat the butter, confectioners's sugar and vanilla extract together until smooth and creamy. Beat in the Vimto cordial, then add the milk, one tablespoon at a time, whilst mixing until you get a soft buttercream that you can spread. Mix in ¼ tsp of red food colouring (a little more if you want it really red).

Once cool, trim the tops off the cakes using a sharp knife so the top is completely flat.

Place one of the cakes on a plate or cake stand. Top with 2 heaped tbsp of the buttercream and carefully spread to cover the top of the cake. Place another one of the cakes on top and repeat until all of the layers are piled up, with buttercream in between them.

Spread half of the remaining buttercream on the top and sides of the cake. It's best to add lots of little blobs and join them up - this helps to stop lots of crumbs getting in the buttercream.

Place the cake in the fridge for 1 hour to chill, then remove from the fridge and spread on the remaining buttercream (you may need to beat the buttercream again with a splash of milk to loosen it up again).

Remove the rainbow belts from the packets and trim them so the length of each rainbow belt is equal to the height of the cake.

Arrange the rainbow belts all around the cake and place the cake back in the fridge for 30 minutes to chill.

Remove the cake from the fridge and place the red nose centrepiece on top, in the centre. Arrange the Maltersers on top of the cake. Push them down a bit so they stick to the buttercream.

Use the white writing icing to make 2 little dots on some or all of the Maltesers for the whites of the eyes. Add a smaller dot of black or brown icing for the pupils. Make the red noses using the red writing icing.

Serve straight away, or cover and store the cake at room temperature for up to a day before slicing and serving.
✎ Notes
Nutritional Information is per slice.
Nutrition
Calories:
877
kcal
Carbohydrates:
115
g
Protein:
5
g
Fat:
45
g
Saturated Fat:
27
g
Cholesterol:
172
mg
Sodium:
38
mg
Potassium:
250
mg
Sugar:
92
g
Vitamin A:
1380
IU
Calcium:
108
mg
Iron:
1.5
mg