Chocolate for breakfast! My favourite…. Good morning Chocolate Coconut Granola with toasted coconut flakes and little bursts of chewy dried cranberry!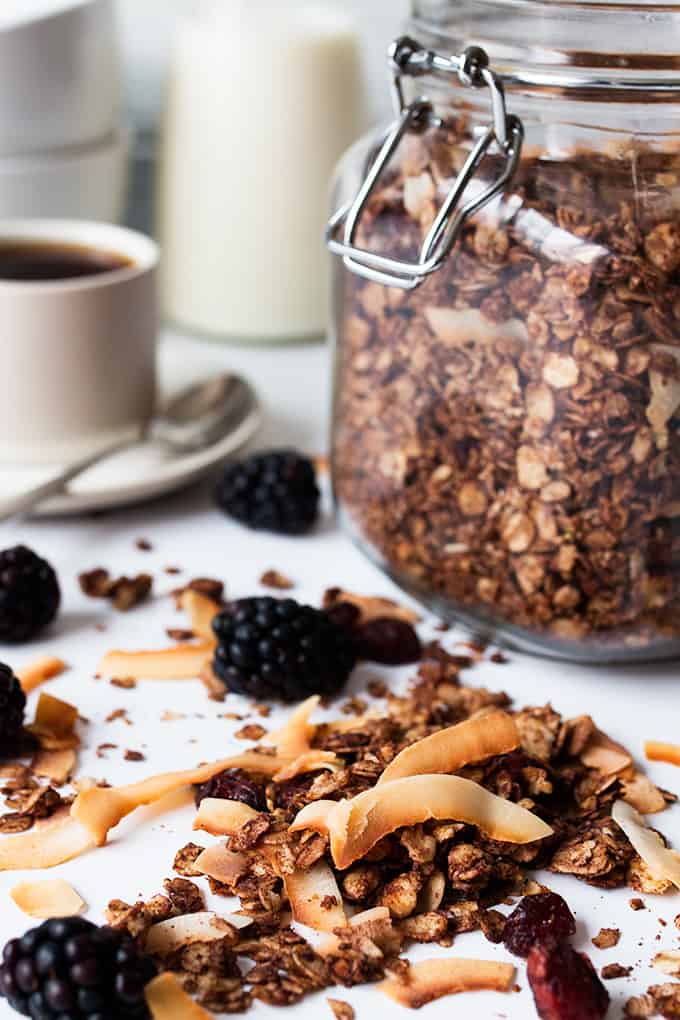 Sometimes it's so pleasant to find yourself sat in front of a lovely breakfast like this that you have to say hi.
Or maybe that's just me.
I'm starting to get quite a few granola recipes under my belt, considering I only really discovered granola less than a year ago.
I started off with a sugar free version – for those days when i'm feeling virtuous.
I soon upped the naughtiness just a little with my regular macaroon and fresh raspberry macaroon versions.
and now we have this…..
Still better for you than the pre-packed stuff, this granola is a nutritous, but also totally satisfying (in an 'I-need-chocolate-give-me-chocolate kind of way) breakfast.
My daughter Gracey absolutely loves the stuff.
I'm pretty certain that the fact it turns the milk chocolatey has absolutely nothing to do with it (ahem).
I usually serve my granola with Greek yoghurt and blueberries, but Greek yoghurt and chocolate seems a bit strange to me, so I think it works better with milk.
Blueberries and milk are also just a bit too far out there, so I change it up with some strawberries and blackberries.
I was so pleased when I spotted coconut flakes in the supermarket the other day.  It seems that almost every supermarket in the UK (ok, then 5 supermarkets closest to me) only ever stock shredded coconut.  Why is the UK so far behind the US on the availability of so many ingredients? argggh!!
Anyway, I saw it, whooped for joy (earning me a couple of strange looks) and filled my basket.
Toasted in the oven for just a few minutes, it tastes amazing.  It burns easily though, so be careful. Definitely a new contender for the evening sofa snack.
A snack that I will be eating mindfully (after the mindful eating workshop I attended yesterday evening).
I'll talk a little more about the workshop on Friday, but I really do think it's going to help me. I even managed to stop eating chocolate last night after a few bites! That doesn't happen in my world.
Are you a chocaholic? I'd love to know if you have any tips for keeping the chocolate-eating under control!
Chocolate Coconut Granola Recipe:
Chocolate Coconut Granola
Chocolate coconut granola with cranberries - my kids love this because it turns the milk chocolatey!
Cuisine:
American, British
Servings
:
15
-16 servings
Ingredients
Granola:
320

g

whole rolled oats

(make sure they're gluten free if required)

4

heaped tbsp

light-brown sugar

3

tbsp

honey

4

tbsp

coconut oil

melted

4

tbsp.

water

3

heaped tbsp

cocoa powder

make sure it's gluten free if required

75

g

unsweetened coconut flakes

1/2

cup

dried cranberries
Instructions
Preheat the oven to 180c/350f

Start with the granola. In a large bowl, mix together the oats, brown sugar, honey, coconut oil, water and cocoa powder. Once mixed, spoon it out onto a large metal baking tray and place it in the oven for 20 minutes. Check on the granola after the 10th and 15th minute to make sure it's not burning at the edges. If the edges of the granola are looking a lot darker, give the granola a mix.

Once the granola has been in the oven for 20 minutes, add in the coconut flakes and place back in the oven for 2-3 minutes until the coconut is golden brown (keep a close eye on it, as it burns quickly).

Take the granola out of the oven. Leave to cool slightly, then mix in the dried cranberries. Leave to cool completely before pouring into an air-tight jar.
Recipe Notes
This granola should keep for a minimum of two weeks in an air-tight jar at room temperature.