This Vietnamese Steak Salad is a crisp salad with noodles, tender steak and a spicy dressing - only 270 calories!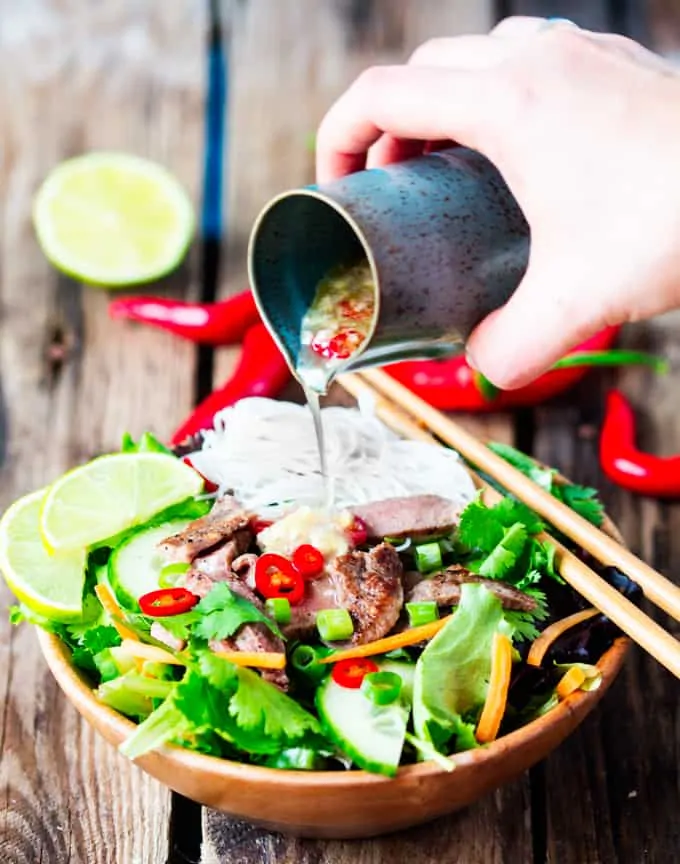 Vietnamese Steak Salad for lunch anyone?
This beautiful, crunchy salad with noodles, griddled steak and a spicy-zesty dressing is delicious and guilt-free.
Something lighter was definitely called for after indulging in those chocolate brownie parfaits and lots of fruity tea bread (coming up next week!).
I love love love my food (can you tell?), but I always struggle to find a balance.
I know I'll never give up bread, chocolate (I'm eating a milky way whilst writing this), or dairy.  Making delicious recipes and sharing them with my family is something I get such pleasure from that the thought of removing it from my life - even temporarily - is so depressing!
However, I think it is still perfectly possible to make food that's tasty and satisfying whilst still being light and nutritious - like this Vietnamese salad: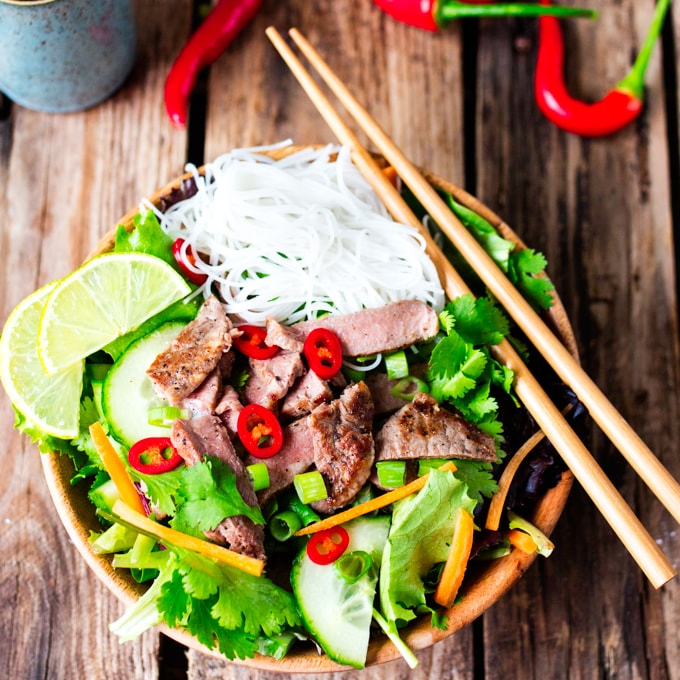 Doesn't mean I'm not going to indulge in crème brulee bars and butter chicken at other times though.
I've been following the 5:2 diet for a few weeks.  Not a bad diet for a blogger - I just coincided the couple of days in the week that I don't make recipes for the blog with the 2 fast days.
I'm getting bored with it already though.  A bad cold - plus the children finishing school for a week - made me quit my fast day yesterday and open that packet of milky ways I mentioned earlier.
So to round it up:
I love naughty stuff like chocolate, cakes, creamy/carby dinners, crisps and bread
I also love the good stuff like fruit, vegetables, water and herbal teas
I think my big problem is that I want lots of both.  Also,
I'm not overweight (definitely not skinny though) - although I wouldn't mind being half a stone lighter
I go to the gym, but only sporadically
So how do I teach myself to just want to eat a little less overall?
Right now I've no idea, but I'm working on it.
Phew, thanks for the therapy session guys.  You really are the best listeners 🙂
Any tips or recommendations on how you keep a good balance? I'd love to know!
The Vietnamese Steak Salad Recipe: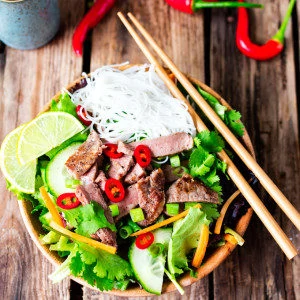 Vietnamese Steak Salad
Crisp salad with noodles, tender steak and a spicy dressing - only 270 calories!
Ingredients
Dressing:
Juice of 1 lime

1

tsp

sesame oil

1

tsp

fish sauce

2

tbsp

chopped coriander

-

cilantro

½

red chilli

-

finely chopped

1

clove

garlic

-

peeled and minced

1

tsp

lemongrass paste -

or 1 lemon grass stalk, outer leaves removed and inner leaves chopped very finely
Salad:
50

g

dried vermicelli rice noodles

100

g

lean sirloin steak

12

sprays

1-calorie cooking oil

Good pinch of salt and pepper

80

g

mixed salad leaves

½

cucumber

-

sliced

1

medium carrot

-

peeled and sliced into matchsticks

2

spring onions

-

scallions, chopped

½

red chilli

-

sliced

A few lime slices
INSTRUCTIONS
Start with the dressing. Simply mix all the dressing ingredients together in a small bowl and put to one side whilst you prepare the rest of the salad.

Cover the rice noodles in boiling water and leave to stand for 3 minutes - until the rice noodles are cooked. Drain and rinse under the cold tap to stop the noodles sticking together. Leave to drain in a colander.

Heat a small frying pan until very hot. Spray the steak on both sides with the spray oil and rub in the salt and pepper. Place the steak in the pan and cook for 2-3 minutes on each side so that it's charred on the outside, but still pink in the middle (cook for a couple of minutes longer if you prefer your steak well-done). Take the steak out of the pan and place on a chopping board. Cover with foil and then a tea-towel on top and leave to rest for 5 minutes.

Whilst the steak is resting, divide the salad leaves, cucumber, carrot and spring onions between two bowls. Top with the noodles.

Take the foil off the steak and slice into thin slices (against the grain). Divide the slices between the two bowls and sprinkle on the sliced chillies. Serve with the dressing and slices of lime.
✎ Notes
Nutritional Information is per serving.
Nutrition
Serving:
292
g
Calories:
270
kcal
Carbohydrates:
34.3
g
Protein:
19.3
g
Fat:
6.5
g
Saturated Fat:
1.5
g
Cholesterol:
45
mg
Sodium:
301
mg
Potassium:
574
mg
Fiber:
2.8
g
Sugar:
3.8
g
Vitamin A:
5850
IU
Vitamin C:
36.3
mg
Calcium:
50
mg
Iron:
10.4
mg
Nutritional Information from Calorie Count - per serving: