Layers of chocolate brownie, crushed oat biscuits, whipped cream and salted caramel sauce make the perfect dessert.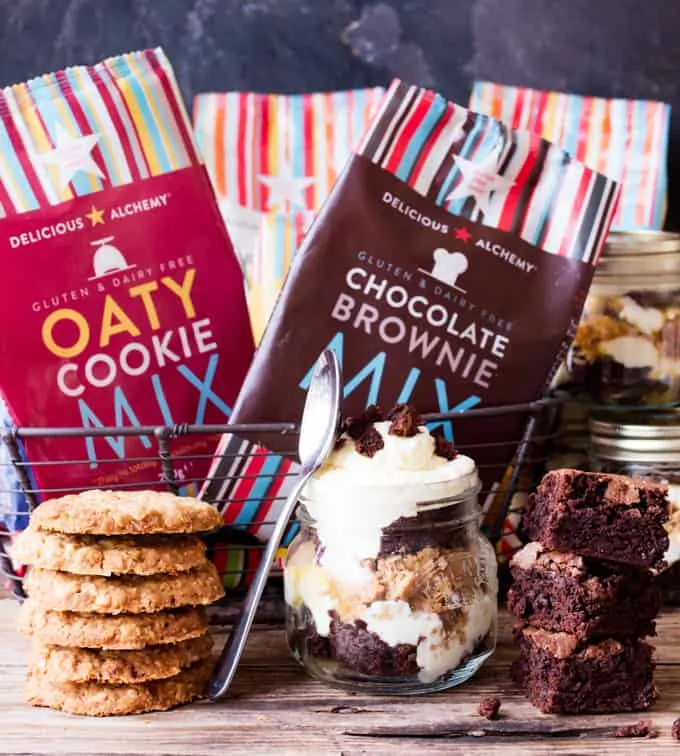 This is a sponsored post written by me on behalf of Delicious Alchemy. All opinions are 100% mine.
Oh my! Today I'm bringing your own personal a jar stuffed with layer upon layer of creamy, chocolatey, oaty heaven.  Oh, and whilst we're spoiling ourselves, let's just drizzle on some salted caramel too.
I'm not joking guys, you need to find a spoon and a quiet corner, then sit down and savour every mouthful.
Oh, and did I mention that it's gluten free?
Gluten intolerant or not, you need to try this dessert.
The idea for this recipe originated from a pile of coeliac-friendly goodies that Delicious Alchemy sent me to test:
The company was started by Emma Killilea in 2006. Diagnosed as a coeliac a couple of years earlier, Emma quit her job, went back to university to study food science, and then started up her company, focussing on quick, easy-to-make mixes that are gluten and dairy-free.
And I have to say, she's done an amazing job. I started off testing the brownie mix – which only required me to stir in a couple of eggs and some melted butter (or dairy free alternatives), before it was in the oven, filling my house with my favourite smell of chocolate.
Slightly crisp on top, perfectly gooey in the middle, they were so good, I was literally cramming pieces in my mouth whilst taking the photographs…..
The oaty cookies came next.  This time, only melted butter and water was needed. I was a little hesitant as to whether they'd work – as the mixture was quite wet when I was rolling it into balls.
I half expected to open my oven door to find the cookies had spread and melded into one big biscuit.  But I was completely wrong.  The looked and tasted just as great as the brownies.
So armed with my trays of half eaten biscuits and brownies, I decided to knock up a bit of sweetened cream and caramel sauce and layer it all together: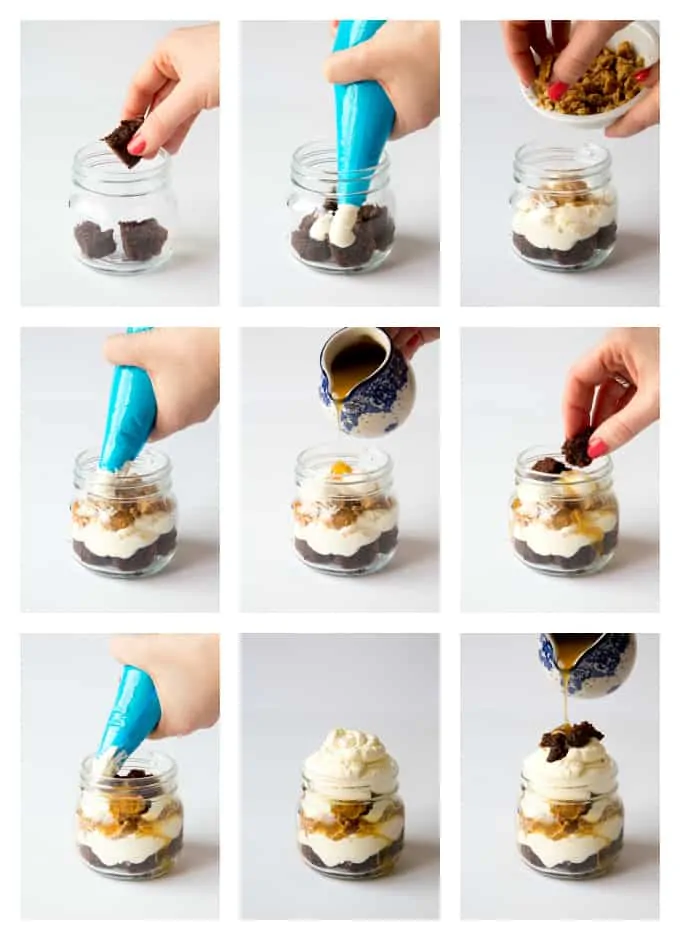 Yeah, that worked out pretty good 😉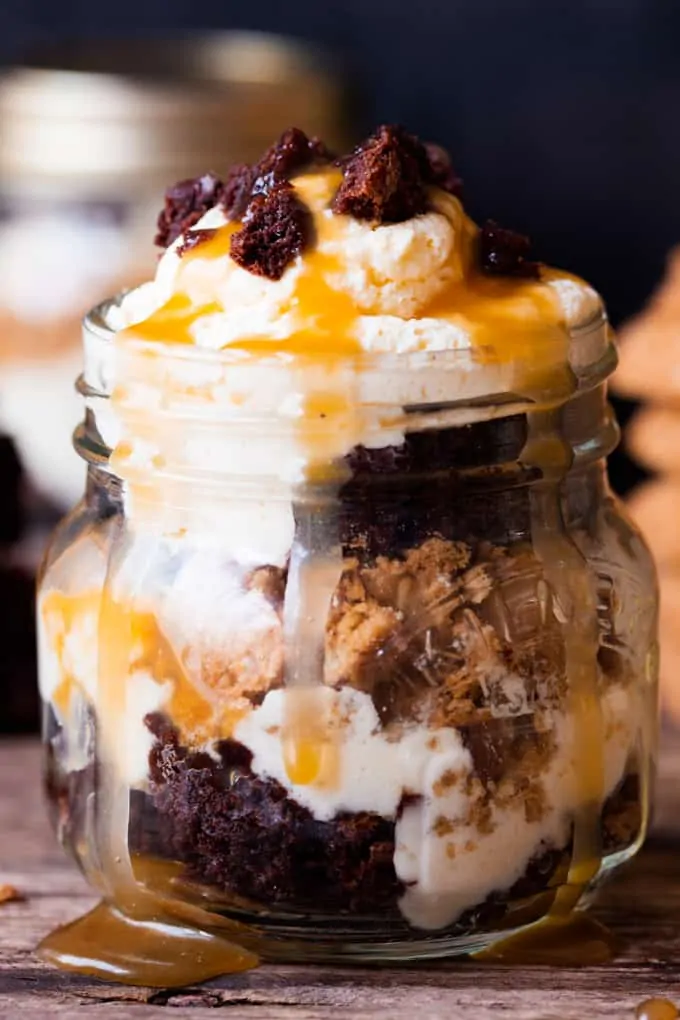 If you're not one for cake mixes, I still urge you to give them a go.  I'm usually a bake-from-scratch kind of girl, but the taste and speed (and ok, yes, the reduced amount of washing-up) of the brownies/cookies have sold me.
I can't wait to try out the bread mixes next (a gluten-free thing I've never been able to master).  They've also got quick-porridge and muesli amongst other things.
Check out Delicious Alchemy to take a closer look at the full range of gluten free goodies and their gluten-free philosophy.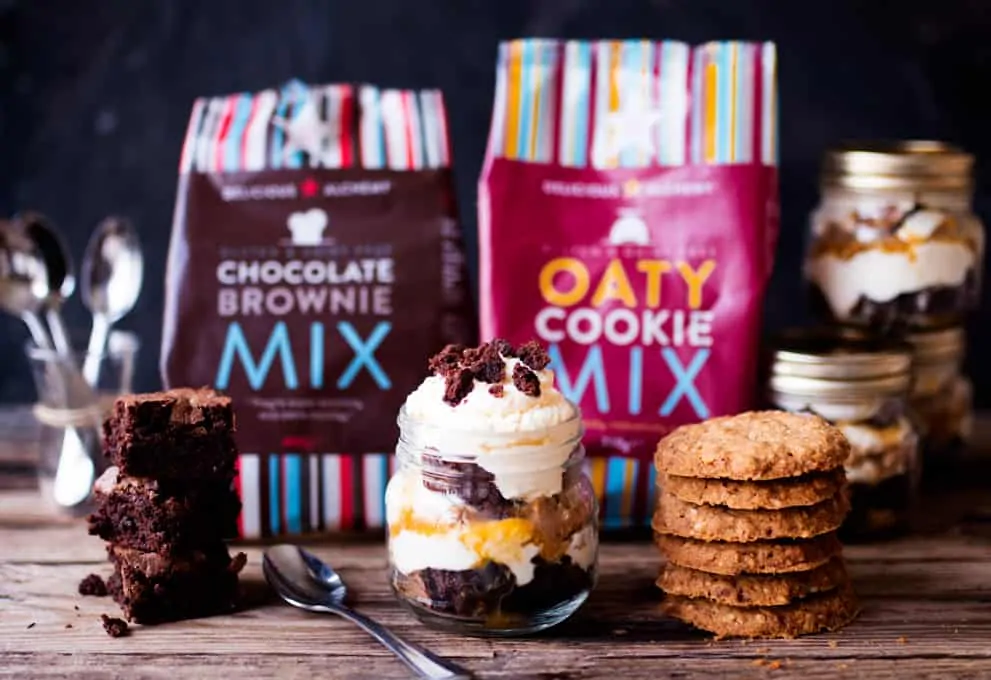 Although based in the UK, they do ship internationally too.
Right now, I'm going off to find my quiet little corner.  Possibly armed with my little jar of extra caramel sauce and a good book. Nom nom nom.
Keep up to date with recipes and tips on living a gluten-free lifestyle via Delicious Alchemy Twitter and Delicious Alchemy Facebook.
The Oaty Chocolate Brownie Parfait with Salted Caramel Recipe: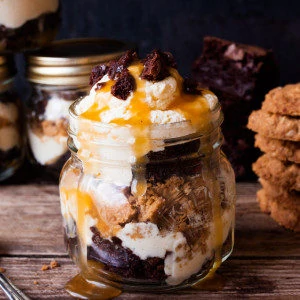 Oaty Chocolate Brownie Parfait with Salted Caramel
Oaty Chocolate Brownie Parfait with Salted Caramel - Gluten free heaven!
Ingredients
Salted Caramel:
⅓

cup

(80g) Unsalted butter

⅓

cup

(60g) light brown sugar

⅓

cup

(65g) caster sugar

3

tbsp

golden syrup

½

cup

(120ml) double/heavy cream

½

tsp

salt flakes

-

table salt isn't recommended, but if you've got nothing else in, then make it ¼ tsp table salt
Chocolate Brownie (you'll only need half of this for the parfaits):
1

x 400g

pack Delicious Alchemy Chocolate Brownie mix

2

large eggs

-

lightly whisked

⅓

cup

+ 1.3 tbsp (100g) unsalted butter

-

melted

Oaty Cookies

-

you'll only need half of this for the parfaits:

1

x 200g

pack Delicious Alchemy Oaty Cookie mix

⅓

cup

mins 1 tsp (75g) unsalted butter

-

melted

2

tbsp

water
Sweetened cream:
½

cup

(50g) icing/confectioner's sugar

1.25

cups

(300ml) double/heavy cream
INSTRUCTIONS
Make the salted caramel sauce first by adding the butter, sugars and syrup to a pan. Bring to a gentle bubble and simmer for 3 mins, swirling the pan every minute or so (it will probably look a bit 'bitty' but that will go away when you add the cream). Pour in the cream and stir – you should see it coming together as a smooth sauce now. Then sprinkle in most of the salt. Carefully have a taste and add more salt if needed. Turn the heat off and allow to cool.

Next, make the brownies. Preheat the oven to 180c/350f and line a 20cmx20cm baking pan with baking parchment. Take a large bowl and add the brownie mix, eggs and melted butter. Mix together using a wooden spoon or spatula. Pour into the prepared tin and cook for 20 mins. Take out of the oven and leave to cool in the tin.

Now make the oaty cookies. Keep the oven at 180c/350f. Line a baking sheet with baking parchment or a silicone mat.

Mix the oaty cookie mix, melted butter and water in a bowl, then take a heaped tsp of the mixture and roll it into a ball in your hands. Place on the tray and repeat until you use all of the mix. You should get approx ten balls. Make sure the balls are spaced out. They'll spread, but only a little. Squash each ball down so they're about 5mm thick. Place in the oven and cook for 18 minutes. Take out of the oven and allow to cool.

Now prepare the cream. Place the icing sugar and cream in a jug and whisk with an electric whisk until thick.

You're now ready to make the parfaits. Take the brownie out of the tin and cut into small cubes - approx 1cm cubed. Place 4 cubes on the bottom of the mason jar. Place your cream in a piping bag with a large nozzle (or a sandwich bag with the corner cut out) and pipe a layer of cream on top of the brownies. Crumble one of the biscuits and sprinkle it on top of the cream.

Pipe on a little more cream, then drizzle on a tbsp of caramel sauce. Add 3 more chunks of brownie, then pipe on more cream. Add a little bit of crumbled brownie and top with caramel sauce. Repeat with the remaining jars.
✎ Notes
You can make these desserts a few hours ahead. Just fill the jars enough so you can get the lid on, then refrigerated until ready to serve.
You can store any extra caramel sauce (covered) in the fridge until you serve too.
.
Nutritional Information is per large serving.
Nutrition
Calories:
1333
kcal
Carbohydrates:
112
g
Protein:
9
g
Fat:
95
g
Saturated Fat:
59
g
Cholesterol:
346
mg
Sodium:
372
mg
Potassium:
128
mg
Fiber:
4
g
Sugar:
89
g
Vitamin A:
3070
IU
Vitamin C:
0.4
mg
Calcium:
106
mg
Iron:
0.5
mg