Tuscan Style Chicken Soup - a hearty soup with veggies and beans to warm up your belly! The broth is really flavourful, yet simple to prepare, and you can use leftover cooked chicken too!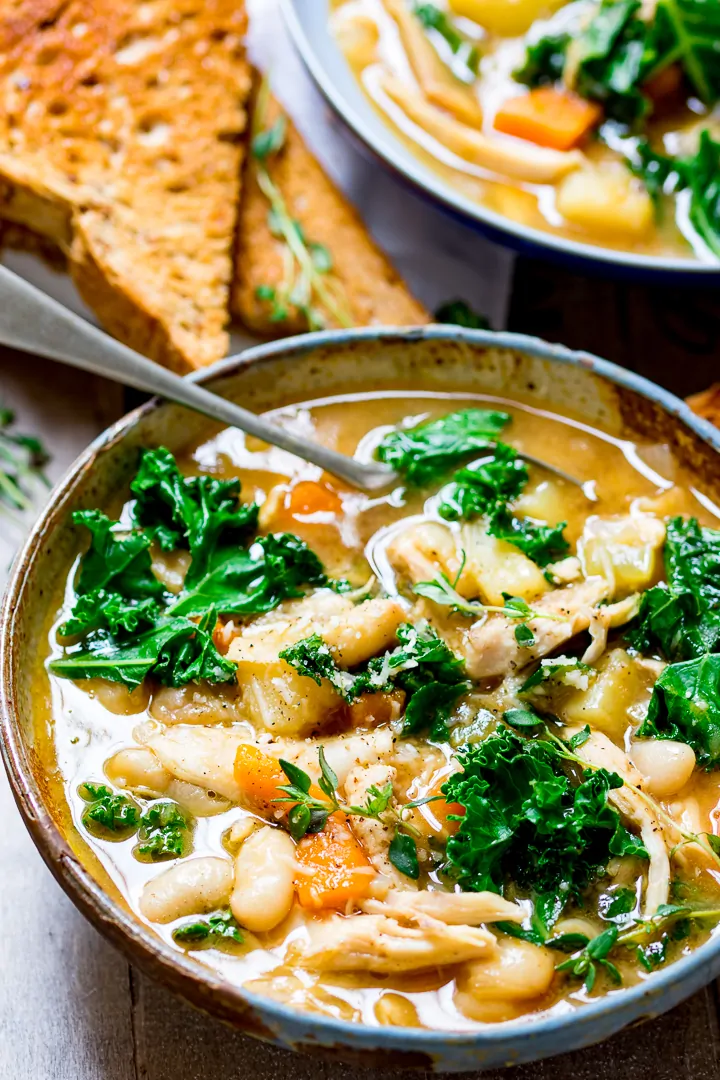 I LOVE soup season! There's something about bowl food that's so comforting.
Recently we've been serving a lot of dinners on our knees. We've been batch filming lots of recipe videos lately, so the kitchen table is piled high with equipment - meaning we're all squashed up on the sofa, getting through multiple episodes of Marvel's Agents of Shield (quite enjoying watching it all together as a family, but trying not to feel the mum-guilt of not sitting at the table).
Trust me, a lap-served meal requiring a knife and fork just doesn't mix with kids. The amount of times I've watched a sauce-covered knife slowly slip from Lewis's grasp and end up on one of the cushions, whilst yelling 'nooooooo' in that slow-motion Vadar voice from Star Wars is too many to count.
But I'm not giving up!! Bowl food like this delicious soup requires a spoon only.  No juggling of cutlery, just family cuddled up, bowls held under our chins, getting our Sci-Fi TV fix.
We start by softening onions in a pan with oil, then adding garlic and thyme. Next in goes carrots, potato and celery, followed by chicken stock, salt and pepper. Let that simmer together for 20 minutes. Next add cannellini beans and let them cook for 5 minutes before finishing off with cooked shredded chicken and kale. Bubble for another couple of minutes until heated through.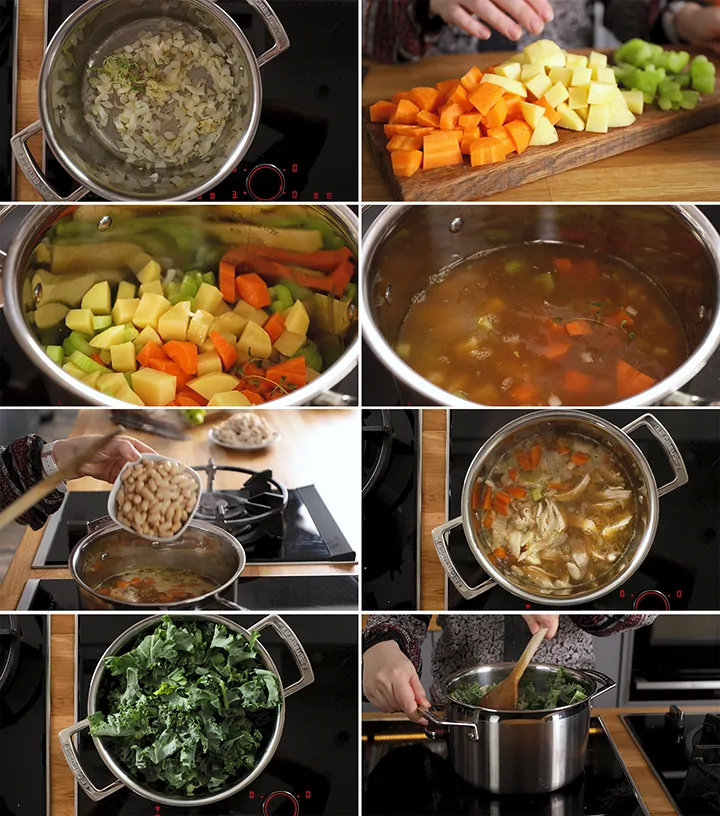 Serve it with some granary toast for a filling meal (fortunately my kids prefer it un-buttered, so that saves the cushions from another potential risk!).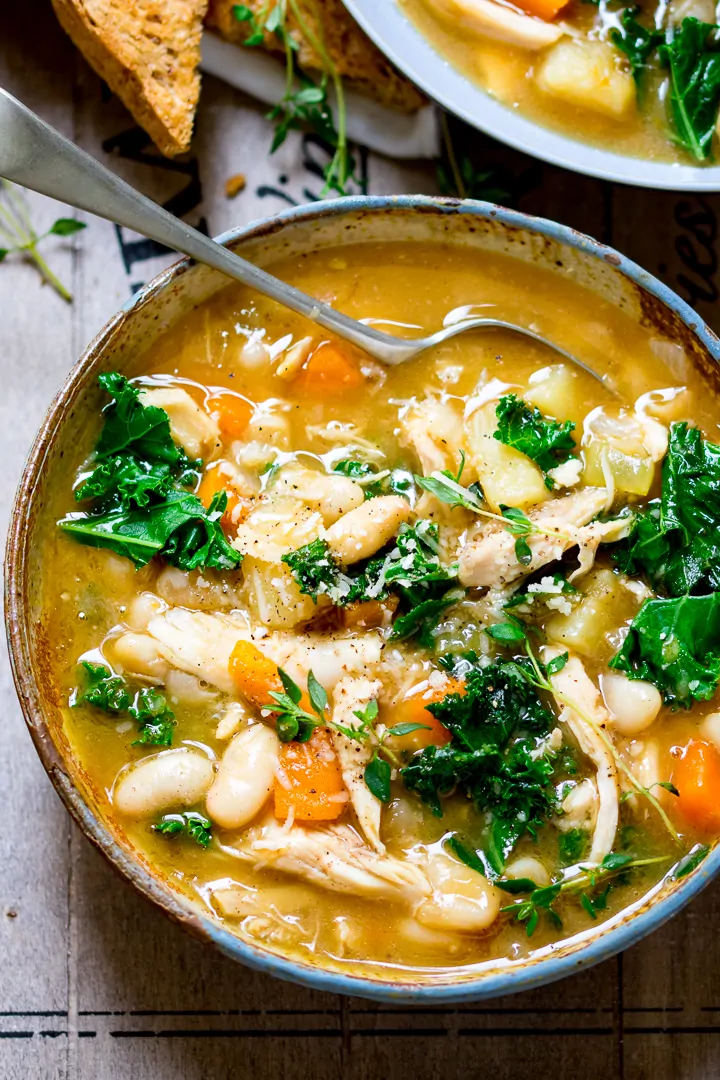 What is Tuscan soup?
A Tuscan soup is basically an Italian-style soup that contains beans, kale and vegetables. The famous Zuppa Toscana (translated as Tuscan soup) contains Sausage and or bacon. This version is my chicken version.
There are lots of different Italian soups - tomato and bread based ones (Pappa al pomodoro), ones that contain vegetables and bread (Ribollita) and pasta soups (Minestrone) to name a few.
What can I serve this soup with?
I love serving this with granary bread, but you could also make it a more substantial meal by serving with up with:
More of my favourite soup recipes:
The Tuscan Style Chicken Soup Video:
Equipment:
In order to make this heart warming Tuscan Style Chicken Soup you will need:
The Tuscan Style Chicken Soup Recipe: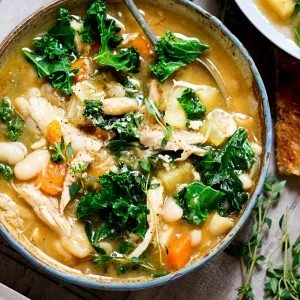 Tuscan Style Chicken Soup
Tuscan Style Chicken Soup - a hearty soup with veggies and beans to warm up your belly!
Ingredients
To Serve:
Fresh thyme

Toasted granary bread to serve

-

gluten free if required - Warburtons Newburn Bakehouse Seeded is a good one
INSTRUCTIONS
Heat the oil in a large saucepan. Add the onion and cook for 10 minutes on a low-medium heat, stirring occasionally until softened.

Add the garlic and thyme and cook for a further 2 minutes. Add the celery, carrots and potatoes, stir, then add in the chicken stock, salt and pepper. Bring to the boil, then simmer for 20 minutes.

Add in the drained cannellini beans and cook for a further 5 minutes

Add the shredded chicken and heat through for 2-3 minutes, then add the kale. Stir and simmer for 1-2 minutes until the kale has wilted. Test and season with more salt and pepper if needed.

Divide between four bowls, topped with fresh parsley, grated parmesan and a couple of sprigs of fresh thyme. Serve with some toasted granary bread.
✎ Notes
Can I make it gluten free?
Yes – use gluten free stock and serve with gluten free bread.
Can I make it ahead?
The kale won't be quite as vibrant, but yes, you can make this soup ahead. Make the soup, then quickly cool, cover and refrigerate for up to 2-3 days. Reheat in a pan until piping hot before serving. 
Will it freeze?
Yes! Make the soup, then quickly cool, cover and freeze. Defrost overnight in the refrigerator. Reheat in a pan until piping hot before serving.
Other modifications:
Stir in chunks of slightly stale bread (like a Ribollita soup) about 15 minutes before the soup is done. This will thicken the soup.
Make it a vegetarian version, leaving out the chicken and using a really good quality vegetarian stock. You'll also need to replace the parmesan with vegetarian Italian-style hard cheese.
Replace the cannellini beans with tinned chickpeas or butter beans (lima beans)
Add extra veggies or replace with different veggies – such as leeks or mushrooms.
Stir in a couple of tablespoons of double (heavy) cream and a squeeze of lemon juice at the end, for a creamy version.
Nutritional information is per serving.
Nutrition
Calories:
412
kcal
Carbohydrates:
52
g
Protein:
31
g
Fat:
9
g
Saturated Fat:
2
g
Cholesterol:
45
mg
Sodium:
807
mg
Potassium:
1651
mg
Fiber:
9
g
Sugar:
7
g
Vitamin A:
7700
IU
Vitamin C:
48.8
mg
Calcium:
204
mg
Iron:
7.8
mg
This post was first created in November 2016 (and I first made this soup for Superfood Magazine). Updated in October 2019 with video, step-by-step photos and some general housekeeping.
If you liked this then please check our some of my other soup recipes.
Some of the links in this post may be affiliate links – which means if you buy the product I get a small commission (at no extra cost to you). If you do buy, then thank you! That's what helps us to keep Kitchen Sanctuary running. The nutritional information provided is approximate and can vary depending on several factors. For more information please see our Terms & Conditions.