Sausage and Colcannon Bake - Comfort food, layered on top of comfort food. With gravy. One for St Paddy's day!
How the heck did it get to Friday and I haven't even posted a recipe yet this week? I'm so sorry guys!
I started off with the income report - posted on Tuesday instead of Monday because it took me ages to write. Then I had every intention of posting a Thai chicken and rice one-pot meal on Wednesday or Thursday. However, when it came down to it, I just couldn't post it. The photos were awful!
It's one of those dishes I've made lots of times, and it is, admittedly, an ugly dish. So I looked upon it with as a challenge and did my best to prettify it with nice linens, garnishes and any other styling additions I could make. But I failed miserably.
I almost published it anyway, because sometimes tasty food is ugly. But I couldn't. It's a challenge, and I'll redo it again (and again if needed) until I get those photos!
In the meantime, I'm sharing something that's also delicious, but a little (if rather rustic) more attractive looking. Sausage and Colcannon Bake - or Pie. I can't decided between Bake or Pie. I'll probably change it five times before I hit publish.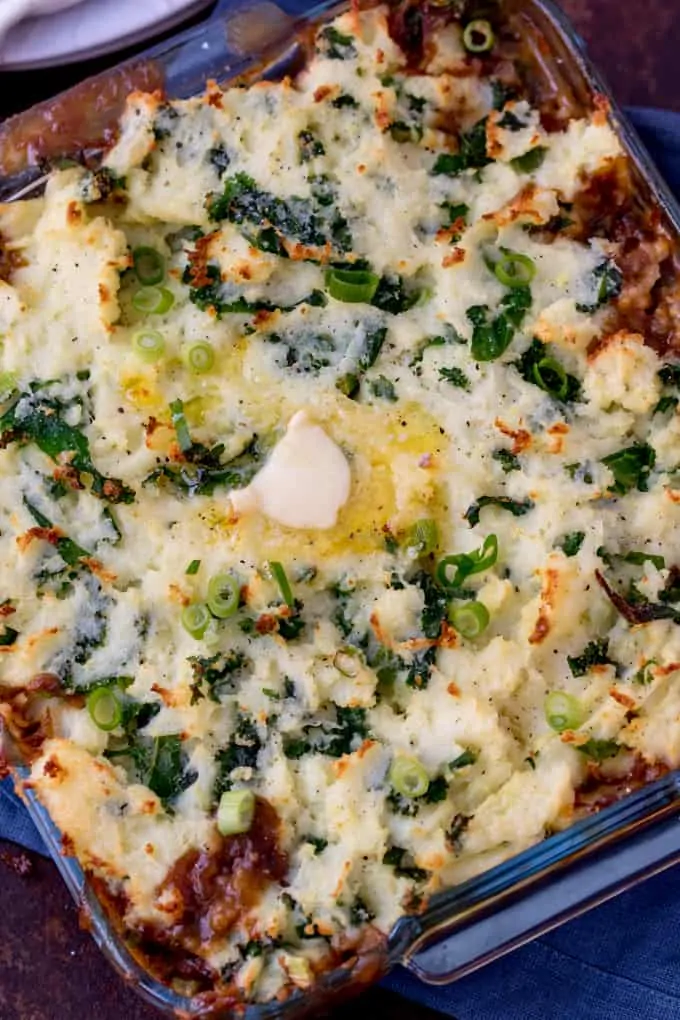 It's one of those easy, comfort food recipes, like shepherds pie, Lancashire hotpot, Toad in the Hole, Creamy Chicken pot pie, cow pie or beef and Guinness Stew that everybody polishes off. Plus I get to include kale and spring onions - that the kids will eat under creamy-mashed-potato-circumstances. It's also got mushrooms - that the kids pick out and place on my plate (works for me!) and peas, which are never a problem in the vegetable eating battle.
Hopefully this makes up for my lack of posting this week!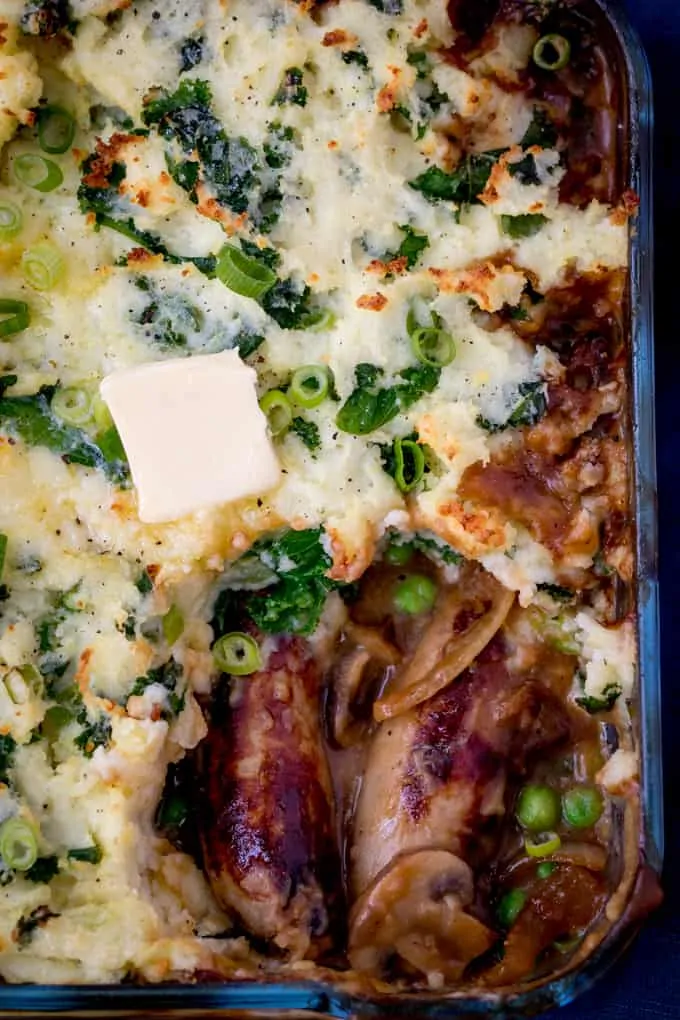 My other excuse is that it's also been a bit of a jet-setting week for me. Not actually involving jets, more like train after train. I was down in Milton Keynes all day Tuesday talking to Neff about plans for 2017 (after winning their cookaholics competition in August). It sounds like lots of exciting stuff on the books, and hopefully lots of new recipes that I get to create and share with you guys. Can't wait!!
I'm also down in London at the moment. I traveled down yesterday for the Pinterest UK food awards. I was shortlisted for a few, but unfortunately didn't win. All of the winners had 100% amazing photos and recipes, and among them were Jamie Oliver, Helmsley & Helmsley, Olive Magazine, and my amazing blogger buddies - Lucy from Super golden Bakes, and Ciara from My Fussy Eater (who actually won two awards! Making her the biggest award winner of the night!). It was great to catch up with lots of blogger friends - who I chat to regularly on Facebook or Messenger, but rarely get to see face-to-face. So we enjoyed more than a little wine, followed by a bite to eat and a sneaky cocktail after the awards.
A thoroughly enjoyable night, and I'm just getting over the fuzzy wine-head this morning with the help of a few cups of tea!
Ok, time to stop wittering - here's the recipe:
Sausage and Colcannon Bake Recipe: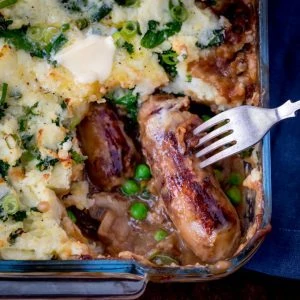 Sausage and Colcannon Bake
Sausage and Colcannon Bake - Comfort food, layered on top of comfort food. With gravy. Who could ask for more! Easy to make gluten free too!
Ingredients
5-6

medium potatoes

-

, peeled and cut into large chunks

80

g

Kale

-

chopped

5

spring onions/scallions

-

chopped

60

g

butter, cubed

60

ml

double (heavy) cream

¼

tsp

each of salt and pepper

1

tbsp

vegetable oil

8

good-quality pork sausages

-

use gluten free sausages if required

1

large onion

-

peeled and sliced

2

tbsp

plain/all purpose flour

-

(for gluten free use a good-quality, gluten-free plain flour blend - such as King Arthur or Doves farm)

500

ml

beef stock

-

water plus two stock cubes is fine (I use Essential cuisine beef stock powder for gluten free).

125

g

sliced mushrooms (I used baby portabella)

100

g

fresh or frozen peas

1

tsp

Worcestershire sauce

1

bay leaf
INSTRUCTIONS
Preheat the oven to 200c/400f.

Start with the colcannon. Place the potatoes in a pan with enough cold water to cover. Bring to a boil then simmer for 15 minutes, until the potatoes are tender.

Whilst the potatoes are cooking, place the kale and spring onions in a small pan. Add a good splash of water*, place a lid on and place on a high heat for 3 minutes - until just softened. Remove from the heat and drain.

Once the potatoes are tender, drain off the water, then mash the potatoes using a masher or a potato ricer. Stir though the butter, cream, salt and pepper, then stir in the cooked kale and spring onions, Put to one side.

Heat the oil in a large frying pan and add the sausages. Brown on all sides on a high heat, then turn down to a medium heat. Remove the sausages and add the sliced onions. Cook the onions, moving around the pan regularly for 10-15 minutes until browned and caramelized.

Stir in the flour using a whisk and cook for 1 minute, then add the stock a little at a time, whilst stirring with the whisk, until you have a thickened gravy. Add the sausages back into the pan, along with the mushrooms, peas, Worcestershire sauce, bay leaf and a pinch of salt and pepper. Stir everything together, then transfer to a baking dish (approx 30cmx30cm).

Top the mixture with the colcannon, and ruffle the top with a fork (this helps to get some brown crispy bits on top). Place in the oven to cook for 20-25 minutes until bubbling at the edges and starting to brown on top.
✎ Notes
* For a more traditional colcannon, you can boil the kale and spring onions with whole milk instead of water, then use the milk instead of cream in the mashed potatoes. I just prefer to use cream in my mashed potatoes.
.
Nutritional Information is per serving.
Nutrition
Calories:
669
kcal
Carbohydrates:
46
g
Protein:
24
g
Fat:
44
g
Saturated Fat:
21
g
Cholesterol:
113
mg
Sodium:
947
mg
Potassium:
1673
mg
Fiber:
9
g
Sugar:
3
g
Vitamin A:
3000
IU
Vitamin C:
70.5
mg
Calcium:
154
mg
Iron:
10.9
mg
If you've tried my recipe then please rate the recipe and let me know how you got on in the comments below, I love hearing your thoughts and add-ons to my recipes!
You can also follow me on INSTAGRAM, FACEBOOK, PINTEREST, and TWITTERto see what I'm up to in the kitchen, what recipes i'm loving, and of course YOUTUBE to see our latest recipe videos!
Some of the links in this post may be affiliate links – which means if you buy the product I get a small commission (at no extra cost to you). If you do buy, then thank you! That's what helps us to keep Kitchen Sanctuary running. The nutritional information provided is approximate and can vary depending on several factors. For more information please see our Terms & Conditions.