These Salt and Pepper Ribs with Chilli Honey Drizzle are fall-apart-tender with a light, crispy coating. Drizzled in a spicy, sticky sauce they're so delicious!
Why have I waited so long to make these Salt and Pepper Ribs with Chilli Honey Drizzle?
I got the most amazingly meaty rack of ribs from the butcher when I made my last batch of Chinese sticky ribs, and since I was making them just for me and Chris, I froze half to use later.
They've been in the freezer, taunting me ever since, until I finally got them out to serve with some fried rice.
I decided to try something a little bit different, and went with a crispy coating.  I still couldn't do without the sticky sauce though, so I made some to serve on the side.
and whoah!
They're so good.
We have tender fall-apart pork, a salty-crisp coating, hot-but-sticky-sweet sauce, and a pile of garlicky-onions and chillies thrown over the top.
I don't even need a side of rice when these things are in front of me!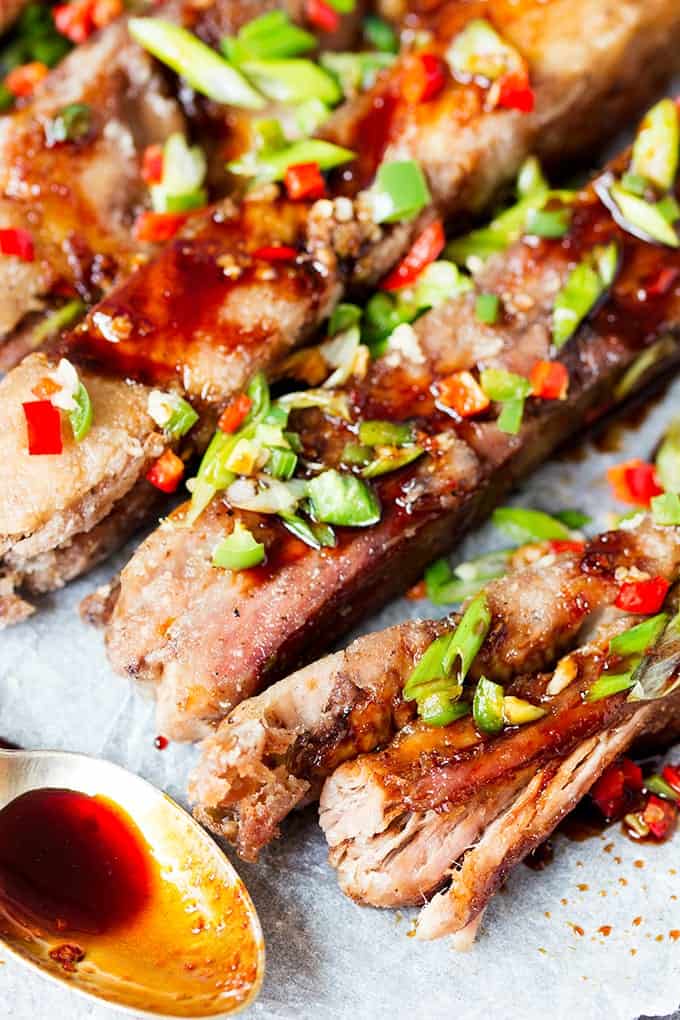 I thought the sticky ribs I made previously were the best I ever tasted, but these Salt and Pepper Ribs with Chilli Honey Drizzle are right at the top with them.
I cracked the rib (pun intended) code with my method of slow cooking for one layer of flavour, followed by frying for a second layer of flavour.
Two rib recipes, two different and amazing results.
Now I have a dilemma. Do I stick (probably very happily) with these two versions of ribs for the rest of my life? Or do I experiment with more recipes?
It's like going on holiday.  You have the best holiday ever, but do you then go back to the same place for every holiday? Or do you risk disappoint and keep trying a new destination every year?
We hardly ever go back to the same place twice.
......but I think I still need both of these rib recipes in my life.
Dilemmas of this type are why I love my job 🙂
18 months ago my biggest dilemma was trying figure out which IT global disaster recovery strategy would provide the lowest cost option to the business, whilst still achieving an acceptable level of risk. Now I'm obsessing over pork rib decisions.  I'm good with that 🙂
The Salt and Pepper Ribs with Chilli Honey Drizzle Recipe:
Salt and Pepper Ribs with Chilli Honey Drizzle
These ribs are fall-apart-tender with a light, crispy coating. Drizzled in a spicy, sticky sauce they're so delicious!
Ingredients
Slow cooked ribs:
1 ¼

kg

meaty pork ribs

-

about 5 or 6 ribs - in one piece

1

thumb sized piece of ginger

-

peeled and finely chopped

3

cloves

garlic

-

peeled and chopped in half

1

tbsp.

rice wine

1

tbsp.

caster sugar
Rub:
¾

tsp

salt

1 ½

tsp

coarsely ground black pepper

3

heaped tbsp cornflour/cornstarch

¼

tsp

chinese five spice

2

tbsp

cold water

1

cup

vegetable oil

-

or other tasteless frying oil
Chilli honey drizzle:
Spicy topping (optional) :
Small bunch spring onions sliced on the diagonal

1

green chilli

-

chopped finely

1

red chilli

-

chopped finely

¼

tsp

salt

2

cloves

garlic
INSTRUCTIONS
Add all the slow cooked rib ingredients the slow-cooker/crockpot and cook for 4-5 hours on medium or 6-7 hours on low (alternatively, place in a large pan, bring to the boil, then place a lid on, and cook on a low heat for 3½ hours. If you do cook on the hob, then check a couple of times during the last hour of cooking, and top up with a little more water if required)

Turn off the heat and drain the pork. The cooking liquor is no longer needed, and can be discarded (or used as a great stock for soup).

Leave the ribs to cool for 30 minutes, then carefully chop the pork into individual ribs (the meat will fall off the bone if you're not careful enough).

Make the rub by mixing the salt, pepper, cornflour and Chinese five spice together in a large bowl. Add in the ribs and dust them in the rub. Then push the ribs to one side of the bowl and add the water to any rub that is left in the bottom of the bowl. Mix together to make a kind of creamy slurry, and mix it with the ribs. There won't be much liquid (and the liquid doesn't have to completely cover the ribs), but the dry rub along with a little of the wet slurry ensures you get a thin, light, crispy coating once cooked.

Heat the oil in a large frying pan and add the ribs. Cook on high for 10-15 minutes, carefully turning every 3-4 minutes until the ribs are cooked, golden and crisp.

Whilst the ribs are frying, add the ingredients for the drizzle to a small pan and bring to the boil. Give it a stir and turn off the heat. If you want it a little thicker, just boil for a few minutes longer.

Remove the ribs from the pan and place on a large plate, discard all but 1 tbsp of the oil (I carefully pour it into a bowl to cool, before discarding or reusing later) then throw the spring onions, chillies, salt and garlic into the hot pan. Cook whilst for 1-2 minutes, then sprinkle over the ribs.

Serve the ribs with the warm chili-honey drizzle.
✎ Notes
Nutritional Information is per rib.
Nutrition
Calories:
542
kcal
Carbohydrates:
26
g
Protein:
23
g
Fat:
37
g
Saturated Fat:
13
g
Cholesterol:
116
mg
Sodium:
845
mg
Potassium:
404
mg
Sugar:
20
g
Vitamin A:
70
IU
Vitamin C:
15.7
mg
Calcium:
31
mg
Iron:
1.6
mg