Tomatoes, courgette, butternut squash and red onion all nestled together on a little bubbling river of thick garlicky tomato sauce. Ratatouille with Feta Croutons turns this into an amazing tasty vegetarian lunch!

I've been meaning to make this since my kids saw the movie about 3 years ago! I was seriously impressed at how refined and elegant that little rat made this dish look.  I think mine turned out a little scruffier, but it was very very tasty!
That sauce was so good I made another batch of it to go with some coconut prawns for the following day.
Now, I could probably have stopped right there at the veg, but I still haven't got out of the mind-set of thinking of veg as a side dish.  I'm training myself slowly.  So I decided to go for some lovely salty feta to add a bit of tang.
Cold feta just wouldn't have been right, so I gave it a breadcrumb coating and shallow fried it until it was golden and crispy on the outside, and just slightly soft on the inside.  Perfect combination for the ratatouille! This is definitely going to be making a regular appearance on our dinner table from now on.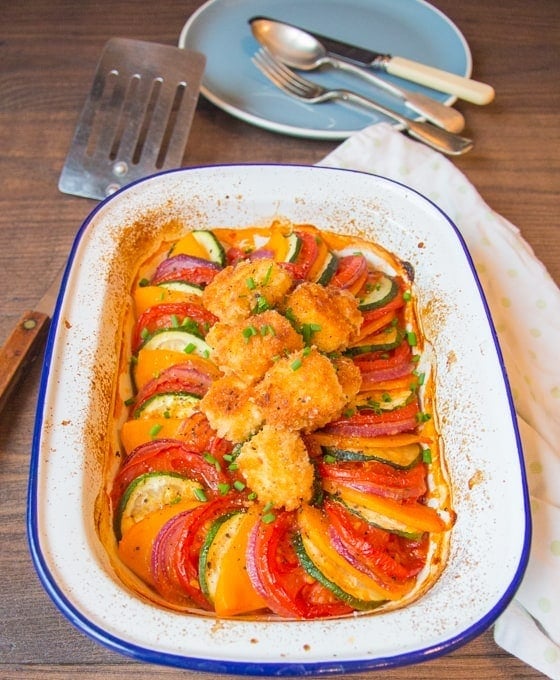 Now, a couple of tips.
Try to make sure your pieces of veg are approx. the same size.  This will ensure they cook evenly (and look pretty of course!).  A mandolin is a great advantage in getting your veg sliced evenly and quickly.  Just please be careful and use the guard.  Ever since I chopped a tiny bit of my finger off many years ago I've been a bit of a wuss about these things.  If you do have a mandolin, then you've got to try it out making skinny fries from this recipe too. Yumm! ok that tip went a bit off track……sorry!
It's a good idea to place your feta in the freezer for about 15-20 mins before you chop it into chunks.  This ensures you get a cleaner cut without it crumbling to pieces whilst you're cutting.  Even better, wipe your knife down after every couple of slices too.
You will have some leftover bits and pieces of veg.  Boil them up with some stock and a few red lentils for a lovely soup.
Finally, make a double batch of the sauce, and add a bit of chopped chilli into the second batch for a great dip for prawns or chicken.
Ok, now for the recipe…
The Ratatouille with Feta Croutons Recipe:
Ratatouille with Feta Croutons
Tomatoes, courgette, butternut squash and red onion all nestled together on a little bubbling river of thick garlicky tomato sauce. Ratatouille with Feta Croutons turns this into an amazing tasty vegetarian lunch! Juicy veg with hearty flavours, finished off with crispy little cubes of feta.
Print
Rate
Ingredients
The Sauce
1

tsp

olive oil

1

small onion

peeled and chopped finely

2

cloves

garlic

peeled and crushed

1/2

a red pepper

chopped finely

1

tbsp.

tomato puree/paste

3/4

400g/14oz tin of chopped tomatoes

1

tsp

sugar

a

pinch

of salt and pepper
The Veg:
1

red onion

peeled

1/2

a small butternut squash

peeled, sliced in half lengthways (seeds discarded)

1

large courgette/zucchini

4

large tomatoes

1

tbsp

olive oil

a

pinch

of salt and pepper
The Feta Croutons:
200

g

(7oz) pack of feta

chopped into cubes (see tip re: freezing for 15-20 mins before chopping)

3

tbsp

plain flour

1/4

tsp

paprika

1

egg

6

heaped tbsp

panko breadcrumbs

or use slightly stale grated bread

A good pinch of black pepper

3

tbsp

olive oil

A few chives for garnish
Instructions
First make the sauce. Heat up the oil in a frying pan and add in the chopped onion, fry for about 5 minutes on a medium heat until the onion is starting to go translucent. Next add in the garlic and red pepper and give everything a stir. Then add in the tomato puree and mix it into the veg. Finally add in the chopped tomatoes, sugar and a pinch of salt and pepper. Give everything a stir, bring it to the boil then turn down and let it bubble gently and thicken for 10-15 minutes whilst you chop the veg. Once cooked you can leave the sauce a little chunky like this, or if you prefer you can use a hand chopper to whizz the sauce and make it as smooth as you like (I gave mine a very quick pulse with my hand chopper)

Preheat your oven to 190c. Using a mandolin or a food processor, slice the onion, butternut squash, courgette/zucchini and tomatoes into thin slices (approx. 1/10 of an inch). Take a deep, retangular oven dish, and when the tomato sauce is ready, pour the sauce into the oven dish. Layer the veg slices on top alternating between the different veg. Try to lie them at a slight angle and layer around the edge of the dish first in a large hoop. Then layer two lines of veg in the gap in the middle so that the whole dish is covered. Drizzle on the 1 tbsp. olive oil and sprinkle on a good pinch of salt and pepper. Cover the dish in foil (try not to let the foil touch the veg) and cook 30 minutes. Then take the foil off and cook uncovered for another 15 minutes.

Whilst the ratatouille is in the oven, prepare your feta croutons. Take two plates and one shallow bowl. Mix the flour and paprika on one plate. Crack the egg into the bowl and gently whisk for a few seconds with a fork. Mix the breadcrumbs and black pepper on the other plate. Dip each piece of feta in turn into the flour, egg and finally the breadcrumbs, shaking off any excess as you go. When the ratatouille is about 5 minutes from being ready, heat the oil in a large frying pan, then fry the feta croutons on a medium heat for about 5-6 mins, turning every minute or two until golden and crisp on all sides. Drain the feta on a piece of kitchen paper. You may have to cook the feta in two batches. If so, drain on kitchen paper, and place in the oven for a couple of minutes to keep warm.

Take the rataouillie out of the oven, leave to cool slightly for a couple of minutes, then pile the feta croutons on top. Garnish with a few chopped chives and serve!
Recipe Notes
Tip: Any leftover ratatouille can be quickly cooled, wrapped and refrigerated to eat the next day. Reheat in the microwave or covered in the oven until piping hot throughout.
Nutritional Information
Nutrition Facts
Ratatouille with Feta Croutons
Amount Per Serving (581 g)
Calories 479
Calories from Fat 251
% Daily Value*
Total Fat 27.9g 43%
Cholesterol 91mg 30%
Sodium 625mg 26%
Potassium 1265mg 36%
Total Carbohydrates 46.5g 16%
Protein 15.5g 31%
* Percent Daily Values are based on a 2000 calorie diet.
<
p style="text-align: center;">Nutritional info obtained from caloriecount.about.com