Turn your ratatouille into a complete meal! My Easy Ratatouille with Feta Croutons completely hits the spot! Tomatoes, courgette, butternut squash and red onion all nestled together on a little bubbling river of thick, rich tomato and pepper sauce, then topped off with crispy, cheesy bites. Plus I've got a great idea for those leftover ratatouille veggies!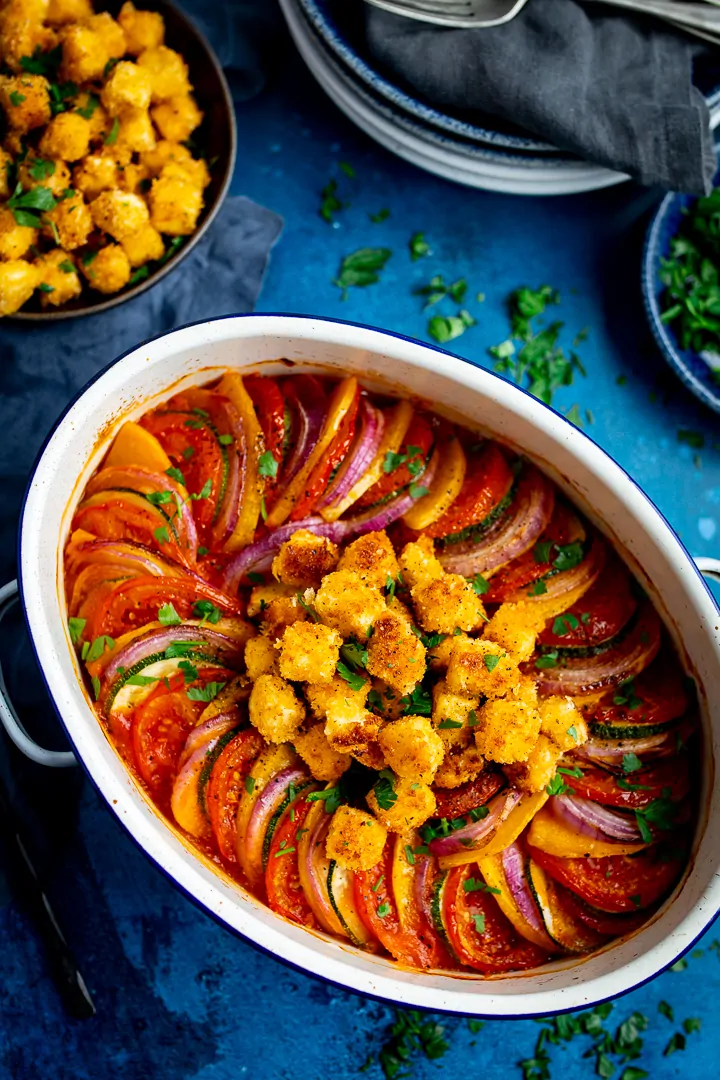 Definitely more homely looking than the Ratatouille recipe served up on the movie, but oh my, it's very very tasty!
That ratatouille in itself is a tasty meal, but I still haven't got out of the mind-set of thinking of veg as a side dish.  I'm training myself slowly.  So I decided to go for some lovely salty feta to add a bit of tang.
Cold feta just wouldn't have been right, so I gave it a breadcrumb coating and shallow fried it until it was golden and crispy on the outside, and just slightly soft on the inside.  Perfect combination for the ratatouille! It turns a vegetable-rich probably side dish into a full and satisfying dinner.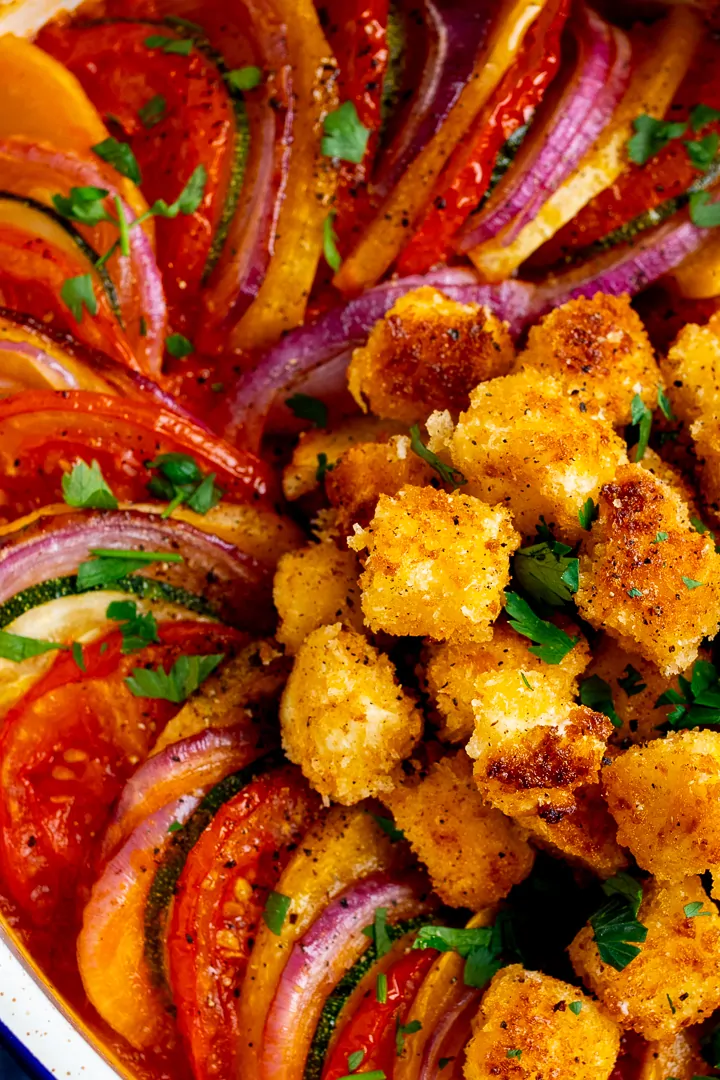 And that sauce was so good I made another batch of it (with the addition of a chilli pepper) to go with some coconut prawns for the following day.
Start making the sauce by frying onions, garlic and red pepper. Then mix in tomato puree, and add in tinned tomatoes, sugar and a pinch of salt and pepper. Simmer for 10-15 minutes, then cool slightly, transfer to a jug and lightly blitz with a hand blender.
Spread the sauce onto the base of a deep baking dish, then arrange those veggies on top:
Drizzle with a little oil and sprinkle on a little salt and pepper, then cook in the oven until tender and lightly browned.
Whilst the ratatouille is cooking, coat chunks of feta in flour, egg and seasoned breadcrumbs.

Then fry in a little oil until you get crisp, golden cheesy nuggets.

Top the cooked ratatouille with the feta croutons and serve.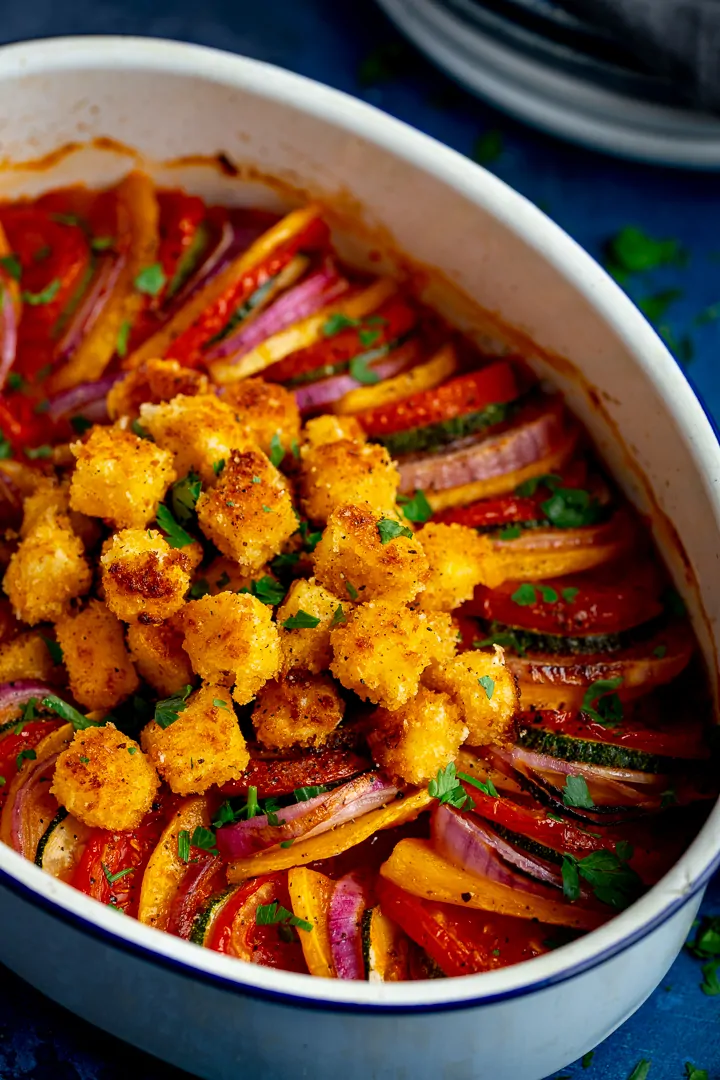 Tips for the perfect ratatouille:
Try to make sure your pieces of veg are approx. the same size.  This will ensure they cook evenly (and look pretty of course!).  A mandolin (<-- affiliate link) is a great advantage in getting your veg sliced evenly and quickly.  Just please be careful and use the guard.  Ever since I chopped a tiny bit of my finger off many years ago I've been a bit of a wuss about these things (btw, if you do have a mandolin, then you've got to try it out making skinny fries from this recipe too).
Cook the ratatouille in the oven with foil on first (don't let the foil touch the veggies or it may stick), then remove for the last 15 minutes of cooking. This stops the ratatouille from drying out, and ensures it's perfectly lightly browned on top.
Let it cool a little before serving. The flavours are more pronounced when the ratatouille isn't piping hot.
For the feta crouton topping: It's a good idea to place your feta in the freezer for about 15-20 mins before you chop it into chunks.  This ensures you get a cleaner cut without it crumbling to pieces whilst you're cutting.  Even better, wipe your knife down after every couple of slices too.
Even better than that, buy those little tubs of feta that have already been cut into cubes - that's what I did last time I made it and it works a treat.
What can I make with any leftover bits of vegetables from my ratatouille?
I love to boil them up with some stock and a few red lentils for a lovely vegetable soup. If you have a few bits of cooked vegetables and feta leftover, you can arrange them on top of the soup too.
Make extra sauce!
Make a double batch of the sauce, and add a bit of chopped chilli into the second batch for a great dip for coconut prawns or fried ravioli.
Can you eat Ratatouille cold?
Yes! It makes a great picnic food or lunch box filling served cold. Personally I prefer leftovers served at room temperature, so I take it out of the fridge about an hour before serving leftovers.
Can I freeze Ratatouille?
You can freeze ratatouille, but I'd recommend just cooking it (covered with foil) for approx 20 minutes, before cooling, covering and freezing. Then defrost in the refrigerator overnight and reheat covered, in the oven for approx 30-35 minutes. Take the foil off for the last 15 - 20 minutes of cooking.
Only par-cooking the ratatouille will help prevent the vegetables from becoming soggy when you reheat.
If you're wanting to freeze leftovers - which have been fully cooked, you can do this too, but you may find the veggies are softer when you reheat them. If you find they're too soft for your liking, you could always transfer the contents to a heat-proof blender and whizz up for a delicious soup.
Is feta cheese vegetarian?
Not all feta cheeses are vegetarian - some use animal rennet in the cheese making process. However, vegetarian (animal rennet-free) feta cheese is widely available, so check your brand if you want a vegetarian version.
More Vegetarian Main Meals:
The Ratatouille with Feta Croutons Recipe:
Ratatouille with Feta Croutons
Ratatouille doesn't have to be a side dish! Delicious veggies nestled on a rich tomato and pepper sauce, topped off with crispy cheesy bites.
Ingredients
The Sauce
1

tsp

olive oil

1

small onion

-

peeled and chopped finely

2

cloves

garlic

-

peeled and crushed

½

a red pepper

-

chopped finely

1

tbsp.

tomato puree/paste

14

oz

(400g) tin of chopped tomatoes

1

tsp

sugar

a

pinch

of salt and pepper
The Veg:
1

red onion

-

peeled

½

a small butternut squash

-

peeled, sliced in half lengthways (seeds discarded)

1

large courgette/zucchini

4

medium tomatoes

1

tbsp

olive oil

a

pinch

of salt and pepper
The Feta Croutons:
7

oz

(200g) tub of cubed* (see tip 1) feta

-

- Use a vegetarian brand if required

3

tbsp

plain (all purpose) flour

1

egg

6

heaped tbsp

panko breadcrumbs -

or use slightly stale grated bread

½

tsp

paprika

A good pinch of black pepper

3

tbsp

olive oil

1

tbsp

chopped fresh parsley
INSTRUCTIONS
First make the sauce. Heat up the oil in a frying pan (skillet) over a medium-high heat and add in the chopped onion. Fry for about 5 minutes until the onion softens.

Add in the garlic and red pepper and give everything a stir. Then add in the tomato puree and mix it into the veg. Finally add in the chopped tomatoes, sugar and a pinch of salt and pepper. Give everything a stir, bring it to the boil then turn down and let it bubble gently and thicken for 10-15 minutes.

Once the sauce is cooked, you can leave the sauce a little chunky like it is, or if you prefer, you can use a hand blender to whizz the sauce and make it as smooth as you like (I give mine a very quick pulse with my hand blender). If blending, leave the sauce to cool and little, then transfer to a blender jug, so the sauce doesn't splash when blending.

Preheat your oven to 190C/375F. Using a mandolin or a food processor, slice the onion, butternut squash, courgette/zucchini and tomatoes into thin slices (approx. 1/10 of an inch thick).

Take a deep, rectangular, oval or round oven dish, and when the tomato sauce is ready, pour the sauce into the oven dish.

Layer the veg slices on top alternating between the different veg. Try to lie them at a slight angle and layer around the edge of the dish first in a large hoop. Then layer two lines of veg in the gap in the middle so that the whole dish is covered.

Drizzle on the 1 tbsp. olive oil and sprinkle on a good pinch of salt and pepper. Cover the dish in foil (try not to let the foil touch the veg) and cook 30 minutes. Then take the foil off and cook uncovered for another 15 minutes.

Whilst the ratatouille is in the oven, prepare your feta croutons. Take two plates and one shallow bowl. Place the flour on one plate. Crack the egg into the bowl and gently whisk for a few seconds with a fork. Mix the breadcrumbs, paprika and black pepper on the other plate.

Dip each piece of feta in turn into the flour, egg and finally the breadcrumbs, shaking off any excess as you go.

When the ratatouille is about 5 minutes from being ready, heat the oil in a large frying pan, then fry the feta croutons on a medium-high heat for about 5-6 mins, turning every minute or two until golden and crisp on all sides. Drain the feta on a piece of kitchen paper. You may have to cook the feta in two batches. If so, drain on kitchen paper, and place in the oven for a couple of minutes to keep warm.

Take the rataouillie out of the oven, leave to cool slightly for a few minutes, then pile the feta croutons on top. Garnish with chopped parsley and serve!
✎ Notes
*  Tip 1:
If you can't find ready- cubed feta, buy a block of feta and freeze for 30 minutes, before slicing into ½" cubes. Wipe the knife in between each slice to help prevent the feta from crumbling. Nutritional Information is per serving.
Nutrition
Serving:
581
g
Calories:
446
kcal
Carbohydrates:
40
g
Protein:
14
g
Fat:
28
g
Saturated Fat:
10
g
Cholesterol:
85
mg
Sodium:
730
mg
Potassium:
1214
mg
Fiber:
7
g
Sugar:
17
g
Vitamin A:
12126
IU
Vitamin C:
78
mg
Calcium:
368
mg
Iron:
4
mg
This post was first published in September 2014. Updated in August 2019 with new photos and tips. No change to the recipe - it's perfect!
Some of the links in this post may be affiliate links – which means if you buy the product I get a small commission (at no extra cost to you). If you do buy, then thank you! That's what helps us to keep Kitchen Sanctuary running. The nutritional information provided is approximate and can vary depending on several factors. For more information please see our Terms & Conditions.