A crumbly pastry base, topped with juicy poached peaches and a squidgy-but-slightly chewy frangipane topping.  This Peach and Almond Tart is divine.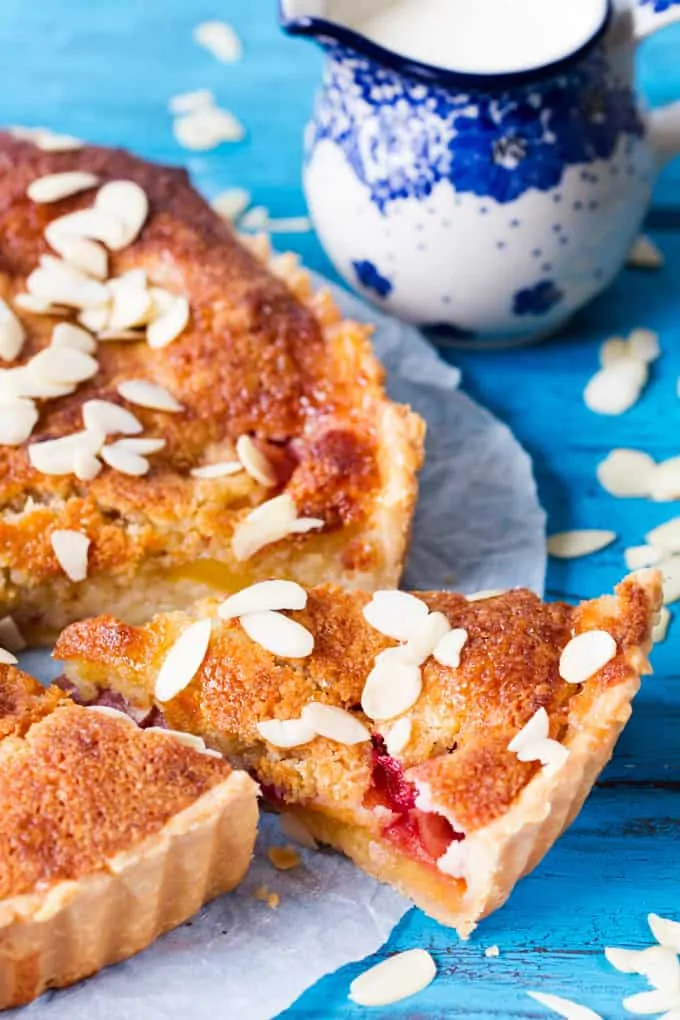 Every time I make this for dessert, I always have to make an extra mini tart.
Why?
Because once it's comes out of the oven, the gorgeous almondy smell draws us in and we have to have some straightaway.
That mini-tart prevents a shameful presentation of a half-eaten peach tart after dinner.
I encourage you to do the same.
Just sayin.
We're starting to see a lot of peaches in the shops in the UK now.  Whilst most of them are good, I still keep finding myself with punnets of rock hard ones.
If you find you have the same problem, then this is a fabulous recipe to use them up, whilst adding juicy, sweet flavour to them.
If your husband accidently comes home with a punnet of nectarines, instead of peaches, then this recipe works for them too.
Yes, there a couple of stray nectarines in my tart!

I first starting making this recipe a couple of years ago.  It was based on a Peach Tart recipe from the BBC Good Food website, which seems to have disappeared.
I've adapted the original recipe a little over the years.  The main one being that I no longer bother to make my own sweet pastry for the base.  Sometimes life just feels too short to make your own pastry.
You can also swap out the peaches/nectarines for plum or apricots, even stoned cherries would work.  I wouldn't bother to poach the cherries though.

Thinking about it, that would actually be a shame as that would mean no leftover poaching liquor to turn into cocktails.
Serve with homemade custard or cream.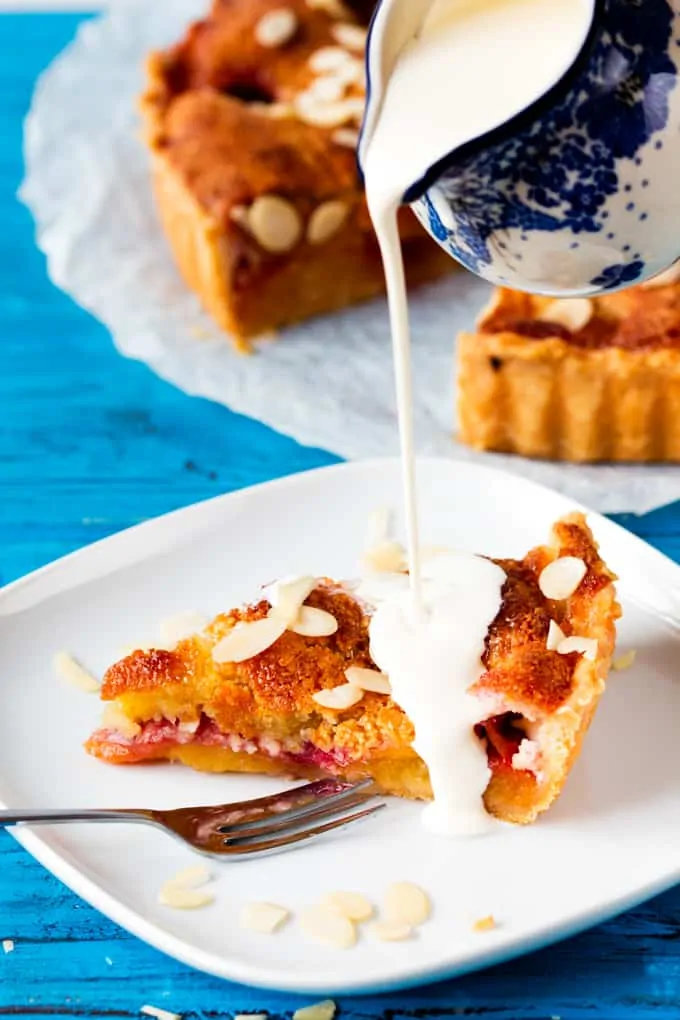 The Peach and Almond Tart Recipe: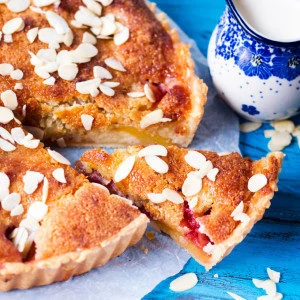 Peach and Almond Tart Recipe
Peach and Almond Tart - so good served warm with a glug of thick cream.
Ingredients
640

g

ready-rolled short crust pastry

-

(2x 320g/11.25oz rolls)
Peaches:
8

peaches

-

sliced in half with stones removed (make sure they're not too ripe or you won't be able to remove the stone)

200

g

golden caster sugar

240

ml

boiling water from the kettle

1

vanilla pod

-

cut in half lengthways (or 1 tsp vanilla extract)

2

tbsp

Amaretto
Frangipane:
120

g

unsalted butter, softened

130

g

golden caster sugar

2

large eggs

120

g

ground almonds (almond meal)
To finish:
2

tbsp

apricot jam or rindless marmalade

2

tbsp

flaked Almonds

Thick cream to serve.
INSTRUCTIONS
Preheat the oven to 190c/375f. Place the peaches cut side-down in a large oven-proof dish. Mix the caster sugar, boiling water, cut vanilla pod and amaretto in a jug until the sugar has dissolved, then pour the mixture over the peaches. Cover the dish with tinfoil and cook in the oven for 20 minutes (5 minutes longer if your peaches are really hard). Take out the oven, remove the foil and leave to cool in the dish.

For the frangipane, place the butter and sugar in a large bowl and beat it together with a wooden spoon for a couple of minutes – until it goes paler. Stir in the eggs until mixed, then stir in the ground almonds. Place in the fridge until you're ready to use it.

Once the peaches have cooled, turn the oven down to 160c/320f. Line a 30cm flan tin with the short crust pastry. Trim the edges until they're flush with the edge of the pan (I needed two sheets to cover the whole tin completely).

Take one of the peaches out of the cooking liquor and dab is slightly on a kitchen towel to remove excess moisture. Place, cut side down in the uncooked pastry case. Repeat with the remaining peaches. You can discard the cooking liquor (or save it in a clean jar - it makes a great cocktail with some vodka, ice and lemonade/soda water…..).

Once all the peaches are arranged in the pastry case, use a teaspoon to dot blobs of the frangipane around the peaches – make sure you use it all.

Place in the oven to cook for 45-55 minutes – until dark golden brown.

Take out of the oven and leave to cool for 10 minutes. Then place the apricot jam or marmalade in a bowl with a teaspoon of water and microwave it for a few second to loosen it up. Give it a mix, then brush it all over the tart. Sprinkle the almonds on top, then remove from the flan case and serve with thick cream.

Serve warm or cold – it tastes amazing either way.
✎ Notes
Nutritional Information is per Serving, without the serving suggestion of thick cream.
Nutrition
Calories:
552
kcal
Carbohydrates:
81
g
Protein:
9
g
Fat:
21
g
Saturated Fat:
7
g
Cholesterol:
58
mg
Sodium:
326
mg
Potassium:
244
mg
Fiber:
4
g
Sugar:
43
g
Vitamin A:
650
IU
Vitamin C:
6.3
mg
Calcium:
51
mg
Iron:
3
mg