Only five ingredients needed for this Easy Strawberry and Rhubarb Sorbet. No churn, refined sugar free and gluten free too!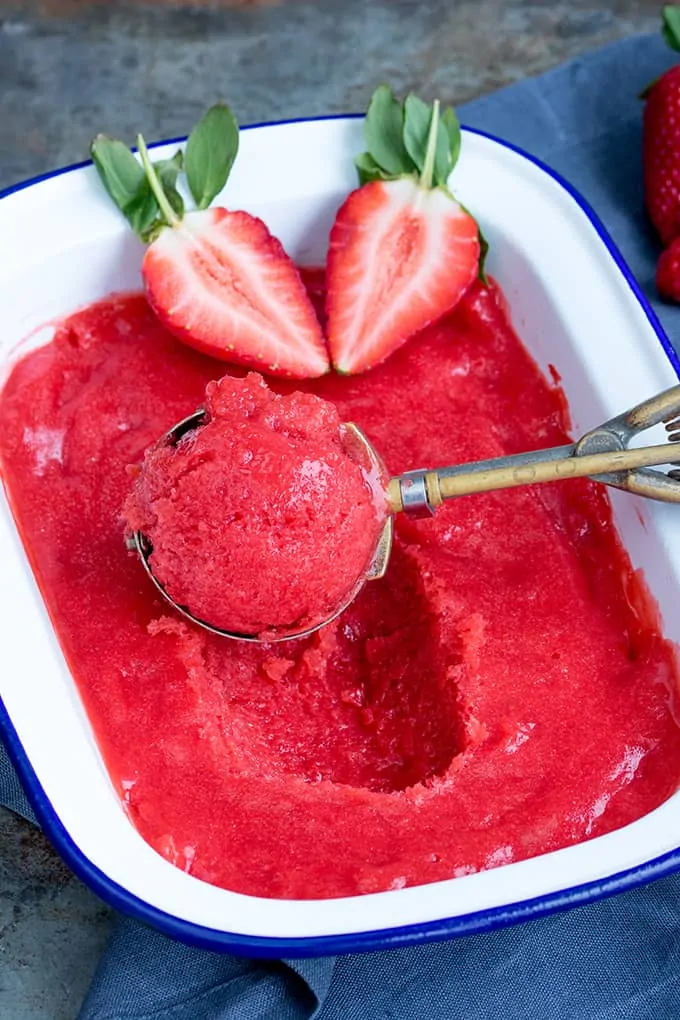 Look at that colour! You'd think I'd added half a bottle of food colouring and a mountain of sugar - but this whole tin of sorbet only contains 4 tablespoons of honey for sweetness.
The honey is added to counteract the tartness of the rhubarb. The rest of the sweetness comes from beautifully ripe, sweet strawberries. I do kind of like my sorbet to have a bit of a zing to it, so it also includes a squeeze of fresh lime juice. You could leave it out and reduce the honey slightly, but I find it adds an extra flavour dimension.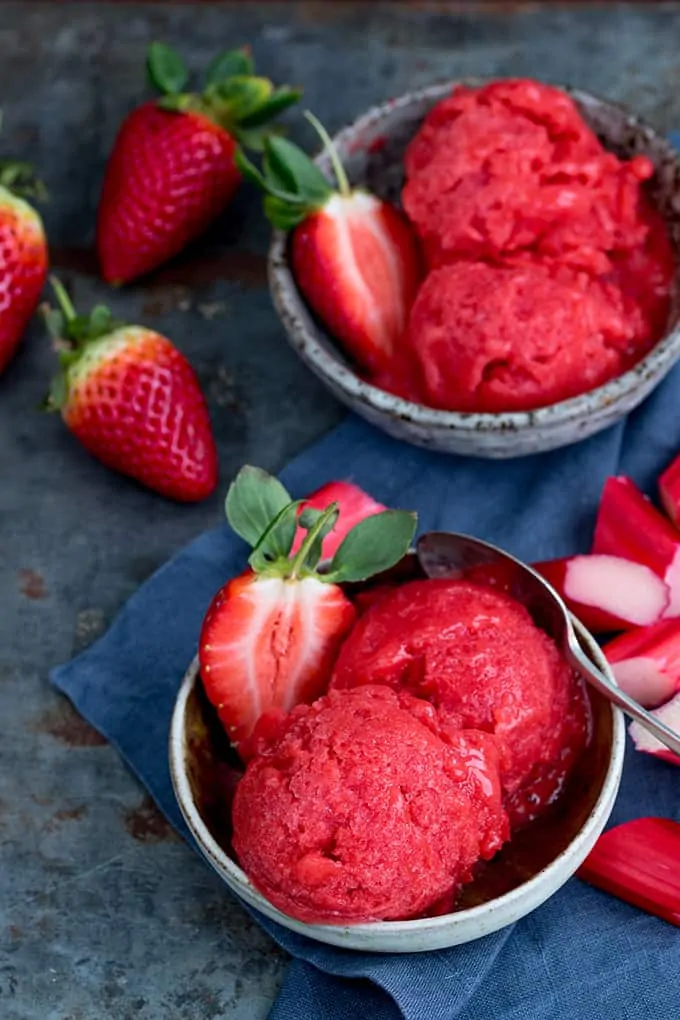 Aside from that, I only add in a splash of water. That's it - 5 ingredients for a yummy and pretty-good-for-you dessert.
I'm not keen on giving it the 'healthy' label - these days it's hard to say what's actually healthy and what isn't....
There are those who add superfood-type ingredients to a recipe (like chia seeds and avocado to cakes), whilst still leaving some of the naughtier ingredients in there.
Then there are those who replace some naughtier ingredients with superfood-type ingredients (like replacing refined sugar with bananas, dates or raw honey).
And then there are those who use only superfood-type ingredients, and other unprocessed/organic/nutrient-rich ingredients in their recipes.
I probably fall into category one and two sometimes, and occasionally 3.
In my opinion, a good balance of different food groups (including treats!) is the best approach for body and mind. Of course I could just be saying that because I ate a couple of Oreos whilst writing this, and I'm making excuses for being naughty ????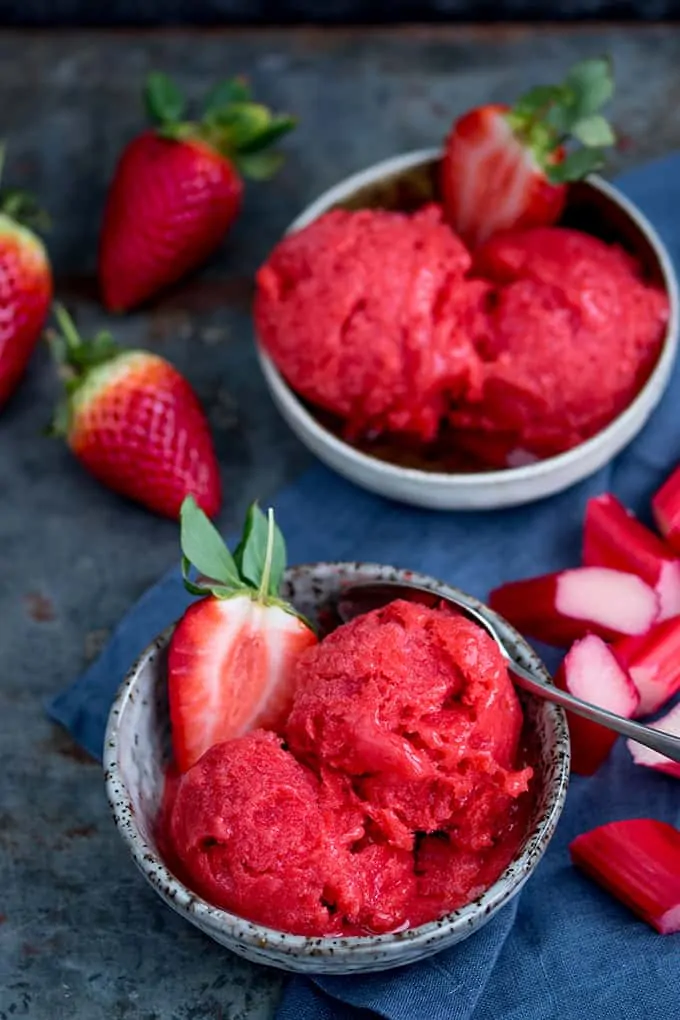 But coming back to the sorbet - it does taste like a treat! I think that's a bonus if it happily replaces a bar of chocolate or a brownie for a snack. I'm going to take these little wins when I can.
It does taste rather good scooped and dropped into a glass of prosecco too. Just sayin....
Easy Strawberry and Rhubarb Sorbet Recipe:
Easy Strawberry and Rhubarb Sorbet
Only five ingredients needed for this Easy Strawberry and Rhubarb Sorbet. No churn, refined sugar free and gluten free too!
Ingredients
3

medium stalks fresh rhubarb

-

washed and chopped

4

tbsp

honey

4

tbsp

water

400

g

14oz chopped strawberries

Juice of ½ a lime
INSTRUCTIONS
Place the rhubarb into a pan with the honey and water. Bring to the boil, then place a lid on the pan and simmer for 10 minutes.

Add in the strawberries and simmer for a further 10 minutes then remove from the heat and stir in the lime juice. Carefully blend the mixture, using a stick blender.

Pass the mixture through a sieve to remove the strawberry seeds, and pour into a freeze-proof container (a bread tin works well).

Freeze for one hour, and then stir. Freeze for a further 2 hours, stirring every 20-30 minutes to break up large chunks of ice.

You can serve at this point. If storing the freezer for another time, take out of the freezer 15 minutes before serving to let it soften slightly.
✎ Notes
Nutritional Information is per serving.
Nutrition
Calories:
51
kcal
Carbohydrates:
13
g
Sodium:
2
mg
Potassium:
137
mg
Fiber:
1
g
Sugar:
11
g
Vitamin A:
20
IU
Vitamin C:
30.9
mg
Calcium:
24
mg
Iron:
0.3
mg