Halloween 'Scream Cheese' - a fun take on the party food from Hotel Transylvania.  It doesn't actually contain cheese, but the kids will get it straightaway!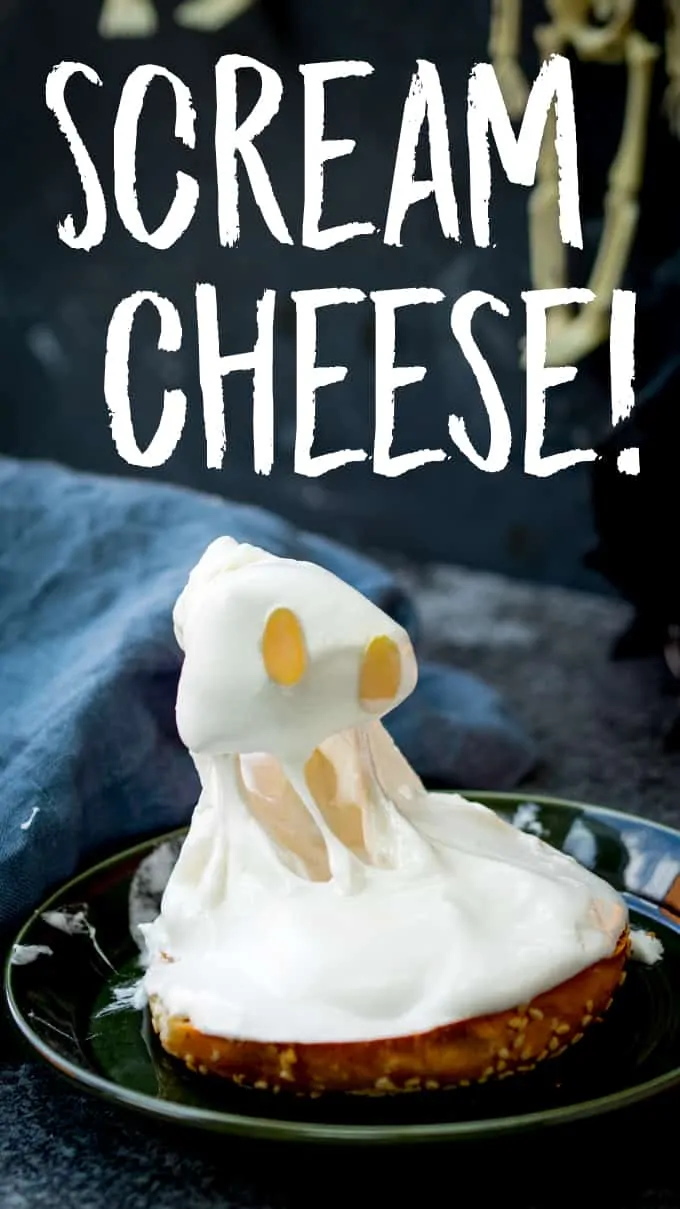 A totally silly recipe today. In fact it's not really a recipe - having only 3 ingredients, but I couldn't resist sharing it for a bit of fun.
I've been making a few Halloween recipes recently, and having asked the kids to 'name a food from a spooky/Halloween kid's movie' - they both immediately said 'SCREAM CHEESE from Hotel Transylvania!'
Here's our little version (thanks to Gracey for the sound effects!!):
I do kind of love that scene in the movie, so I did a little research, and there wasn't really anything out there on how to make a scream cheese bagel! A few cupcakes, a couple of cheese sculptures, but nothing that you could actually move to make it look like it's screaming.
So I set to work in the kitchen.
Mozzarella was the first and obvious choice, but I found you needed rather a lot of mozzarella, and it needed to be pretty hot and melty to make it stretchy enough for a scream. Too much cheese for the kids to manage, and too hot to handle without burning oneself. Plus it just didn't look right.
I  also tried to make little structures cut out of bread or bagel with cheese melted on top....
Nope that looked totally pants too.
So I decided to cross cheese off altogether and go with marshmallow!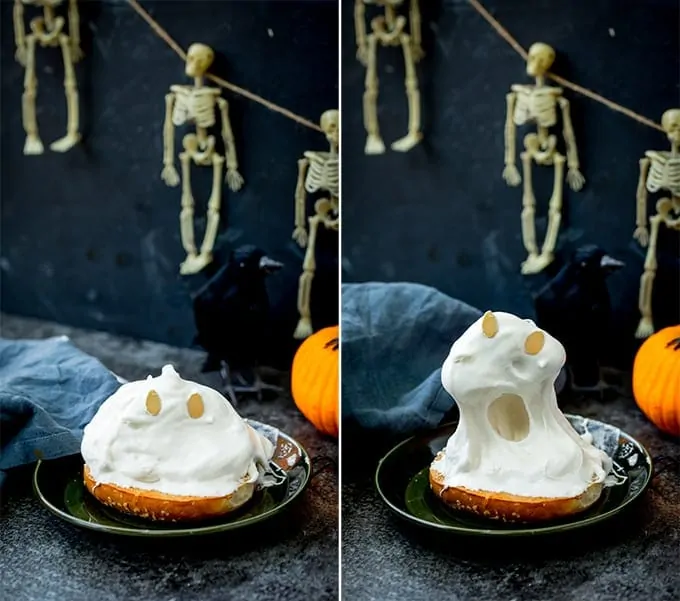 You need to melt 2-3 giant marshmallows on top of half a toasted bagel, and then let it cool enough to handle safely before going for the scream.
The head of the little monster is a little cut out triangle of bagel that's been wedged under the marshmallow. Flaked almonds are used for eyes. You can then use a fork in the back to lift the head up and down.
Be warned, it can get a little messy! You will have fingers and hands covered in sticky marshmallow. Not that the kids complained AT ALL.
It's a little fiddly, and not the easiest thing to get the perfect scream, but when I tried it out on the kids, they thought it was hilarious, and felt rather spoilt, being able to have marshmallow bagels for breakfast.
A 5 minute 'recipe', a bit of mess, and a lot of fun. I'm calling that a success, evening without the cheese 🙂
Halloween Scream Cheese Recipe:
Halloween Scream Cheese. Umm.....minus the cheese
Halloween 'Scream Cheese' - a fun take on the party food from Hotel Transylvania. It doesn't actually contain cheese, but the kids will get it straightaway!
Ingredients
1

bagel

-

sliced in half and toasted

2

giant white marshmallows

2

almond flakes

-

replace with dried cranberries or pine nuts if you like
INSTRUCTIONS
Place the bottom half of the toasted bagel on a small plate.

Take the top of the bagel, and cut a wedge out of it (basically cut the bagel top into quarters. You need one for the head, so you can eat the rest). Put to one side

Place 2 giant marshmallows on top of the bagel and place in the microwave.

2 giant white marshmallows

Heat on high for approx 20-30 seconds. Watch the marshmallow whilst it's being microwaved. When it's doubled in size it's ready.

Remove from the microwave and leave to cool for a minute, then stick a fork in the little bagel wedge - with the pointy bit sticking upwards.

Use a knife to manoeuvre the bagel wedge under most of the melted marshmallow. Place the two almond flakes on top for eyes, then lift your fork up and down, stretching the marshmallow, so it appears to scream.

Note, it took me a couple of attempts to get a decent-looking scream face :-).
✎ Notes
Nutritional Information is per serving.
Nutrition
Calories:
397
kcal
Carbohydrates:
87
g
Protein:
10
g
Fat:
1
g
Sodium:
42
mg
Potassium:
106
mg
Fiber:
2
g
Sugar:
35
g
Calcium:
19
mg
Iron:
1.4
mg