These delicious Gooey Rolo Stuffed Cookies are soft chewy cookies with a gooey Rolo center. Oh, and let's drizzle with some more chocolate. Can't have too much chocolate now...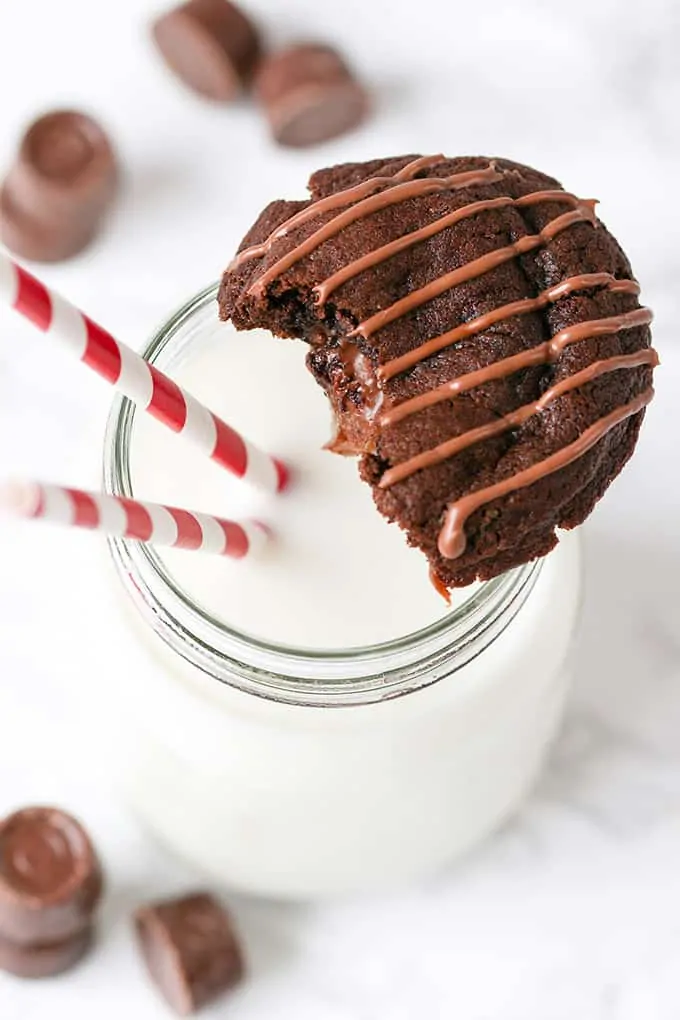 On their own, eaten from the pack in front of the TV, Rolos are admittedly pretty awesome. Baked inside chocolate cookies though? There is no better way to eat them!
These Gooey Rolo Stuffed Cookies are soft chewy cookies that taste delicious from the first bite, just get better as you nibble your way right through to the gooey center.
I posted these cookies first for DIYs.com back in January and I tell you now, I really could have done with a few more of them this afternoon!
So, it's my birthday today. 37 years old. Or 'in my late thirties' as my husband likes to tease me.
I spent the first part of the morning convinced I was 38. I actually had to work out the numbers before I came to the realization that I was in fact 37.
Not knowing your own age is a sure sign you're getting old isn't it?
I gave myself a few hours off today and enjoyed buttered crumpets and junky TV for the morning before getting on with some work. Then I ran out of the house to pick up the kids from school.
Literally one second after slamming the door shut, I realised I didn't have my keys. No house keys, no car keys.
and it was raining.
How can may brain have gotten this bad since yesterday???
Fortunately my buddy Sally came to the rescue (thanks Sal) and picked up the kids for me. I had to ring Chris at the office to get him to come home with the spare set of keys. On picking up his phone, he managed to spill his cup of tea all over the desk, and onto the plug sockets - tripping the electrics for his desk and one of his co-workers.
I'm thinking the world just wanted me to stay in bed today with a large plate of these Gooey Rolo Stuffed Cookies!
Fortunately the day was redeemed by a lovely meal out with Chris and the kids!
So let's get off the subject of ageing and standing outside your house looking like a weird stalker until someone comes home to let you in.....
Let's talk cookies.
The rolo itself flattens slightly inside the cookie as it bakes, but the caramel centre stays together ensuring a perfect little puddle of chewiness.
Chilling the cookie dough balls isn't absolutely necessary, but doing so will result in a more flavourful cookie that spreads less on the baking sheet.  Have a look here at my fascinating Cookie Experiment to see what happens to cookie dough under different conditions.
You can even make the cookie balls ahead and freeze them – which is perfect when you feel like a sweet treat - as they can be cooked individually any time that chocolate craving strikes!
Which is pretty much every day in my case.
I mean look at that gooeyness! How am I ever going to lose those 10lbs with cookies like these Gooey Rolo Stuffed Cookies tempting me.
Actually, I may have to refrain for a while. I decided to get off my butt and hire myself a personal trainer for 10 weeks - starting next week.
Don't worry, the plan isn't to post only quinoa salads and cabbage soup for 10 weeks. I'm going to be good, but in a sustainable way, and with a few treats.
I've also got about 2kgs of birthday chocolate to get out of the way before then (hmmm that's probably the wrong attitude isn't it...).
The Gooey Rolo Stuffed Cookies Recipe: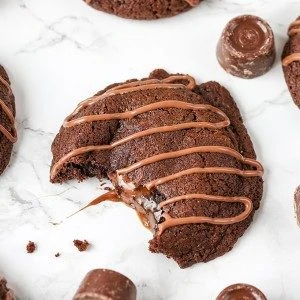 Gooey Rolo Stuffed Cookies
Chewy Chocolate cookies with a gooey Rolo centre!
Ingredients
180

g

unsalted butter

-

very soft but not melted

210

g

light brown, soft sugar

1

large egg

1

egg yolk

1

tsp

vanilla extract

240

g

all-purpose flour

6

tbsp

unsweetened cocoa powder

-

sifted

2

tsp

instant coffee granules

1

tsp

baking soda

1.5

tsp

cornflour/cornstarch (if you're in the US)

½

tsp

salt

22

Rolos

50

g

semi-sweet chocolate

-

melted
INSTRUCTIONS
In a large bowl, beat together the butter and sugar until well mixed. Add in the egg, egg yolk and vanilla extract and mix again until combined.

Add the flour, cocoa powder, coffee granules, baking soda, cornflour and salt and mix together using a wooden spoon, then prepare 3 large baking trays by lining them with baking parchment or a silicon mat.

Scoop out a heaped tablespoon of the cookie dough, roll into a ball, then squash it flat. Place a Rolo in the middle, then wrap the cookie dough around the Rolo. Roll back into a ball shape and place on the tray. Repeat until all of the mixture is used up (you can put them all on one tray at this point). You should get 20-22 cookies. Place in the refrigerator to chill for at least 2 hours (they can stay in the refrigerator for up to two days like this, but cover them if you're leaving them in there for more than 2 hours).

When you're ready to bake the cookies, pre-heat the oven to 170C/325F. Divide the cookie dough balls between the three trays so there's plenty of space between each one. Place in the oven and cook for 7-8 minutes. Take out of the oven and leave to cool on the baking trays. When cool, drizzle or pipe melted chocolate over the top.
✎ Notes
Uncooked cookie dough balls can be frozen on a tray before being placed in a sealed bag in the freezer. Cook from frozen in the same way – just add an extra minute to the cooking time.
These cookies should last for 2 days stored at room temperature in a sealed container.
.
Nutritional Information is per cookie.
Nutrition
Calories:
200
kcal
Carbohydrates:
25
g
Protein:
2
g
Fat:
10
g
Saturated Fat:
6
g
Cholesterol:
38
mg
Sodium:
140
mg
Potassium:
85
mg
Fiber:
1
g
Sugar:
14
g
Vitamin A:
255
IU
Vitamin C:
0.1
mg
Calcium:
27
mg
Iron:
1.1
mg