Dough Balls with Creamy Spinach and Bacon Dip - great for parties, BBQs or a family lunch where everyone can dig in!
It's hot and I just want to sit in the garden all day and drink iced coffee.
I had so much work I wanted to do yesterday – mostly trying to get ahead on a few recipe posts because the kids are off school next week. In the end, I managed about 5% of what I set out to do.
If it was freelance work, with a deadline agreed with someone else, it would be a different story, but when I've got myself to answer too? Yeah, that sunny garden called to me all day.
And we've actually got a garden now! After all the house extension work, the garden was just a bit of a muddy, overgrown mess.
We finally managed to get rid of the big shed and other stuff that was taking up garden space, then this week was spent digging and levelling. The grass went down yesterday and the transformation is wonderful!
Chris was off work yesterday too (which doesn't help when I'm trying to motivate myself to work in the office). So I bunked off and we went to the garden centre to pick up plants and a cute little water feature.
I also spotted some gorgeous blue flower pot bases/saucers that I thought would make good plates for food photos (ALWAYS on the lookout for photo props!).
The day ended with a couple of cocktails (made with barbecued peach and whisky yum!) and a last minute BBQ. Totally perfect!
Except I'm now waaaay behind on everything!
Fortunately I had this recipe photographed and pretty much ready to go. An updated version of my dough balls, this one has bacon and spinach with two layers of warm, fluffy dough balls.
Perfect for sharing (just add a salad and plonk this in the middle of the table for everyone to share for dinner), it makes a great party appetiser or BBQ side dish.
The Dough Balls with Creamy Spinach and Bacon Dip Recipe: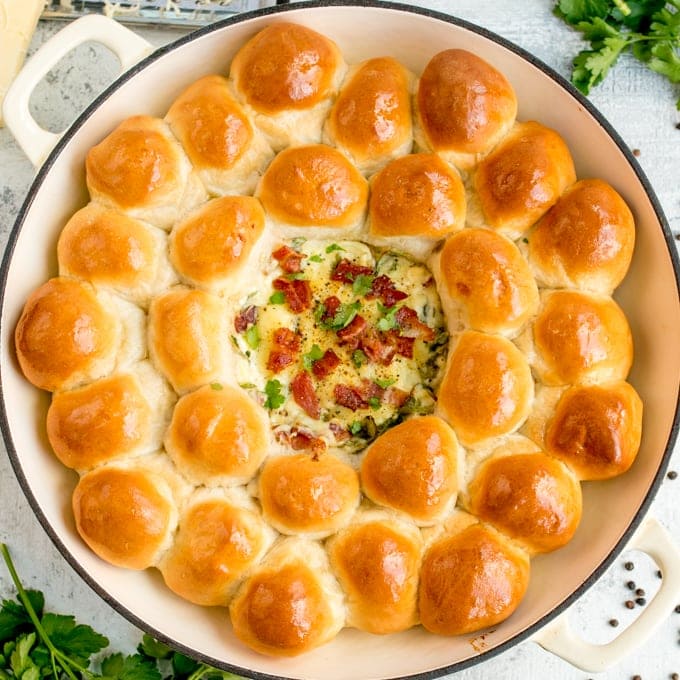 Dough Balls with Creamy Spinach and Bacon Dip
Dough Balls with Creamy Spinach and Bacon Dip - great for parties, BBQs or a family lunch where everyone can dig in!
Ingredients
Dough Balls:
500

g

strong white bread flour

10

g

salt

25

g

caster sugar

10

g

instant yeast

30

g

unsalted butter, softened

300

ml

warm (but not hot) milk

1

tbsp

vegetable or olive oil
Cheesy Bacon Dip:
200

g

cream cheese

100

ml

soured cream

2

cloves

garlic

-

peeled and crushed

120

g

mature cheddar cheese, grated

30

g

parmesan, grated

35

g

fresh baby spinach, washed and finely chopped

12

rashers cooked streaky bacon

-

chopped

pinch

of black pepper
Also:
1

tbsp

melted unsalted butter

Two sprigs of parsley

-

roughly torn
INSTRUCTIONS
Place the flour in a food mixer bowl with dough hook attachment. Add the salt and sugar to one side of the bowl, and the instant yeast to the other side (yeast and salt don't like to be in direct contact). Add in the butter and milk. Turn the mixer on to a medium speed and let it mix the dough ingredients, then let run for 7-8 minutes. The dough will be wet and sticky at first, but will be soft and smooth towards the end.

Wipe a little oil around the inside of a large bowl and transfer the dough to the bowl. Cover with clingfilm and allow to prove in a warm room for about an hour, until doubled in size.

Take a large, oven -proof dish or pan – approx. 30-35cm diameter. Place an oven-proof upturned bowl (approx. 10-12cm diameter) in the middle of the pan. Then lightly brush the outside of the bowl with a little oil – this will stop the doughballs from sticking to it.

Once the dough has doubled in size, turn it out onto a lightly floured surface and knock the air back out of it by folding it in on itself repeatedly. Divide the dough into small, equal size pieces, weighing approximately 30g each. Roll each portion into a ball. Arrange the dough balls around the small bowl in the centre. Leave a little bit of space between each ball so they can expand. Cover the dish in clingfilm and leave to prove for another 30-40 mins.

Preheat the oven to 190C/375F.

Make the dip by mixing together all of the dip ingredients, except 2 tbsp of the cheddar and 2 tbsp of the chopped bacon.

Once the dough has proved, carefully remove the bowl from the centre of the dish. Spoon the dip into the centre. Sprinkle with the reserved cheese and bacon.

Place the dish in the oven in the oven for 25-30 minutes until the buns and dip are golden. Take out of the oven and brush the melted butter on the rolls whilst they're still hot. Leave the dough balls to cool for 10 minutes before sprinkling on the parsley and serving.
✎ Notes
Nutritional Information is per serving.
Nutrition
Calories:
661
kcal
Carbohydrates:
73
g
Protein:
20
g
Fat:
31
g
Saturated Fat:
18
g
Cholesterol:
78
mg
Sodium:
1012
mg
Potassium:
289
mg
Fiber:
2
g
Sugar:
8
g
Vitamin A:
1380
IU
Vitamin C:
2.1
mg
Calcium:
315
mg
Iron:
4.3
mg