Creamy Eggs and Kale Breakfast - These Creamy breakfast eggs with kale are an easy one pot breakfast or lunch - ready in under 10 minutes. My absolute favourite grown-up version of  dippy eggs and soldiers.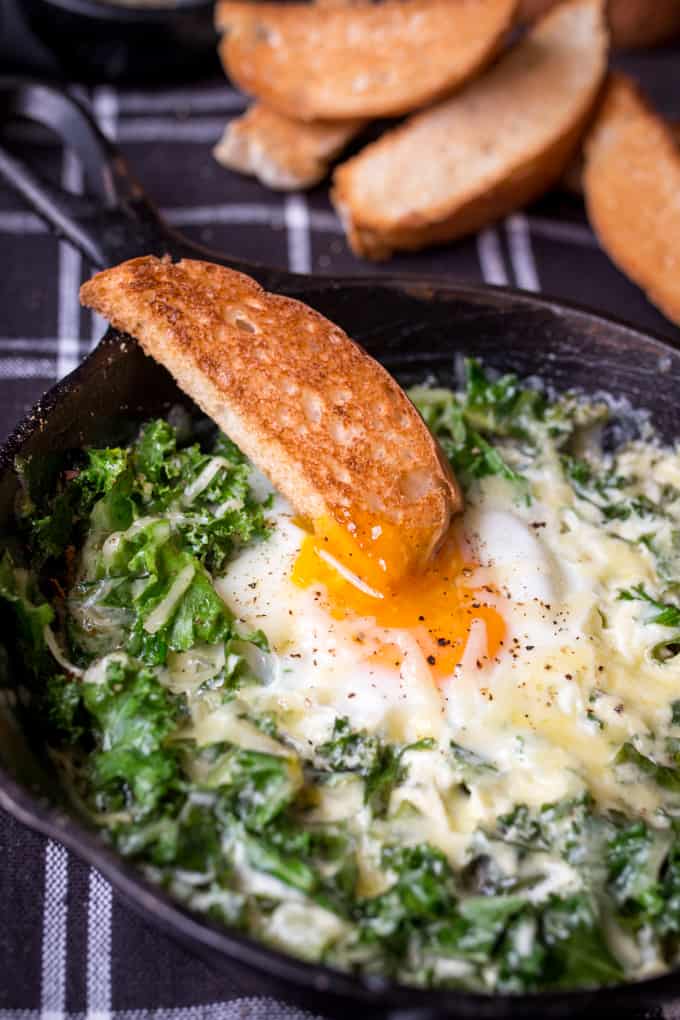 Cheesy, creamy kale, topped with a perfectly runny egg and pinch of seasoning.  Sound good? That sentence pretty much covered the whole ingredient list.  It's so easy that I make this at least once a week for lunch, and most of the time I don't even bother with the toast - instead I rely on the kale stalks for a bit of crunch.
Is that weird?
I love munching on the stalks.  You'd think I was some stick-thin health freak if you looked at my kale consumption alone.  I assure you I'm not.  I'm a chocoholic, cakeaholic, pastry-a-holic too, I just really really like kale.  In fact I wonder what chocolate covered kale would taste like........
Although very simple, this is actually my eggs and kale version 5.  My first time making this a few months ago, I tried to go down the 'en cocotte' route; baking the eggs in the oven.  I found the kale went crispy whether I sat the dish in a water bath (v1) or not (v2).
Version 3 simply involved adding more cream to help cover the kale.  Didn't really work though, it was a bit too much cream for breakfast, and the kale still went crispy.
Version 4 involved covering the pot in the oven.  This stopped the kale from going crispy, but also meant the egg took ages to cook - which left me with mushy, overcooked kale.
Then, after calling myself a few names for not being able to cook a stupid egg, I realised that using a pan would be a much easier way to control the heat.  Voila - version 5 of creamy eggs and kale was created, and I haven't looked back since.
I haven't tested it on my kids yet.  They love dippy eggs and tolerate kale.
Maybe this could be the recipe that swings it for my favourite green veg.  Besides I could probably do with weaning Lewis off his peanut butter obsession just a little.  In fairness, he asked for almond butter the other day.  'The one with the nutty bi*ches' was what he innocently asked for.  Ha ha, I'm truly hoping he meant nutty bits.
Creamy Eggs and Kale Breakfast Recipe:
Creamy Eggs and Kale Breakfast
Creamy Eggs and Kale Breakfast - An easy one-pot breakfast or lunch - ready in under 10 minutes.
Ingredients
4

tbsp

heavy/double cream

35

g

Kale

-

chopped

25

g

cheddar cheese

1

egg

salt and pepper
To serve:
Toast 'soldiers' for dipping

-

optional
INSTRUCTIONS
Heat the cream in a small frying pan until hot, but not boiling. Stir in the kale and sprinkle on the cheese, reserving a small pinch. Place a lid or some foil on the pan and allow the kale to wilt on a low heat for 1 minute.

Take off the lid, and make a small well in the centre of the kale. Crack the egg into the well and sprinkle with the reserved cheese and salt & pepper.

Cover the pan again and cook on a low heat for 5-7 minutes until the white of the egg is cooked, and the yolk is cooked to your liking.

Serve from the pan either on it's own, or with toast for dipping.
✎ Notes
Nutritional Information is per serving, without the toast.
Nutrition
Serving:
164
g
Calories:
388
kcal
Carbohydrates:
6
g
Protein:
14
g
Fat:
34.9
g
Saturated Fat:
20.4
g
Cholesterol:
272
mg
Sodium:
255
mg
Potassium:
300
mg
Fiber:
0.5
g
Sugar:
0.5
g
Vitamin A:
6750
IU
Vitamin C:
58.6
mg
Calcium:
290
mg
Iron:
1.6
mg
Some of the links in this post may be affiliate links – which means if you buy the product I get a small commission (at no extra cost to you). If you do buy, then thank you! That's what helps us to keep Kitchen Sanctuary running. The nutritional information provided is approximate and can vary depending on several factors. For more information please see our Terms & Conditions.