Cranberry and Orange Scones - Zesty, light and fluffy. So good with a dollop of clotted cream!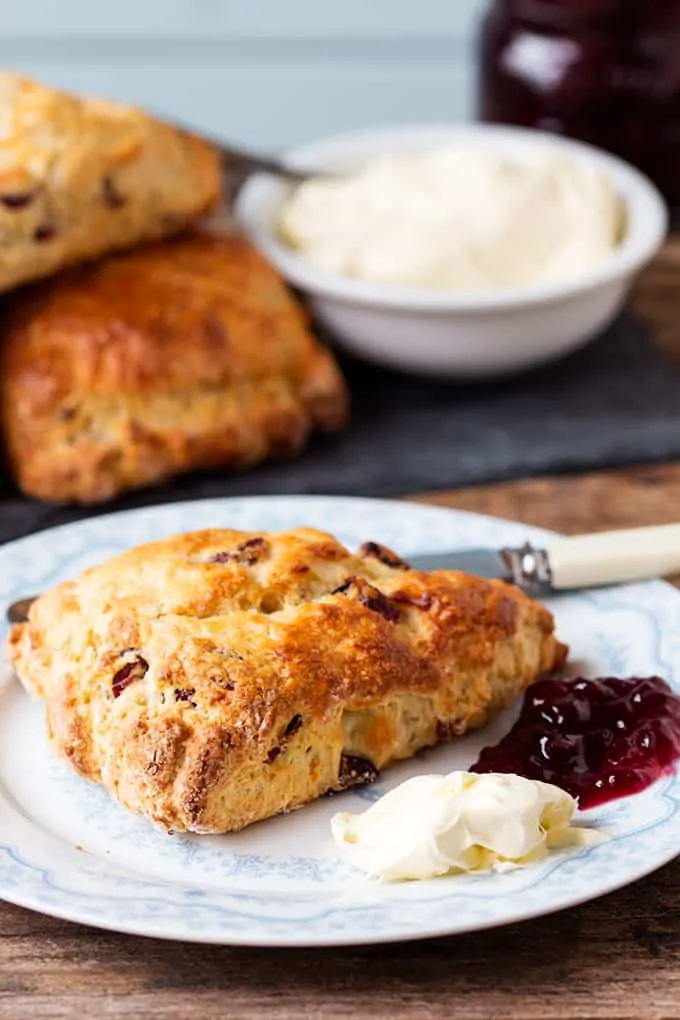 I promised you cranberry and orange scones, and here they are.  Bursting with juicy cranberries, and smothered in clotted cream and jam!
Thank you guys for all your lovely messages and emails about my poorly hand. I admit to feeling a little grumpy, and reading through them put a big smile on my face. You're the best xxx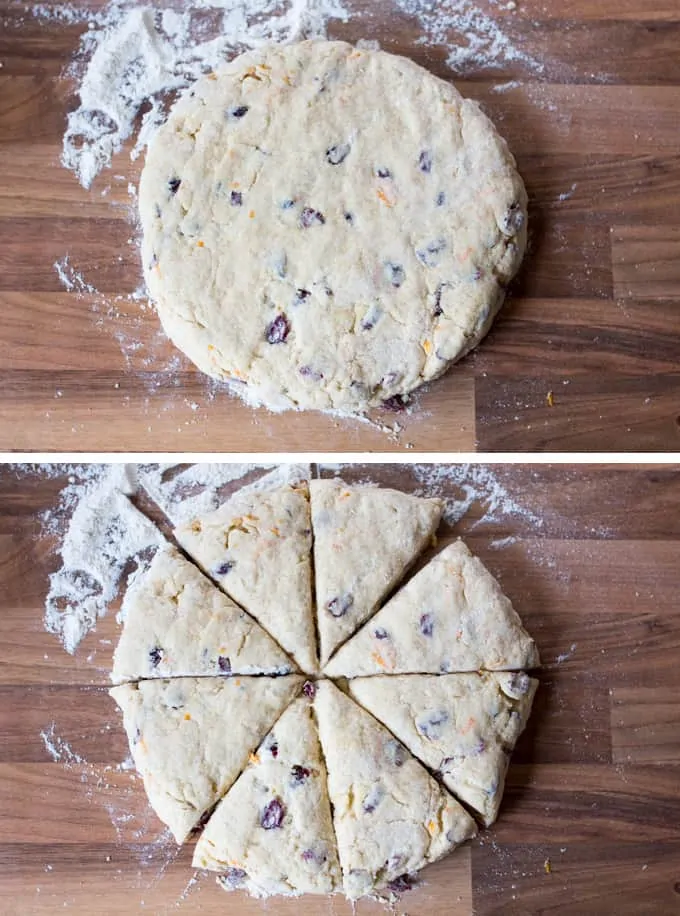 It looks like I'm going to be bandaged up for at least another 2 weeks, so I'll keep my chatter (or 1-and-a-half-handed-typing) to a minimum.
I've been trying to just ignore it and get on with things normally - after all it was only a little tiny op, but I've found:
I can't open jars (Chris came home from work to find i'd stabbed through the lid of a jar of chocolate sauce repeatedly with a knife - psycho-style. Slightly embarrassed about that one)
Trying to rub butter into flour with one hand is more complicated than I thought!
I can wash my hair one-handed woo hoo!
Wine works better than Ibuprofen (I went out to dinner with the girls on Saturday, so I had to make a choice - Ibuprofen and water, or wine and a little more wine)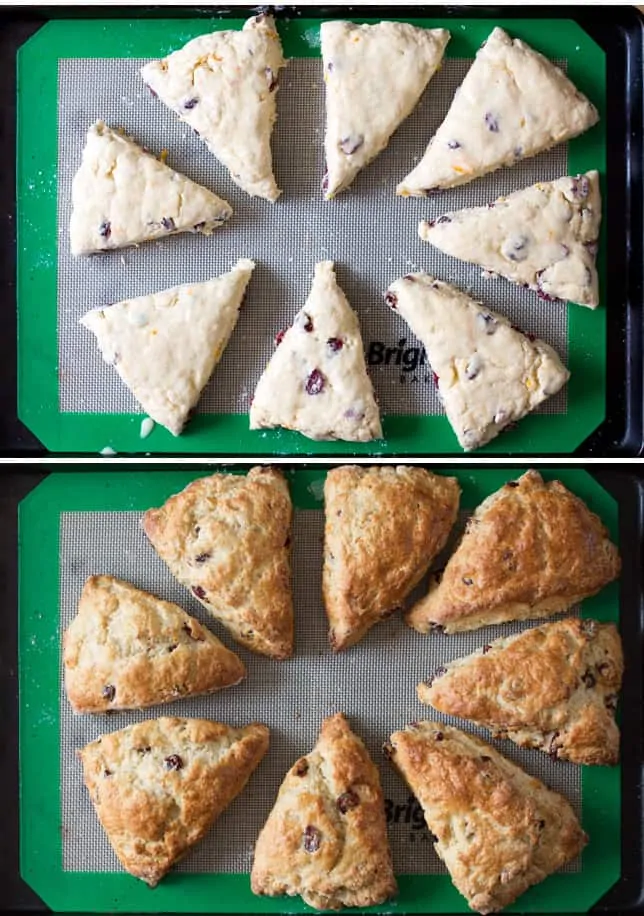 Coming back to the scones.....
I went to a little market on Sunday, and there were so many varieties of scones on sale! Apple, pumpkin, lemon, chocolate, cheese etc etc! They all looked so good that I'm going to have to try to replicate some of them.
I'll always love the traditional raisin scone for a good English cream tea, but I can never resist a bit of experimentation.
This cranberry and orange version really packs in the flavour.  Don't skimp on those cranberries - they work so well with this recipe (and there's nothing more disappointing than cutting open a scone to find one or two lonely cranberries in there).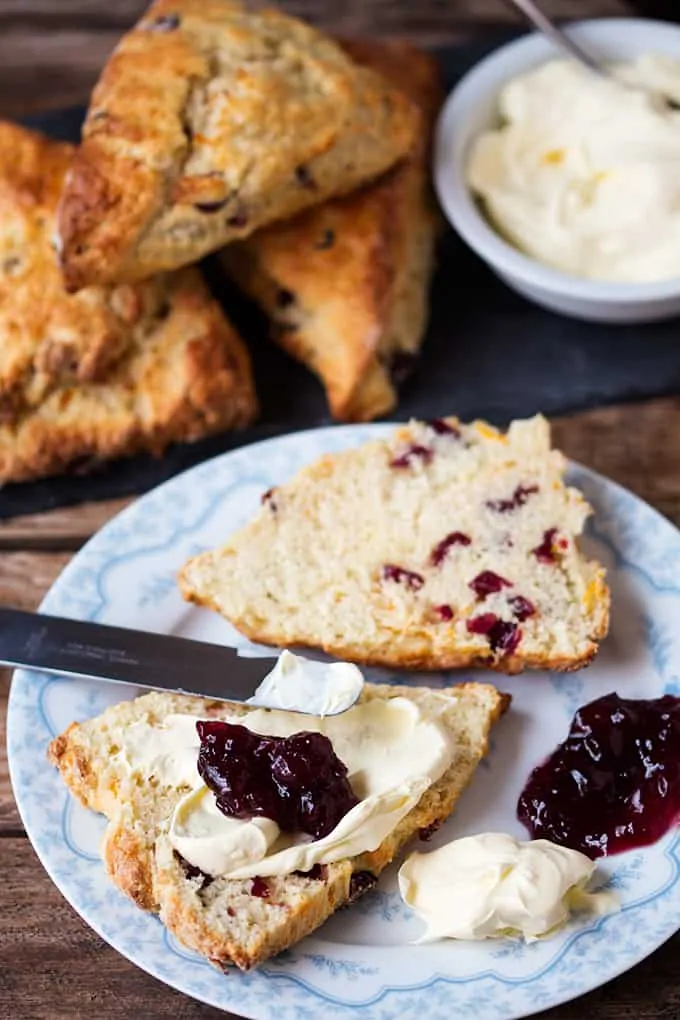 Eat these Cranberry and Orange Scones warm with a little salted butter, or go all-out with the clotted cream and jam.
I find that cherry jam works really well, but I bet orange curd would be lovely too.
I just need to get Chris to open the jar for me..... 🙂
The Cranberry and Orange Scones Recipe:
Cranberry and Orange Scones Recipe
Zesty, fluffy scones with juicy cranberries - so good with a dollop of clotted cream!
Ingredients
450

g

(3 ¾ cups) plain (all-purpose) flour

2

level tbsp

baking powder

½

tsp

salt

7

tbsp

cold butter

-

diced

85

g

(½ cup minus 1 tbsp) golden caster sugar

200

g

(1 cup) dried cranberries

zest of 2 oranges

1

large egg

285

ml

(1 cup + 3 tbsp) buttermilk

1

tsp

vanilla extract

splash of milk
INSTRUCTIONS
Preheat the oven to 400F/200C (fan) and line a baking tray with baking parchment.

Place the flour, baking powder, salt, and butter into a large bowl and rub together with your fingertips until the mix resembles breadcrumbs.

450 g (3 ¾ cups) plain (all-purpose) flour,

2 level tbsp baking powder,

½ tsp salt,

7 tbsp cold butter

Add the sugar, cranberries, and orange zest and give it a mix.

85 g (½ cup minus 1 tbsp) golden caster sugar,

200 g (1 cup) dried cranberries,

zest of 2 oranges

Break the egg into a small bowl, give it a quick whisk with a fork and then pour it into the flour mixture – reserving 1 tbsp of it for glazing the scones later.

Add in the ¾ of the buttermilk and the vanilla extract and use a round ended knife to work the mixture together. Add the rest of the buttermilk and work in gently until you have a soft, slightly sticky dough. Don't overwork, or you'll get tough scones.

285 ml (1 cup + 3 tbsp) buttermilk,

1 tsp vanilla extract

Tip out the dough onto a floured surface and flatten it out with your hands into a round shape, about 1" (2.5cm) thick. Use a sharp knife and cut the circle into 8 wedges.

Place the wedges onto the prepared baking tray. Mix the reserved tbsp of egg with the splash of milk and brush the tops only (brushing the sides will impair the rising of the scones) with this mix and place in the oven for 12-15 minutes until golden brown.

Remove from the oven, leave to cool and serve sliced in half with clotted cream and jam/jelly.
✎ Notes
Nutritional Information is per scone.
Nutrition
Calories:
443
kcal
Carbohydrates:
76
g
Protein:
7
g
Fat:
12
g
Saturated Fat:
7
g
Cholesterol:
51
mg
Sodium:
281
mg
Potassium:
151
mg
Fiber:
2
g
Sugar:
28
g
Vitamin A:
400
IU
Calcium:
69
mg
Iron:
2.8
mg