Oh my goodness, this steak!! This is my Coffee Crusted Steak Buddha Bowl with Spiced Butter. Coffee Crusted Steak doesn't taste like coffee! But it does add an amazing rich deep flavour!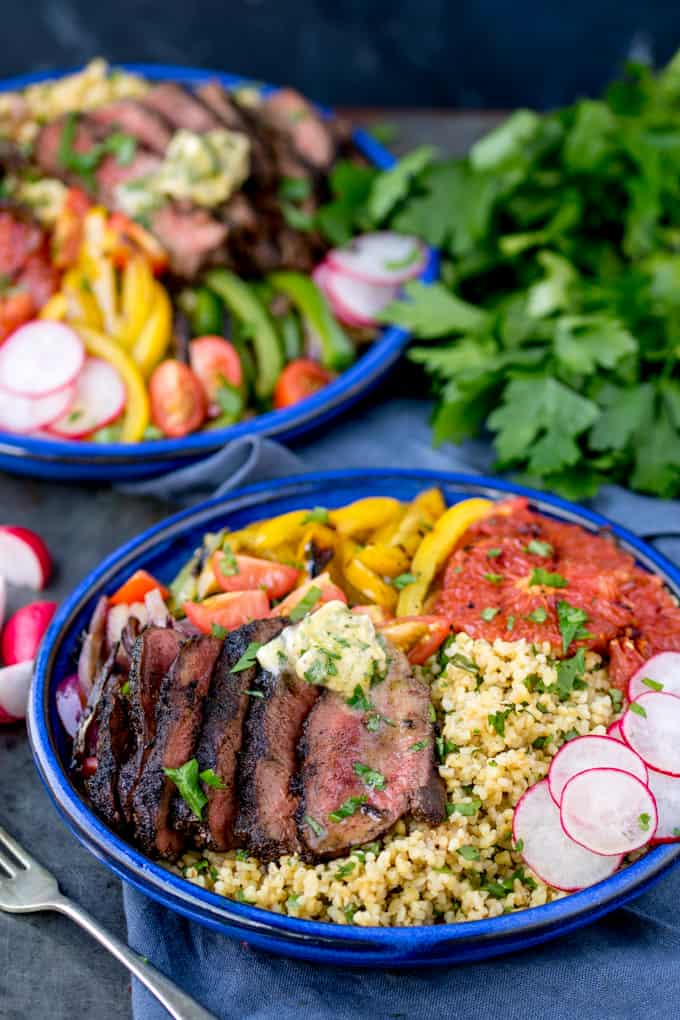 This recipe was created in partnership with Bertolli.
When I was first introduced to coffee-crusted steak about a year ago, it totally confused me. I mean, are you supposed to taste the coffee? Should I use old coffee grounds? Am I supposed to wash them off before cooking the steak (after all, the grounds are the bit you're supposed to throw away right!), should I be using instant coffee?
So here are the answers to those questions:
Use fresh, finely ground coffee
Yes, the coffee grounds are supposed to stay on the meat – you eat them (but they're not gritty or overpowering – honest!)
Definitely don't use instant coffee!
Also, mix those coffee grounds with spices and you'll have the most tasty coating ever!
Often when cooking regular steak, I find it best to rub oil on the meat before frying. However you can't really do that with a coated steak, so instead I melted Bertolli Butter & Olive oil on my griddle and fried the steaks in that.
The olive oil in the butter means you can cook the butter – even at high temperatures, without risk of it burning. So you get the benefits of the olive oil, whilst also ensuring a richer flavour – due to the butter.
It worked so well, I did the same thing when griddling the vegetables too!
The steak is served on a bed of herby bulgur wheat, along with griddled peppers, onions and caramelized grapefruit (so good!! The acidity of the grapefruit works really well with the richness of the meat). I also made some spiced garlic butter (using the Bertoll Butter & Olive Oil again) to top the steak. The butter melts into the steak and flavours the bulgur wheat – totally moreish!
I'd normally save steak for a weekend meal, but the whole meal only takes around 30 minutes to prepare, so this was our Tuesday night treat. Cutting the meat into slices, means that in theory, two steaks will feed four people. Fortunately for us, Lewis was away on a school trip, so we only had to share the steak between three of us 🙂
Coffee Crusted Steak Buddha Bowl with Spiced Butter Recipe: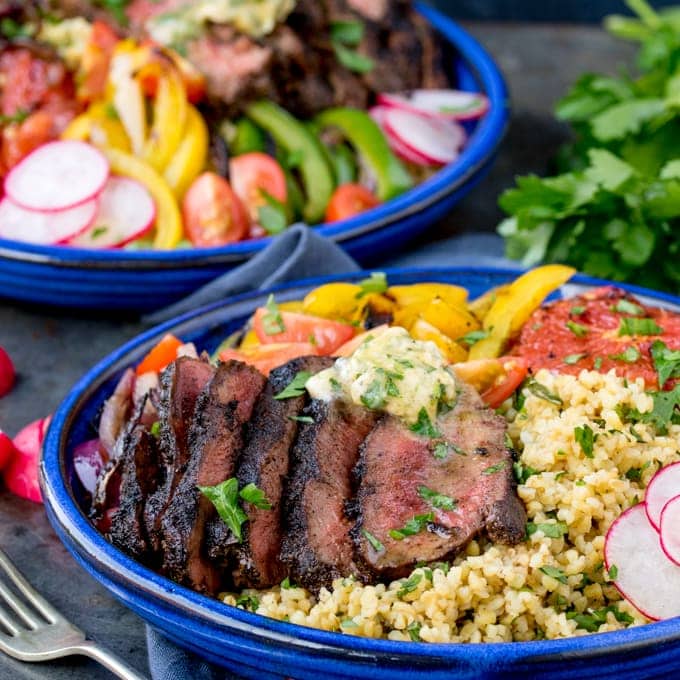 Ingredients
Steak:
1

packed tbsp finely ground coffee

not instant coffee

1

tbsp

light brown muscovado sugar

1

tsp

cumin

1

tsp

dried thyme

1

tsp

paprika

½

tsp

salt

½

tsp

freshly ground black pepper

¼

tsp

garlic powder

2

fillet steaks

taken out of the fridge at least 30 minutes before cooking (you can replace with ribeye or your favourite frying steak)

2

tbsp

Bertolli with Butter and Olive Oil
Herby bulgur wheat:
1

cup

bulgur wheat

2

stock cubes

vegetable or chicken, crumbled

Small bunch of parsley

finely chopped

3

sprigs fresh mint

finely chopped

2

sprigs fresh thyme

finely chopped
Spiced Butter:
½

tsp

cumin

½

tsp

salt

½

tsp

black pepper

10

sprigs parsley

finely chopped

1

clove

garlic

peeled and minced

zest of 1 lime

6

tbsp

Bertolli with Butter and Olive Oil

slightly softened
Also:
1

tbsp

Bertolli with Butter and Olive Oil

1

green bell pepper

de-seeded and sliced

1

yellow bell pepper

de-seeded and sliced

1

red onion

peeled and sliced

1

ruby grapefruit

skin removed, sliced into 1cm slices

1

tbsp

soft brown muscovado sugar

8

cherry tomatoes

cut into quarters

4

radishes

thinly sliced
Instructions
Preheat your griddle or frying pan on a high heat.

Place the coffee, sugar, cumin, thyme, paprika, salt, pepper and garlic powder on a plate. Mix together. Place the steaks on the plate and cover on both sides with the spice mix.

Melt the butter on the griddle and add the steaks. Cook for 3-5 minutes on each side, depending on how well-cooked you like your steaks. I had quite thick steaks, so I cooked for 3 1/2 minutes each side for medium rare. Once cooked, place on a board to rest for 5-10 minutes.

Whilst the steaks are cooking, make the bulgur wheat. Place the bulgur wheat in saucepan with the crumbled stock cubes, top with boiling water, so the water comes to approx 1 inch over the top of the bulgur wheat. Stir, bring back to the boil, then simmer for 8-10 minutes until tender. Drain any excess water off. Leave to cool for a few minutes, then stir through the parsley, mint and thyme.

Now make the butter. Add all of the ingredients for the spiced butter together and mix until well combined. Place in the fridge for a couple of minutes to chill whilst you finish off the rest of the dish.

Melt the remaining 1 tbsp of butter on the griddle (or in a pan) on a high heat. Add the peppers (green and yellow) and the red onion and cook for 3-4 minutes until lightly charred. Remove from the heat.

Dust the grapefruit in the brown sugar and place the grapefruit on the hot griddle. Cook for 1 minute on each side until lightly charred. Remove from the heat.

Now it's time to assemble. Divide the herby bulgur wheat between four bowls. Top with the peppers, onions, grapefruit, tomatoes and radish slices.

Slice the steaks into 1/4 inch slices and arrange on the bowls. Place 1 tbsp of the herby butter on top of each of the pile of steak slices.

Serve with extra butter.
Recipe Notes
Nutritional Information is per serving.
Nutritional Information
Nutrition Facts
Coffee Crusted Steak Buddha Bowl with Spiced Butter
Amount Per Serving
Calories 605
Calories from Fat 279
% Daily Value*
Fat 31g48%
Cholesterol 125mg42%
Sodium 1320mg55%
Potassium 901mg26%
Carbohydrates 50g17%
Protein 33g66%
Vitamin A 2215IU44%
Vitamin C 112.9mg137%
Calcium 95mg10%
Iron 4.8mg27%
* Percent Daily Values are based on a 2000 calorie diet.