Chicken and bacon lasagne - a classic family dish with a makeover. This irresistible lasagne consists of chicken, bacon and plenty of veg smothered in tomato and creamy béchamel sauce, topped with soft mozzeralla and tangy cheddar.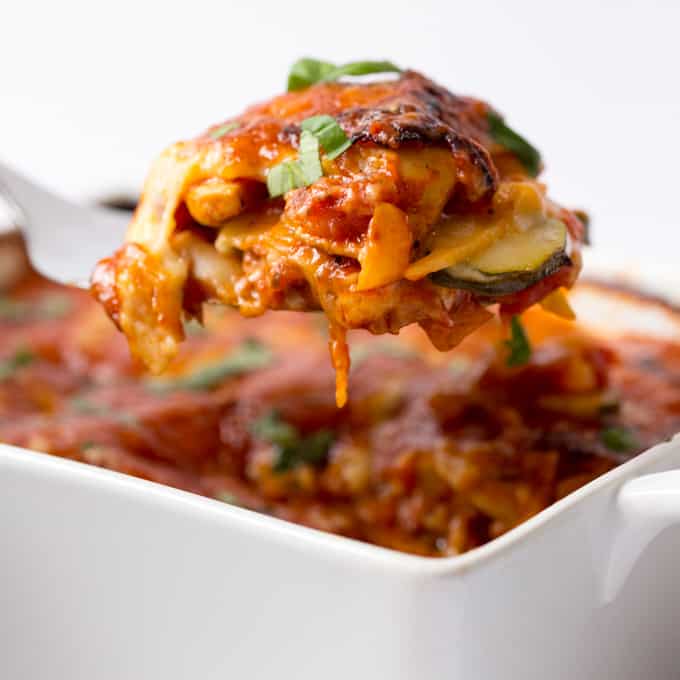 I usually make this for our family of four with the intension of saving a couple of portions for another meal.  However, it's just so tasty that I generally find that the dish has been sneakily picked clean by anyone who happens to wander into the kitchen before I manage to get it in the fridge.
I've successfully made a gluten free version of this too.  This involves replacing the lasagne sheets with gluten free lasagne sheets, and also prepping your béchamel slightly differently.  For a gluten free béchamel, just mix a tbsp. of cornstarch with a couple of tbsps. of cold water in a little dish.  Then mix the milk, cheese, nutmeg, salt and pepper and heat in a pan stirring regularly until hot and bubbling just slightly.  Then slowly add in cornflour mixture whilst whisking with a balloon whisk.
That's it.  A couple of additional things to watch out for - make sure your tomato puree and your stock cube/powder is gluten free (use bouillon powder for the stock).
Chicken and Bacon Lasagne Recipe:
Chicken and Bacon Lasagne
Chicken and Bacon Lasagne - A hearty family favourite with added veg - packed full of flavour!
Ingredients
1

tsp

olive oil

8

rashers streaky bacon

1

large onion

-

peeled and chopped

2

cloves

garlic

-

peeled and crushed

400

g

chicken breast

-

cut into bite sized chunks

1

red bell pepper

-

chopped

1

yellow bell pepper

-

chopped

2

tbsp

tomato puree

400

g

tin chopped tomatoes

100

ml

chicken or vegetable stock -

from a cube or powder is fine

1

tsp

dried oregano

pinch

of salt and pepper

5

dried lasagne sheets

-

the ones that don't need pre-cooking

1

medium courgette/zucchini cut into slices

200

g

mozzarella

-

grated/chopped finely

150

g

strong cheddar
Béchamel Sauce:
50

g

butter

-

salted or unsalted

2

tbsp

plain/all-purpose flour

250

ml

whole full fat milk

pinch

of salt and pepper

pinch

of nutmeg

-

optional

50

g

mozzarella

-

grated or chopped finely

50

g

strong cheddar

-

grated
INSTRUCTIONS
Preheat your oven to 200c.

Heat the olive oil in a large skillet pan and then add the bacon. Cook on a medium-to-high heat, turning a couple of time until the bacon is crispy. Take bacon out of the pan and place in a small bowl. Chop into chunks using a pair of scissors.

Add the onions to the pan that you fried the bacon in (there should still be some fat left in the pan). Cook the onions for 5 minutes on a medium heat until they start to go translucent. Add the garlic and stir. Cook for 1 minute. Add the chicken and turn up the heat a little. Cook through until the chicken is just sealed (not cooked right through). Add in the peppers, stir and cook for another 2 minutes. Add the tomato puree and stir so that the tomato puree lightly coats everything. Then add in the chopped tomatoes, stock, oregano and salt & pepper. Bring to the bubble and then simmer for about 10 minutes.

Whilst your tomato sauce is simmering, start making the béchamel.

In a medium sized sauce pan, add the butter and melt over a medium heat. Once melted and bubbling slightly, add in the flour and whisk it into the butter. This is called a roux. It's important to use a whisk to help prevent lumps in your sauce. Keep gently whisking the roux over the heat for 1 or two minutes. Add in a good splash of milk, turn up the heat and whisk to incorporate. Then keep adding in the milk a good splash at a time, and whisking until all the milk is used up (this normally takes me about 3 or 4 minutes and I add the milk in about 5 splashes). Don't worry if you get a few lumps, keep whisking and they will disappear as the sauce thickens. Keep stirring the sauce with the whisk over the heat until your sauce thickens. Once thickened, add in the salt & pepper, the nutmeg and the mozzarella and cheddar (just 50g of each, the other mozzarella and cheddar is for your lasagne topping). Stir together and then turn off the heat.

Now it's time to construct your lasagne. First, stir your bacon back into the chicken/tomato sauce. Then take a family sized, deep lasagne dish (mine is 23cmx18cm and 6.5cm deep, but anything reasonably close to those measurements will be fine). Spoon a third of your chicken/tomato sauce into the lasagne dish and flatten it so it covers the base. Then layer your courgette/zucchini on top (I just add one layer of courgette/zucchini to the whole dish, but feel free to add more if you wish). Next spread a third of your béchamel onto top. Place a layer of lasagne sheets on top. I use two full sheets and then an extra half a sheet to cover my dish. You may need a little more. Now add another third of the tomato sauce, another third of the béchamel and another layer of lasagne. Then add your final third of tomato sauce, your final third of béchamel and then sprinkle your mozzarella and cheddar on top.

Place in the oven and bake for 30 minutes until the cheese is golden and the lasagne is bubbling slightly at the edges. Take out of the oven and leave to rest for 5 minutes before serving.
✎ Notes
Nutritional Information is per serving.
Nutrition
Serving:
373
g
Calories:
588
kcal
Carbohydrates:
26.3
g
Protein:
54.4
g
Fat:
28.8
g
Saturated Fat:
14.2
g
Cholesterol:
109
mg
Sodium:
1257
mg
Potassium:
564
mg
Fiber:
2.8
g
Sugar:
7.4
g
Vitamin A:
2200
IU
Vitamin C:
85
mg
Calcium:
520
mg
Iron:
2.7
mg
 Nutritional info obtained from caloriecount.about.com - based on 6 servings