Big forkfuls of rich and creamy butternut squash, occasionally interspersed with a forkful of greens, but then straight back for more of this cheesy and soul satisfying Cheesy Butternut Gratin.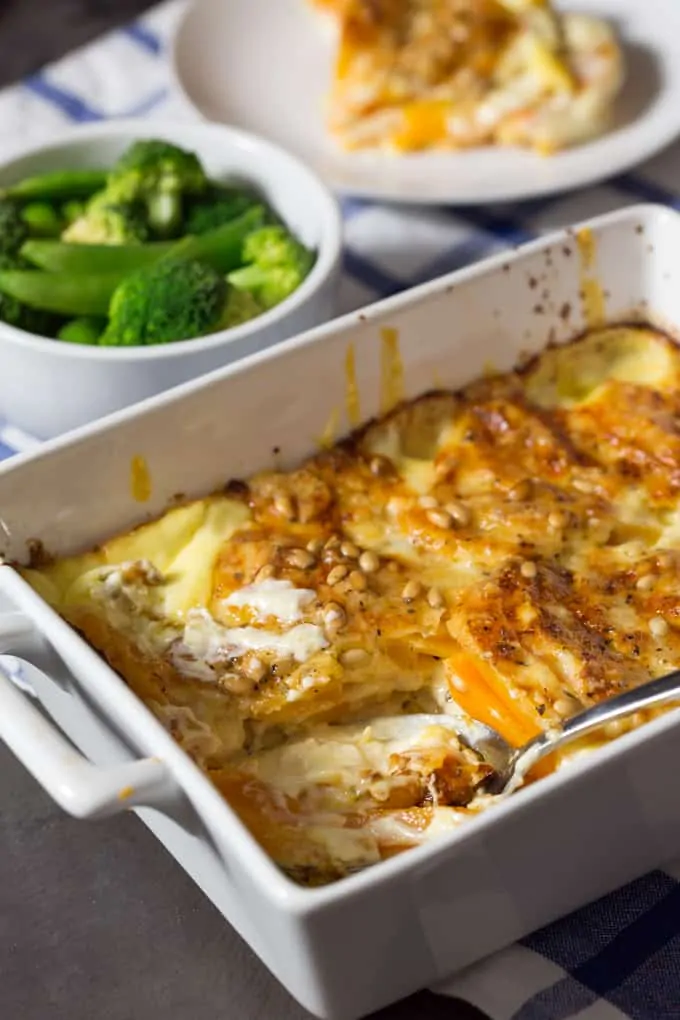 I don't even want to know how many calories are in this Cheesy Butternut Gratin.  I haven't put it through the calorie counter yet.  I'll let you know my reaction when I get to the end of the post.  I might just be done with it and eat it alongside a few of my chocolate caramel brownies.
Whatever it is, I don't think it could frighten me off.  So simple, and pretty quick once you've mastered peeling and slicing a butternut squash.  You could eat this as a side dish or as the main event and it'll be clear plates all round.
Well, what a week! I haven't sat at my desk once.  In fact I'm sat on the sofa now, surrounded by the remains of the craft experiments my kids have been doing this afternoon.  We now have a large chalk 'spooky scene' drawn on black card in our front window.  We also have a large pile of bats and pumpkins cut out and threaded onto string, and some creepy messages written on tea stained paper to make them look ancient.  All of this came out of my 8-year old daughter's brain, and the ideas were swiftly taken up by my four-year old who has been drawing blue pumpkins for me whilst trying to turn me into a frog with his wizard's wand.
Gracey's also decided to start her own blog.  She sat down and wrote 2 articles today whilst I was hunting down a paper knight's helmet for my son (that was probably binned weeks ago, but don't tell him that...).  Frustrated with me dragging my feet at setting her up with a Wordpress account, she's had to draft her articles in Powerpoint.  I think I'm going to facing some competition on the blogging front.
So, needless to say, I've been trying to grab the odd half an hour here and there all week to create/cook/photograph and write.  I came up with a corker of a cake this morning that I'm looking forward to writing up next week.  Think leftover frangipane and speckled bananas won't work together? Wrong!!! Check out my instagram for a sneaky peek.
The Cheesy Butternut Gratin Recipe: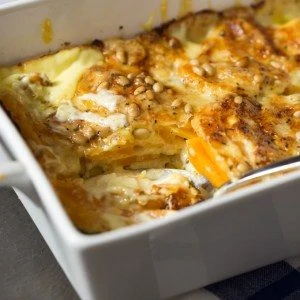 Cheesy Butternut Gratin
Butternut gratin - Butternut squash layered with cheese, cream, pine nuts and a little sage
Ingredients
1

small butternut squash

-

weighing about 850g, peeled and deseeded

300

ml

double/heavy cream

2

cloves

garlic

-

peeled and crushed

140

g

mature cheddar cheese

salt and pepper

½

tsp

dried sage

25

g

pine nuts
INSTRUCTIONS
Preheat the oven to 190c/375f.

Slice the butternut squash into half-moons approx. 5mm thick and put to one side.

Heat the cream and the garlic in a small pan until it's almost at boiling (don't boil though). Turn off the heat.

Take an oven proof dish approx. 20cmx25cm, layer a third of the squash on the bottom of the dish, overlapping slightly. Sprinkle on a quarter of the cheese and pinch of the sage. Sprinkle with salt and pepper and then pour over quarter of the hot cream.

Repeat with another layer of everything.

You should have enough left for a final layer. This time layer the butternut squash, then pour the remaining cream around the sides of the squash (the cream should have filled up the dish and be just about touching the bottom of your top layer of squash). Sprinkle the rest of the cheese, sage and a pinch of salt and pepper over the top and sprinkle the pine nuts on top.

Place in the oven and cook for 35-40 minutes until the squash is tender and the top is browned.
Nutrition
Serving:
331
g
Calories:
554
kcal
Carbohydrates:
28.8
g
Protein:
13.4
g
Fat:
44.2
g
Saturated Fat:
25.3
g
Cholesterol:
141
mg
Sodium:
255
mg
Potassium:
884
mg
Fiber:
4.5
g
Sugar:
5.2
g
Vitamin A:
24050
IU
Vitamin C:
62.7
mg
Calcium:
410
mg
Iron:
2.2
mg
 Nutritional info obtained from caloriecount.about.com per portion (recipe makes 4 portions)
544 calories? that's better than I expected 😀