Cake bites with coffee walnut fudge sauce. Easy and addictive! The cake balls are made in a cake pop mould, so they're the perfect size to put in your mouth whole with a big splodge of coffee walnut sauce dripping all over the place whilst you do so.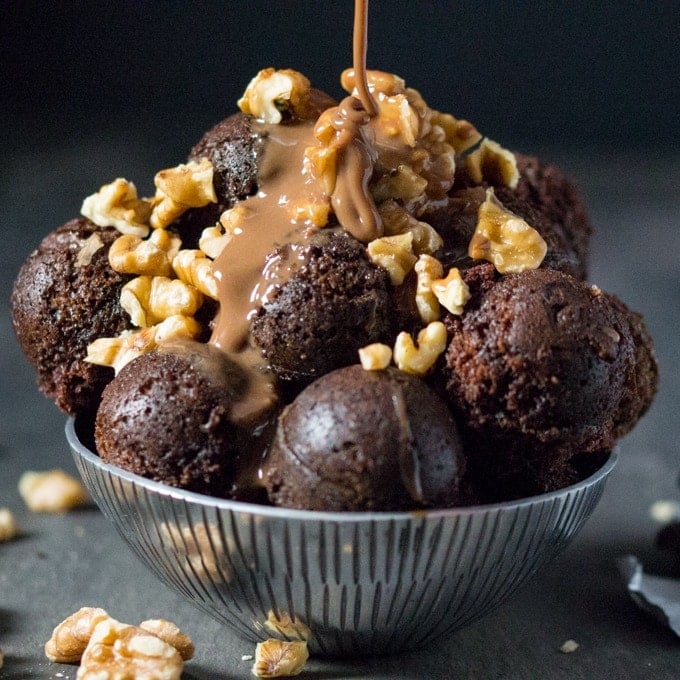 Coffee and Walnut Fudge didn't set?
Yeah, me too.
So unfortunately I had to turn it into coffee and walnut fudge sauce and pour it over a mountain of chocolate cake balls.  Disaster.
A HAPPY, GOOEY, CHOCOLATELY, NUTTY DISASTER!
Sorry, didn't meant to shout at you there, but it is a dessert worthy of a bit of shouting.
I felt I deserved a couple of these after finally joining the gym (I promised I would).  An hour of Zumba later and the kids and I were testing these out.  I went easy on the sauce for the kids - It's not a huge amount of coffee, but my kids seem particularly susceptible to sugar and caffeine.  I'll never forget the day my dad (sorry dad!) accidently bought them some orange juice that had guarana in it.  Lewis was literally running around the house, bouncing off walls like a pin ball machine.
If you don't have a cake pop mould then you can just make little cakes using a mini muffin tin.  Or if all else fails, double the recipe and bake it in a loaf tin for approx. 40 minutes, then cut the loaf into little cubes once cold.
Cake Bites with Coffee Walnut Fudge Sauce Recipe:
Cake Bites with Coffee Walnut Fudge Sauce
Cake bites with coffee walnut fudge sauce. Easy and addictive! This recipe makes 20-22 cake pops and ¾ cup of coffee fudge sauce
Ingredients
Coffee Walnut Fudge Sauce:
100

g

milk chocolate

100

ml

evaporated milk

1

tsp

butter

25

g

icing/powdered sugar

1

heaped tbsp

instant coffee granules mixed with a tsp of hot water

40

g

walnuts

-

roughly chopped

You will also need a silicon cake pop mould
INSTRUCTIONS
Preheat the oven to 160c and lightly butter the cake pop mould (or spray with cooking spray.

Make the cake pops first.

Melt the chocolate either in the microwave in 30 second bursts (mixing each time) or in a bowl over some simmering water. Put to one side to cool slightly.

In a large bowl, mix together the caster sugar, egg and oil using a balloon whisk. Add in the sour cream and vanilla extract and mix again. Fold in the flour and baking soda and using a wooden spoon.

Once combined, pour in the melted chocolate in a thin stream (it may still be a hot, so this is to prevent it cooking the egg) whilst stirring with a wooden spoon. You should end up with a thick chocolate mixture.

Spoon the cake mix into your cake pop moulds, so the mixture comes just below the rim of the cake mould. Secure the lid on top and bake in the oven for 15 minutes.

Take out of the oven and leave to cool completely before taking the lid off the cake pop mould.

Next make the sauce by mixing the chocolate, evaporated milk and butter in a small pan. Place the pan on a low heat and stir until the chocolate has completely melted.

Sift in the icing sugar and stir, then stir in the coffee mixture.

Remove the cake pops from the mould and pile them high in a bowl. Sprinkle on the walnuts and then drizzle the coffee fudge sauce over the top.
✎ Notes
Nutritional Information is per serving, (based on serving 5.)  
Nutrition
Calories:
554
kcal
Carbohydrates:
65
g
Protein:
8
g
Fat:
30
g
Saturated Fat:
17
g
Cholesterol:
47
mg
Sodium:
182
mg
Potassium:
302
mg
Fiber:
3
g
Sugar:
40
g
Vitamin A:
195
IU
Vitamin C:
0.4
mg
Calcium:
95
mg
Iron:
3.6
mg