Berry Streusel Slices with White Chocolate Custard Dip - Crunchy biscuit base, juicy berry centre and buttery crumble topping served with a creamy, white chocolate custard dip.  One bar is just not enough.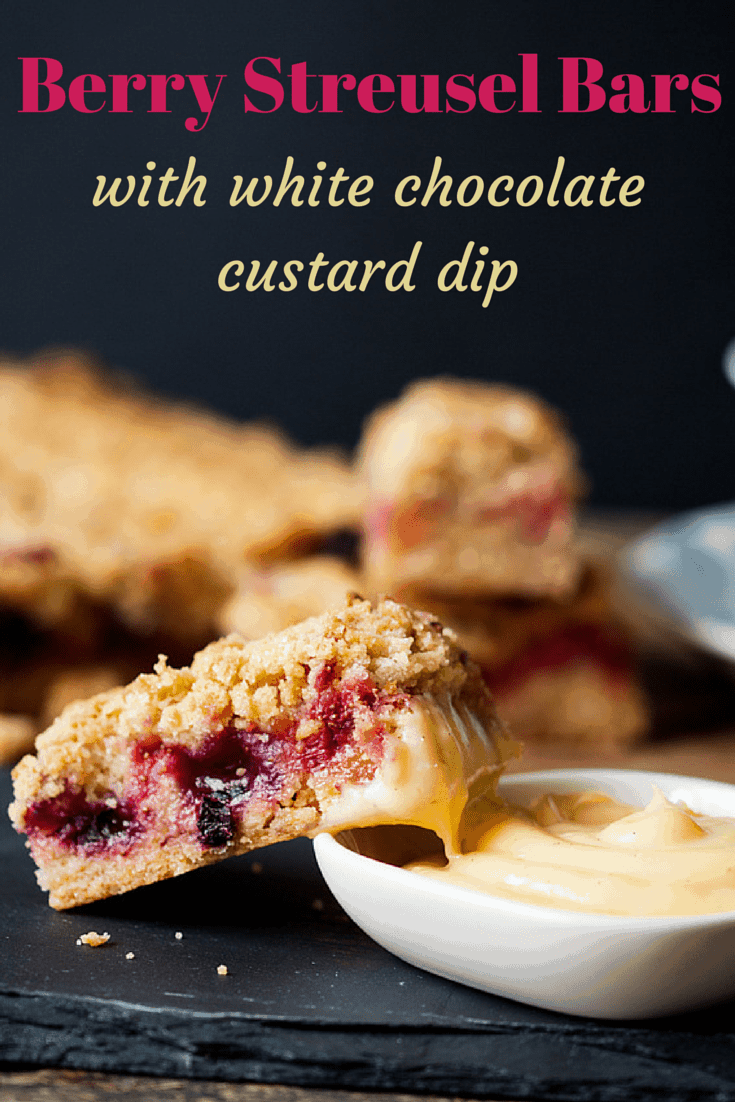 Today is a good day.
I just made fruit crumble and custard portable!
I may not have solved some head-spinning-time-and-space mystery - but for a dessert loving girl who loves a good picnic? I'm happy with this achievement.
This streusel slice is based on a blueberry crumble slice recipe I made last year - but this time I've loaded it with fresh strawberries as well as blueberries. The custard can be served warm, but is also delicious as a cool dip - think of the creamy custard in the custard slices you buy from the bakery - laced with melted white chocolate.
(Speaking of all things custard-y - have you heard of Sugar Cream Pie? I spotted it on Loaves and Dishes and I'm totally craving it!!)
The base of the streusel slice is made from the exactly the same ingredients as the topping - meaning you make the base and the topping in the same bowl.  The base is simply squished into the baking tray firmly - which results in it melding together into a biscuity-crisp base.  The topping, on the other hand, is sprinkled on - resulting in the crumbly streusel we all love.
Here are some pictures before and after baking: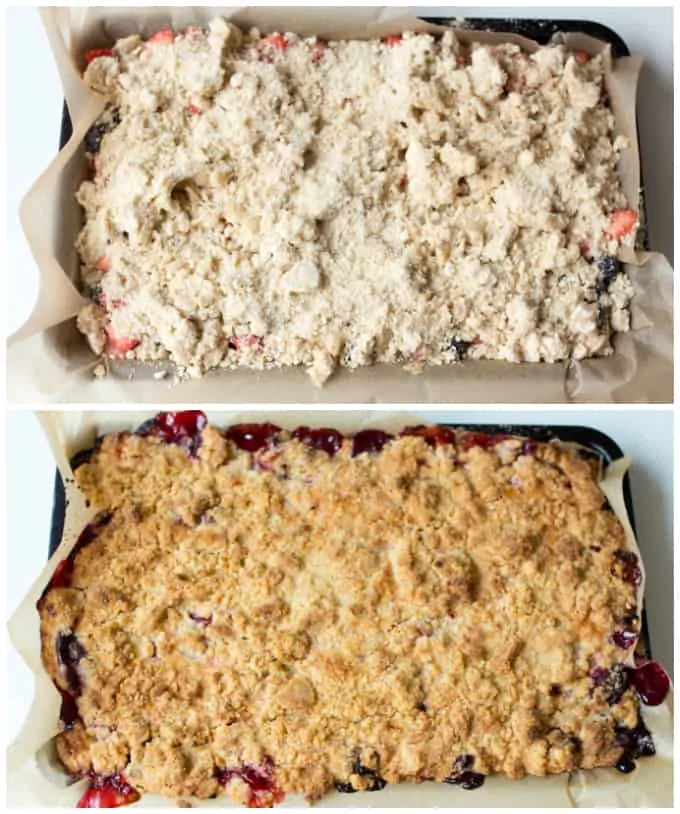 Just look at that berry jamminess oozing out of the sides.
The addition of cornflour to the berry mixture is what gives it that jamminess and ensures that the fruit isn't too wet (which would make the base soggy).
I'd like to ask you to wait until the streusel is cold before cutting it into slices - as it helps everything firm up and slice more easily. However, I've NEVER actually managed to wait that long before digging in.  So go ahead, have a large crumbly warm slice, slathered in white chocolate custard and slice up the rest of it later.
Just don't blame me when you get crumbs everywhere 🙂
The Berry Streusel Slices with White Chocolate Custard Dip Recipe: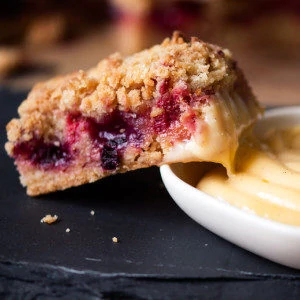 Berry Streusel Slices with White Chocolate Custard Dip
Crunchy biscuit base, juicy berry centre and buttery crumble topping served with a creamy, white chocolate custard dip. One bar is just not enough.
Ingredients
Streusel base and topping:
360

g

plain/all purpose flour

1

tsp

baking powder

230

g

cold butter

-

cut into small cubes

120

g

white sugar

120

g

light brown sugar

½

tsp

salt

1

large egg

-

beaten

1

tsp

vanilla extract
Berry filling
300

g

chopped strawberries

150

g

blueberries

120

g

white sugar

2

tsp

lemon juice

3

tsp

cornstarch
White chocolate custard Dip
4

large egg yolks

2

tbsp

sugar

1.5

tbsp

cornflour

1

cup

double/heavy cream

½

cup

milk

½

tsp

vanilla extract

1

tbsp

unsalted butter

100

g

good-quality white chocolate

-

chopped
INSTRUCTIONS
Preheat your oven to 190c/375f. Line a baking tray measuring approx 13"x7" with baking parchment and put to one side.

First make your crumble. Place the flour, baking powder and cold butter cubes in a large bowl. Rub the butter into the flour using your fingertips until the mix resembles breadcrumbs. Don't worry if you have some large chunks in there - it adds to the texture. Add in the white and brown sugar, the salt, egg and vanilla extract, then give it a mix with your hands. Take approx. half of this mixture and place it into your prepared baking tray. Flatten the mixture down and squash it to the edges and corners.

Take a medium sized bowl and add your strawberries, blueberries, sugar, lemon juice and cornstarch. Mix together gently and then layer this mixture on top of your crumble base. Sprinkle the remaining crumble mixture on top of the blueberries and place in the oven to cook for 40 minutes - until the topping looks golden brown.

Take out of the oven and leave to cool in the tin before gently sliding (baking parchment too) onto a cutting board. Leave to cool completely (this is a good time to make your custard dip). Once cool, slide out of the baking parchment and cut into 24 bars

Whilst the streusel bake is cooling, make the white chocolate custard dip.

Place the egg yolks, sugar and cornflour in a large bowl or jug and whisk. Put to one side.

Place the cream, milk and vanilla extract in a pan, and heat until it's just about to boil. Turn off the heat and pour a splash of the hot milk mixture into the egg mixture whilst whisking with a hand whisk. Continue to add the milk a little at a time whilst whisking, then pour the whole mixture back in the pan. Stir slowy with the whisk whilst heating on a medium heat. The custard will start to thicken after a couple of minutes.

Once the custard has thickened, turn off the heat and stir in the butter. Place the chopped chocolate in the pan and leave for a minute or two to melt, then stir to fully incorporate.

The custard can be served warm right away, or can be left to cool with a layer of plastic wrap on top (the plastic wrap needs to be touching the whole surface of the custard to stop it forming a skin. Once cool, it can be refrigerated until needed.

Serve the sliced streusel bars with little individual dishes of the white chocolate custard dip.
✎ Notes
The streusel bars will last in an airtight container for up to 5 days (they'll become less crunchy on top after a day or two - but still delicious).
.
Nutritional Information is per serving.
Nutrition
Calories:
272
kcal
Carbohydrates:
33
g
Protein:
3
g
Fat:
14
g
Saturated Fat:
8
g
Cholesterol:
76
mg
Sodium:
132
mg
Potassium:
101
mg
Sugar:
19
g
Vitamin A:
465
IU
Vitamin C:
8.2
mg
Calcium:
45
mg
Iron:
0.9
mg