These little Salted Caramel Banoffee Bites are totally moreish! Serve as an appetiser, dessert or a bite-size treat for the kids!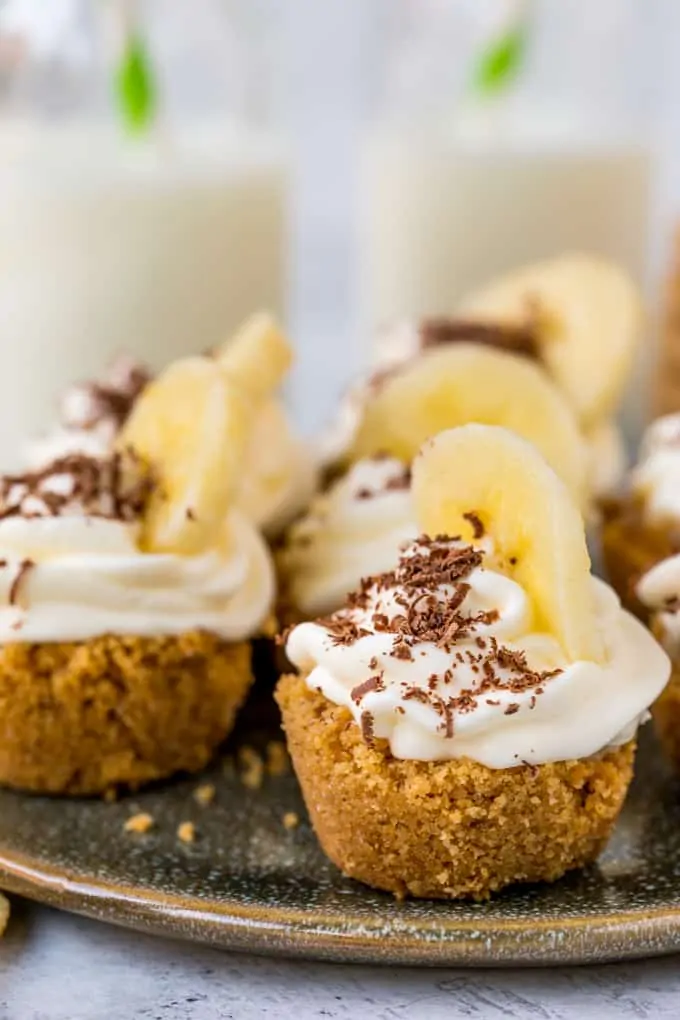 I think I've finally figured out that bite-sized treats aren't better for you than humongous treats.
If there's a plateful of bite-size treats, I'll eat them all - totally beating the king-size-snickers- calorie-count that I was trying to avoid.
I have no self control. So rather than talking about how making mini-desserts are better for the waistline, I'm gonna come right out and tell you that you'll probably eat seven or eight of these in a row, have a sugar rush, followed by an energy slump - where you'll feel guilty that you ate so many - then you'll vow not to be so greedy in future (and you may need to undo your top button).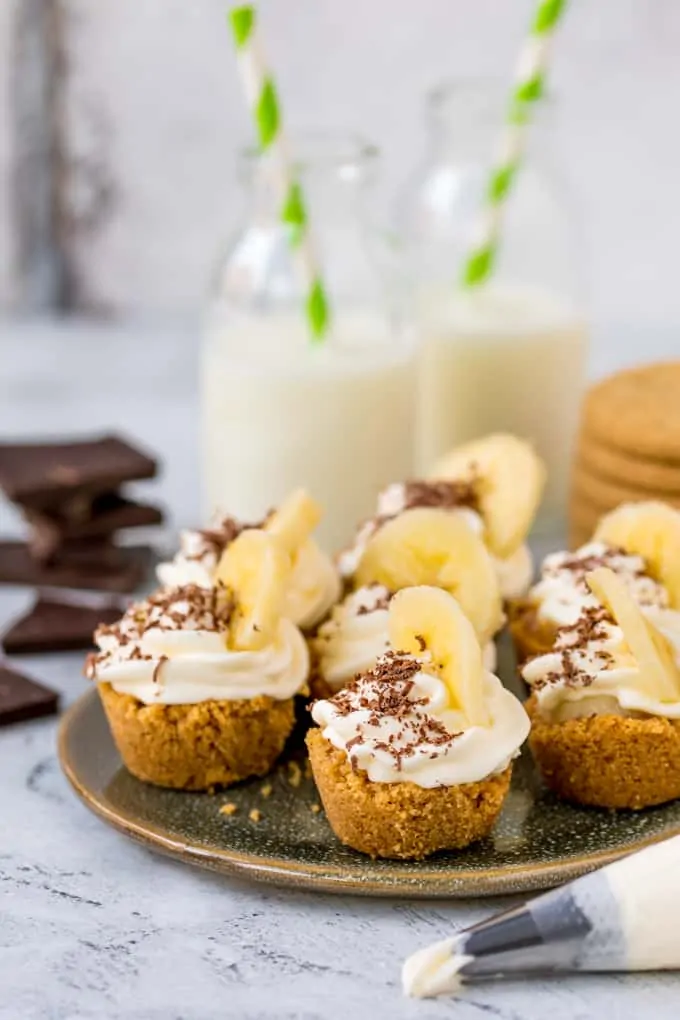 Then 30 minutes later you'll quietly slope off to the kitchen and eat two more.
PLEASE TELL ME THAT'S NOT JUST ME!!
I've made these twice recently - once for a family lunch, and the second time because we had builders round (I was telling myself they deserved a treat, knowing full well that I'd eat half of them).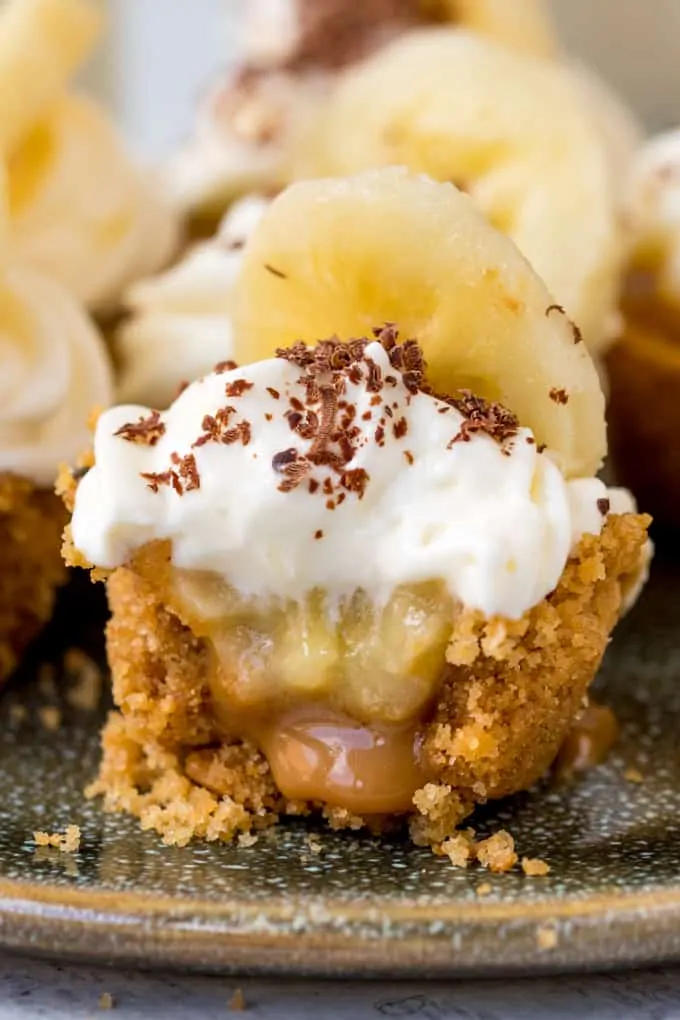 The first time I made a gluten free version, and the second time was a regular version. There was no difference in taste or texture - so it's a good one to serve when you have people over that are gluten intolerant and you don't want to make a separate dessert.
Salted Caramel Banoffee Bites Recipe:
Salted Caramel Banoffee Bites
These little Salted Caramel Banoffee Bites are totally moreish! Serve as an appetiser, dessert or a bite-size treat for the kids! Easily made gluten free.
Ingredients
150

g

(approx. 10) digestives biscuits. Replace for the same weight in graham crackers or gluten free digestives/graham crackers

4

tbsp

caster sugar

-

or superfine sugar

75

ml

unsalted butter, melted

1

tsp

powdered gelatin

4

tsp

cold water

160

ml

double/heavy cream

35

g

confectioners' sugar, sifted

⅛

tsp

sea salt

2

small bananas

-

sliced thinly (you'll need 36-40 slices altogether)

1

chunk dark choc

-

grated
INSTRUCTIONS
Preheat the oven to 170C/320F.

Place the biscuits in a food processor and process until they turn to fine breadcrumbs (you can crush them in a bag, using a rolling pin if you like, but you need really fine crumbs).

Add the caster sugar and melted butter and pulse again until combined.

Take a 24-hole mini muffin (petit fours size) and fill 18 of the holes with the biscuit crumbs - all the way to the top (fill more if you still have more crumbs left). Use the handle of a wooden spoon to make an indentation in each cookie pile.

Place in the oven for 5 minutes until lightly golden. Take out of the oven and immediately (whilst still hot) use the handle of the wood spoon to make the holes more pronounced - as the cookie crumbs will have expanded slightly in the oven. Leave to cool completely in the tin.

Once the cookie cups have cooled, remove from the tin. I loosen them with a butter knife and either tip or scoop them out. If they're still warm, they're more likely to crumble, to ensure they've cooled completely.

Meanwhile stir together the powdered gelatin and cold water, allow to sit to 2-3 minutes, then heat in the microwave for a few seconds to completely melt the gelatin. Stir again, and allow to cool for a few minutes.

Whisk the cream and confectioners' until soft peaks form, then slowly pour in the gelatin mixture whilst continuing to whisk. Whisk until the cream holds it's shape. The addition of the gelatin stops the cream from seizing or splitting, and will keep it soft. Spoon the cream in a piping bag with a fluted nozzle, or use a sandwich bag with the corner cut off if you like.

Mix the dulce de leche with the salt and add approx. ½ tsp into each cookie cup.

Top the caramel with a slice of banana, then pipe on the cream on, using a swirling motion, starting from the outside and working in.

Garnish each cup with grated dark chocolate and a slice of banana. Serve immediately*
✎ Notes
*If making in advance (you can make up to a day in advance), don't add the banana slice on top of the cream, as it will go brown. Instead, garnish with the banana slices right before serving.
.
Nutritional Information is per bite (based on 18).
Nutrition
Calories:
154
kcal
Carbohydrates:
21
g
Protein:
1
g
Fat:
7
g
Saturated Fat:
4
g
Cholesterol:
21
mg
Sodium:
99
mg
Potassium:
74
mg
Sugar:
8
g
Vitamin A:
255
IU
Vitamin C:
1.2
mg
Calcium:
15
mg
Iron:
0.4
mg