Spiced caramelised salmon served on a bed of savoury rice with feta and veggies.  This Sugar Spiced Salmon with Fancy Rice is colourful, healthy and delicious!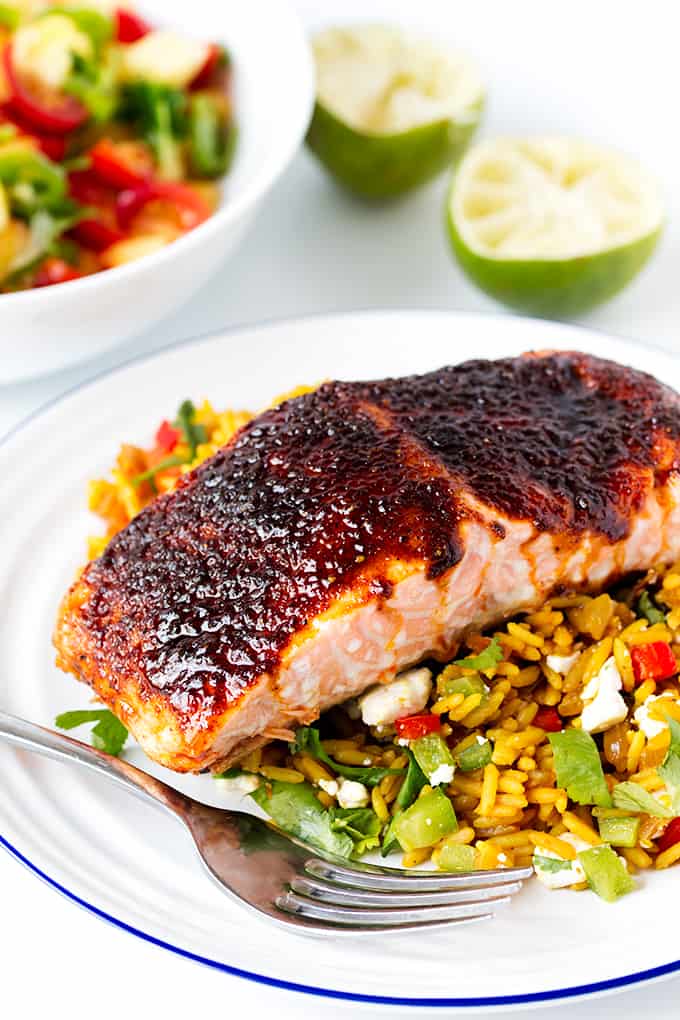 The easiest way to get my husband to eat fish is to cover it in sugar and grill it.  Served up with rice mixed with cheese and I know I'll get no complaints! The fact that it's actually a pretty healthy meal with salmon and veggies doesn't even come into it (for him anyway).
Sorry Chris, I make you sound like a small child that I have to fool into eating healthy stuff.  I know you're a grown man really.
Even if you have just recently bought an X-box and a few boxes of Lego (for yourself I might add),
~ and your new favourite TV programme is Phineus and Ferb,
~ and you get endless enjoyment from play-fighting and hatching plans with the kids to put ice-cubes down my top.
Not that I'd change a single thing! (except maybe the ice bit).
Coming back to the recipe, this dinner is seriously tasty.  The coating on top of the salmon is sweet, sticky and just a little bit crisp.  It also protects the salmon from the heat of cooking, which means your salmon will be lovely and juicy in the middle.
The rice is also a little spicy (but not hot-chilli-spicy).  It's made with easy-cook rice - which I only EVER use for this dish.  I find easy cook rice is less sticky, so it works better in this type of dish where you don't want it to clump together.  Dotted with peppers, tomatoes and feta it's yummy enough to eat on it's own.
It's hard not to eat every bite, but if you do have any leftovers, the salmon and rice make great cold leftovers for the next day.
I also served this meal with the Peach & Pineapple Salsa I posted on Monday, and let me tell you; it works perfectly together!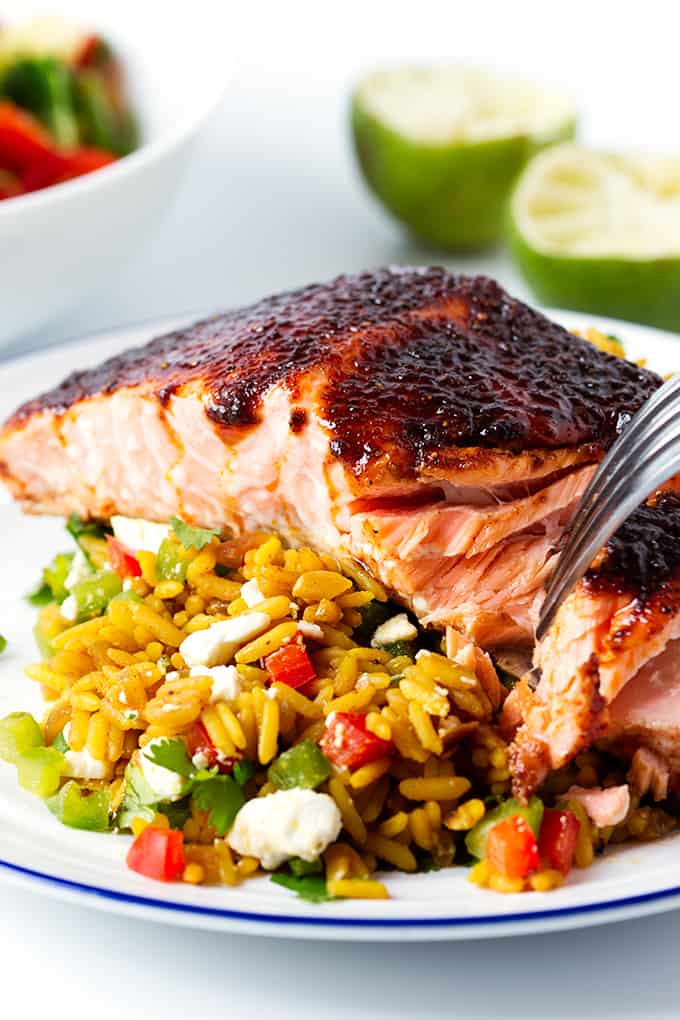 I really hope you give this Sugar Spiced Salmon with Fancy Rice a go, and maybe you can get the carnivores in your family to enjoy fish too!
Failing that, you can always stick to the meat and try out the coffee & spice rubbed steak I made for Brit.Co recently:
Drool. I'll have both please.
The Sugar Spiced Salmon with Fancy Rice Recipe: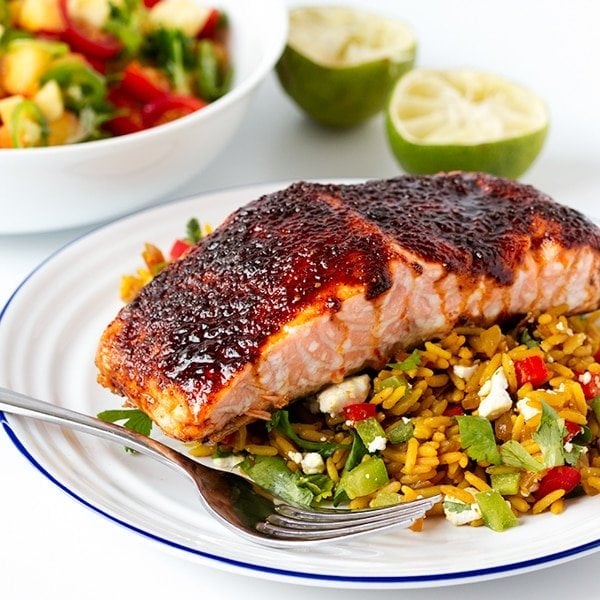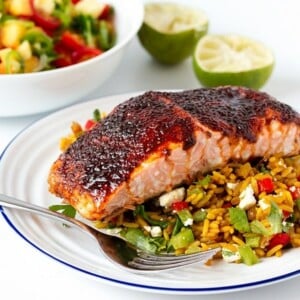 Sugar Spice Salmon with Fancy Rice
Spiced caramelised salmon served on a bed of savoury rice with feta and veggies. Colourful, healthy and delicious!
Ingredients
Rice:
1

tbsp

olive oil

1

red onion

-

peeled and chopped finely

2

cloves

garlic

½

tsp

paprika

½

tsp

turmeric

½

tsp

coriander

4

cardamom pods

-

sew them together so you can easily fish them out later

200

g

easy cook rice

1

chicken or vegetable stock cube

-

or 1 tsp veg bouillon for gluten free

Boiling water – to cook the rice

1

green bell pepper

-

chopped finely

5

cherry/small tomatoes

-

chopped into small pieces

150

g

crumbled feta

Juice of half a lemon

A

pinch

of salt and pepper

Small bunch of flat leaf parsley

-

roughly torn
Salmon:
4

Salmon fillets

2

tbsp

olive oil

2

tbsp

dark brown sugar

½

tsp

garlic powder

1 ½

tbsp

paprika

½

tsp

salt

1

tsp

black pepper
INSTRUCTIONS
Start with the rice - Heat the oil in a medium-sized saucepan and add the onion. Cook for 3-4 minutes in a medium heat until the onions starts to soften. Add in the garlic, paprika, turmeric, coriander and cardamom pods. Give it a stir and allow to cook for a minute.

Add in the rice and a crumbled stock cube. Stir until the stock cube is incorporated and then pour boiling water from the kettle over until the rice is covered by about 1cm of water. Stir once more and then leave to simmer gently for 15-18 minutes until the rice is tender. You may need to add a little more water if the pan starts to boil dry (but you shouldn't need to drain off any water at the end).

Whilst the rice is cooking, start on the salmon. Mix 1 and ½ tbsp of the oil with the sugar, garlic powder, paprika, salt and pepper. Press onto the flesh side of the salmon fillets.

Heat the remaining ½ tbsp. oil in a frying pan and place the salmon in the pan, skin-side-down. Cook for 3-4 minutes on a medium heat, then place under a grill (broiler) and continue to cook for another 4-5 minutes until the spicy coating is dark and caramelized and the salmon is cooked through. Remove from the grill.

Once the rice is cooked, remove the cardamom pods and discard. Stir in the green pepper, cherry tomatoes, feta, lemon juice, salt & pepper and the parsley.
✎ Notes
Nutritional Information is per serving.
Nutrition
Calories:
545
kcal
Carbohydrates:
26
g
Protein:
41
g
Fat:
30
g
Saturated Fat:
8
g
Cholesterol:
127
mg
Sodium:
1031
mg
Potassium:
1093
mg
Fiber:
3
g
Sugar:
10
g
Vitamin A:
1910
IU
Vitamin C:
30.2
mg
Calcium:
239
mg
Iron:
3
mg