Plum Crumble Bread – with a crunchy, buttery streusel topping and almond icing drizzle!
I love that it's socially acceptable to eat cake at 10:30am and call it brunch. It makes my cake addiction almost sound posh 🙂
If you don't eat it all at once, you'll have enough left for afternoon tea too. Double posh!
As a blogger and freelancer, I often find I have boundaries to work within – whether it's a pasta recipe for a brand, an easy picnic recipe for a website or a seasonal recipe for Kitchen Sanctuary (usually start on these at least a couple of weeks before the season starts).
I don't mind that at all, and in fact I often find that I work better, and can be more creative when working within certain boundaries.
This time though, I was pottering around the kitchen, and I decided that I just felt like making plum bread. No deadline requirements, no need to blog about it at all really, I just fancied making a cake.
Total bliss!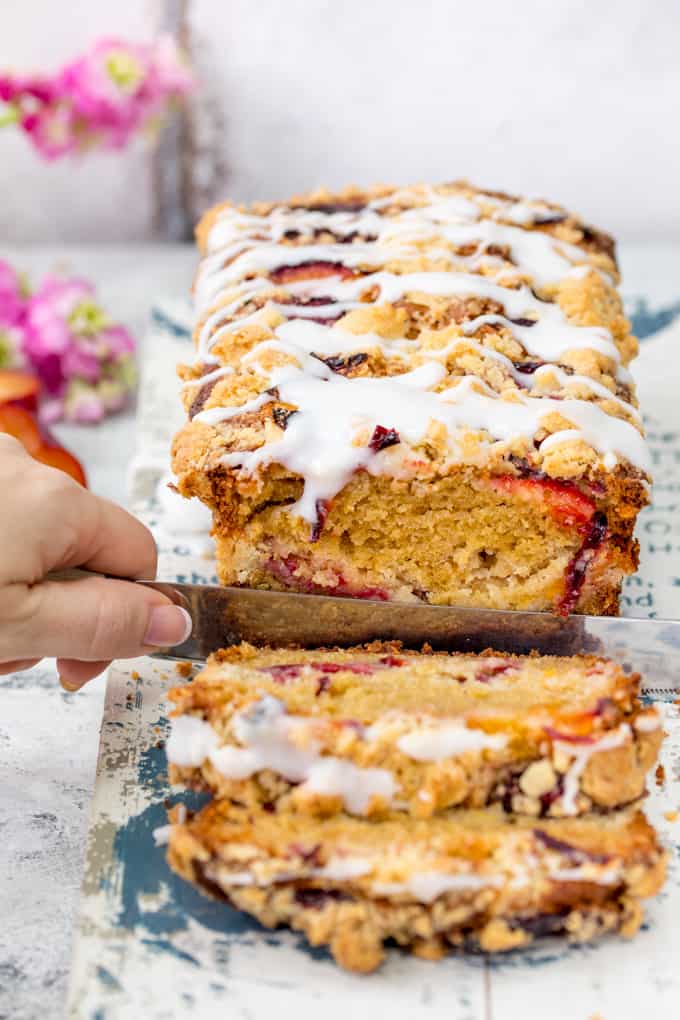 It ended up being so good, I had to share it!
I decided to go with a vanilla flavoured sponge – made light and fluffy with the use of Greek yogurt and baking soda (the acid and alkaline mixture react to give a nice rise). I piled plums and some of the streusel mixture in the middle of the cake, then topped it off with the remaining plums and streusel.
Knowing how much Chris loves almond flavour, I decided to compliment the ground almonds in this cake with an almond icing drizzle.
And let me tell you, I might have to use that icing on everything now! So simple, I don't know why I haven't thought of it before. I had to prise the bowl out of Chris's hands so he wouldn't lick it clean.
If you like fruit breads for brunch – try my Coconut Pineapple bread with caramelised pineapples and brown sugar glaze.
The Plum Crumble Bread Recipe: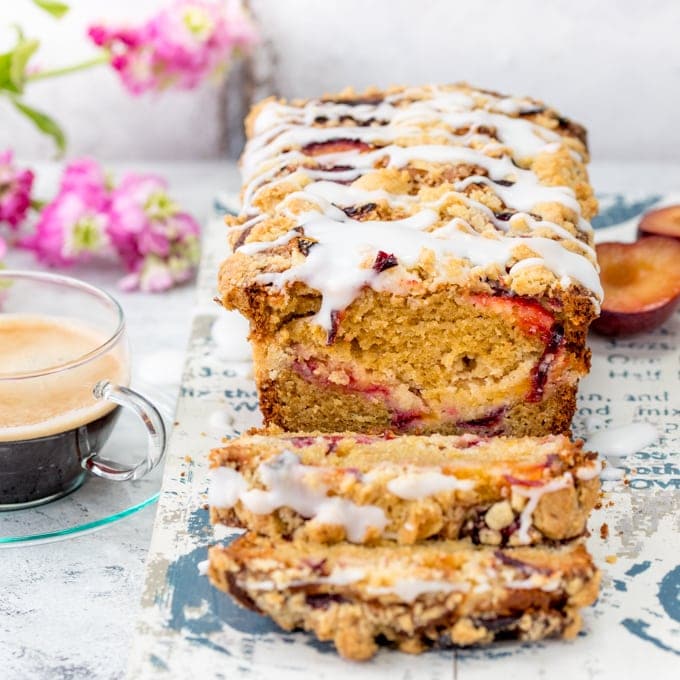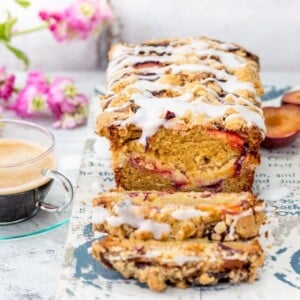 Plum Crumble Bread
Plum Crumble Bread - with a crunchy, buttery streusel topping and almond icing drizzle! A delicious treat for brunch or afternoon tea!
Print
Rate
Pin The Recipe For Later
Ingredients
Instructions
Preheat the oven to 175C(350F) and grease a 1lb loaf tin with oil spray or a little unsalted butter.

Make the streusel first by placing the flour and butter in a large bowl and rubbing together with your fingertips until you get breadcrumbs (I like to have a mix of small breadcrumbs and large lumps). Stir in the sugar and salt. Put to one side.

Now make the cake. Mix the egg and sugar in a large bowl. Add the oil and stir. Add the vanilla extract, almond extract, ground almonds and Greek yogurt and stir again.

Sift in the flour, baking powder and baking soda. Fold together, using a spatula, until combined. Pour half of the mixture into the prepared baking tin. Layer half of the plum slices on top of the mixture, and sprinkle on half of the streusel mixture.

Top with the remaining cake mix and layer on the remaining plum slices in two lines. Arrange the remaining streusel mixture around the plums (it's fine if it covers the plums a little, but try not to hide them completely).

Place in the oven to cook for 55-65 minutes (until and inserted skewer comes out clean). Take out of the oven and leave to cool in the tin for 10 minutes then remove from tin and allow to cool further on a cooling rack.

Whilst the cake is cooling, make the drizzle. Place the confectioners' sugar in a bowl and add the almond extract and half the water. Whisk together until thick and smooth. Add a little more water if needed until you get thick drizzling consistency.

Drizzle the glaze over the cake and serve.
Recipe Notes
Nutritional Information is per serving.
Nutritional Information
Nutrition Facts
Plum Crumble Bread
Amount Per Serving
Calories 454
Calories from Fat 198
% Daily Value*
Fat 22g34%
Cholesterol 35mg12%
Sodium 194mg8%
Potassium 159mg5%
Carbohydrates 59g20%
Protein 6g12%
Vitamin A 375IU8%
Vitamin C 3.8mg5%
Calcium 57mg6%
Iron 2.1mg12%
* Percent Daily Values are based on a 2000 calorie diet.